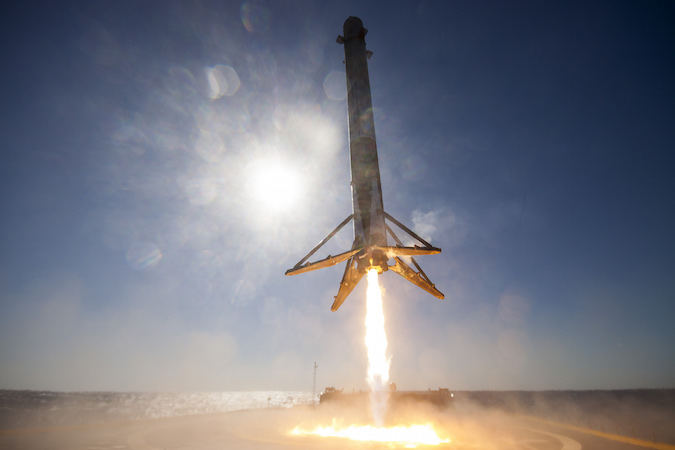 A European-built communications satellite has arrived at Cape Canaveral for fueling and final launch preparations ahead of a planned late February liftoff aboard a Falcon 9 rocket with a previously-flown first stage booster.
The SES 10 satellite, owned by SES of Luxembourg, arrived at the Central Florida spaceport Sunday after a trans-Atlantic flight on a chartered cargo plane from its factory in Toulouse, France.
It will be prepared for launch on top of a Falcon 9 rocket next month from pad 39A at NASA's Kennedy Space Center, an Apollo- and shuttle-era launch facility leased by SpaceX, which is modifying the complex for commercial missions.
SpaceX and SES agreed last year to launch the spacecraft on the first Falcon 9 rocket to fly with a reused first stage. If successful, the flight will be a major step forward for SpaceX, which foresees regular reusability as vital to reducing launch costs.
Built by Airbus Defense and Space, the SES 10 satellite will weigh nearly 11,700 pounds (5,300 kilograms) with a full tank of propellant at the time of launch.
The first stage assigned to SES 10's launch first flew April 8, 2016, with a Dragon supply ship on a logistics launch to the International Space Station. After detaching from the Falcon 9's second stage, which continued into orbit, the 15-story first stage booster descended to a vertical landing on SpaceX's offshore platform a few minutes after liftoff, making the first time the company recovered a rocket intact at sea.
The landing on SpaceX's barge, or drone ship, last April came four months after the first-ever touchdown of a Falcon 9 first stage on land at Cape Canaveral. That vehicle is now on display outside SpaceX's headquarters in Hawthorne, California.
SpaceX has recovered seven rocket stages in total, the last of which landed Saturday after a launch from Vandenberg Air Force Base in California.
Engineers are inspecting, refurbishing and testing the 156-foot-long (47-meter) boosters to ensure they can withstand the rigors of more flights.
SpaceX engineers already put the Merlin 1D engine through qualification tests aimed at proving the powerplant can launch multiple times. The recent testing, which included a series of test-firings of a flown rocket at SpaceX's Central Texas test site, has focused on the suitability of the entire booster for another launch.
SES 10 is third in line on SpaceX's jam-packed manifest, after launches from pad 39A tentatively scheduled for Jan. 26 with the EchoStar 23 satellite to beam direct-to-home television across Brazil, and Feb. 8 with the 10th Dragon cargo mission to the space station.
Saturday's flight from California delivered 10 next-generation satellites to orbit to refresh Iridium's voice and data relay network. It was the first SpaceX mission since a rocket exploded at Cape Canaveral's Complex 40 launch pad Sept. 1 during fueling for a hold-down test firing, destroying a nearly $200 million Israeli-owned satellite and damaging ground facilities, prompting the company to switch all near-term East Coast flights to nearby pad 39A.
The successful return-to-flight clears the way for SpaceX to launch missions as often as every two weeks, pending the activation of pad 39A at KSC, which has a new rocket assembly hangar, new propellant farms, and a mobile transporter/erector to position vehicles on a newly-fabricated launch mount where space shuttles and Saturn 5 moon rockets once stood.
Construction crews have worked around-the-clock in recent weeks to ready the launch pad.
Most of SpaceX's launches are based at Cape Canaveral in order to reach destinations like the space station and geostationary orbit, the favored operating location for most large telecom satellites.
Assuming the final launch pad work is completed in the coming days, and SpaceX can launch its next two missions on, or close to, their current target dates, the launch of SES 10 could occur around Feb. 22, at the earliest, an SES official told Spaceflight Now.
Gwynne Shotwell, SpaceX's president and chief operating officer, told CBS News last week that she hopes to launch at least 20 Falcon 9 and Falcon Heavy rockets this year.
While SpaceX and SES did not disclose terms of their contract for the SES 10 launch, Shotwell said last year the launch provider is offering a 10 percent discount for customers willing to fly their payloads on reused boosters.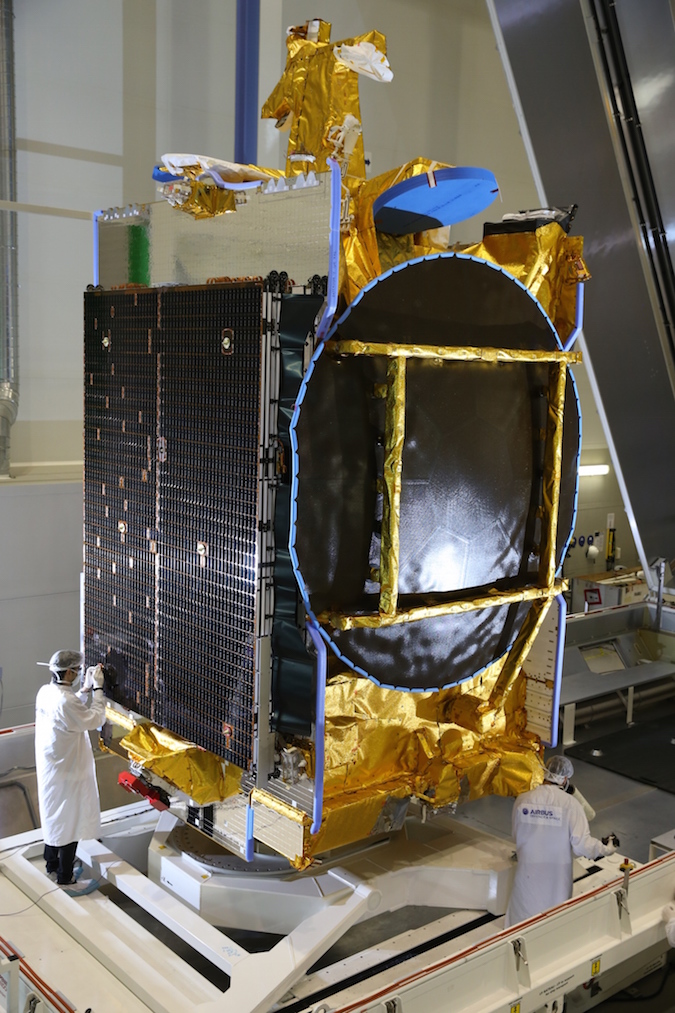 SES 10 will launch on a 15-year mission in geostationary orbit nearly 22,300 miles (35,800 kilometers) over the equator, where it will broadcast video signals and direct-to-home television programming over Latin America. With around 55 Ku-band transponders, the satellite's coverage range will extend from the U.S.-Mexico border to Cape Horn in Chile, according to SES.
SES 10 is fitted with an electric propulsion system for station-keeping and a conventional liquid-fueled engine to raise its altitude from the elliptical transfer orbit reachable by the Falcon 9 into the craft's final circular post in geostationary orbit at 67 degrees West longitude.
The high-altitude destination needed for SES 10's launch likely means the Falcon 9 first stage will have to land at sea again. SpaceX's rockets can only return to the launch base at Cape Canaveral on low Earth orbit missions with lighter payloads.
SES 10 will replace the AMC 3 and AMC 4 satellites, and expand SES's capacity in the Latin America market. It is the operator's first satellite designed exclusively for Latin America.
AMC 3 launched on an Atlas 2AS rocket from Cape Canaveral in September 1997, and AMC 4 flew into space on top of an Ariane 4 rocket from French Guiana in November 1999. Both spacecraft have exceeded their design lives.
Email the author.
Follow Stephen Clark on Twitter: @StephenClark1.