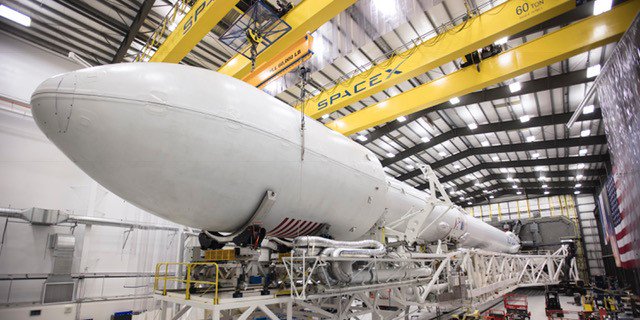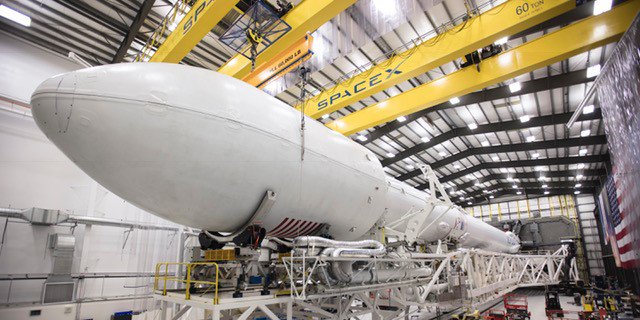 SpaceX rolled a fully-assembled Falcon 9 booster out of its hangar and lifted it on top of a launch pad Friday for the first time since an explosion grounded the commercial rocket last year, setting the stage for a one-second launch window Saturday to take off from California's Central Coast and deploy the first 10 satellites in orbit for a $3 billion upgrade to Iridium's globe-spanning message relay network.
Liftoff is set for 9:54:39 a.m. PST (12:54:39 p.m. EST; 1754:39 GMT) Saturday from Space Launch Complex 4-East at Vandenberg Air Force Base, a military launch facility located on the Pacific coastline northwest of Los Angeles.
Weather forecasters at Vandenberg predict a 40 percent chance gusty winds could prevent launch Saturday. If the Falcon 9 rocket does not get off the ground Saturday, there is a backup opportunity available Sunday.
The mission is vital to the futures of SpaceX and Iridium, which signed a $500 million deal in 2010 for at least seven launches to place 70 next-generation communications craft in orbit.
At the time, the agreement was the largest commercial launch contract in history, giving SpaceX its most significant customer outside NASA, and providing Iridium hundreds of millions of dollars in savings by taking a chance on the then-brand new Falcon 9 rocket, which in June 2010 had just one test flight in its logbook.
When they announced the deal, Iridium and SpaceX, a company founded in 2002 by tech mogul Elon Musk, intended to launch the first batch of satellites in 2015.
"So many emotions," said Matt Desch, CEO of Iridium, in an interview with Spaceflight Now on Friday. "I'm excited, nervous, and anxious. Frankly, I thought I would be doing this almost 18 months ago, but we were getting through production issues and then launch issues."
Overcoming manufacturing bottlenecks and a geopolitical hurdle that thwarted its plans to launch two demo satellites on a Russian-Ukrainian rocket, Iridium shipped its first 10 completed satellites to their launch site at Vandenberg Air Force Base, California, last summer from a production facility near Phoenix.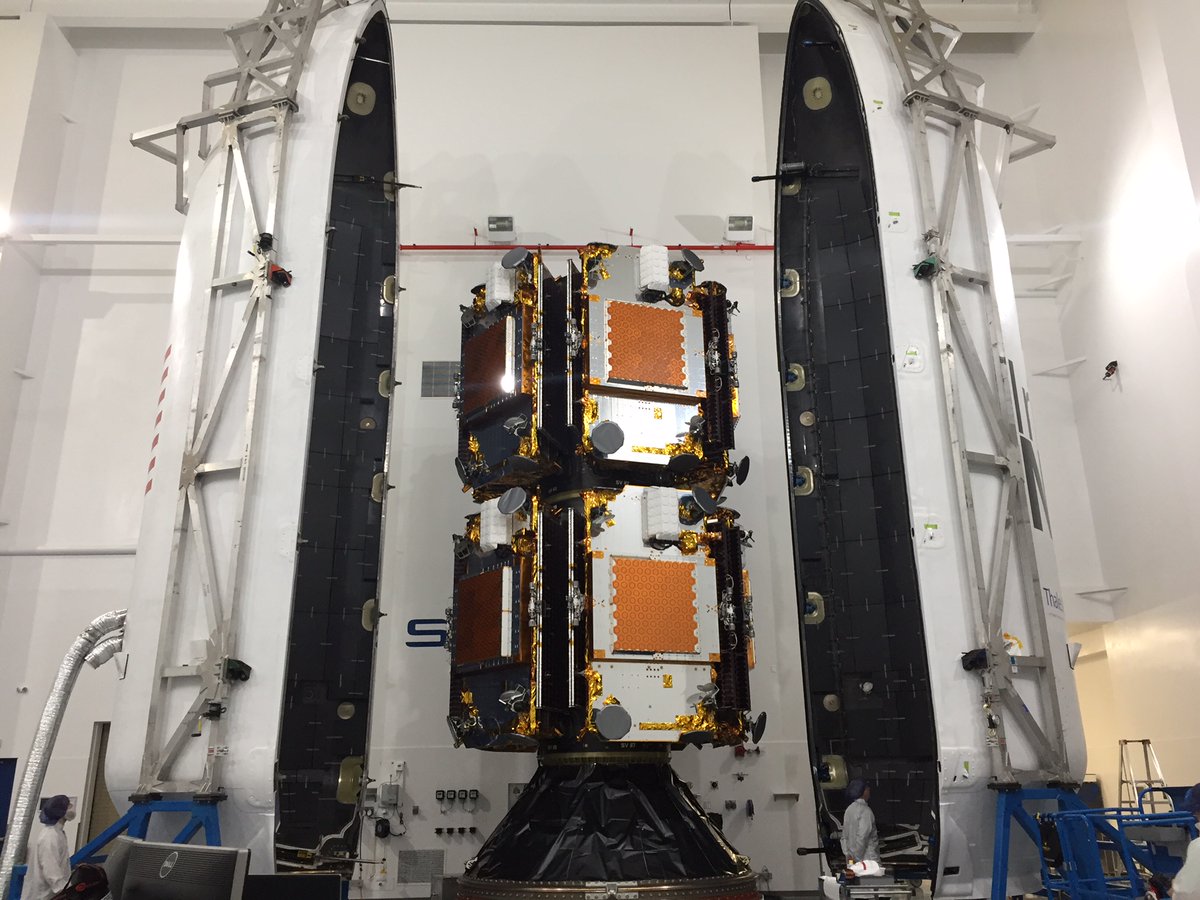 Iridium and SpaceX aimed to launch the 10 spacecraft in mid-September, but those plans were stalled when a Falcon 9 rocket preparing to launch from Florida exploded on the ground during a pre-flight test, destroying the booster and the nearly $200 million Amos 6 communications satellite on-board.
The accident was the second time SpaceX has lost a Falcon 9 rocket and its payload, coming 14 months after a launcher disintegrated in flight minutes after departing Cape Canaveral with a Dragon supply ship heading for the International Space Station.
SpaceX engineers probing the Sept. 1 accident determined the explosion was triggered by the sudden failure of a tank of high-pressure helium immersed inside minus 340 degree Fahrenheit (minus 206 degree Celsius) liquid oxygen on the Falcon 9's second stage.
Engineers identified several "credible causes" for the failure, SpaceX said, all of which involve super-chilled liquid oxygen — or even frozen oxygen — getting trapped in buckles between the helium tank's aluminum liner and a carbon overwrap. SpaceX said helium tanks — called composite overwrapped pressure vessels, or COPVs — recovered at the launch pad showed buckles in their liners.
According to SpaceX's tests after the Sept. 1 explosion, oxygen trapped in the buckles can break fibers in the carbon overwrap or generate friction that can ignite the material, causing the helium vessel to fail spectacularly.
SpaceX uses colder-than-usual, or densified, liquid oxygen and RP-1 kerosene propellants on its rockets, a change introduced to the Falcon 9 program in 2015 to permit more fuel to be loaded into the propellant tanks and giving the vehicle's Merlin engines more power.
Company officials said the helium will be loaded at warmer temperatures on future countdowns, "as well as returning helium loading operations to a prior flight proven configuration."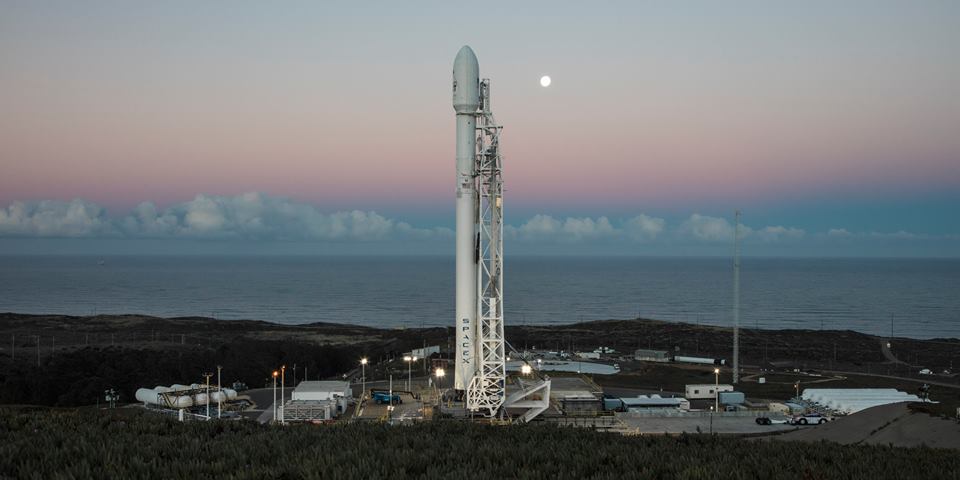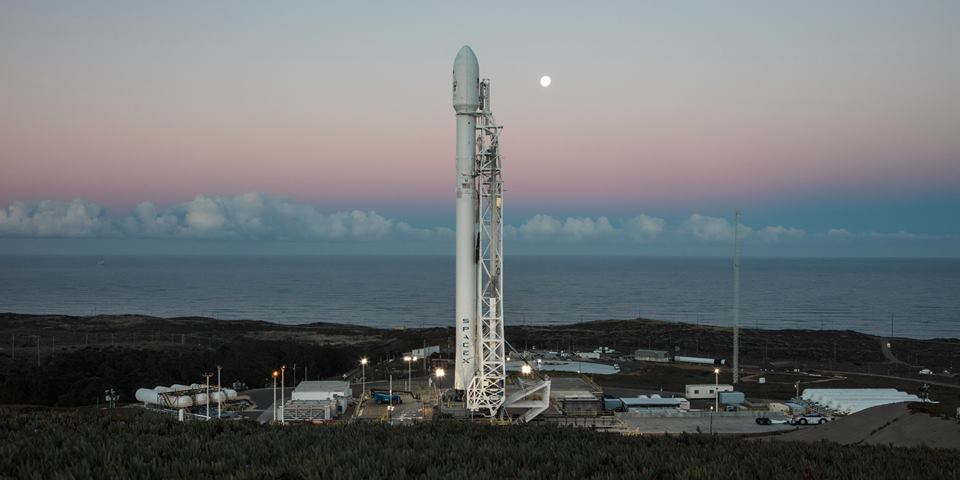 A press kit for Saturday's launch also suggests other changes to the Falcon 9 countdown.
At the same time it debuted the more capable Falcon 9 configuration in 2015, SpaceX shortened its launch countdowns to begin pumping propellants into the rocket just 35 minutes before blastoff. SpaceX's previous Falcon 9 countdowns followed a practice employed universally on cryogenically-fueled rockets worldwide, in which propellants are loaded aboard several hours ahead of launch.
The "load and go" countdowns caused headaches at first, leading to several aborts and delays before SpaceX gained experience with the practice early last year. The late fueling plan has also drawn questions from NASA safety advisors, who worry the procedure will endanger astronauts strapped into to SpaceX's Crew Dragon spaceships, which the company is developing to ferry people to and from the space station.
The timeline for Saturday's countdown calls for RP-1 kerosene, chilled to around 20 degrees Fahrenheit (minus 6 degrees Celsius), to begin flowing into the two-stage rocket at T-minus 70 minutes. Liquid oxygen loading will follow at T-minus 45 minutes.
SpaceX ran the Falcon 9 rocket through a "static fire" engine test at Vandenberg on Jan. 5, completing a major milestone in the run-up to Saturday's mission, the same type of test that resulted in the explosion in Florida on Sept. 1.
But Iridium's satellites were not fastened on top of the rocket for the static fire test, an operation that exercises the Falcon 9 vehicle and the launch team, which SpaceX conducts before every launch. Several satellite owners put their payloads on-board the Falcon 9 for the hotfire tests leading up to the mishap on the pad last year, but several SpaceX customers have said they will avoid doing that again.
The rocket returned to its hangar last week to receive the 10 Iridium satellites, already enclosed within the Falcon 9's payload fairing, then rolled back to the pad early Friday.
Gwynne Shotwell, SpaceX's president and chief operating officer, told CBS This Morning that she shares Desch's anxiety and excitement.
"This will be a tough flight for us coming back after our event on September 1st," Shotwell said. "It is actually a difficult flight, regardless of the return-to-flight element.
Asked whether Saturday's launch will test her nerves, Shotwell said: "I have to be honest with you, every launch is a nerve-racking … significant emotional event, but I think this flight will be a little more nerve-racking than normal."
"The most recent anomaly just added to the drama, so I'm all excited, but I also have to remind myself this is not a sprint," Desch said. "This is a marathon. I have at least seven of these to do, so I have to pace myself because it's more about completing the network than necessarily one specific launch. But we can't have successful launches until we have our first."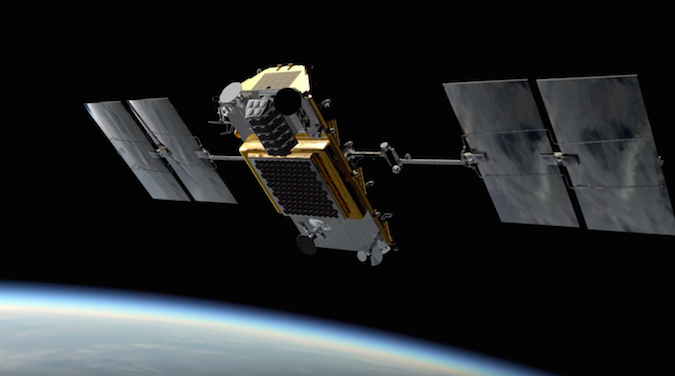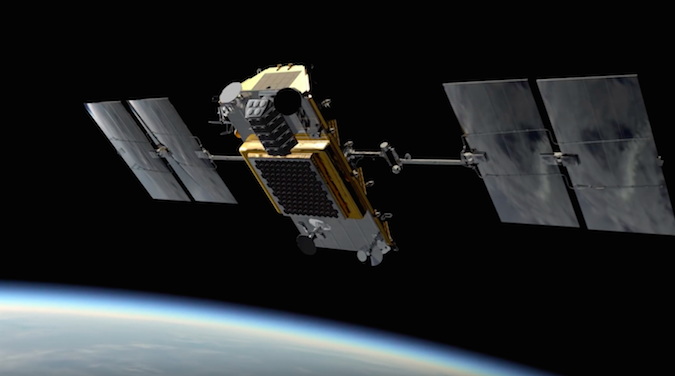 The 229-foot-tall (70-meter) Falcon 9 rocket will take off from its hillside launch complex, the former West Coast home of the Titan 4 launcher, and head south over the Pacific Ocean, passing to the west of the Channel Islands. With its nine rear-mounted Merlin 1D engines throttled up to 1.7 million pounds of thrust, the Falcon 9 will surpass the speed of sound just over one minute into the mission.
The nine-engine first stage booster will shut off at T+plus 2 minutes, 24 seconds. Three seconds later, pneumatic pushers will separate the Falcon 9's first and second stages, followed by ignition of the upper stage's single Merlin engine at T+plus 2 minutes, 35 seconds.
The Falcon 9's first stage, standing 15 stories tall with a diameter of 12 feet (3.7 meters), will flip around using cold-gas nitrogen thrusters to fly tail first, kicking off maneuvers to return to Earth for a propulsive vertical landing on a barge positioned several hundred miles south of Vandenberg in the Pacific Ocean.
While the upper stage's Merlin engine sends the Iridium satellites into a preliminary egg-shaped parking orbit, the first stage will fire a subset of its engines multiple times to guide the rocket toward its target, an ocean-going landing pad the size of a football field, and slow down for the final descent.
Four aerodynamic grid fins will pop open from the upper segment of the booster for steering, while four carbon-fiber landing legs will deploy at the base of the rocket just before touchdown. Vectored thrust from one of the first stage's Merlin engines will do the final bit of positioning to place the rocket on the barge, or "drone ship."
The landing, if successful, will give SpaceX a stable of seven previously-flown first stage boosters in its inventory.
SpaceX aims to start reusing Falcon 9 first stages as soon as next month with the launch of the SES 10 commercial telecom satellite. The satellites's owner, SES of Luxembourg, agreed in August to put the spacecraft on the first launch of a used Falcon 9 rocket stage.
SpaceX officials say reusability will reduce the cost of space launches, opening the frontier to more commercial investment, research opportunities and eventually a human base on Mars, Musk's long-term objective.
The first Falcon 9 first stage recovered intact landed after a launch in December 2015. It is now erected on display outside SpaceX's headquarters in Hawthorne, California. The others have gone through extensive tests, including repeated firings on the ground, or are being readied for future flights.
Touchdown of the first stage is expected around T+plus 7 minutes, 49 seconds, just before the Falcon 9 upper stage reaches an initial orbit around Earth and turns off its Merlin engine at T+plus 9 minutes, 9 seconds.
Speeding through space at a clip of 5 miles (8 kilometers) every second, the battery-powered upper stage will soar over Antarctica, then reignite its engine at T+plus 52 minutes, 31 seconds. The brief second burn will last just three seconds, long enough to circularize the rocket's orbit at an altitude of 388 miles (625 kilometers).
The French-designed, U.S.-built Iridium communications craft are attached to a dispenser aboard the Falcon 9 upper stage. The satellites, each weighing 1,896 pounds (860 kilograms), will deploy from the rocket one at a time at intervals of around 90 seconds starting at T+plus 59 minutes, 16 seconds.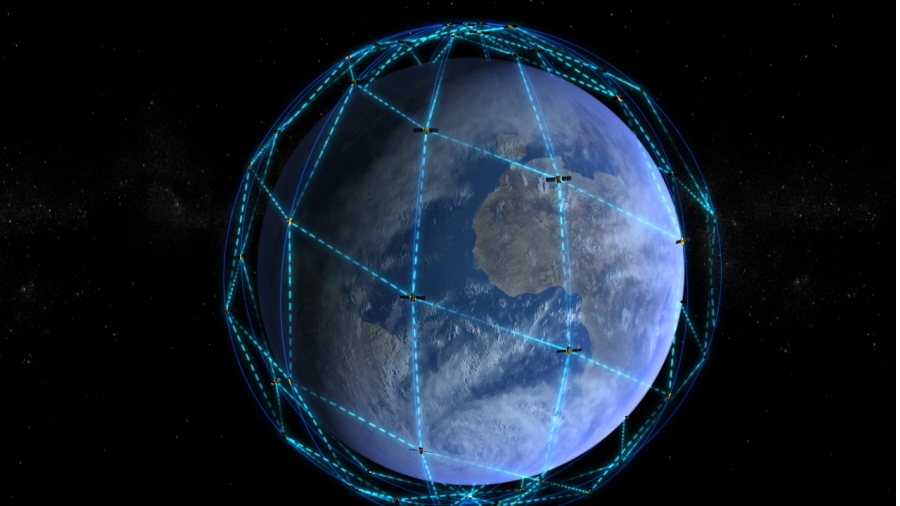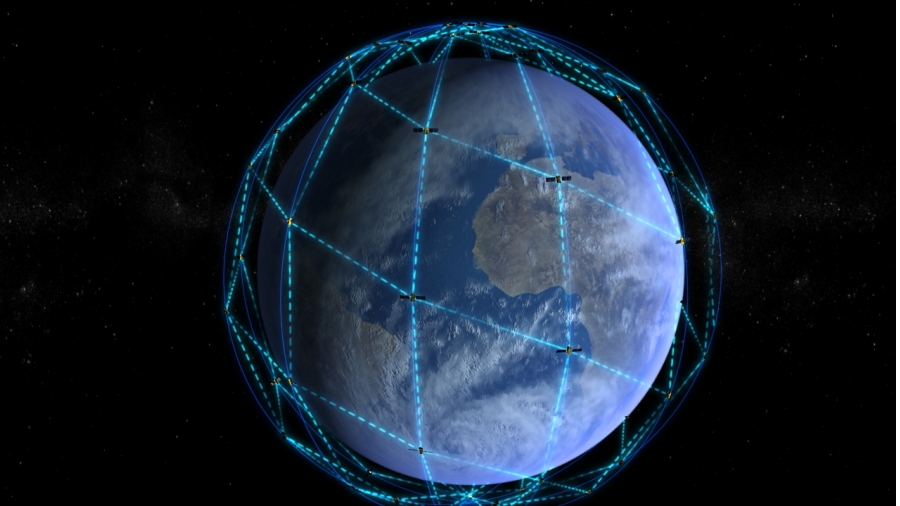 The separation maneuvers should be completed 15 minutes later, and Desch said the satellites should start radioing Iridium's ground control team in Ashburn, Virginia, within a few minutes of their release in polar orbit.
"I know everyone's focus is on the rocket," Desch said. "There have been 27 successful launches of that rocket, and I'm highly confident this is going to be that next one. The real nerves for me is that this is the first time we have deployed our satellites and had them talk to us. I know that fear will go down dramatically once we get some satellites in orbit."
The satellites were designed by Thales Alenia Space in France, and then assembled and tested in an assembly line fashion in partnership with Orbital ATK in Arizona.
"About 100 minutes into the flight, the first of our 10 satellites should be checking in with our network operations center in Ashburn, Virginia, and when the boards go green and things are looking pretty good, that's when I'll probably breathe a big sigh of relief," Desch said.
The so-called "Iridium Next" network will offer faster broadband connections, improved functionality and 3G-equivalent cellular phone services for Iridium's pool of nearly 850,000 subscribers, a client list that includes the U.S. military, oil and gas companies, aviation and maritime operators, and mining and construction contractors.
The upgraded satellites also carry piggyback payloads for Aireon, an affiliate of Iridium, to help air traffic controllers track airplane movements worldwide. Iridium Next satellites slated to fly on later launches will host an antenna to monitor maritime traffic for exactEarth, a Canadian company, and Harris Corp. of Melbourne, Florida.
Iridium and its contractors will spend around three months wringing out the first set of 10 Iridium Next spacecraft ahead of the launch of the next batch in April, according to Desch.
As more new satellites join the Iridium fleet, engineers will maneuver each one from its 388-mile-high drop-off orbit into the operational constellation at an altitude of 485 miles (780 kilometers) alongside the craft it is intended to replace.
"One-by-one, we'll do this process called a slot swap, where we move the satellite 50 kilometers (30 miles) from the other satellite — right behind it — and then instantaneously swap over the inter-satellite links between the old satellite and its peers and the new satellite and its peers," Desch said. "Then we will command the old satellite to deboost and deorbit itself."
Desch said Iridium's team used the launch delays for extra testing on the satellites, the ground control system and software to ensure the "slot swaps" go as planned. The ground team has also rehearsed the activity in simulations.
"That whole process is going to go one-by-one 66 times over the next 15 months or so," Desch said. "It's an incredibly complicated, highly-choreographed, highly-rehearsed and practiced set of maneuvers that is going to keep us incredibly busy.
"We're really excited about the launch, just like everyone else," Desch said. "I know everyone wants to watch the thing land on a barge, and that's exciting, but really it only starts our efforts, which, frankly, I think is one of the more complicated things going on in the aerospace industry, and (that's) probably not well-understood. It's never been done before on a scale like this, where one network is completely replaced in space. We've been using the term 'tech refresh' … It's one of the largest tech refreshes in history."
The Iridium network relies on satellites spread out in six orbital lanes, each home to 11 active spacecraft, to provide uninterrupted global coverage.
The company's existing satellites were launched from 1997 through 2002 for missions originally scheduled to least eight years. Nevertheless, Desch said most of the satellites have outlived their design lives, and 64 of the 66 relay stations required for worldwide service remain operational.
Two satellites dropped offline last year, reducing Iridium's service availability to around 98 percent.
"We need reinforcements to replace the network," Desch said Friday. "We haven't lost any other satellites, knock on wood, in at least six months or longer now. The current network is holding up fine. I would expect it will still be able to maintain that high performacne for another two or three years, at least, because the satellites are not showing signs of imminent decline."
The last satellite to fall out of the Iridium network was running low on fuel, and other members of the fleet have succumbed to electronic failures. One satellite was destroyed in a violent in-space collision with a defunct Russian military satellite in 2009 in an incident infamous in space industry circles.
Battery health remains good across the Iridium fleet, Desch said.
"We still haven't lost any satellites from battery failures," he said. "But they're getting old. Twenty years is a long time for a satellite, and maybe they can make it to 22, 23 or 24 years, but that's really pushing it on the network."
The first two Iridium Next launches will target the holes in the network, Desch said.
Saturday's flight is timed — to the second — to launch into Plane 6 of the constellation, where only 10 satellites remain operational.
The Iridium Next program is a $3 billion investment by Iridium. The purchase of 81 satellites represents approximately $2.2 billion of that cost, Desch said, and the company's launch contract with SpaceX for seven Falcon 9 flights was valued at $492 million when the parties signed it in 2010.
Desch said Iridium will scale back its capital expenditures once the new-generation fleet is up and running.
"That underpins all of this," Desch said. "It's not just a technical marvel that we're doing, but it's also a financial transformation that we're not very far away from, finally, but we've got to get these satellites up first."
Email the author.
Follow Stephen Clark on Twitter: @StephenClark1.