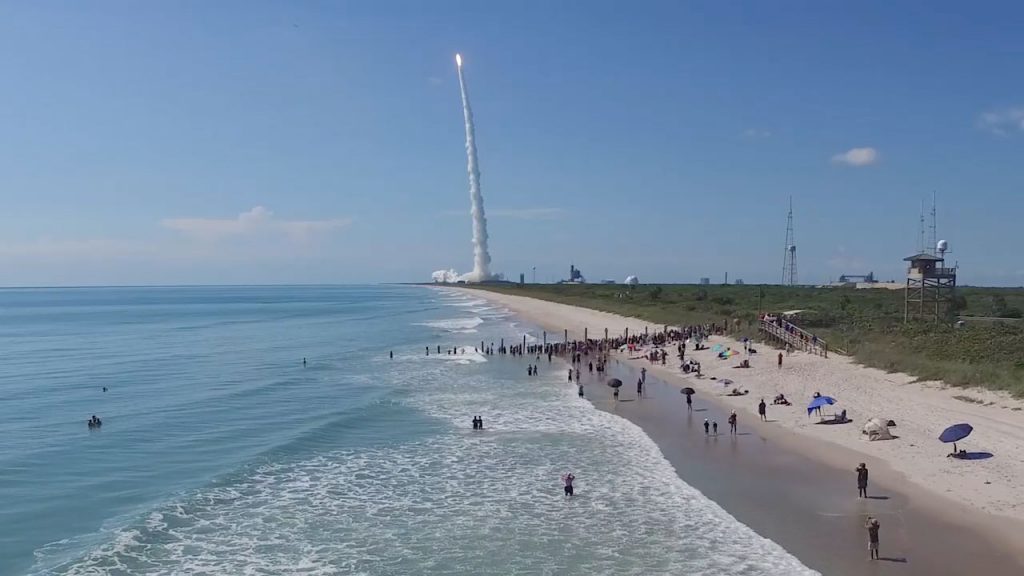 WEATHER: CAPE CANAVERAL — A Sunday afternoon rocket launch is planned for Cape Canaveral this weekend, and beachgoers should have good weather conditions to watch the commercial Atlas 5 rocket power skyward with an Internet access satellite.
Pack a cooler, grab a beach towel and head on out to watch the launch at 1:27 p.m. EST (1827 GMT). The day's available window for liftoff to occur extends 120 minutes.
The United Launch Alliance booster will carry the EchoStar 19 high-throughput communications satellite into orbit for HughesNet customers across the U.S., deploying new technology for faster speeds, higher data rates and better features to browse the Internet from rural America.
The Air Force's 45th Weather Squadron at the Cape predicts an 80 percent chance of acceptable launch conditions. The only area of concern for launch will be cumulus clouds.
The specifics for the launch window include scattered clouds, good visibility, winds from the south at 16 to 20 knots, a relative humidity of 80 percent and a temperature of 78 degrees F.
"High pressure over Central Florida migrates east as the next cold front currently in North Florida pushes into Central Florida Thursday morning. Limited showers are expected as the cold front pushes through the Spaceport. High pressure builds into Central Florida behind the front Thursday afternoon with favorable weather Thursday afternoon and persisting into launch day," Air Force meteorologists said today.
The flight will originate from Complex 41, and the rocket will be rolled from its assembly building to the pad on Saturday morning.
Playalinda Beach, located north of the pad, will offer the best public viewing spot for the Atlas 5 this weekend. Walking down the beach to the fence line will put you just 4.8 miles away from the rocket at takeoff, the closest spot the public can reach.
The park charges $5 per car to enter.
The beach is located along the Canaveral National Seashore and accessed from Titusville via State Highway 402, just north of the Kennedy Space Center and space shuttle runway.
The Kennedy Space Center Visitor Complex also offers viewing options from its main campus 7.1 miles away (although without a direct view of the pad) and the Apollo/Saturn V Center located 5.4 miles away. Either site requires the standard admission fee of $50 per person and $40 for children ages 3-11.
Public viewing options are described by LaunchPhotography.com.
Get directions here.
The Atlas 5 will generate two million pounds of thrust from its main engine and three side-mounted solid rocket boosters, rising on a pillar of fire and smoke. All of that power is needed to lift the 14,914-pound EchoStar 19 satellite into space.
It will be the year's final launch from Cape Canaveral.
See earlier EchoStar 19 coverage.
Our Atlas archive.