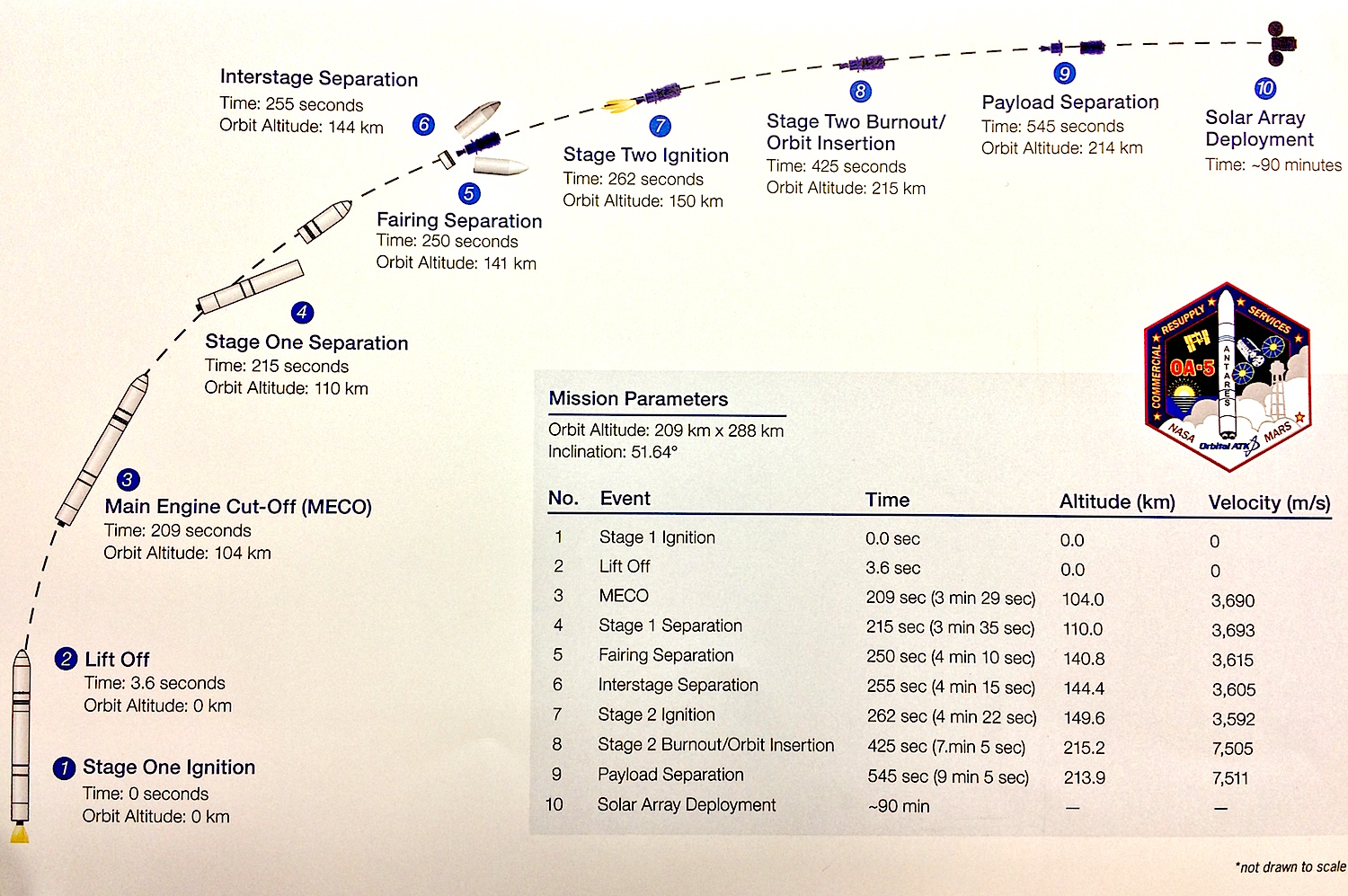 Orbital ATK's Antares rocket will deliver the commercial Cygnus supply ship to an orbit with an altitude between 130 miles (209 kilometers) and 179 miles (288 kilometers) within about nine minutes of liftoff from Virginia's Eastern Shore.
The rocket's two RD-181 engines will ignite around 3.6 seconds before liftoff from pad 0A at the Mid-Atlantic Regional Spaceport, a complex owned by the state of Virginia at NASA's Wallops Flight Facility.
The first stage's two RD-181 engines will power up to 864,000 pounds of thrust and burn for 3 minutes, 29 seconds to accelerate the rocket to more than 8,250 mph (3.7 kilometers per second) and an altitude of, then separate from the upper stage's Castor 30XL motor about six seconds later.
In the video below, Antares program manager Mike Pinkston from Orbital ATK describes what the liftoff will look like.
PREVIEW: What the expect during tonight's Antares rocket liftoff. pic.twitter.com/lr5Rd9zHwb

— Spaceflight Now (@SpaceflightNow) October 17, 2016
The Antares rocket's old AJ26 engines produced less thrust, equivalent to around 730,000 force-pounds, and burned around 25 seconds longer. Engineers replaced the AJ26 engines with newly-built RD-181s after a launch failure in 2014 that was blamed on the decades-old powerplants.
"The thrust-to-weight (ratio) is a little bit higher (with the RD-181 engines), so it may come off the pad a little faster," Pinkston said. "This thing comes off so slow I'm not sure that a little faster is going to be noticeable. Beyond that, I dont think you'll tell the difference."
The RD-181s burn the same kerosene and liquid oxygen propellant mix as the Antares' previous AJ26 engines. The new Antares configuration is known as the Antares 230.
"Because of the higher-performing engines, where you'll really notice it is at the end of the mission," Pinkston said. "We'll have Cygnus in orbit about a minute earlier than we would have on the previous version of Antares."
"That means we won't have to hold our breath as long," joked Frank Culbertson, a former astronaut who leads Orbital ATK's space systems group.
The Antares rocket's 12.8-foot-diameter (3.9-meter) diameter nose cone will jettison at T+plus 4 minutes, 10 seconds, then the interstage skirt that connected the first and second stages will separate at T+plus 4 minutes, 15 seconds.
The solid-fueled Castor 30XL motor will ignite at T+4 minutes, 22 seconds, and generate up to 104,300 pounds of thrust during a burn lasting 2 minutes, 43 seconds. The second stage motor will burn out at T+plus 7 minutes, 5 seconds, then deploy the Cygnus spacecraft at T+plus 9 minutes, 5 seconds.
The supply ship's two solar arrays will unfurl around 90 minutes after launch.
Email the author.
Follow Stephen Clark on Twitter: @StephenClark1.