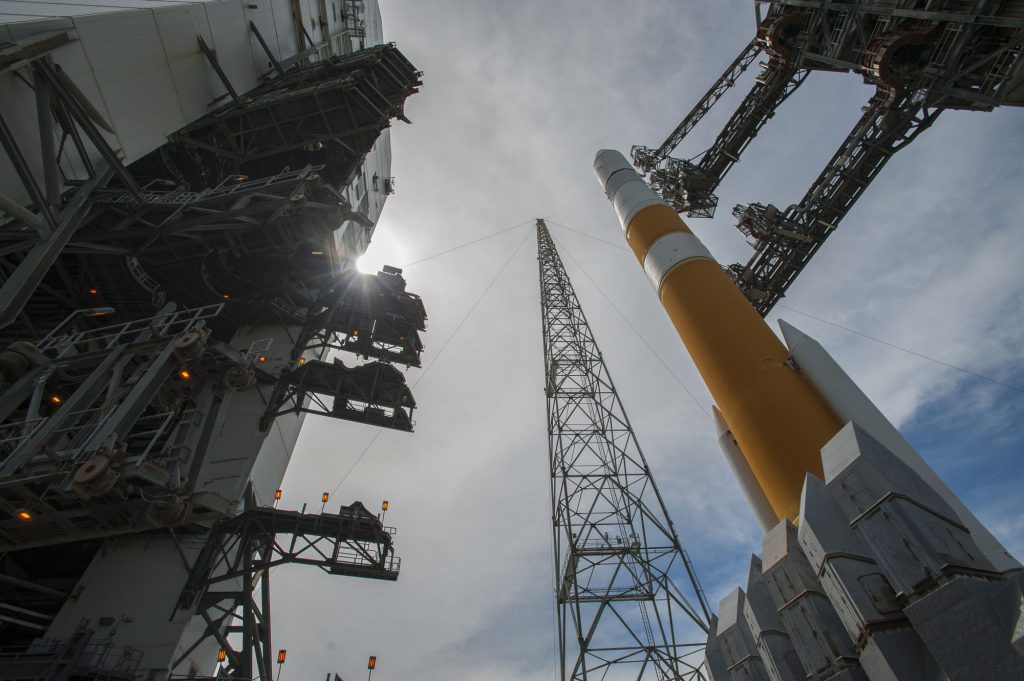 CAPE CANAVERAL — Air Force meteorologists are giving favorable weather odds for the Delta 4 rocket to launch a pair of space surveillance satellites early Friday morning from Cape Canaveral.
Liftoff of the United Launch Alliance booster carrying the twin Geosynchronous Space Situational Awareness Program, or GSSAP, satellites is scheduled to occur some time between 12 midnight and 4 a.m. EDT (0400-0800 GMT). The exact time has not been publicly announced yet.
The chances of acceptable weather stand at 80 percent, with only a slight concern for cumulus clouds during the overnight launch opportunity.
"The Bermuda High ridge that dominates this area in the summer will be to the north, causing brisk southeast flow this week," forecasters at the 45th Weather Squadron say.
"Tomorrow, an easterly wave will move into the East Central Florida coast, causing showers and storms in the morning to early afternoon. This wave will move off to the west, and weather will improve during the rest of the week with just isolated morning and evening coastal showers."
The launch time conditions are expected to include scattered low- and high-level clouds, a chance of isolated coastal showers, good visibility, ground winds from the south-southeast at 5 knots, a relative humidity of 82 percent and a temperature of 81 degrees F.
In the event of a 24-hour launch delay, similar conditions and an 80 percent chance of allowable weather are expected on Saturday morning.
Here's a look at some stats about the mission. This will be:



The 375th Delta rocket launch since 1960

The 33rd Delta 4 rocket mission since 2002

The 14th Medium+ (4,2) configuration to fly

The 51st main engine from RS-68 family used

The 9th RS-68A main engine flown

The 50th-51st GEM-60 solid rocket motors flown

The 471st production RL10 engine to be launched

The 36th RL10B-2 engine launched

The 27th Delta 4 rocket launch from Cape Canaveral

The 35th launch from Pad B at Complex 37

The 18th use of Delta 4 by the Air Force

The 97th Evolved Expendable Launch Vehicle flight

The 110th United Launch Alliance mission since 2006

The 44th ULA launch for the Air Force

The 26th Delta 4 under the ULA banner

The 7th ULA launch this year

The 3rd launch of Delta family in 2016

See earlier Delta 375 coverage.
Our Delta archive.