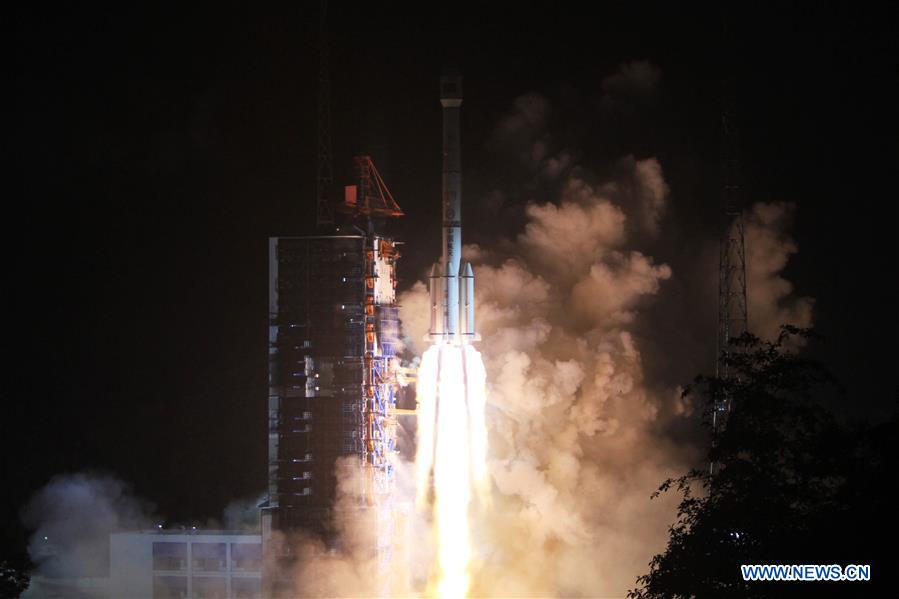 China sent a mobile communications satellite into orbit Friday on top of a Long March 3B rocket, marking the country's 10th launch of 2016 as technicians gear up for the next flight of Chinese astronauts and other major missions later this year.
The Tiantong 1 satellite lifted off at 1622 GMT (12:22 p.m. EDT) Friday from the Xichang launch base in southwest China's Sichuan province, the state-run Xinhua news agency reported, riding aboard a Long March 3B rocket with four liquid-fueled strap-on boosters.
The launch occurred at 12:22 a.m. Beijing time Saturday.
Burning a mix of hydrazine and nitrogen tetroxide propellants, the 184-foot-tall (56-meter) Long March 3B launcher powered the spacecraft away from the mountainous Xichang space center on top of 1.3 million pounds of thrust, heading to the east to inject Tiantong 1 into an equator-hugging orbit on the way to its permanent post more than 22,000 miles (35,000 kilometers) above Earth.
The Long March 3B's third stage, consuming a cleaner combination of liquid hydrogen and liquid oxygen, ignited its dual-nozzle YF-75 engine to place the Tiantong 1 satellite in a preliminary geosynchronous transfer orbit.
The egg-shaped orbit has a high point of about 22,265 miles (35,832 kilometers), a low point of about 122 miles (196 kilometers), and an inclination of 28.6 degrees, according to tracking data released by the U.S. military.
Tiantong 1 will fire its own main engine in the coming days to circularize its orbit over the equator to enter geostationary orbit, where the satellite's velocity is the same as the rate of Earth's rotation. The position allows a spacecraft to remain over a fixed location indefinitely, a major benefit for communications platforms like Tiantong 1.
The Xinhua news agency said Tiantong 1 "is the first satellite of China's home-made satellite mobile telecom system, and a key part of the country's space information infrastructure."
More satellites will be launched to expand the mobile telecom network, Chinese state media reported.
Designed by the China Academy of Space Technology, Tiantong 1 will connect users on the move who are not equipped with large antennas. Similar mobile satellite network, such as the commercial Inmarsat system, include hand-held terminals for subscribers to connect from remote locales.
Xinhua reported the Tiantong system will reach users in China, the Middle East, Africa and other regions. The network's ground service will be operated by China Telecom, official news reports said.
Tiantong 1's launch Friday comes as China's space program prepares for a series of high-profile missions to close out the year.
Later this month, China plans to launch a research satellite to test the feasibility of quantum communications in space. It is a first-of-its-kind space mission, and a successful experiment could lay the foundation for an ultra-secure, impenetrable communications network with numerous military and commercial uses.
China's next human-rated space laboratory will go into orbit in mid-September, serving as a testbed for a Chinese space station set to be constructed by 2022. The pressurized Tiangong 2 spacecraft is about the size of a bus, and it will host visits by Chinese astronauts and resupply ships in the coming years.
The first mission to the Tiangong 2 space lab should launch in October, when two astronauts will dock with the module aboard the Shenzhou 11 crew capsule. Officials said the pair will stay in orbit for 30 days, longer than any Chinese space mission to date.
Chinese managers have not identified the astronauts who will fly on the Shenzhou 11 mission.
The Tiangong 2 spacecraft reached the Jiuquan launch base in northwest China on July 9 after a cross-country train journey from its factory in Beijing. Components of the two Long March 2F rockets assigned to propel the Tiangong 2 module and Shenzhou 11 spacecraft into orbit arrived at Jiuquan on Aug. 6, state media said.
China's heavy-lift Long March 5 rocket is scheduled to blast off on its maiden test flight before the end of the year. Variants of the powerful new launcher will loft large sections of China's planned space station, and dispatch a Chinese robot to the moon next year on an ambitious expedition to return lunar samples to Earth.
The Long March 5 is one of three new Chinese rockets that will eventually replace the country's existing launcher fleet. The lightweight Long March 6 rocket and medium-class Long March 7 boosters successfully debuted in September 2015 and in June.
Email the author.
Follow Stephen Clark on Twitter: @StephenClark1.