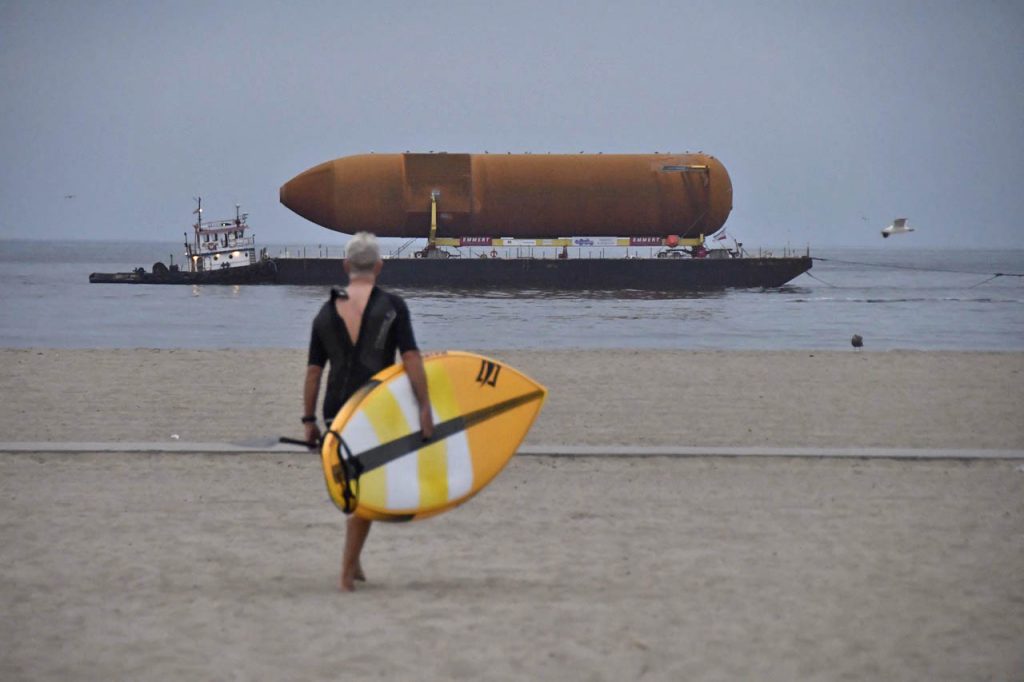 A five-week, 5,000-mile sea trek of the last space shuttle external fuel tank pulled into port today for a parade through the urban jungle of Southern California on Saturday to its final destination.
Originally built for a shuttle mission but never flown, the last-of-its-kind tank was donated to the California Science Center to use in its vertical launch pad attraction being designed with the retired orbiter Endeavour.
External Tank No. 94 left NASA's Michoud Assembly Facility in New Orleans on April 12, sailed through the Panama Canal on April 25 and 26 and arrived in Marina del Rey, California, this morning.
The journey was performed by Emmert International, a commercial shipping firm based in Oregon.
Along the way, the tank transport rode out a storm in the Cayman Islands and then made a life-saving rescue off the coast of Mexico when a nearby charter fishing boat took on water and sank with four people aboard.
Under overcast skies at daybreak today, the tank was spotted just off the Los Angeles coastline and was greeted by a water cannon aboard an LA County fire boat while entering the harbor. The barge docked at 8 a.m. and workers offloaded the tank shortly before 10:30 a.m. using a semi-truck with an "ET XING" crossing sign on its grille.
See a gallery of arrival and offloading photos.
The public can see the tank at the marina through Friday.
"Come out to Marina del Rey this week to get a look," said Los Angeles County Supervisor Don Knabe. "It is just unbelievable the size of this tank."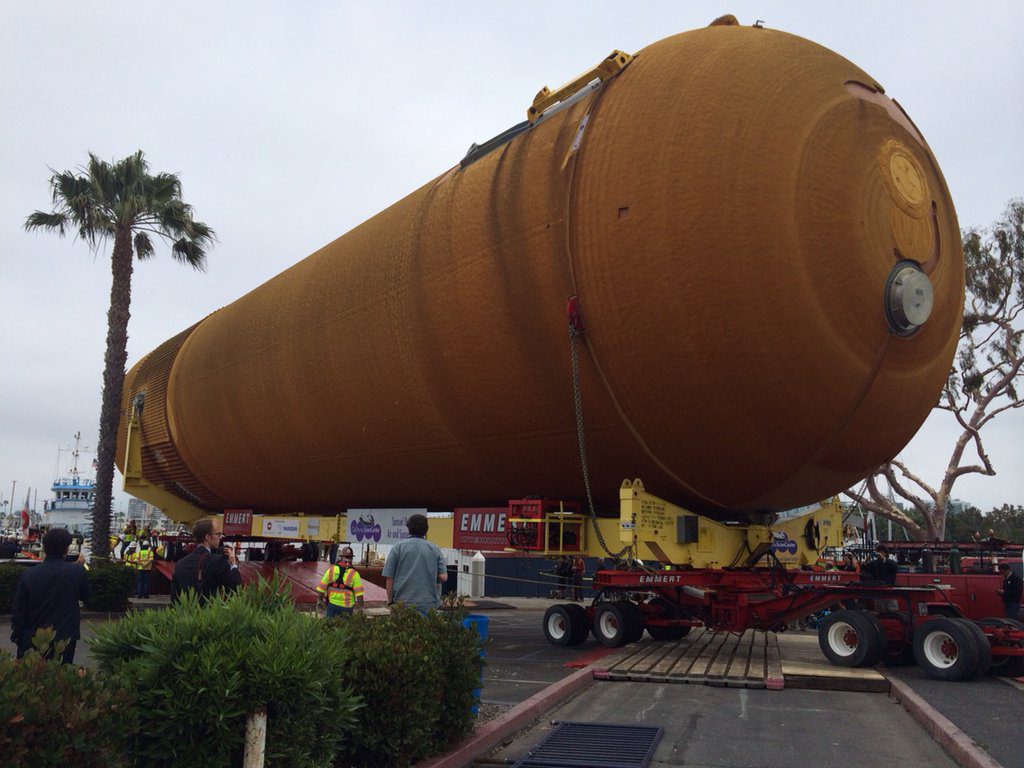 An official welcoming ceremony is planned for Friday night ahead of Saturday's 16-mile city drive to the museum.
Each year, the California Science Center holds an annual fundraising gala, but this year's "Discovery Ball" will be held at Marina del Rey with ET-94 as the star.
The gala's theme will incorporate elements from New Orleans and Panama, key areas to the tank's journey to California.
Also on Friday, the Department of Beaches and Harbors will hold a "Party in the Park" for the public at large with a DJ, food trucks, space-themed carnival games and science exhibits from 5 to 9 p.m.
On Saturday morning at 12:01 a.m. local time (3:01 a.m. EDT; 0701 GMT), ET-94 will leave the Fisherman's Village area of the Marina trailing a New Orleans jazz band.
It is anticipated that the tank will travel at a walking speed and take 18 to 20 hours to reach Exposition Park on Saturday evening.
Crews traveling ahead of the tank will take down utility lines, signals and street signs, as needed, to ensure safe passage of the artifact.
The top cruising speed could reach as high as 5 mph, but navigating tight turns may take 45 minutes each.
Officials anticipate the convoy will reach Exposition Park around 8 p.m. local time (11 p.m. EDT; 0300 GMT) where a special "finish line" photo opportunity will be held. However, another activity in the park and the exact arrival time will determine when the tank can be positioned next to the Samuel Oschin Pavilion where Endeavour is located.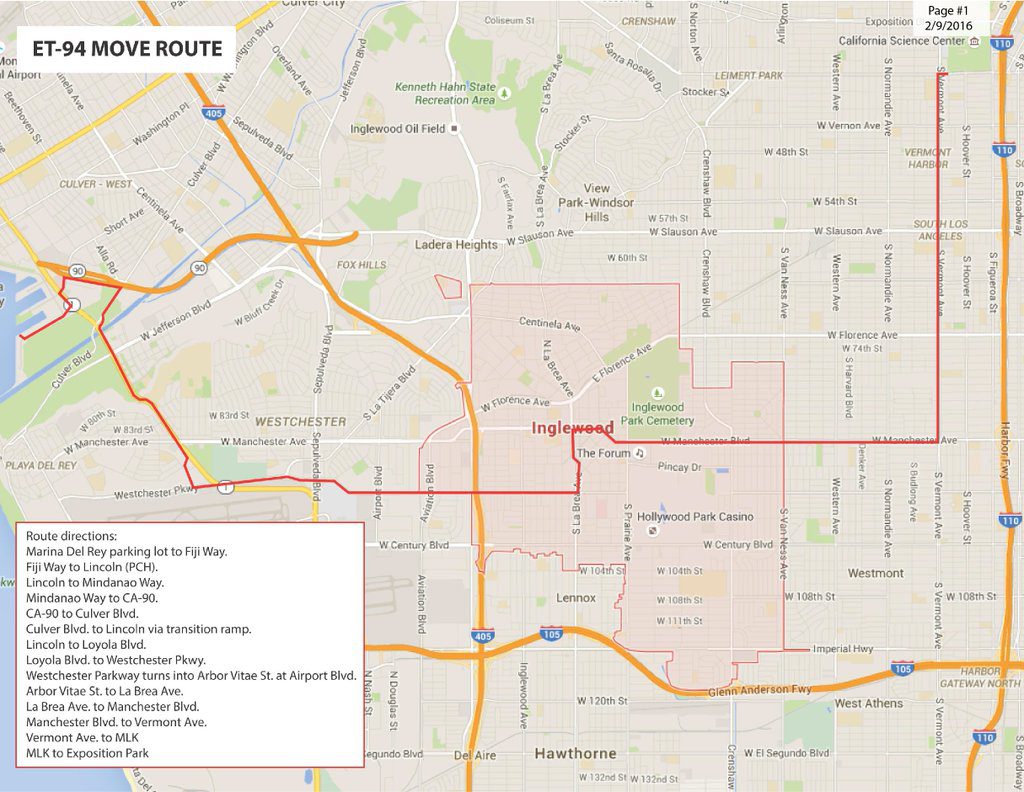 The parade's route from the dock to the California Science Center in Exposition Park, adjacent to the LA Memorial Coliseum:
Marina Del Rey parking lot to Fiji Way
Fiji Way to Lincoln (PCH)
-Lincoln to Mindanao Way
Mindanao Way to CA-90
CA-90 to Culver Blvd.
Culver Blvd. to Lincoln via transition ramp
Lincoln to Loyola Blvd
Loyola Blvd. to Westchester Pkwy
Westchester Parkway turns into Arbor Vitae St. at Airport Blvd; Arbor Vitae St. to La Brea Ave
La Brea Ave. to Manchester Blvd
Manchester Blvd. to Vermont Ave
Vermont Ave. to Martin Luther King Blvd.
Martin Luther King Blvd. to Exposition Park.
The California Science Center's official time estimates for when to expect the tank to pass by specific locations: (All projected times are subject to change; all listed in local time)
Leave the marina – Approximately 12:01 a.m.
Arbor Vitae between Inglewood Ave. and Rosewood Ave. – Approx. 8:00 to 9:30 a.m.
Forum – Approx. Noon to 2 p.m.
Manchester & Vermont – Approx. 2:30 to 4:00 p.m.
Vermont & MLK – Approx. 6:30 to 8:00 p.m.
Expo Park – Approx. 7:30 to 9:00 p.m.
The tank will go on public display at the museum upon arrival to the north-side of Endeavour's pavilion. Technicians will perform extensive restoration work on the tank and re-install its missing nose cap, orbiter attachment hardware and the fuel and pressurant lines.
The launch pad display using the Endevour, the tank and a pair of solid rocket boosters is slated to open in 2019.
See our coverage of Endeavour's final spaceflight and retirement archive.