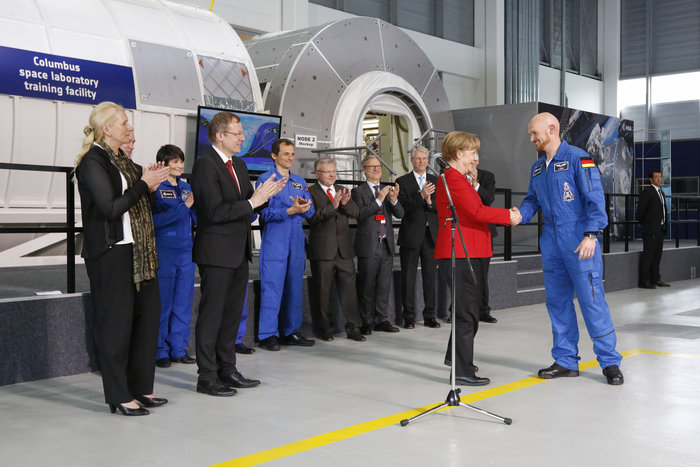 International Space Station managers have named crew members to future expeditions to the research lab in 2017 and 2018, including the first German commander of a space mission and Canada's third astronaut to fly a long-duration residency on the complex.
Alexander Gerst, a 40-year-old German volcanologist, will launch to the space station on a Russian Soyuz rocket in May 2018 as part of the six-month Expedition 56/57 mission. He will take over command of the space station in September to lead the Expedition 57 crew, the European Space Agency announced Wednesday.
Gerst spent 165 days in orbit on the space station in 2014. The 2018 mission will be his second spaceflight.
German Chancellor Angela Merkel and ESA chief Jan Woerner made the announcement Wednesday at the European Astronaut Center in Cologne, Germany.
"I am humbled by receiving the honor to command the International Space Station," Gerst said in a statement. "This international sign of trust reflects ESA's reliability as a cooperation partner, and was made possible by the fantastic work of my European colleagues on their previous missions."
Before his selection as an ESA astronaut in 2009, Gerst earned a diploma in geophysics from the University of Karlsruhe in Germany and a master's degree in Earth sciences from the Victoria University of Wellington, New Zealand. He graduated with a Doctorate in Natural Sciences at the Institute of Geophysics of the University of Hamburg, Germany, in 2009.
Gerst's research focused on the dynamics of volcanic eruptions, according to his official ESA biography.
"I am delighted by the prospect of continuing the scientific work that has been conducted on the ISS for many years," Gerst said. "I am particularly looking forward to contributing to one of humanity's greatest exploration adventures: discovering new horizons."
Gerst is ESA's second space station commander. His stint as head of the orbiting lab's crew will come nine years after European astronaut Frank De Winne of Belgium commanded the Expedition 21 crew.
The Canadian Space Agency announced Monday its third long-duration space station crew member.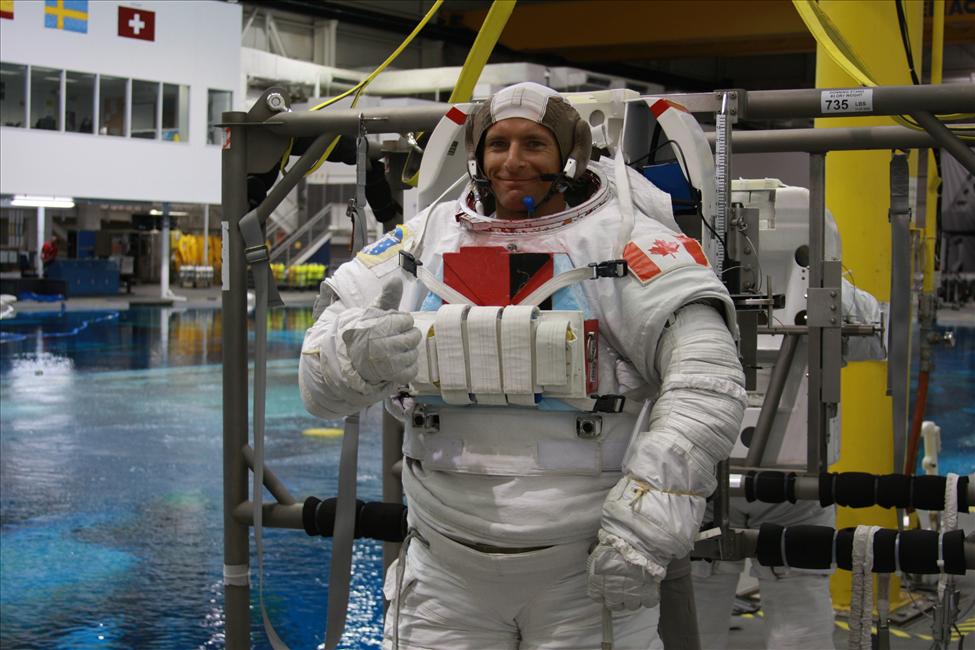 David Saint-Jacques, a Quebec native, is assigned to the space station's Expedition 58/59 crew launching on a Russian Soyuz rocket in November 2018. It will be Saint-Jacques's first space mission.
"During his time in space, the astronaut will conduct a series of scientific experiments, robotics tasks and technology demonstrations, the details of which will be revealed later this year," the Canadian Space Agency said in a press release.
"I am humbled to represent Canada on this mission and promise to give it my very best," Saint-Jacques said in a statement.
Saint-Jacques, 46, holds a Ph.D. in astrophysics from Britain's Cambridge University and earned a medical degree in 2005 from Université Laval in Quebec City, Canada. He was a medical doctor in a remote Inuit community on Hudson Bay before his selection as a Canadian astronaut in 2009.
Earlier this month, NASA announced two U.S. crew members scheduled to fly to the space station in 2017.
Scott Tingle, a U.S. Navy captain and member of NASA's 2009 astronaut class making his first spaceflight, will fly to the space station with rookie Russian cosmonaut Ivan Vagner and veteran Russian Soyuz commander Alexander Skvortsov, a Russian Air Force fighter pilot who will make his third trip to the space station. Tingle, Vagner and Skvortsov will launch on the six-month Expedition 53/54 mission in September 2017 on a Soyuz booster.
Born and raised in Massachusetts, Tingle has accumulated more than 4,000 flight hours, logged 700 carrier landings and flown 54 combat missions in the Navy. He holds bachelor's and master's degrees in mechanical engineering, with a specialty in fluid mechanics and propulsion, according to NASA.
Shuttle veteran Randy Bresnik will join Russian crewmate Sergey Ryazansky and first-time Japanese flight engineer Norishige Kanai on the Expedition 54/55 mission launching on a Soyuz rocket in November 2017.
Hailing from Santa Monica, California, Bresnik is a retired colonel in the U.S. Marine Corps who flew F/A-18 jets before his selection as a NASA astronaut in 2004. Bresnik, 48, flew aboard the shuttle Atlantis in 2009 on an 11-day assembly and resupply mission to the space station.
He graduated from The Citadel in Charleston, South Carolina, in 1989 with a bachelor's degree in mathematics, and earned a master's degree in aviation systems from the University of Tennessee, Knoxville, in 2002.
Ryazansky, a 41-year-old biochemist, is slated to make his second trip to orbit.
NASA and Russian crew members slated to fly with Gerst and Saint-Jacques have not been officially named.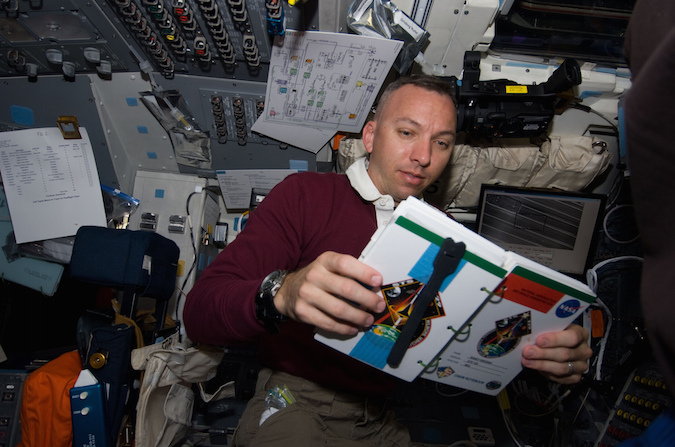 Upcoming space station expeditions with fully-named crews are listed below:
Expedition 48/49 launching in June 2016
Anatoly Ivanishin (Russia — 2nd spaceflight)
Kate Rubins (U.S. — 1st spaceflight)
Takuya Onishi (Japan — 1st spaceflight)
Expedition 49/50 launching in September 2016
Shane Kimbrough (U.S. — 2nd spaceflight)
Andrey Borisenko (Russia — 2nd spaceflight)
Sergey Ryzhikov (Russia — 1st spaceflight)
Expedition 50/51 launching in November 2016
Peggy Whitson (U.S. — 3rd spaceflight)
Oleg Novitskiy (Russia — 2nd spaceflight)
Thomas Pesquet (ESA/France — 1st spaceflight)
Expedition 51/52 launching in March 2017
Alexander Misurkin (Russia — 2nd spaceflight)
Nikolai Tikhonov (Russia — 1st spaceflight)
Mark Vande Hei (U.S. — 1st spaceflight)
Expedition 52/53 launching in May 2017
Fyodor Yurchikhin (Russia — 5th spaceflight)
Jack Fischer (U.S. — 1st spaceflight)
Paolo Nespoli (ESA/Italy — 3rd spaceflight)
Expedition 53/54 launching in September 2017
Alexander Skvortsov (Russia — 3rd spaceflight)
Ivan Vagner (Russia — 1st spaceflight)
Scott Tingle (U.S. — 1st spaceflight)
Expedition 54/55 launching in November 2017
Sergey Ryazansky (Russia — 2nd spaceflight)
Randy Bresnik (U.S. — 2nd spaceflight)
Norishige Kanai (Japan — 1st spaceflight)
Email the author.
Follow Stephen Clark on Twitter: @StephenClark1.