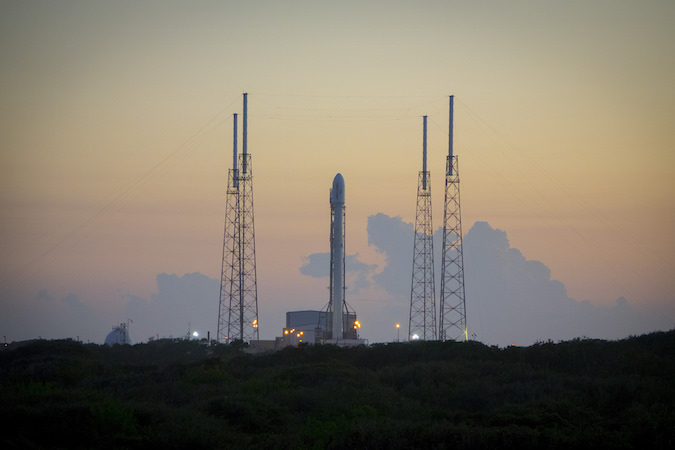 SpaceX's next Falcon 9 rocket launch is set for no earlier than May 5, sources said Friday, with a Japanese television broadcasting satellite heading to orbit from Cape Canaveral.
The two-stage booster was scheduled to roll out of SpaceX's hangar to the Complex 40 launch pad this weekend for a static fire test of the rocket's nine Merlin 1D first stage engines as soon as Sunday afternoon.
The Falcon 9 launch team will load super-chilled RP-1 kerosene fuel and liquid oxygen into the rocket, run the booster through a mock countdown sequence, then ignite the nine first stage engines to throttle up to 1.5 million pounds of thrust for a few seconds while the Falcon 9 remains firmly restrained to the launch pad.
The test is a customary preflight check SpaceX conducts before every Falcon 9 launch.
If the static fire test goes as planned Sunday, managers will likely approve the May 5 launch date at a readiness review early next week.
The Falcon 9's launch window May 5 opens at 1:22 a.m. EDT (0522 GMT) and extends for two hours, according to a U.S. Air Force range schedule obtained by Spaceflight Now.
It will be the fourth Falcon 9 launch of the year.
The payload for next week's launch is JCSAT 14, a Japanese broadcasting platform made by Space Systems/Loral in Palo Alto, California.
"SSL is a world leader in satellite manufacturing, and a valuable partner in the expansion of our fleet," said Shinji Takada, representative director, president and CEO of SKY Perfect JSAT Corp., owner of JCSAT 14. "Our corporate goal is to protect safety and peace of mind while contributing to the formation of a vibrant society. We look forward to the launch of JCSAT 14, which helps to contribute to this overarching goal."
JCSAT 14 is fitted with C-band and Ku-band transponders to serve television broadcast, data networking and airborne and maritime Internet connectivity markets across Asia, Russia, Oceania and the Pacific islands, the company said.
SKY Perfect JSAT has two more satellites scheduled for liftoff later this year, one more with SpaceX and one with Arianespace.
Based in Tokyo, the company has 16 communications craft in operation and is the fifth largest commercial telecom satellite operator in the world, measured by revenue, and the biggest in Asia.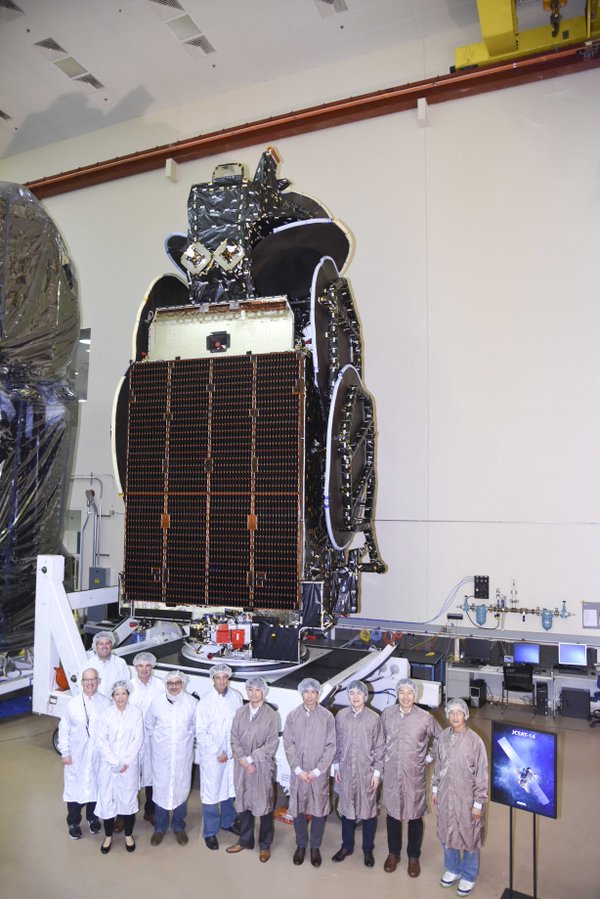 Beginning a 15-year service life, JCSAT 14 will begin operations in geostationary orbit at 154 degrees east longitude a couple of months after liftoff, replacing the aging JCSAT 2A satellite, which reached orbit in 2002 aboard an Ariane 4 rocket.
SpaceX has programmed the rocket's first stage to booster to head for the landing barge, or "drone ship," positioned several hundred miles east of Cape Canaveral. The JCSAT 14 satellite is headed for a high-altitude geostationary transfer orbit, requiring more speed and fuel than a mission to low Earth orbit.
That means there is a lesser chance of a successful touchdown than for missions like the April 8 flight with a space station resupply capsule, in which the Falcon 9's first stage nailed its first successful landing at sea, a major achievement for SpaceX's goal of making the rocket partially reusable.
Two more commercial Falcon 9 flights to geostationary transfer orbit will follow close behind JCSAT 14, meaning SpaceX plans more drone ship landings in the next couple of months. The Thaicom 8 telecommunications satellite is set for liftoff in late May, followed in mid-June by a tandem flight with two commercial broadcasting stations for Eutelsat and Asia Broadcast Satellite.
"JCSAT is pushing the envelope as a very hot and fast mission, so will land on the droneship," SpaceX founder and CEO Elon Musk tweeted Friday. "Next land landing in a few months."
Email the author.
Follow Stephen Clark on Twitter: @StephenClark1.