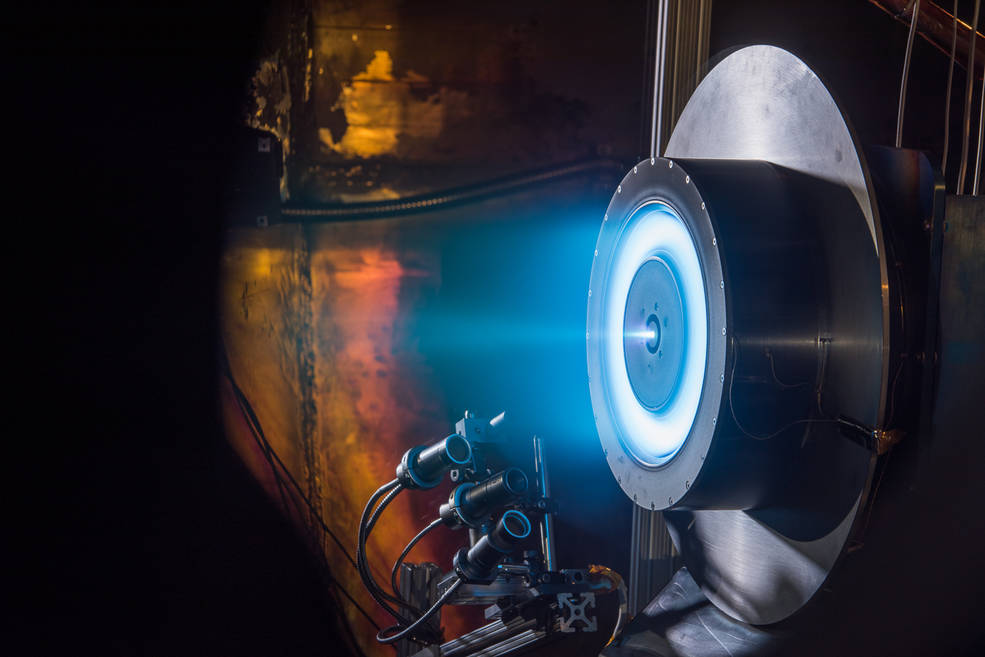 Aerojet Rocketdyne has won a $67 million NASA contract to build an advanced electric propulsion system with double the thrust of today's ion thrusters that could drive future expeditions to asteroids and Mars.
The high-power propulsion system will be based on Hall thrusters, which accelerate xenon gas through an intense electric field to generate thrust with better fuel efficiency than conventional chemical rocket engines.
NASA said work under the Aerojet Rocketdyne contract will lead to a propulsion system could increase fuel efficiency for space missions 10 times over existing chemically-fueled rocket thrusters.
Advances in fuel efficiency and thrust are vital to future missions to send humans to Mars, explore the solar system, and commercial satellites that could maneuver in orbit with less fuel.
Electric propulsion is currently used on some commercial communications satellites and science probes such as NASA's Dawn mission, a robotic craft now exploring the dwarf planet Ceres in the asteroid belt.
"The advance here is a higher power, and thus a higher thrust," said Steve Jurczyk, associate administrator of NASA's space technology mission directorate. "Our plan right now is to flight test the higher power solar electric propulsion that Aerojet Rocketdyne will develop for us on the Asteroid Redirect Robotic Mission, which is going to go out to an asteroid with a robotic system, grab a boulder off of an asteroid, and bring it back to a lunar orbit."
Under NASA's asteroid redirect mission plan, the retrieval prove will blast off in 2020 or 2021, Jurczyk said Thursday, and astronauts aboard an Orion crew capsule would visit the boulder in lunar orbit in 2025 or 2026.
The objective is to practice procedures and demonstrate technologies, such as advanced electric propulsion systems and large area solar arrays, that NASA says it needs to prove before launching human expeditions deeper into the solar system, and eventually Mars.
"In the bigger picture, in this type of SEP (solar electric propulsion) system, we would plan on using it to send robotic spacecraft and cargo to Mars," Jurczyk said. "There's going to be a pretty long logistics train for human spaceflight. There are lots of things we have to get there and put on the surface before we send crew."
Aerojet Rocketdyne will manage development and delivery of an integrated electric propulsion system, NASA said in a press release. The system consists of a thruster, power processing unit, low-pressure xenon flow controller, and electrical harness.
NASA engineers at Glenn Research Center in Cleveland have developed a tested a prototype 13-kilowatt thruster and power processing unit Aerojet Rocketdyne can use as a reference design, the space agency said.
Bryan Smith, director of the spaceflight systems directorate at Glenn, said several ion engines could be clustered to generate the power required for interplanetary spacecraft, making the overall electric propulsion scaleable to different types of missions.
"If one of these engines comprises a stream, and (you) put a few of those together, now we move to 50 kilowatts of electric propulsion capability, and with that you then can do significant orbital transfer operations, and that's where we really begin to see moving of assets into deep space," Smith said. "It becomes that next step in deep space exploration."
The contract with Aerojet Rocketdyne extends 36 months and includes options allowing NASA to purchase electric propulsion units to fly on the asteroid redirect mission and other spacecraft.
Another mission that could use the high-power thrusters is a robotic Mars orbiter NASA hopes to launch in 2022 to take over telecom relay duties from aging spacecraft now at the red planet. NASA routes data between ground controllers and surface rovers through satellites in orbit around Mars.
NASA is funding advanced solar array development projects at Orbital ATK and Deployable Space Systems, which are working on power generation systems to produce the electricity required for the new ion thrusters.
Email the author.
Follow Stephen Clark on Twitter: @StephenClark1.