STORY WRITTEN FOR CBS NEWS & USED WITH PERMISSION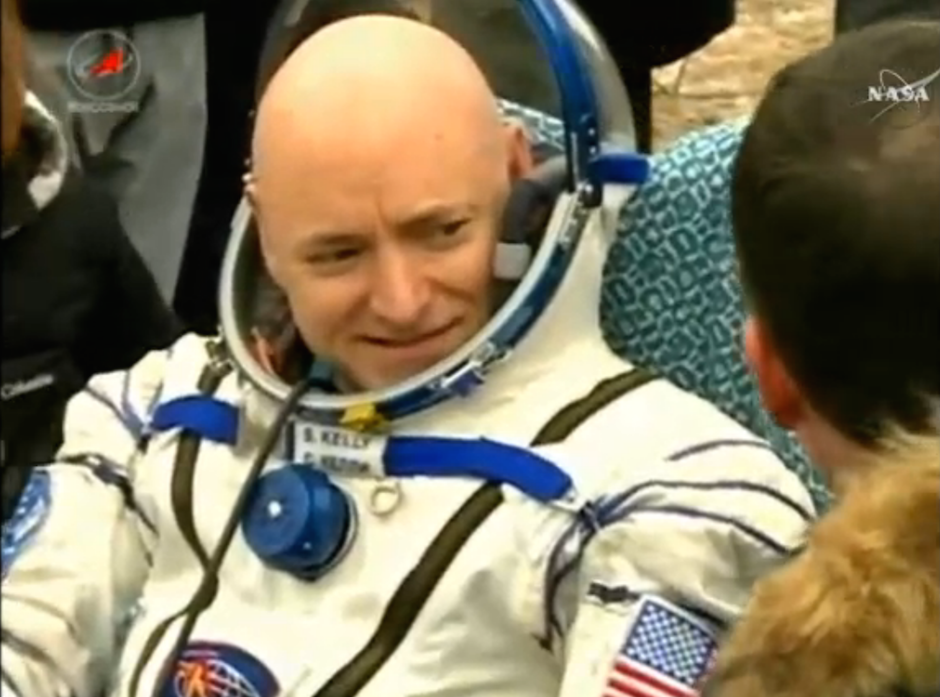 Astronaut Scott Kelly and cosmonaut Mikhail Kornienko ended a record-setting 340-day stay in orbit with a fiery Super Tuesday plunge to Earth, settling to a jarring rocket-assisted touchdown on the steppe of Kazakhstan to close out a medical research voyage that may help pave the way for eventual flights to Mars.
With spacecraft commander Sergey Volkov at the controls, flanked on the left by flight engineer Kornienko and on the right by Kelly, the Soyuz TMA-18M ferry ship undocked from the station's upper Poisk module at 8:02 p.m. EST (GMT-5) as the two spacecraft sailed 252 miles above eastern Mongolia.
The Soyuz quickly backed away, leaving Expedition 47 commander Timothy Kopra, cosmonaut Yuri Malenchenko and British astronaut Timothy Peake behind on their own until three fresh crew members arrive at the station later this month.
"We wanted to say goodbye and thank you," Volkov radioed flight controllers before undocking. "I am bringing home today two wonderful crew members, Scott and Mikhail, so thank you so much to everyone for your support."
Malenchenko praised the long-duration crew members for their work, saying "we are very grateful to this crew, to you, Misha, and to you, Scott. … Good luck, guys. We'll see you soon on the ground."
Stationed a safe distance away, Volkov monitored an automated four-minute 49-second firing of the Soyuz's braking rockets starting at 10:32 p.m., slowing the ship by 286 mph and dropping the far side of its orbit deep into the atmosphere.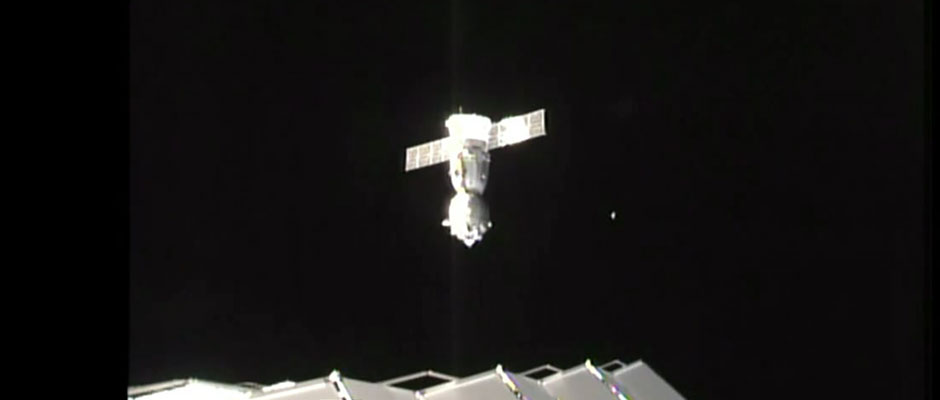 After a 25-minute free fall, the Soyuz descent module slammed into the discernible atmosphere at an altitude of about 62 miles, enduring about five minutes of extreme heating and a deceleration topping out at around four times the force of gravity while dropping another 40 miles or so.
Once below an altitude of seven miles, the descent module's large orange-and-white parachute unfurled, followed a few minutes later by a jarring touchdown at 11:26 p.m. (10:26 a.m. March 2 local time).
Russian recovery forces and flight surgeons stationed near the landing site reached the charred descent module within a few minutes of landing to help the returning space fliers out of the cramped spacecraft, carrying them to nearby recliners for initial medical checks and satellite phone calls home to friends and family.
All three crew members appeared tired but in good spirits, smiling and chatting with support crews as they began their re-adjustment to the unfamiliar tug of gravity. Kelly appeared to relish the feel of cold-but-fresh air on his face, broadly smiling has he held a satellite phone to his ear.
"My brother-in-law @StationCDRKelly is back on our planet!" former Congresswoman Gabrielle Giffords, wife of Kelly's twin brother Mark, tweeted. "Excited to welcome him back in Houston tomorrow night!"
After more medical checks and tests in a nearby tent, recovery crews planned to fly Kelly, Kornienko and Volkov to Dzhezkazgan for a traditional Kazakh welcome home ceremony. From there, Volkov and Kornienko planned to head back to Star City near Moscow for additional tests and debriefing. Kelly will fly back to the Johnson Space Center in Houston aboard a NASA jet, arriving just before midnight Wednesday.
For Kelly and Kornienko, the ride home represented a very quick, very bumpy return to gravity after nearly a year in weightlessness. While all station astronauts try to exercise for two hours a day during their stays in orbit to maintain their fitness, re-entry and landing aboard a Soyuz is a relatively violent affair.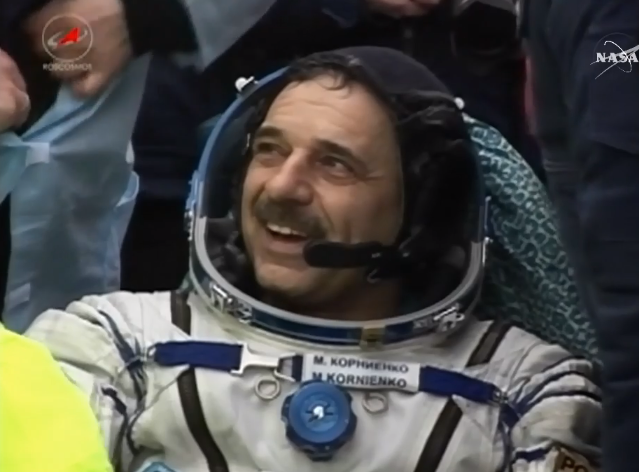 Veteran station astronaut Jeffrey Williams, scheduled to launch to the lab complex later this month as part of a three-man crew replacing Kelly, Kornienko and Volkov, told CBS News in an interview Monday that a Soyuz landing is "quite a ride."
"Coming through the atmosphere, you literally ride through a fireball, feeling four times your weight and of course, the parachute opening is pretty exciting," he said. "Then you drift down to Earth. I liken the impact on the ground to going through a car crash. But it's well designed to take it, and it's definitely a highlight of the whole mission."
Asked how Kelly and Kornienko might feel returning to gravity after 340 days aloft, Williams said he was confident Kelly had "done a good job of maintaining his fitness while he was up there and he'll do just fine coming back."
For his part, Kelly, a former Navy test pilot and veteran of three previous space missions, said last week a Soyuz re-entry is one of the clear highlights of any trip to space.
"Once you get past the initial shock of the drogue chute opening and all the pyrotechnics firing for various reasons, certainly coming through the atmosphere, the plasma that's right next to your head … (it) definitely gets your attention," he said.
"It's so much fun for me that I said after my last flight, if I'd hated being in space for six months I'd have done it all over again just for that last 20 minutes in the Soyuz. It's that type of an experience."
At touchdown, Kelly and Kornienko had completed 5,440 orbits since blastoff last March 27, covering nearly 144 million miles while logging 340 days eight hours and 42 minutes off the planet. Volkov took off last September, giving him a mission total of 182 days in space.
Over four flights, Kelly's total time in space now stands at 520 days, making him the most experienced U.S. astronaut and moving him up to 17th in the world. Kornienko's total stands at 516 days over two flights, moving up to 18th on the list of most experienced cosmonauts and astronauts. Volkov's total over three flights is 548 days, moving him up to 10th in the world.
All returning station crews face extensive rehabilitation to help them re-adapt to gravity. But Kelly and Kornienko were prepared for far more extensive medical checks than usual as researchers race the clock to precisely measure how their bodies transition back to gravity after nearly a year in space.
The goal of the mission is to learn more about the long-term effects of weightlessness and space radiation, both critical factors in planning future trips to Mars. Researchers are being helped by the participation of Kelly's twin brother Mark, a former shuttle commander, who provided blood, urine and saliva samples throughout Scott's stay in orbit.
The idea is to compare how gravity and space radiation, or their absence, affected the brothers on a genetic level.
While a record-setting mission for NASA, Kelly's flight still falls far short of records set by Russian cosmonauts in the days of the Mir space station. Vladimir Titov and Musa Manarov each logged 366 days aloft while Sergei Avdeyev spent 380 days in orbit and Valery Polyakov logged 438 days.
But state-of-the-art medical technology and procedures are expected to generate an enormous amount of top-quality data on Kelly and Kornienko. And there will be no rest for the weary. NASA Administrator Charles Bolden, who will be awaiting Kelly's return to Houston Wednesday night, told CBS Radio there is "no such thing as time off from the medical guys."
"Because he is a walking, breathing, living medical specimen, time is of the essence," Bolden said. "When they pull him out of the capsule and they get him on the airplane headed back to Houston, medical tests begin immediately.
"What the docs want to see, as quickly as they can, they want to get as much data as possible because with every minute the body begins to re-acclimate to being in a gravity environment. So they want to make sure they capture as much data as they can from him in the early stages of his re-adaptation. He will have about a 45-day rehabilitation period."
Kelly will be welcomed home in Houston by Jill Biden, wife of the vice president, Bolden and John Holdren, President Obama's science advisor, along with family, friends and NASA co-workers.
More medical tests are planned at the space center that same night before Kelly will be allowed to go home for his first shower and his first night in a bed since he blasted off off last March.
NASA plans to hold a briefing Friday with Mark Kelly and medical researchers to discuss what they hope to learn from the yearlong mission, followed by a news conference with Scott Kelly.