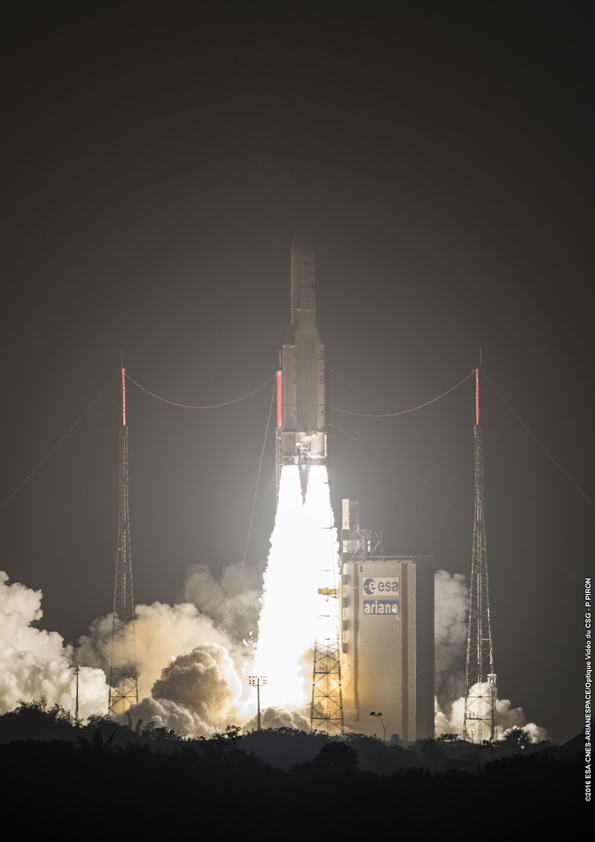 A powerhouse communications satellite with up to five times the capacity of most existing telecom craft reached orbit Wednesday after a nighttime blastoff from French Guiana aboard an Ariane 5 rocket, marking an auspicious start to the deployment of Intelsat's $2 billion next-generation satellite network.
The Intelsat 29e communications platform — weighing more than 14,400 pounds (6.5 metric tons) at launch — is the first spacecraft to launch for Intelsat's Epic program, an initiative announced in 2012 to drastically boost the capacity and reach of the company's satellite network.
Riding solo inside the nose cone of an Ariane 5 rocket, Intelsat 29e lifted off at 2320:48 GMT (6:20:48 p.m. EST) Wednesday from the Guiana Space Center, a European-run spaceport on the northern coast of South America.
The 180-foot-tall (55-meter) rocket fired away from its launch pad, streaking through scattered clouds dotting the night sky over French Guiana as it surpassed the speed of sound on the power of two powerful solid rocket boosters and a hydrogen-fueled core Vulcain 2 engine.
The Ariane 5 shed its two strap-on boosters about two minutes after liftoff, then jettisoned a payload fairing to expose the Intelsat 29e satellite to space after the rocket flew out of the dense lower layers of Earth's atmosphere.
A second stage HM7B engine ignited about nine minutes into the mission to drive Intelsat 29e into an equatorial geostationary transfer orbit.
Springs on the rocket ejected Intelsat 29e from the upper stage about a half-hour after launch as the spacecraft soared above Africa, and a radio station in South Korea picked up the first signals from the Intelsat payload a few minutes, confirming its health.
"Arianespace is delighted to announce that Intelsat 29e was separated as planned in the targeted optimized geostationary transfer orbit," said Stephane Israel, chairman and CEO of Arianespace, the French company which oversees Ariane 5 launch operations. "Arianespace is more than happy to celebrate the 70th success in a row of its heavyweight vehicle with Intelsat."
The Ariane 5's long success streak dates back to 2002, when the rocket lost control over the Atlantic Ocean after an engine failure.
Wednesday's flight was the 84th launch of an Ariane 5 rocket, and Intelsat 29e was the company's 56th satellite to fly with Arianespace, and Intelsat's 137th launch overall dating back to the 1960s.
"This launch is not like any of the previous 136 launches that Intelsat has conducted," said Stephen Spengler, Intelsat's CEO. "Tonight's launch is significant because it marks a new era in the epic story of Intelsat as a telecommunications innovator."
Intelsat 29e was the sole payload aboard the Ariane 5 launch Wednesday, a break from the standard practice of putting two communications satellites on each mission. Arianespace could not match Intelsat 29e with an appropriately-sized companion until mid-2016, so Intelsat officials said they elected to pay extra for a dedicated ride.
Engineers from Boeing, Intelsat 29e's manufacturer, took control of the satellite after separation from the Ariane 5.
The ground team will oversee six maneuvers to raise the low point of Intelsat 29e's orbit to geostationary altitude — nearly 22,300 miles (36,000 kilometers) — by Feb. 7. There the satellite's velocity will match the rate of Earth's rotation, causing it to remain over a fixed spot on the planet.
Intelsat 29e's solar panels and antennas will be extended by around Feb. 10.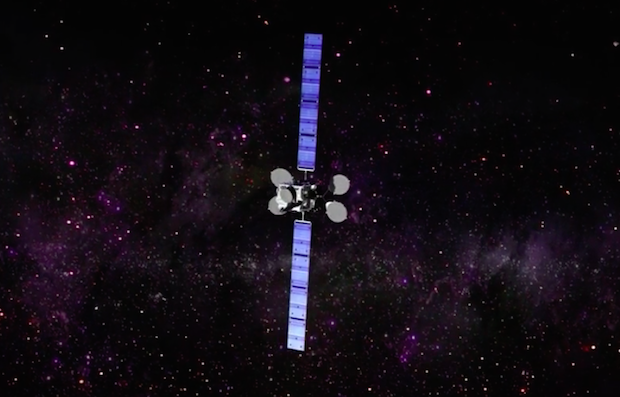 Ground controllers will drive Intelsat 29e toward a final operating post along the equator at 50 degrees west longitude, where the new satellite will replace aging Intelsat spacecraft launched in 2000.
But Intelsat 29e is more than a replacement.
The satellite can route up to 25 gigabits of data every second through its sophisticated communications instrumentation, and Intelsat 29e hosts the equivalent of 270 transponders in C-band, Ku-band and Ka-band frequencies.
That is up to five times the capacity of conventional commercial communications satellites, according to Intelsat.
"The Intelsat Epic program, which includes seven satellites, represents an investment of over $2 billion," Spengler said. "As we deploy the platform, customers will benefit from improved performance, enhanced economics and simple access that are the core innovations of Intelsat Epic. Intelsat will use innovation in the sky, as well as on the ground, to extend broadband to businesses, villages, planes, ships, and yes, even cars as new simple access technologies come to market."
The Intelsat Epic satellites carry reprogrammable digital communications payloads, and some of the Epic-class technology has its roots in the U.S. Air Force's Wideband Global SATCOM series of communications satellites, also made by Boeing.
"Our customers told us they wanted more flexibility, so we incorporated innovations that allowed Intelsat to claim another first in the satellite sector," Spengler said. "Intelsat Epic is the world's first all-digital commercial satellite system. It provides any beam to any beam connectivity and maximum configuration possibilities."
Each Intelsat Epic spacecraft has more capacity than an Air Force WGS satellite, which were designed more than a decade ago.
"Intelsat 29e is the first our Intelsat Epic high throughput satellites," Spengler said in remarks after Wednesday's launch. "Its entry into service starts the first phase of establishing a high performance overlay for our global fleet. But more importantly, it allows us, our partners and our customers to deliver broadband services that will impact the lives of millions of people around the world."
Designed for a 15-year lifetime, Intelsat 29e will support video and data distribution across South America with its C-band links, while its Ku-band covers a wide swath of the Americas, including aeronautical routes over the North Atlantic, where passengers will receive live television and broadband Internet thanks to Intelsat 29e.
Intelsat said the upgrades featured on Intelsat Epic satellites are backward compatible, meaning few changes are required to a customer's existing ground terminals. But the higher power transmissions enabled by satellites like Intelsat 29e mean receivers on the ground can be smaller, and the signals will more easily reach remote villages.
The next Ariane 5 launch is scheduled for early March on another single-payload flight with the Eutelsat 65 West A television broadcasting satellite.
Email the author.
Follow Stephen Clark on Twitter: @StephenClark1.