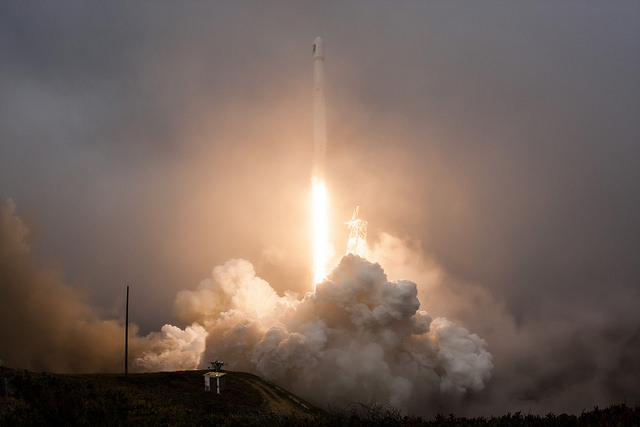 A new satellite built to extend a 24-year series of joint U.S.-European ocean observatories climbed away from a foggy California launch pad and sailed into orbit more than 800 miles above Earth on Sunday aboard a SpaceX Falcon 9 rocket.
The Jason 3 satellite is kicking off a five-year mission to precisely measure ocean waves, maritime winds, ocean currents and sea level rise for a consortium of scientific institutions in the United States and Europe.
The spacecraft lifted off at 10:42:18 a.m. PST (1:42:18 p.m. EST; 1842:18 GMT) from Space Launch Complex 4-East at Vandenberg Air Force Base, California, the primary U.S. launch site for polar orbiting satellites.
The 224-foot-tall Falcon 9 rocket ascended from its hillside launch pad toward the south-southeast through thick fog that thwarted the views of onlookers who crowded nearby streets to witness the liftoff, the first for SpaceX's Falcon 9 at Vandenberg since September 2013.
Less than an hour later, the rocket's second stage released the satellite — assembled in France by Thales Alenia Space — into an on-target orbit with an average altitude of about 815 miles (1,313 kilometers).
Jason 3 extended two power-generating solar panels a few minutes later to a span of more than 30 feet (10 meters), and the initial look at telemetry streaming down from the satellite showed it to be in good health following Sunday's launch.
"As you can imagine, we are very excited to have launched today," said Tim Dunn, NASA launch manager for the Jason 3 mission. "The flight itself, we've just done a little bit of data review … and first stage and second stage performance looks very normal. Could not have asked for a better day."
SpaceX's secondary objective on Sunday's launch was unsuccessful, when one of four landing legs mounted to the base of the Falcon 9 rocket's first stage booster did not lock in place, causing the 14-story booster to tip over after touching down on a landing platform in the Pacific Ocean.
The landing attempt marked the third time SpaceX has tried and failed to recover a Falcon 9 booster intact on an ocean-going barge.
The company, founded and managed by billionaire Elon Musk, has had better results with landing the rocket on shore. A Falcon 9 rocket launched from Florida returned to Cape Canaveral for a dramatic upright touchdown in December, giving SpaceX its biggest achievement yet in the company's pursuit of a reusable launch vehicle.
Musk posted a series of updates on his Twitter account after Sunday's launch, writing that it is "definitely harder to land on a ship.
"Similar to an aircraft carrier vs land: much smaller target area, that's also translating & rotating," Musk tweeted.
He also posted a photo of wreckage from the crash landing.
Well, at least the pieces were bigger this time! Won't be last RUD, but am optimistic about upcoming ship landing. pic.twitter.com/w007TccANJ

— Elon Musk (@elonmusk) January 17, 2016
The "RUD" mentioned in the tweet refers to "rapid unscheduled disassembly," a rocket industry euphemism.
Many SpaceX launches, including the majority of its commercial missions, will require booster landings at sea because the rockets will travel too fast to reverse course and return to land. For Falcon 9 launches carrying lighter satellites to low orbits, the booster has the ability to return to shore.
Jason 3's relatively light mass at launch — 1,219 pounds (553 kilograms), according to Thales — left plenty of margin for the booster to return to Vandenberg after Sunday's blastoff, but SpaceX said it did not receive environmental approval for the recovery in time, forcing a barge landing attempt.
Musk said on Twitter that the ship landing try after Sunday's launch was good practice for future missions that require the capability.
Despite the landing attempt, which caught the interest of space enthusiasts and SpaceX competitors alike, the primary objective of Sunday's launch was the delivery of the Jason 3 satellite to orbit.
Over the next few days, ground controllers will activate Jason 3's science payload, including a radar altimeter that serves as the mission's primary instrument.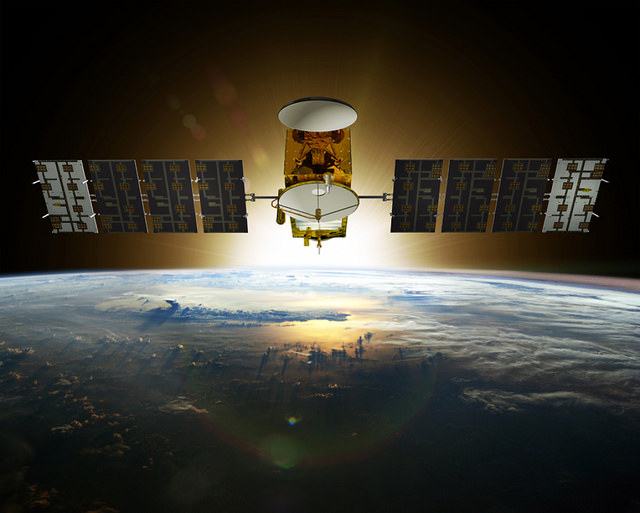 "It's got a very sophisticated suite of instruments, and the primary one is a radar instrument that sends signals to the ocean surface and then records them when they bounce back," said Tom Burns, deputy assistant administrator for systems at NOAA's satellite and information service.
NOAA oversees the U.S. portion of the Jason 3 mission, with technical and procurement support from NASA. NOAA's European counterpart, Eumetsat, manages Europe's contribution along with CNES, the French space agency.
Over the next 17 days, Jason 3 will tweak its orbit to match the path of Jason 2, a nearly identical predecessor satellite launched in 2008, according to Sophie Coutin Faye, chief of CNES' altimetry and precise positioning office.
Jason 3 will fly in formation with Jason 2 for about six months of cross-calibration activities to ensure the new satellite can seamlessly take over for the old spacecraft without interruption to the data pipeline.
Then Jason 2 will shift to a different orbit for another two years of oceanography research focused on helping map mountains, trenches and troughs on the sea floor through precision measurements of the marine gravity field, according to Josh Willis, Jason 3 project scientist at NASA's Jet Propulsion Laboratory.
Jason 3 follows three previous satellites dedicated to measuring the roughness of the ocean surface, beginning with the launch of a spacecraft named TOPEX/Poseidon in 1992.
The satellite launched Sunday was made largely from spares left over from the Jason 2 project. The cost of the mission is about $364 million, accounting for U.S. and European expenditures, including the launch on a Falcon 9 rocket.
"What we're trying to do is build a record of the climate, so we would really like our missions to have continuity and to be very similar from one to the next," Willis said. "Jason 3, much like its predecessor Jason 2, will be able to measure the height of the ocean in an area that is about 6 miles across, from 800 miles (altitude), with an accuracy of about 1 inch, so about the width of a quarter."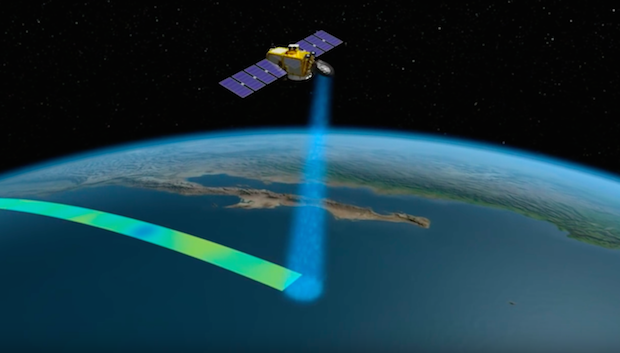 Climate scientists want missions capturing long-term time series data, such as the multi-decade ocean altimetry measurements from the Jason program, to collect the same type of information over time.
"We want our missions to tell us about changes in the ocean and not changes in technology," Willis said.
Climate scientists use data gathered by the Jason satellites to track the gradual rise in sea levels attributed to global warming, giving one of the best insights into the consequences of climate change before it threatens low-lying coastal zones with inundation, according to Laury Miller, Jason 3 program scientist and chief of NOAA's laboratory for satellite altimetry.
"Jason information is incredibly useful, especially to NOAA, because it allows us to track not only sea level change that is impacting our coastal features right now, but also helps to forecast extreme weather," Miller said.
Researchers armed with oceanography data from Jason 3 will be able to predict large-scale climate phenomena like El Nino months in advance, he said.
Jason 3 will complete a full observation cycle of the planet every 10 days.
"NOAA is also using this information to help forecast other types of features, like hurricane intensity, and to track oil spills and develop high seas wave warnings," Miller said.
"This is a critically important part of the National Weather Service (notice) to mariners, and also to coastal areas that need to know when conditions are about to become hazardous in terms of marine operations," Miller said.
U.S. and European agencies are already working on a follow-up to Jason 3 named Jason-CS, short for continuity of service. The European Space Agency will join as a partner on Jason-CS, which is also named Sentinel 6 under the umbrella of the European Commission's flagship multibillion-dollar Copernicus Earth observation program.
Like Jason 3, the Jason-CS satellite will be manufactured in Europe and launched on a U.S. rocket around 2020, said Marc Cohen, Eumetsat's associate director and chief of low Earth orbit programs.
Sunday's launch kicked off a busy year of missions for SpaceX, and gave the company back-to-back successful Falcon 9 flights after a failure last year grounded the launcher for nearly six months.
The next SpaceX Falcon 9 launch is set for early February from Cape Canaveral with the SES 9 television broadcasting satellite, followed in March by the liftoff of SpaceX's next cargo resupply mission to the International Space Station.
Those flights, along with all future Falcon 9 missions, will employ an upgraded version of the rocket with higher-thrust engines, enlarged fuel tanks, a modified staging system, and super-chilled densified propellants. The changes allow the Falcon 9 to haul heavier payloads into orbit.
The launch of Jason 3 was the last flight of SpaceX's earlier generation Falcon 9 v1.1 version.
Email the author.
Follow Stephen Clark on Twitter: @StephenClark1.