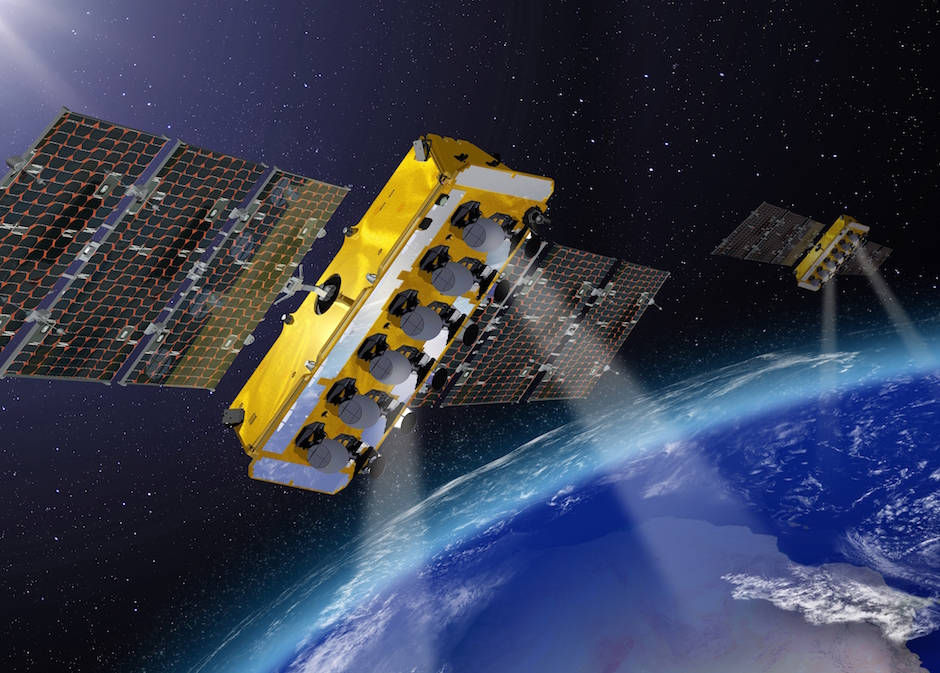 Armed with $460 million in fresh financing to grow its broadband communications capacity, O3b Networks has selected Thales Alenia Space to build eight new satellites and Arianespace to launch at least four of them aboard a Soyuz rocket in 2018.
The contracts will allow O3b, which currently has 12 satellites in orbit, to meet growing demand, the company said.
All of O3b's existing satellites were manufactured by Thales Alenia Space and launched aboard Soyuz rockets from French Guiana, so the contracts represent repeat business.
Officials announced the construction contract with Thales on Thursday, followed by the launch deal with Arianespace on Monday.
The Thales-built satellites, each weighing about 700 kilograms (1,543 pounds) at launch, will be similar to O3b's existing spacecraft, which flew into orbit from French Guiana on three Soyuz rockets in 2013 and 2014.
The new spacecraft will offer increased performance and new capabilities, Thales said in a press release.
"We are very honored by O3b's confidence in Thales Alenia Space to provide eight additional satellites to be injected in the existing constellation," said Jean Loïc Galle, president and CEO of Thales Alenia Space. "The achieved in-orbit performances of the satellites constellation already in service have allowed O3b to significantly increase their market shares and we are proud to contribute to O3b growth".
O3b officials say the 12-satellite constellation, which flies about 8,000 kilometers — or 5,000 miles — over the equator in medium Earth orbit, can support about 100 gigabits per second of throughput.
The unique orbit of O3b's satellites, which fly much closer to Earth than traditional geostationary telecom satellites, reduces the latency, or communications lag time, of its space-based Internet connection.
The agreement with Arianespace is for one Soyuz launch with four O3b satellites from the Guiana Space Center in early 2018, plus an option for another Soyuz mission with the other four spacecraft in 2018 or later.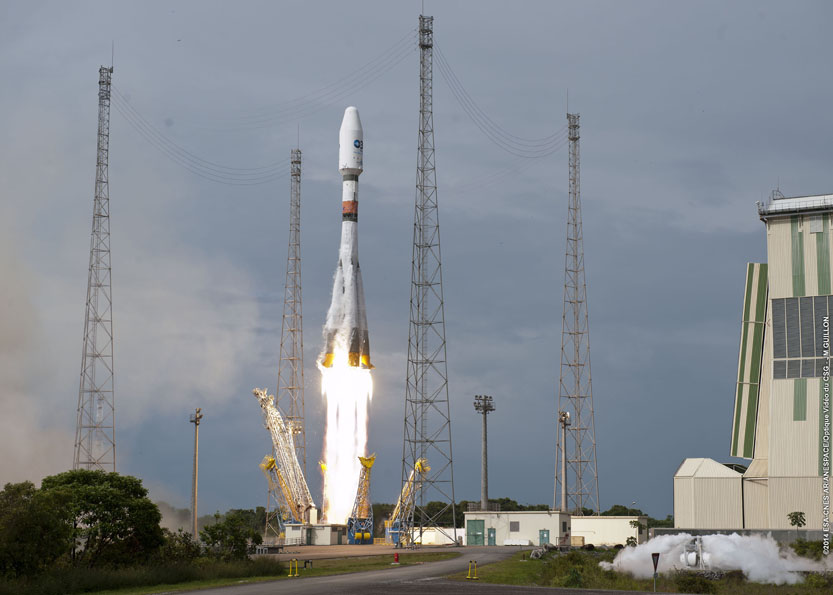 "I want to express my gratitude to O3b Networks for selecting Arianespace again, while expanding its broadband capacity with the launch of four additional satellites," said Stephane Israel, Arianespace's chairman and CEO. "We are proud to remain part of such an innovative program, which enables fiber-quality internet connectivity in emerging countries, therefore fully in line with our core mission: bring space down to Earth through tailor made launch solutions."
Founded in 2007 and backed by Luxembourg-based satellite operator SES, Google, Liberty Global and HSBC — plus other venture capital firms — O3b aims to revolutionize communications in the developing world by providing broadband Internet connectivity to telecommunications providers, national governments, oil and gas firm, and luxury cruise liners.
Based in Britain's Channel Islands, O3b began full commercial operations in September 2014 with eight satellites in orbit, and a successful Soyuz launch in December added the newest four craft to the fleet.
"With our energy and government businesses set to grow during 2016, these additional satellites will ensure that we have enough capacity to service the demand and to provide the very best combination of performance and value in the market," said Steve Collar, CEO of O3b Networks. "Our ability to attract close to half a billion dollars of incremental investment so soon after commercial launch demonstrates tremendous confidence in O3b's business and reflects the success that we have already achieved."
O3b stands for the "other 3 billion," referencing the approximate number of people without reliable, high-speed Internet connections.
The company says its client list includes more than 40 customers, many in developing countries.
"This is an incredibly exciting time for O3b and its customers," Collar said. "Our constellation is highly scalable and can be grown in direct response to market demand. In only a little over a year from our full commercial launch, we can already see the need for substantially more capacity in orbit to serve our customers."
"We are the No. 1 operator in the Pacific and, together with Royal Caribbean, we have revolutionized the cruise connectivity market," Collar said in a statement. "Our Telco customers are expanding their service offerings and growing their markets on the back of O3b's performance and capability."
Email the author.
Follow Stephen Clark on Twitter: @StephenClark1.