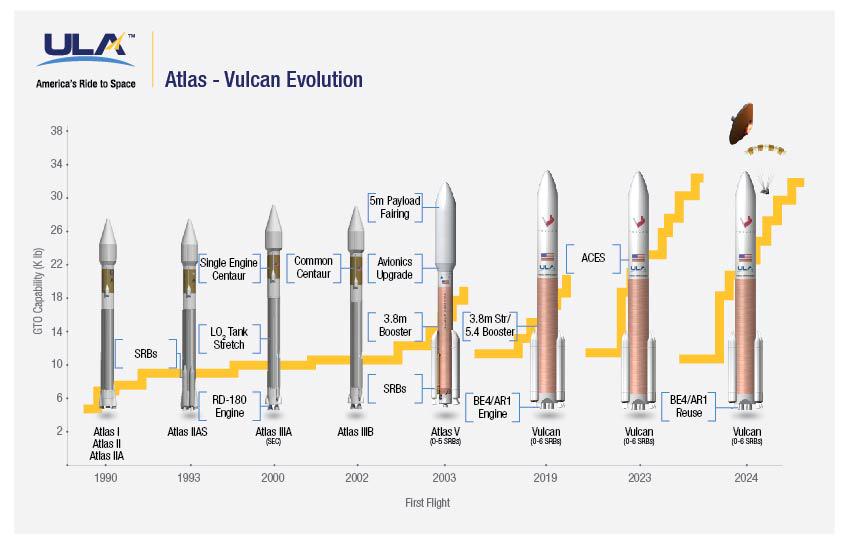 United Launch Alliance's next-generation Vulcan rocket will lift off from the company's existing Atlas 5 launch facilities in Florida and California, according to the company's Vulcan program manager.
The launch pads at Cape Canaveral and Vandenberg Air Force Base will require modifications to accommodate the Vulcan booster, which is wider than the Atlas 5 rocket's existing first stage, said Mark Peller, ULA's Vulcan program manager, at the International Symposium for Personal and Commercial Spaceflight in Las Cruces, New Mexico.
Peller confirmed Thursday widely-held suspicions that the Vulcan will be based at the Atlas 5's launch pads. ULA chief executive Tory Bruno declined to identify the Vulcan's launch pads in an Oct. 2 meeting with reporters.
"Vulcan will fly out of our heritage Atlas launch pads, so SLC-41 on the East Coast and SLC-3E on the West Coast," Peller said. "They do require a moderate amount of modification to accommodate both the larger Vulcan vehicle and the addition of liquified natural gas propellant distribution capability."
The BE-4 engines tagged to power the Vulcan first stage burn liquified natural gas, similar to methane.
ULA officials say they plan for the Atlas 5 and Vulcan launchers to fly concurrently for several years, with the maiden Vulcan launch expected in 2019 and retirement of the Atlas 5 in the early 2020s.
Launch pads in Florida and California designed for the Delta 4 rocket will remain operational until an upgraded upper stage is ready to fly around 2023, Peller said, allowing ULA to retire the triple-core Delta 4-Heavy rocket. The Delta 4's single-core medium-lift variant will make its final flight around 2019, ULA officials said.
With the final launch of the Delta 2 rocket expected in late 2017 or early 2018, and the phase-out of the Delta 4 family in the early 2020s, ULA will downsize from five active launch pads to two, keeping one facility on each coast for equatorial and polar orbit missions.
Construction crews are building a crew access tower at the Atlas 5's East Coast pad at pad 41, allowing astronauts to board Boeing's commercial CST-100 Starliner spaceship for flights to the International Space Station. Boeing has picked the Atlas 5 as the crew capsule's launcher.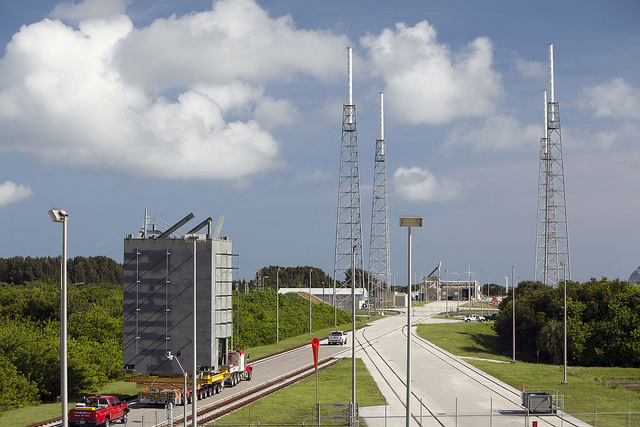 At Vandenberg on California's Central Coast, Space Launch Complex 3-East is set up for on-site assembly of the Atlas 5 inside a moveable service gantry. Atlas 5s at Cape Canaveral are stacked inside a nearby fixed vertical hangar, then rolled to the launch pad before liftoff.
ULA executives have stressed the importance of reducing ULA's footprint. Bruno said launch pads are the single biggest element of the company's fixed costs and facility costs.
The Vulcan rocket is ULA's answer to market forces brought on by newcomer SpaceX, which sells Falcon rockets at a lower price than Atlas and Delta launchers, and political pressure to end reliance on the Atlas 5's Russian-built RD-180 engines for U.S. national security missions.
The Boeing-Lockheed Martin joint venture is working on two designs for the next-generation booster: One with at least a 5.1-meter (16.7-foot) diameter core stage with two BE-4 main engines, and another with a slimmer 3.8-meter (12.5-foot) wide first stage with a pair of AR1 powerplants.
The BE-4 engine being developed by Blue Origin, a space established by Amazon.com founder Jeff Bezos, is the "primary option" for the Vulcan's main propulsion system, Peller said.
But the company is funding work on Aerojet Rocketdyne's AR1 engine as a backup option.
Both engines use oxygen-rich staged combustion technology, a technique that minimizes propellant waste during launch. The BE-4 will burn a combination of super-cold liquified natural gas and liquid oxygen, while the AR1 consumes kerosene fuel at room temperature.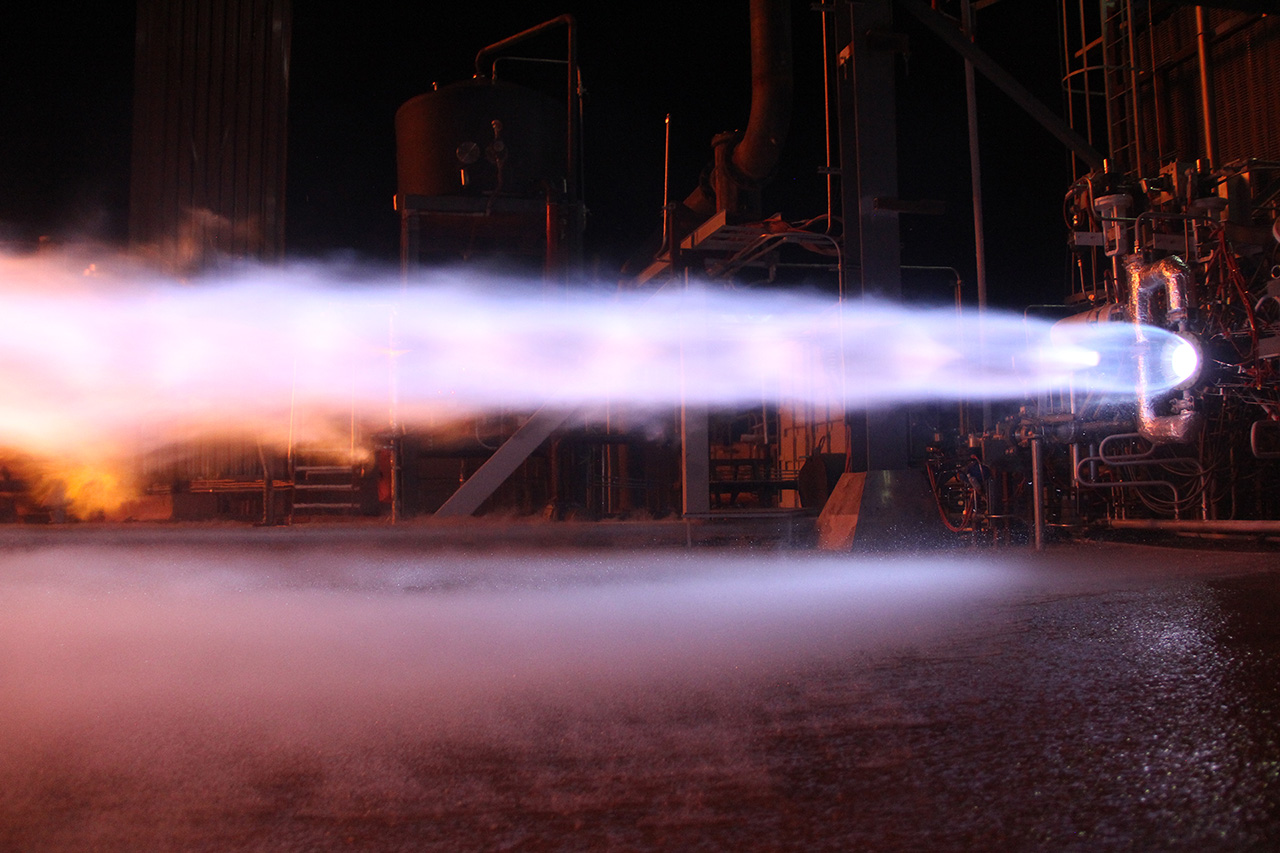 Either way, the new rocket would use two engines to provide more than a million pounds of total thrust. Ground crews could add up to six strap-on solid rocket boosters from Orbital ATK to lift heavier payloads into space.
"The BE-4 from Blue Origin is our primary option," Peller said. "That's where the majority of our focus is right now going forward. We realize that engine development is very difficult and fraught with risk. We are a very important provider of launch services to our country, and we want to make sure that we continue to provide assured access to our government customers, so we felt it's a prudent step to take to maintain a backup option, and that is the AR1."
ULA officials have said the AR1 engine, which generates 500,000 pounds of thrust at sea level, could be incorporated into a new booster stage based on the Atlas 5 design. The AR1 consumes the same propellant mix — liquid oxygen and refined rocket-grade kerosene — as the RD-180 engine currently affixed to the bottom of Atlas 5s.
"It is not a drop-in replacement but could be accommodated into an AR1 variant of the Vulcan vehicle on the drawing board as well — a little more similar to Atlas than what were doing with the BE-4 Vulcan vehicle," Peller said. "The AR1 engine is going through development, and that team is on track to have their preliminary design review for that engine later this year."
Aerojet Rocketdyne, ULA's current primary engine provider, attempted a $2 billion takeover of ULA in September. Weeks later, ULA selected Orbital ATK over Aerojet Rocketdyne as the company's sole supplier of solid rocket boosters.
Once the all-American booster engine is introduced on Vulcan, ULA eyes an upgraded Advanced Common Evolved Stage, or ACES, to replace the Centaur upper stage that has been flying since the 1960s. Engineers plan to begin recovering engine pods from the Vulcan rocket for refurbishment and reuse in the 2020s.
Rob Meyerson, president of Blue Origin, said the BE-4 engine is approaching its critical design review, a key development milestone that is often a gate to begin production. Officials have said the BE-4, which Blue Origin started working on in 2011, is on track to be certified for flight by 2017.
Blue Origin announced Sept. 30 the completion of more than 100 staged combustion tests of the BE-4 engine. The firings at Blue Origin's West Texas test site included a representative BE-4 preburner and a regeneratively-cooled thrust chamber using multiple full-scale injector elements, the company said in a statement.
The engine on the test stand us a sub-scale BE-4 generating about 20,000 pounds of thrust, Meyerson said.
"It demonstrates all of the injector elements," he said. "We're demonstrating performance, we're demonstrating combustion stability, we're demonstrating the manufacturing techniques we need to build those injectors and those chambers.
"The powerpack itself is the other part of the testing," Meyerson said. "The powerpack includes the main pump, the boost pump, the preburner, and all the main valves on the engine, and we've been testing that extensively as well."
Meyerson said the BE-4 engine is also intended to power Blue Origin's own unnamed orbital launch vehicle scheduled to fly by the end of the decade. Blue Origin's suborbital New Shepard booster, designed for space tourist and research flights, uses a smaller hydrogen-fueled BE-3 engine.
"We didn't go into this 10 years ago with the idea that we want to build engines for the community," Meyerson said. "We went into this going to build technologies to support New Shepard, and those engines happen to be very unique in the industry, and one-of-a-kind capabilities that can support multuple launch companies."
The most unique trait of the BE-4 engine is its funding pipeline, according to Meyerson.
"I emphasize that the BE-4 is fully funded because a rocket engine that's available for others to buy, that's a new trajectory," Meyerson said. "Jeff Bezos has stepped in and invested in the BE-4. ULA has come in and made an investment as well for application on the Vulcan, and I think that's unprecedented."
ULA chief executive Tory Bruno said the AR1 engine is about two years behind the BE-4, and managers will decide on an engine by the end of 2016.
"We see that (decision) as some time next year, probably late next year," Peller said. "We're monitoring the risk burn down with our primary option, and with more progress both on our side with the booster and with Blue Origin, we'll make that decision."
Email the author.
Follow Stephen Clark on Twitter: @StephenClark1.