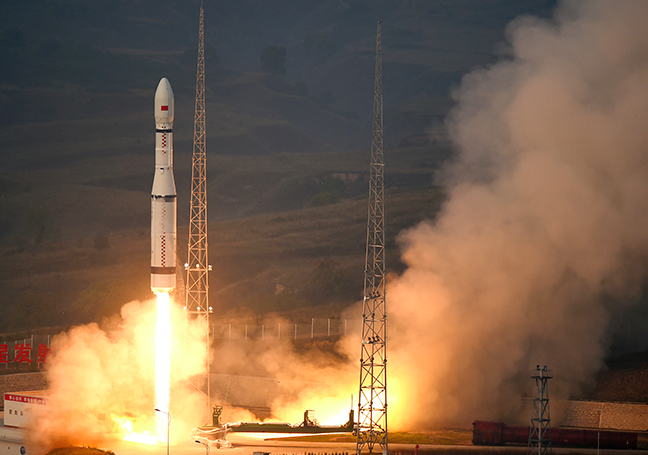 China's Long March 6 rocket, fueled by a mixture of kerosene and liquid oxygen, successfully shot into orbit on its first mission Saturday with 20 small satellites, signaling a revolution in Chinese rocketry as the country prepares to test bigger boosters in the coming months.
The Long March 6 lifted off at 2301 GMT (7:01 p.m. EDT) Saturday from the new launch pad 16 at the Taiyuan space center in northeastern China's Shanxi province.
Powered by an entirely new generation of rocket engines, the rocket marks the beginning of China's transition away from satellite launchers burning toxic propellants. Earlier series of Long March rockets consume hydrazine fuel, caustic to the environment and to humans, and were derived from Cold War-era Chinese missile technology.
State media reported the launch was successful, and U.S. military tracking data indicated Sunday multiple objects attributed to the mission were in a near-circular orbit 525 kilometers, or 326 miles, at an inclination of 97.5 degrees.
The Long March 6's first stage is powered by a YF-100 main engine, a staged combustion powerplant Chinese engineers have worked on since 2000. Chinese state-run television reported the engine generates up to 120 metric tons, or 264,000 pounds, of thrust.
Another kerosene-fueled engine drives the Long March 6's second stage. A third stage deployed the satellites into orbit.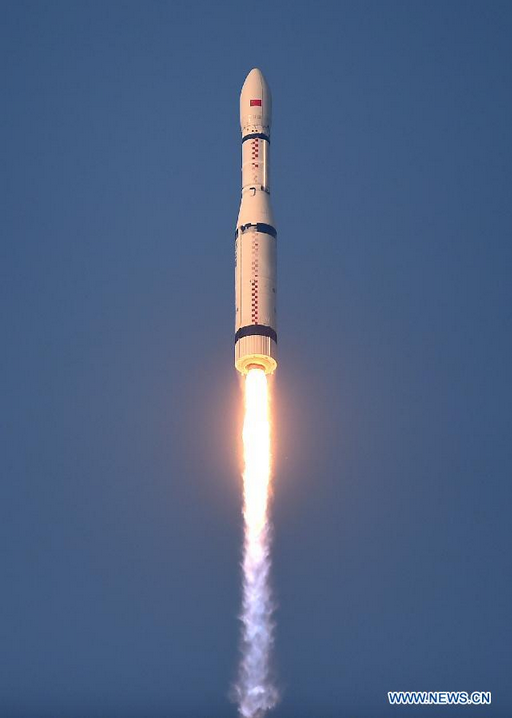 Chinese authorities have kept many details of the Long March 6's design and capabilities secret, but the main booster engine is likely the same powerplant destined to fly on the heavy-lift Long March 5 rocket, the most powerful launcher in China's inventory expected to fly for the first time next year.
The Long March 5 could cluster up to eight of the YF-100 engines — along with hydrogen-fueled core engines — to lift hefty payloads into orbit, such as large modules for China's future space station. An intermediate rocket called the Long March 7 is also in China's plans.
Chinese engineers completed a major test of the Long March 5's cryogenic propulsion system Aug. 17, according to the China Aerospace Science and Technology Corp.
Xinhua reported a Long March 5 rocket shipped from the Port of Tianjin in northern China on Sunday for a rehearsal at an undisclosed location to practice the rocket's launch procedures, mimicking preparations for the Chang'e 5 lunar probe due for liftoff in 2017 on a sample return mission to the moon.
But many of the launcher's specifics are closely held by Chinese officials, which approved full-scale development of the Long March 6 in 2009.
"I am not confident of the current configuration of the Long March 5 and 7," said Jonathan McDowell, an astrophysicist at the Harvard-Smithsonian Center for Astrophysics and an expert who tracks spaceflight events. "I believe they all use various numbers of the same engine in the first stage as Long March 6."
The Long March 6 is apparently designed for rapid call-up, giving China a more responsive rocket to launch on need.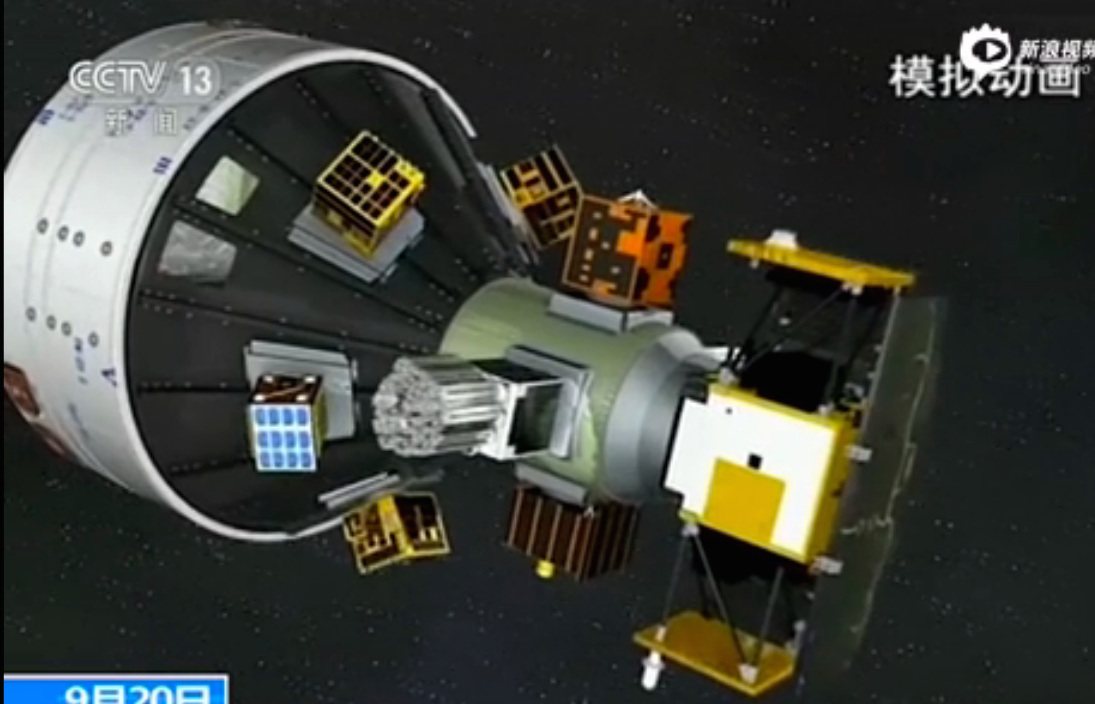 "Loading, testing and positioning were finished when the Long March 6 rocket was at a horizontal position, before it was lifted to an upright position for launching," said Zhang Weidong, designer-in-chief at the Shanghai Academy of Spaceflight Technology with the China Aerospace Science and Technology Corp.
"We believe it will greatly boost the competitiveness of Chinese carrier rockets in the international market. The new model will also significantly improve our ability to access space," Zhang said in a report by China's official Xinhua news agency.
Xinhua reported the Long March 6 will mainly be used to launch small microsatellites. Standing about 95 feet tall, it can haul up to 1,500 kilograms, or 3,300 pounds, of cargo into low-altitude orbits, according to Sinodefence.com, a British website specializing in Chinese military matters.
Some of the 20 satellites sent into space Saturday went up housed inside mothership satellites, where they were stowed for later deployment. Many were assembled by students at Chinese universities, officials said.
They will conduct technology demonstrations in orbit, including tests of electric propulsion, in-space communications links, new software and cameras, nanotechnology, and amateur radio relay, officials said.
The 20-payload haul is the most number of satellites ever launched on a single rocket by China.
Email the author.
Follow Stephen Clark on Twitter: @StephenClark1.