STORY WRITTEN FOR CBS NEWS & USED WITH PERMISSION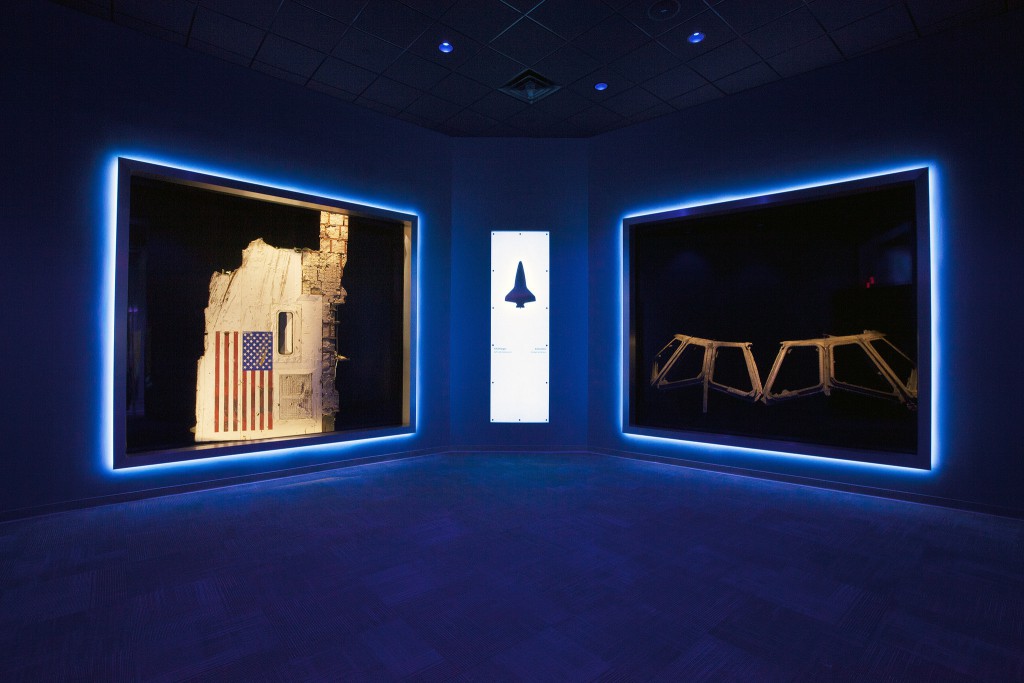 In the first memorial of its kind, NASA and the families of the 14 men and women who lost their lives aboard the shuttle Challenger in 1986 and Columbia in 2003 have joined together to remember the astronauts with pictures, personal mementos and, in an emotional first, iconic wreckage from both orbiters.
The "Forever Remembered" memorial at the Kennedy Space Center's commercially operated Visitor Complex opened to the public Saturday after private viewings Thursday and Friday by family members.
"The crews of Challenger and Columbia are forever a part of a story that is ongoing," NASA Administrator Charles Bolden said in a statement. "It is the story of humankind's evolving journey into space, the unknown, and the outer-reaches of knowledge, discovery and possibility. It is a story of hope."
In the shadow of the shuttle Atlantis, mounted as if in flight in an open split-level building, the new memorial strives to strike a balance between sober reflection and a celebration of the crew members' lives and the vehicles that carried them aloft.
Challenger's crew — Commander Francis "Dick" Scobee, pilot Michael Smith, Ellison Onizuka, Judith Resnik, Ronald McNair, satellite engineer Gregory Jarvis and New Hampshire school teacher Christa McAuliffe — was killed when the shuttle broke up 73 seconds after liftoff on Jan. 28, 1986, because of a rupture in one of its solid-fuel boosters.
Columbia's crew — commander Rick Husband, pilot William "Willie" McCool, David Brown, Kalpana Chawla, Michael Anderson, Laurel Clark and Israeli flier Ilan Ramon — died during re-entry on Feb. 1, 2003, victims of wing damage caused by falling foam insulation during launch 16 days earlier.
The memorial features a central hallway with displays on both walls honoring each crew member, including personal items provided by their families.
Husband's Bible and Tony Lama cowboy boots can be seen, along with a house plan drawn up by Smith, a research paper written by Resnik, a "Star Trek" lunch box and Cub Scout shirt once worn by Anderson and a charred page from Ramon's flight notebook, recovered after the accident.
Other mementos include Scobee's slide rule-like navigation computer and a leather flight helmet, Onizuka's personal Buddhist prayer beads, a biking trophy won by Jarvis and a copy of "Johnathan Livingston Seagull," one of Chawla's favorite books.
A photograph in Husband's display shows Columbia's crew, dressed in bright orange pressure suits, huddling for a group prayer before heading to the launch pad. In his Bible, the deeply religious shuttle commander had underlined Proverbs 5:6: "Trust in the Lord with all your heart and lean not on your own understanding; in all your ways submit to him, and he will make your paths straight."
"This was very important to me, and very important to the people who work here at KSC," Kennedy Space Center Director Robert Cabana, a veteran shuttle commander, told CBS News during a pre-opening walk through Thursday. "Challenger and Columbia, they're part of our history, they're part of who we are as a nation and as an agency.
"And I think it's important to share that part of the story with everyone. It is part of who we are. It needs to be shared."
At the end of the hall, a quote from President Ronald Reagan hangs on the wall: "The future doesn't belong to the fainthearted, it belongs to the brave."
Turning to the right, visitors enter a larger, darker room. On one wall, in a starkly lighted display, is a large section of the torn, heavily damaged outer skin of Challenger's fuselage, still showing the American flag and an open vent door.
The recovered debris of Challenger has been stored for nearly three decades in two abandoned Minuteman missile silos at the Cape Canaveral Air Force Station. The wreckage shown at the memorial is the first debris from Challenger to be publicly displayed since the accident investigation was concluded in 1986.
Columbia is represented by the orbiter's six forward cockpit window frames, arranged as they were when still part of the orbiter. The glass is gone, of course, and the frames are discolored and clearly damaged. But they retain their iconic shapes and are instantly recognizable.
"They say the eyes are the windows to the soul," Cabana said, choking back tears. "And I think that's true of Columbia also. They're the windows to the soul of Columbia. And when I look at that, I see (astronauts) John Young and Bob Crippen on the first flight of Columbia. I see a young Bob Cabana on his first command. And I see Rick and Willie and the whole 107 crew, with smiles on their faces, enjoying that space flight."
For many workers at the Florida spaceport, NASA's shuttles — Columbia, Challenger, Discovery, Atlantis and Endeavour — were engineering marvels at the pinnacle of human achievement, each with its own "personality." And many space workers have voiced frustration over the years that the public never fully appreciated what an achievement the orbiters represented.
While the three surviving shuttles can be visited in museums, Cabana said adding wreckage from Challenger and Columbia brings closure, of a sort, to the thousands of men and women who maintained, serviced and launched NASA's fleet of space shuttles.
"The exhibit, it's not just a memorial to the crews, it is a memorial to the vehicles, to the entire KSC team," Cabana said. "The crews were part of our family and the vehicles, they're part of our family, too."
A final room in the memorial features three multi-screen high-definition video displays. One shows samples of cards and letters sent to NASA in the wake of the accidents. One child wrote: "I know being an astronaut is dangerous. But they were brave enough to follow their dreams."
A second display chronicles NASA's recovery from the two disasters, including the collection and analysis of debris. The third display highlights the "return to flight" missions that followed Challenger and Columbia after lengthy investigations.
More than a million tourists visit the KSC Visitor Complex each year and Cabana said he hopes the shuttle memorial, along with the Atlantis display and other historical artifacts, will give the public a better appreciation of NASA's winged orbiters and the 14 men and women who lost their lives on the high frontier.
"It's our history. It's about perseverance. It's about rising above adversity," Cabana said. "It's about the vehicles, the crews and the NASA family that made it all possible. We're not going to forget the lessons that we learned. We're not going to forget the crews or the people who made it possible. … This is an important part of that story that needs to be shared."