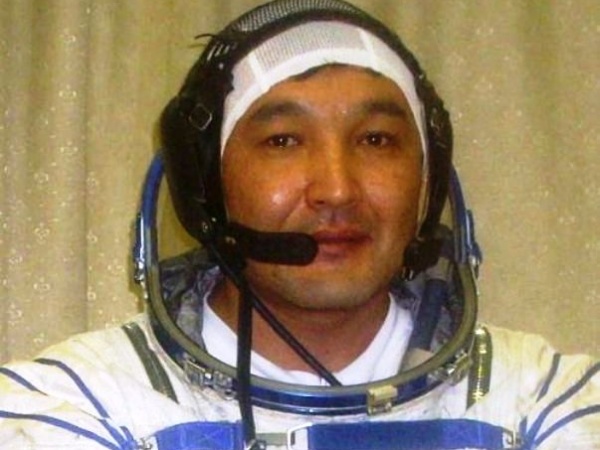 Russia's space agency says a Kazakh cosmonaut will fly to the International Space Station on 10-day mission in September, replacing British singer Sarah Brightman, who backed out of the mission in May.
Aidyn Aimbetov, a 42-year-old fighter pilot turned cosmonaut, will take Brightman's seat on the Soyuz TMA-18M spacecraft when it blasts off Sept. 1. Aimbetov will join Soyuz commander Sergey Volkov and European Space Agency flight engineer Andreas Mogensen — the first Danish astronaut — for the trip.
Russia's space agency — Roscosmos — said in a tweet Monday it has approved the nomination of Aimbetov for the space mission. The agency offered no additional details.
Mogensen and Aimbetov will fly up on the Soyuz TMA-18M craft and land 10 days later on the Soyuz TMA-16M capsule, which will reach the end of its service life as an escape pod for the station crew.
Volkov will remain in orbit until March, and outgoing space station commander Gennady Padalka will come home with Aimbetov and Mogensen. The short-duration flight is necessary to swap out Soyuz lifeboats at the space station in support of a nearly year-long expedition underway by NASA astronaut Scott Kelly and Russian cosmonaut Mikhail Kornienko.
The Soyuz capsule with Volkov, Mogensen and Aimbetov will launch from the Baikonur Cosmodrome in Kazakhstan, the departure point for all Russian space crews. Aimbetov will become the third ethnic Kazakh cosmonaut to fly in space since the Central Asian nation was established with the fall of the Soviet Union, and the second to visit the International Space Station.
Brightman arranged to fly to the space station under a contract with Space Adventures, a U.S.-based company which sells open seats on Soyuz missions to well-heeled business tycoons and celebrities.
But the famed soprano announced in May she would forgo the opportunity to launch in September, citing "personal family reasons" for her decision. Brightman left open the possibility to fly in space on a future mission.
Japanese businessman Satoshi Takamatsu, who signed a separate space tourist contract with Space Adventures, trained for the September mission as Brightman's backup.
But Takamatsu will not take Brightman's seat, according to a statement issued Monday by Space Adventures.
The Space Adventures press release said Takamatsu has signed a contract for a future mission into Earth orbit.
"I have thoughtfully considered as to when I should realize my dream of spaceflight and have come to the conclusion that the art projects that I would like to perform in space require cutting-edge technology both in hardware and software," Takamatsu said in a statement. "I need to dedicate myself to these projects and prepare diligently for them and that cannot be satisfied before the next launch in September. Therefore, I will wait until the moment is right for me."
In the same statement, Space Adventures president Tom Shelley said Takamatsu is continuing his training in Russia, and officials are hopeful he will fly in space in the next two to four years.
Aimbetov started training as a cosmonaut in Star City, Russia, in 2003. Another Kazakh cosmonaut in Aimbetov's group, Mukhtar Aymakhanov, became a Russian citizen in hopes of expediting his chance to fly in space.
But Aimbetov remained a Kazakh citizen, telling an interviewer from a Kazakh newspaper: "I will travel into space only under the Kazakh flag."
Aimbetov ended his training in 2009 after Kazakh and Russian officials could not agree on scheduling a seat on a Soyuz flight.
"Flying into the space is not buying a theater ticket," Aimbetov said in an April interview posted on a Kazakh government website.
Email the author.
Follow Stephen Clark on Twitter: @StephenClark1.