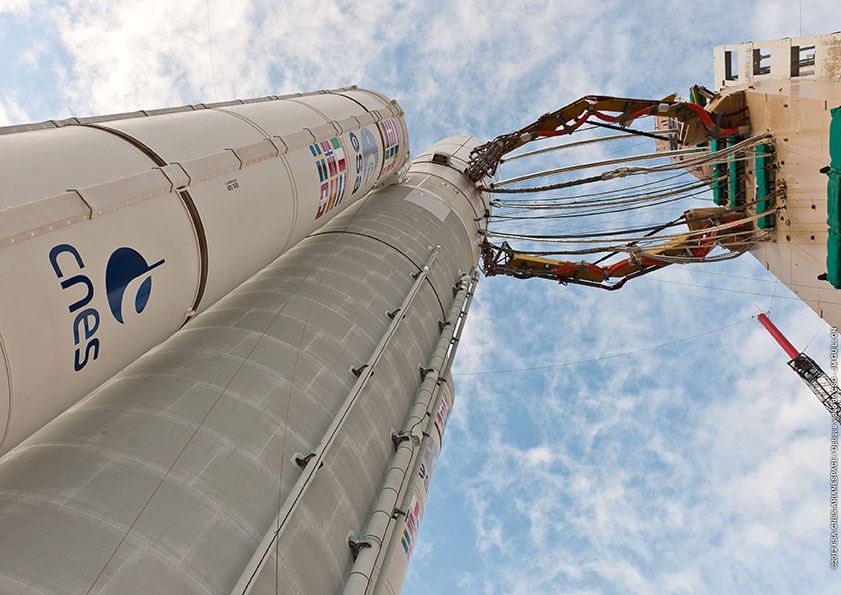 Arianespace has postponed this week's launch of an Ariane 5 rocket with two European communications satellites to replace a faulty fluid connector between the launcher and its mobile launch platform, officials said Tuesday.
The tandem satellite delivery mission — designated VA222 in Arianespace's flight sequence — was due for liftoff from Kourou, French Guiana, on Wednesday.
"During the preparations for the rollout of the launcher for flight VA222, an anomaly occurred on a fluid connector between the cryogenic upper stage and the launch table," Arianespace said in a statement. "As a result, Arianespace has decided to postpone the launch initially scheduled for April 15, 2015, in order to replace this part and perform the subsequent verifications."
The Ariane 5 rocket was set to transfer from the Guiana Space Center's final assembly building to the ELA-3 launch zone Tuesday in preparation for blastoff.
A source familiar with the matter said the delay is expected to be about 10 days.
"The new launch date targeted will be announced very soon," Arianespace said.
The launch will be the first Ariane 5 flight of the year, and the 78th mission by Europe's workhorse rocket since it debuted in 1996. It will mark Arianespace's third launch of 2015 after the smaller Vega and Soyuz rockets lifted off from French Guiana in February and March.
Arianespace said the two satellites packaged atop the Ariane 5 launcher, Thor 7 and Sicral 2, were safe and in standby mode awaiting liftoff.
Made in California by Space Systems/Loral, Thor 7 will provide television programming across Central and Eastern Europe and beam Ka-band signals to serve the maritime sector in the North Sea, the Norwegian Sea, the Red Sea, the Baltic Sea, the Persian Gulf and the Mediterranean for Norway's Telenor Satellite Broadcasting.
Sicral 2, built by Thales Alenia Space, carries communications payloads for Italian and French military authorities, with reserve capacity available to other NATO nations over its 15-year mission.
Follow Stephen Clark on Twitter: @StephenClark1.