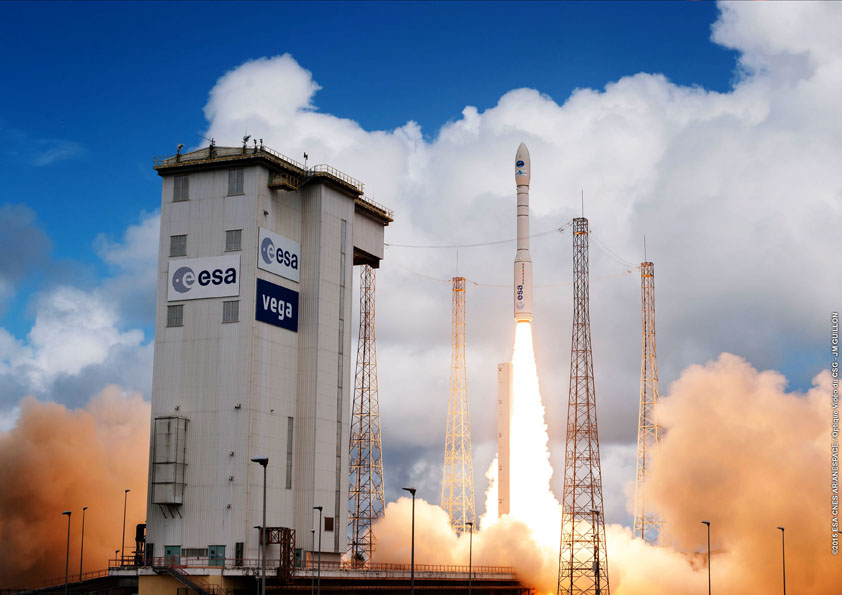 Arianespace announced four launch orders this week to deploy spacecraft in orbit for a subsidiary of Google, the United Arab Emirates and Europe's new laser data relay satellite network.
The missions will launch from the Guiana Space Center on the northern coast of South America, where Arianespace operates the Ariane 5, Soyuz and Vega rocket families.
Revealed in conjunction with the Satellite 2015 conference in Washington, the contracts cover launches starting in 2016, when a lightweight solid-fueled Vega rocket will send four high-resolution Earth observation satellites into polar orbit for Skybox Imaging.
"We are extremely proud to play a part in deploying Skybox's satellite imaging constellation." said Stephane Israel, CEO of Arianespace. "The Vega launch system has already achieved four flawless flights for commercial and government customers. This new contract with Skybox marks our first U.S. customer of the Vega and adds to Vega's order book of nine small satellites to be launched in the coming three years."
The quartet of payloads will continue the expansion of Skybox's satellite fleet, which can help update the popular Google Maps application, record high-definition video of Earth from orbit, and revisit the same location with regularity, giving customers more up-to-date views of cities, farms and industrial sites.
Google acquired Skybox Imaging last year.
Skybox's first two satellites were built in-house by the Mountain View, California-based company, and launched as part of clusters of small spacecraft aboard Dnepr and Soyuz rockets in 2013 and 2014.
Space Systems/Loral is under contract to build at least another 13 satellites for Skybox, which has its next satellite under construction for liftoff later this year on an Indian Polar Satellite Launch Vehicle.
Skybox has also signed a deal with Orbital ATK to launch six of its spacecraft on a Minotaur-C rocket from Vandenberg Air Force Base in California. The mission is now due to launch in 2016.
Arianespace also said Tuesday it collected a contract to launch two Falcon Eye spy satellites in 2018 and 2019. The two craft will blast off into polar orbit on separate rockets, either Vega launchers or the medium-class Russian-made Soyuz rocket, officials said.
The Falcon Eye launch contract was signed by Arianespace and Airbus Defense and Space, which is building the satellites in Europe for the armed forces of the United Arab Emirates.
The Falcon Eye satellites will carry very high-resolution optical telescopic cameras supplied by Thales Alenia Space to gather imagery of sites around the world. The spacecraft are based on the Pleiades reconnaissance satellites built and launched for the French defense services.
The final launch agreement disclosed by Arianespace this week covered the launch of a European communications satellite on an Ariane 5 rocket in the first quarter of 2017 to relay data between other spacecraft and users on the ground.
The EDRS-C satellite will be the first dedicated spacecraft to launch to join the European Data Relay System, which will get its first relay station in mid-2015 with the launch of Eutelsat 9B, a commercial platform which hosts a laser communications terminal.
Airbus Defense and Space is the owner and operator of the EDRS network, which began as a public-private partnership between industry, the European Space Agency and the European Commission — the European Union's executive body.
EDRS-C will be constructed by OHB System in Germany. The spacecraft is based on OHB's "Small GEO" satellite bus and is sized for the lower berth of the Ariane 5 rocket's dual-payload attach fitting.
The Ariane 5 rocket usually launches with two communications satellites, a larger payload on top and a lighter spacecraft underneath.
The EDRS communications packages — using lasers to beam messages through space at up to 1.8 gigabits per second — will allow near-real-time transfer of imagery and scientific data from other satellites, airplanes and drones, according to Airbus.
The system's anchor customers are Europe's Copernicus Earth observation satellites and the Columbus laboratory module on the International Space Station.
Follow Stephen Clark on Twitter: @StephenClark1.