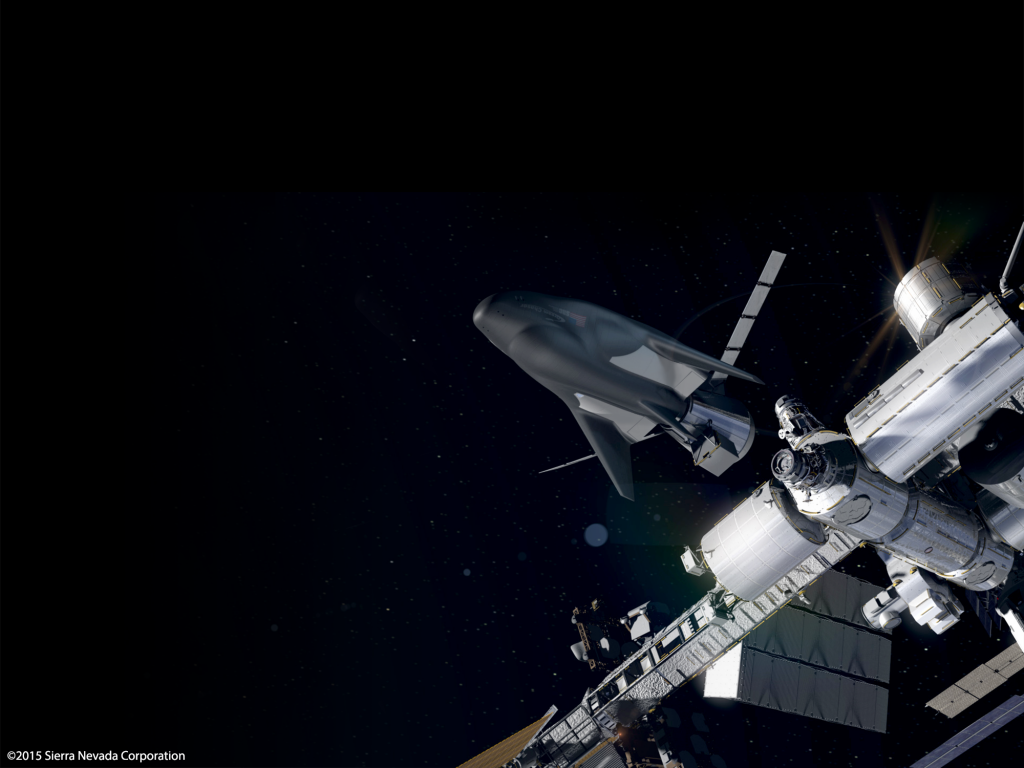 Leveraging progress made to build a human-rated space plane for NASA's commercial crew program, Sierra Nevada Corp. said this week it has offered a cargo-carrying version of the Dream Chaser spacecraft to resupply the International Space Station beginning in 2018.
The Dream Chaser would launch without a crew inside the nose fairing of an Atlas 5 or Ariane 5 rocket, fly on autopilot and dock with the space station, delivering up to 5,500 kilograms — 12,125 pounds — of pressurized and unpressurized cargo per mission, officials told reporters Tuesday at a press conference in Washington.
The spaceship would return to Earth and glide to a runway landing, bringing back up to 1,750 kilograms — 3,858 pounds — of experiment specimens and other gear for analysis and refurbishment.
A detachable cargo module mounted to the back end of the Dream Chaser includes accommodations for large boxes, spare parts and instruments for installation on the exterior of the 250-mile-high space station. At the end of its mission, the compartment will separate and burn up in the atmosphere, disposing of trash collected at the complex.
Sierra Nevada's Dream Chaser space plane was in the running for a contract from NASA to develop commercial space taxi to ferry astronauts to and from the space station, but it lost the competition to Boeing and SpaceX. Sierra Nevada received approximately $350 million from NASA since 2010 to work on the Dream Chaser design, which is based on the HL-20 lifting body concept from the agency's Langley Research Center.
Mark Sirangelo, head of Sierra Nevada's space systems division, said the Dream Chaser exceeds all of NASA's criteria outlined in a solicitation issued last year.
"The autonomous and upgraded Dream Chaser Cargo System is a mission variant of the Dream Chaser Space System, whose heritage includes over 10 years of development and maturation, the last five of which were complete as part of an ongoing public-private partnership between SNC and NASA," Sirangelo said in a statement. "Our Dream Chaser Cargo System provides unrivaled capability for pressurized and unpressurized cargo transportation, including accelerated return of cargo and critical science on every mission."
Officials said the gentle re-entry of the Dream Chaser, coupled with its landing on a runway like the space shuttle, allows NASA to gain custody of experiments and hardware much sooner than currently possible when cargo returns to splashdowns in the Pacific Ocean.
The cargo version of the Dream Chaser will be fitted with solar panels to allow for longer-duration missions. Its wings will fold up to fit inside a five-meter diameter payload shroud on an Atlas 5 or Ariane 5 rocket, then extend to a wingspan of 22.9 feet in orbit.
The space plane could also launch on Delta 4, Falcon 9 and Japan's H-2B and planned H-3 rockets, officials said.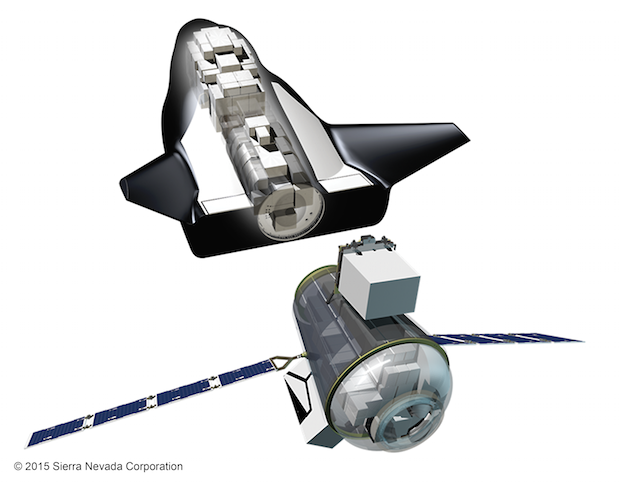 The Dream Chaser is about one-third the size of a space shuttle orbiter.
Sierra Nevada pitched the Dream Chaser as an all-in-one solution — capable of launching with internal and external cargo, then disposing of trash and returning items intact to Earth.
None of the space station's other cargo vehicles do all those jobs, Sirangelo said.
Sierra Nevada joins at least four other companies with bids to win contracts to carry up cargo to the space station beginning in 2018, with options covering flights through 2024.
SpaceX and Orbital ATK are the incumbent Commercial Resupply Services contract holders, servicing the outpost with Dragon and Cygnus cargo craft. Their deals expire at the end of 2017.
Besides Sierra Nevada, the other companies which say they have submitted proposals for the Commercial Resupply Services 2 award are SpaceX, Orbital ATK, Boeing and Lockheed Martin.
NASA is expected to select at least two cargo transportation providers by June.
Follow Stephen Clark on Twitter: @StephenClark1.