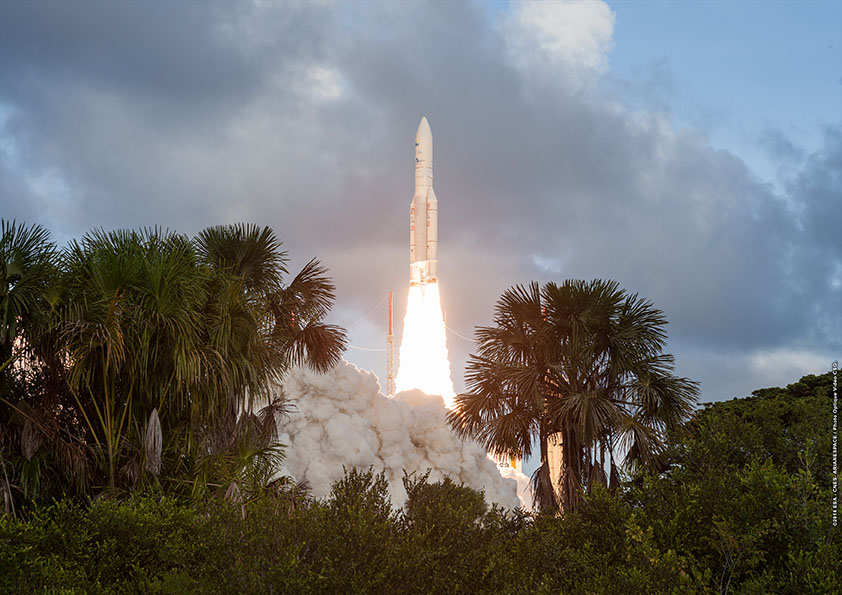 Two South Korean Earth-watching satellites will ride Ariane 5 rockets into orbit in 2018 and 2019 after Arianespace beat SpaceX in a competition to launch the spacecraft, Korean and Arianespace officials announced Friday.
The GEO-Kompsat 2A and GEO-Kompsat 2B satellites will launch into geostationary transfer orbit on separate Ariane 5 flights with co-passenger payloads. The Ariane 5 typically hauls up two large satellites at a time.
Arianespace signed the launch contract for the satellites Friday with the Korea Aerospace Research Institute, South Korea's space agency.
Korean officials weighed bids from Arianespace and SpaceX to launch the satellites, but ultimately selected the French launch provider for the job, according to a statement by South Korea's Ministry of Science, ICT and Future Planning.
While noting that SpaceX's arrival on the market has "revolutionized" the commercial launch business, the ministry's statement singled out the Ariane 5 rocket's long record of success — 47 straight successful launches for its Ariane 5 ECA rocket variant — as a strong point in a discussion of the government's decision.
Responding to SpaceX's prices for its Falcon 9 rocket, Arianespace has instituted a discount for smaller satellites properly sized to ride in the lower position in the Ariane 5 launcher's dual-payload fairing.
"Arianespace is extremely proud of its selection by the Korean space agency, KARI," said Stephane Israel, Arianespace's chairman and CEO, in a written statement. "Our last launch for KARI occurred in 2010. Now, we have been chosen again by KARI to launch these two impressive meteorological observation missions. Contributing to Korean space achievements is a great honor for Arianespace. I would once again like to thank the Korea Aerospace Research Institute for selecting us. Arianespace will deliver."
Financial terms for the launch contract were not released.
Both satellites will be built by KARI in South Korea. Each spacecraft will weigh nearly 3,500 kilograms — about 7,700 pounds — with a full load of fuel for in-space maneuvers and is designed for a 10-year lifetime, according to KARI's website.
After launching into initial egg-shaped transfer orbits, the satellites will position themselves in circular 22,300-mile-high orbits over the equator at 128.2 degrees east longitude.
South Korea's budget for the two satellites is 720 billion won, or about $650 million, according to the government's statement announcing the launch contract.

GEO-Kompsat 2A weather satellite will launch in May 2018 from the Ariane 5's base in Kourou, French Guiana. The meteorological observatory will host an advanced camera and a space weather monitoring sensor, recording near-realtime imagery of storms, cyclones and weather systems to aid forecasters.
Korean officials tasked U.S.-based ITT Exelis to build the spacecraft's primary imager. ITT Exelis will supply a camera similar to the next-generation Advanced Baseline Imager the company is building for NOAA's GOES-R series weather satellites.
The first instrument in ITT Exelis's new line of weather camera launched on Japan's Himawari 8 weather satellite in October 2014.
The launch of GEO-Kompsat 2B — an environmental satellite — will follow in March 2019. GEO-Kompsat 2B will carry two instruments to monitor air quality over the Asia-Pacific region and measure the color of sea water.
The air quality sensor, made by Ball Aerospace and Technologies Corp. in Boulder, Colorado, will help warn of dangerous pollution, measure aerosols and ozone, and contribute to climate change research. It is similar to a NASA pollution monitor named TEMPO set for launch on a commercial communications satellite no sooner than 2017.
The ocean color imager will helping scientists track the amount of chlorophyll in the water, differentiate plankton species, identify algae growths and determine fishing resources, according to Airbus Defense and Space, the instrument's manufacturer.
An Ariane 5 rocket launched the Communication, Ocean and Meteorological, or COMS, satellite — South Korea's first national mission to geostationary orbit — in June 2010.
Follow Stephen Clark on Twitter: @StephenClark1.