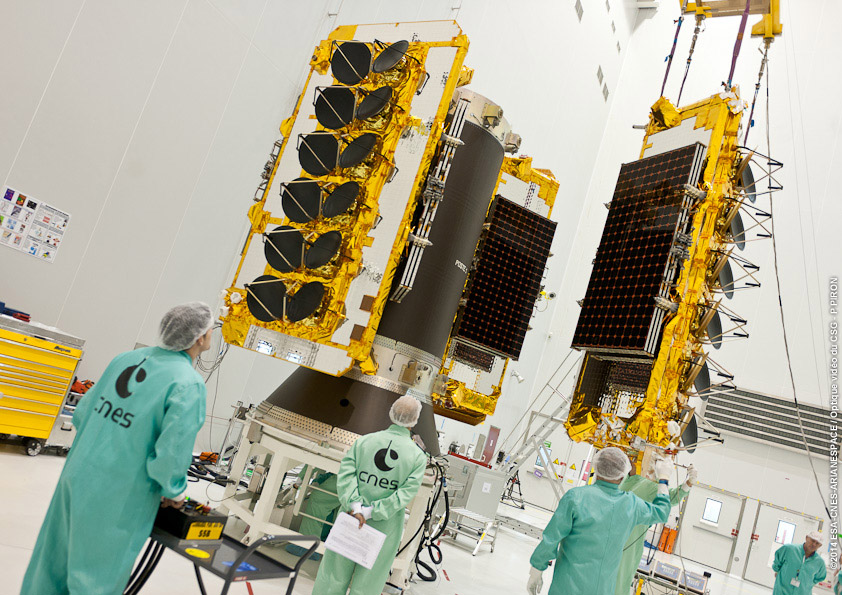 Fresh off the launch of its last four first-generation satellites, O3b Networks is in the early stages of selecting a builder and launch provider for a new series of spacecraft that will grow the company's broadband communications capacity ten-fold, O3b's chief executive said.
Based in Britain's Channel Islands, O3b has 12 satellites in orbit after the Dec. 18 launch of a quartet of spacecraft aboard a Soyuz rocket from French Guiana.
The four satellites launched Dec. 18 boosted O3b's total capacity to more than 100 gigabits per second, according to Steve Collar, the company's CEO.
O3b's spacecraft currently in orbit will be supplemented by additional satellites in the next few years, Collar said.
"We're absolutely going to build more satellites," Collar said in an interview with Spaceflight Now. "We've got that procurement cycle already running. We're in the early stages of selecting both vendor and satellite configuration."
The company's 12 satellites will meet O3b's needs for the next couple of years, he said.
"With the 100 gigabits in orbit right now, our next ambition is to take that to a terabit per second," Collar said. "That's the focus of our next-generation architecture, and that's something we expect to be under contract — for new satellites — in the early part of 2015."
Founded in 2007 and backed by Luxembourg-based satellite operator SES, Google and HSBC — plus other venture capital firms — O3b aims to revolutionize communications in the developing world by providing broadband Internet connectivity to telecommunications providers, national governments, oil and gas firm, and luxury cruise liners.
O3b stands for the "other 3 billion," referencing the approximate number of people without reliable, high-speed Internet connections.
For many of the company's customers, Internet via satellite is the most reliable and cost-effective method for broadband connectivity, serving places difficult to reach with traditional fiber-optic networks on the ground.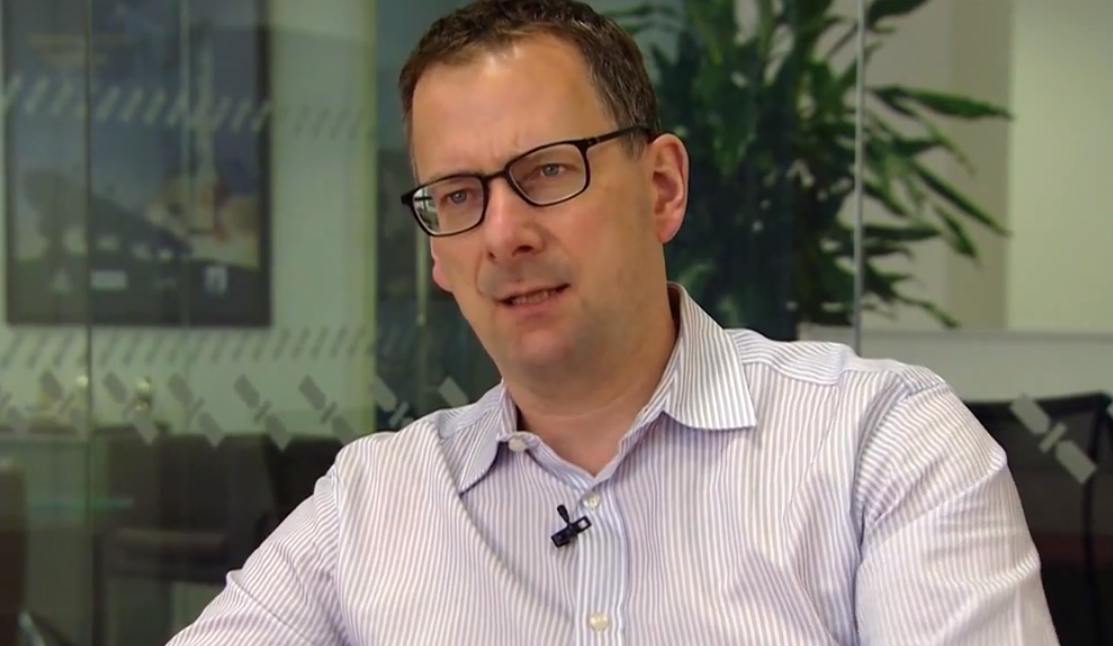 O3b's existing satellites were manufactured by Thales Alenia Space in Rome and launched by Europeanized Soyuz rockets jointly operated by Russian contractors and Arianespace, the French launch services provider which flies Ariane 5, Soyuz and Vega rockets from French Guiana.
Each O3b spacecraft weighed about 700 kilograms, or 1,543-pounds, when filled with propellant for launch. Four of the satellites could be launched on a single Soyuz rocket, which carried a Fregat upper stage to place the spacecraft into a unique medium Earth orbit about 5,000 miles above Earth's equator.
Each spacecraft carries a Ka-band communications payload with 10 gigabits of capacity.
Three Soyuz launches from French Guiana deployed O3b's first 12 satellites.
O3b's next-generation satellites will likely be about the same size as the current ones, Collar said. Launching the satellites four at a time also still makes sense, he said.
Collar said O3b's satellite constellation, which could fit up to 120 satellites to meet market demands, can be expanded incrementally as the company's business grows.
"The beauty of the O3b system is it's a constellation, so you get a lot of that implicit benefit by simply launching more satellites into the same constellation," Collar said. "The satellites themselves are relatively cheap. We're only going to medium Earth orbit. We can get 4 satellites in a launch. The inherent capabilities of the constellation just allow us to keep driving down the cost per megabit that we can deliver to our customers by simply launching the same satellites into the same constellation.
"That said, we want to take benefit from the developments in technology that have happened in the time since we first designed O3b, and think how can we increase even further," Collar said.
The number of satellites in O3b's next order is still to be determined, but Collar said the company needs to have assurances that new spacecraft can be built and launched as needed to satisfy demand.
"I suspect what you'll see from us going forward is putting something in place that allows us to keep ordering satellites on a very regular schedule, taking benefit from manufacturing synergies and simply ordering more satellites as we continue to see the market develop," Collar said. "One of the beauties of our constellation is that it's very scaleable, and it's scaleable without having to build everything at once. So we can test the market, we can make sure we're going in the right direction, and then keep building more satellites."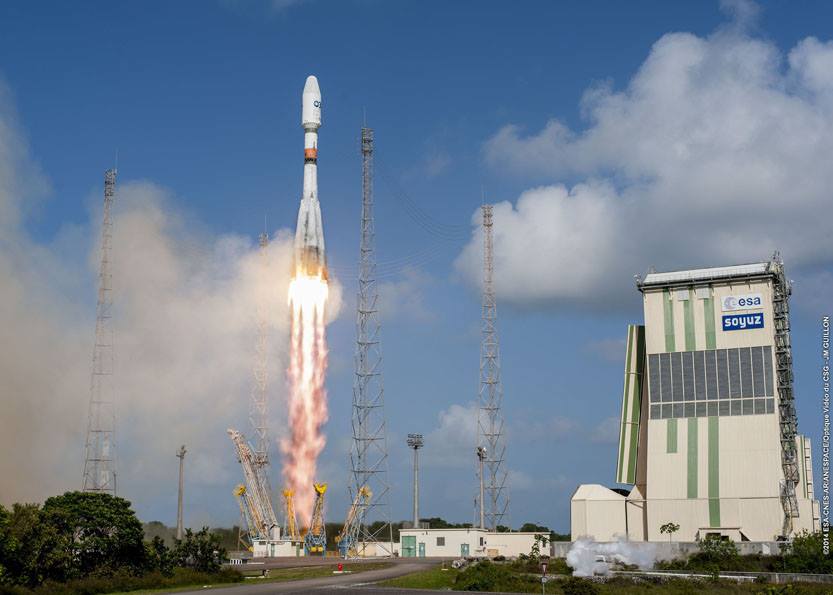 If O3b seals contracts in early 2015, the satellites could be ready for launch around 2017.
"Rather than committing to four, eight, 12 or another number of satellites, I think what you'll see is a structure in which we can just keep ordering additional satellites and launch them on something of a conveyor belt-type approach," Collar said.
Collar said O3b is looking at several potential contractors across the satellite and launch industries, but the European-run spaceport in Kourou, French Guiana, offers one key advantage over other launch sites.
The space base's location at approximately 5 degrees north latitude makes it easier to launch O3b's satellites directly into orbit over the equator. The orbit could theoretically be reached from launch sites at higher latitudes, such as Cape Canaveral or the Baikonur Cosmodrome in Kazakhstan, but a bigger rocket or extra on-board propellant would be needed to put the satellites directly over the equator.
O3b's medium-altitude orbit is a fraction of the distance of typical communications satellites, requiring additional rocket power for a change in orbital inclination compared to the energy needed to adjust the orbits of traditional geostationary spacecraft.
O3b selected such an orbit for its satellites to reduce the latency, or communications lag time, of its space-based Internet connection.
"We'll look at our options across both satellites and launch vehicles," Collar said in a phone interview from French Guiana. "I have to say they've done a spectacular job to date with us with Soyuz, and it remains an interesting vehicle for us given the location of Kourou here, and the orbit that we're trying to get to."
O3b originally selected Sea Launch, which flies Ukrainian-Russian Zenit 3SL rockets from an ocean-going platform on the equator in the Pacific, to send up its first group of satellites. O3b transferred the missions to Arianespace in 2010 after Sea Launch was unable to meet the company's schedule commitment.
O3b's experience with satellite-builder Thales Alenia Space was not as smooth.
The company's first four satellites launched in June 2013 have a fault in their power systems that could reduce the spacecraft's operational lifetime. They were designed to function at least 10 years.
O3b placed two of the four stricken spacecraft into standby mode when the company started commercial service in September in a bid to extend their lifetimes. The satellites could be re-introduced into the operational fleet if necessary, Collar said.
Despite the glitch, the communications systems aboard the satellites are working fine.
"We're delivering throughputs that are higher than we specified, and that's always gratifying," Collar said.
An insurance payout of up to $300 million stemming from the satellite anomaly could help fund the next-generation O3b satellite fleet.
"Just within the last three months since we've been in full commercial service, we've seen pretty much every network that we've got on the fleet today growing substantially, in some cases quadrupling throughput," Collar said. "That's needed simply by virtue of the fact that we're now connecting networks with a low-latency service that works for people, and that drives demand."
Follow Stephen Clark on Twitter: @StephenClark1.