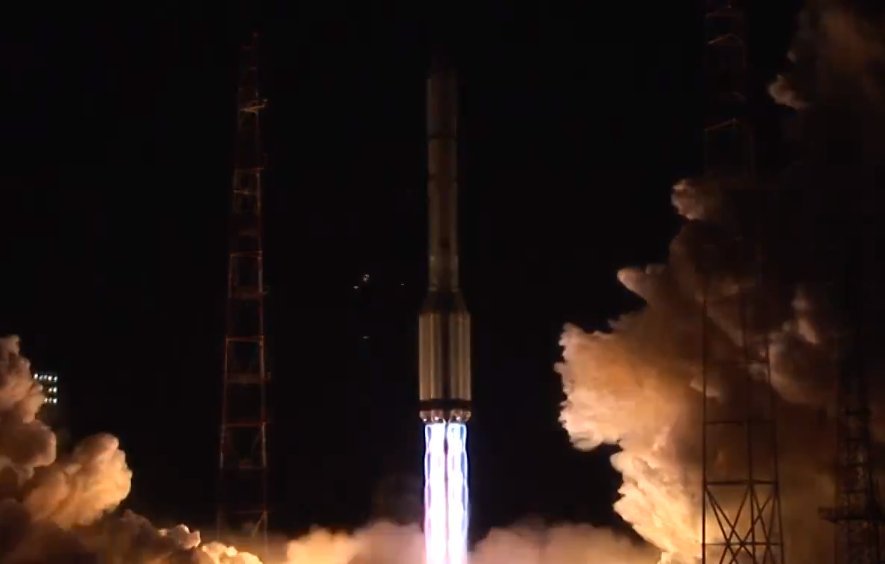 A Russian communications satellite lifted off from a snow-covered launch pad in Kazakhstan on Monday, marking the 400th flight of a Proton rocket and the launcher's first commercial mission in 10 months.
The Yamal 401 communications satellite launched at 0016 GMT Monday (7:16 p.m. EST Sunday) from the Baikonur Cosmodrome, riding a Proton booster away from the historic rocket base just before dawn local time.
Temperatures hovered near 10 degrees Fahrenheit at the frigid launch facility, but clear skies offered unobstructed views of the Proton rocket's ascent east from Baikonur.
The three-stage Proton booster accelerated the Yamal 401 satellite and its Breeze M upper stage to nearly orbital velocity, then the hydrazine-fueled Breeze M main engine fired four times to raise its orbit more than 22,000 miles above Earth for deployment of Yamal 401 at 0917 GMT (4:17 a.m. EST) Monday.
International Launch Services, which arranged Yamal 401's launch on a Proton rocket, confirmed a successful mission early Monday.
The 6,560-pound satellite's relative low mass allowed the Proton/Breeze M to place it directly into geostationary orbit over the equator, minimizing the amount of fuel the spacecraft must expend to reach its operating position. The Breeze M stage drops heavier satellites in lower orbits inclined at an angle to the equator, requiring the spacecraft to fire its own engine to move into its final orbit.
Yamal 401 will enter service in early 2015 at 90 degrees east longitude, where it will hover over a fixed location on Earth to beam communications services across Russia and neighboring countries for Moscow-based Gazprom Space Systems.
Thales Alenia Space of France and Italy provided the Yamal 401 satellite's communications systems.
Launches of Russian communications satellites are usually managed by the Russian government as part of the country's federal space program, but Gazprom has elected to negotiate with ILS for commercial launch services for three payloads — Yamal 402 launched in 2012, Yamal 401 sent to space Monday, and the Yamal 601 spacecraft scheduled for liftoff in 2016.
The Proton rocket's recent reliability woes — five launch failures in four years — have primarily affected the booster's launches for the Russian government. Commercial Proton flights managed by ILS have mostly occurred without incident.
Two other Proton/Breeze M launches in December 2012 and October 2014 deposited their satellite passengers in off-target orbits, but the payloads were able to recover from the orbit shortfall and continue their missions.
Built by ISS Reshetnev, a Russian satellite manufacturer, Yamal 401 is designed for a 15-year service life. The craft carries 53 transponders and will generate more than 10 kilowatts of power from its solar arrays.
"We thank Gazprom for the opportunity to launch this important satellite and to help expand their business with the launch of Yamal 401, the second launch for Gazprom by ILS," said Phil Slack, president of ILS. "We are grateful for the mission teams of Gazprom, ILS, Khrunichev, ISS Reshetnev and Thales Alenia Space for their dedication to mission success throughout the entire campaign."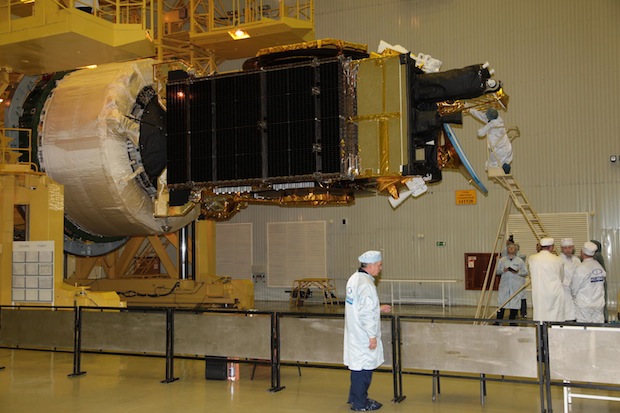 Monday's successful flight was the first Proton launch conducted under the ILS umbrella since February. Based in Reston, Va., the U.S.-based company manages commercial Proton missions carrying large telecommunications satellites to orbit.
The Proton rocket was grounded after a May 15 launch failure with the Russian-owned Express AM4R communications spacecraft. When the Proton returned to flight in September, Russian authorities prioritized two government satellites before ILS could launch a satellite for a commercial customer.
The Astra 2G communications satellite, owned by SES of Luxembourg, was supposed to take off Nov. 27. Engineers discovered a problem with a gyro unit on the rocket's Breeze M upper stage requiring the booster to be removed from the launch pad.
The launch of Astra 2G has been reset for Dec. 28, and the Proton rocket's next mission with Yamal 401 jumped to next in line for Monday's launch.
ILS plans a busy schedule of commercial Proton launches in 2015 to catch after delays in 2014.
First up in January is the launch of Inmarsat 5 F2, the second of four satellites owned by London-based Inmarsat designed to help roll out the company's Global Xpress mobile communications service, an initiative in the works for four years that aims to boost connectivity speeds for users on-the-move in airplanes, on boats and on land.
The launch of Inmarsat 5 F2 was expected in mid-2014 before the Proton rocket's grounding. The third satellite in Inmarsat's Global Xpress mobile broadband fleet is expected to launch near the end of the first half of 2015. Both satellites are in storage at a Boeing manufacturing plant in California.
Satellites owned by the Mexican government and Turkey's national satellite telecom operator are also on the Proton's manifest in early 2015.
Despite the busy short-term launch schedule, ILS expects a slower launch rate in its long-term business forecast. The company announced a 25 percent staff reduction in August to prepare for the slowdown. Instead of seven or eight commercial Proton launches per year, ILS officials said they now predict three or four flights per year.
Follow Stephen Clark on Twitter: @StephenClark1.