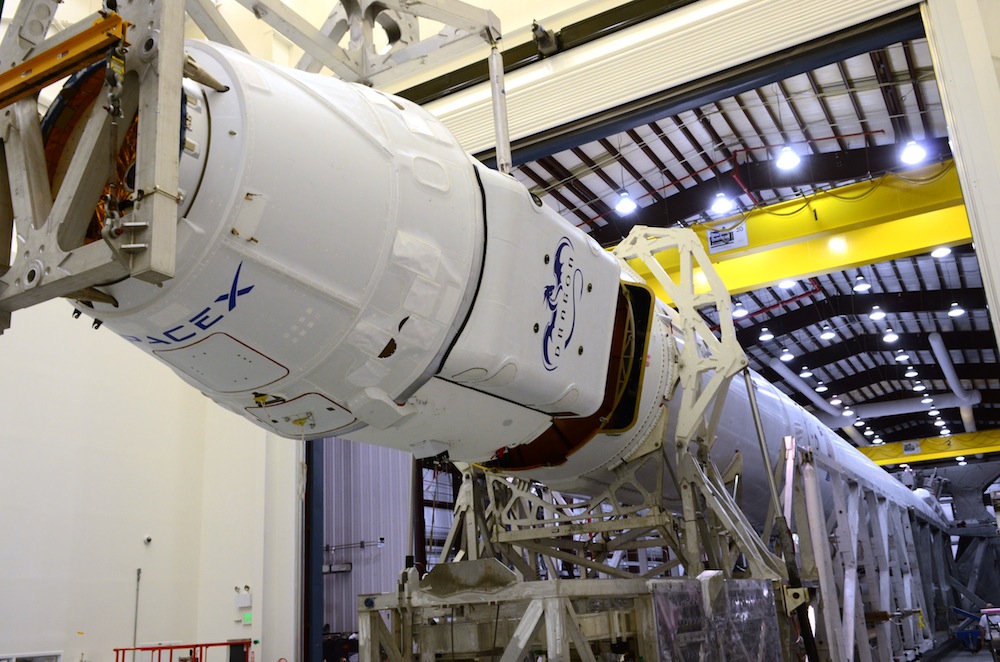 The launch of SpaceX's next resupply mission to the International Space Station has been rescheduled for no earlier than Dec. 19 to make sure the Falcon 9 rocket and Dragon supply ship are ready for flight, NASA said Thursday.
The liftoff was set for Dec. 16, but officials ordered the three-day delay to allow SpaceX to "take extra time to ensure they do everything possible on the ground to prepare for a successful launch," NASA said in a statement.
NASA released no other details on the reason for the launch delay.
Liftoff of the Falcon 9 rocket on Dec. 19 is set for approximately 1:20 p.m. EST (1820 GMT), roughly the time when the space station's orbital path passes over SpaceX's Cape Canaveral launch pad.
NASA says SpaceX's Dragon spacecraft will carry more than 3,700 pounds of scientific experiments, technology demonstrations and supplies to the space station. The cargo will support 256 research investigations slated to take place on the space station in the coming months.
If the SpaceX logistics flight blasts off Dec. 19, the automated Dragon cargo capsule will rendezvous with the space station Dec. 21.
SpaceX plans to recover the rocket's first stage on a specially-built landing barge stationed in the Atlantic Ocean northeast of Cape Canaveral. The rocket landing — described by SpaceX as an experiment — is aimed at helping the company achieve its goal of developing a reusable launcher.
The upcoming mission will be SpaceX's fifth operational cargo delivery flight to the complex. The Hawthorne, Calif.-based company has a $1.6 billion contract with NASA to take up supplies and return equipment to Earth on a dozen missions through the end of 2016.
A NASA Earth observation sensor called the Cloud-Aerosol Transport System, or CATS, will fly to the space station in the Dragon spacecraft's unpressurized trunk section. The space station's robotics system will unload the instrument package for placement on on a mounting bracket outside the complex.
The CATS instrument hosts two high-repetition-rate lasers to measure the distribution of cloud and aerosol particles in Earth's atmosphere, helping scientists monitor and predict air quality, detect dust storms, volcanic eruptions and wildfires, and hone climate models.
The capsule will remain attached to the space station for more than four weeks before it departs and re-enters the atmosphere for splashdown in the Pacific Ocean with several tons of research specimens and gear that can be refurbished and launched again.
Follow Stephen Clark on Twitter: @StephenClark1.