A recovery team stationed in the Pacific Ocean west of Baja California secured NASA's Orion spacecraft and winched it into the flooded well deck of a U.S. Navy transport ship Friday after the capsule splashed down into the sea to wrap up a successful four-and-a-half hour test flight.
U.S. Navy divers assigned to Explosive Ordnance Disposal Mobile Unit 11, Mobile Dive and Salvage Company 11-7, deployed from the aft deck of the USS Anchorage amphibious dock ship and reached the 16.5-foot-diameter capsule in the Pacific Ocean about 275 miles west of Baja California. The recovery team attached a sea anchor, documented the condition of the capsule after its trip 3,600 miles into space, took underwater imagery of the Orion's heat shield, then draped a horse collar around the craft.
Ground crews attached a winch line to the capsule to be pulled through an aft gate into the USS Anchorage's well deck. The recovery team planned to position the Orion spacecraft over a cradle before emptying the vessel's well deck of water and turning it into a dry dock.
The recovery method is different from the way Navy teams retrieved Apollo spacecraft after their splashdowns. After Apollo command modules returned to Earth from moon missions, a helicopter first hoisted the crews from the sea, then the capsules were lifted onto the flight decks of Navy ships.
When crews begin flying on Orion, they will likely stay inside their spaceship throughout the recovery until the capsule is towed inside a recovery ship and the well deck is drained of water. Then the astronauts can climb out of their spacecraft directly onto a boat.
"It's been close to 40 years since NASA has recovered a human-rated spacecraft from the ocean," said Jeff Angermeier, Orion's mission manager for the Kennedy Space Center's Ground Systems Development and Operations program.
Another Navy ship, the USNS Salvor, was stationed nearby as a backup the USS Anchorage. The USNS Salvor was charged with recovering Orion's parachutes and forward bay cover, which jettisoned during descent to kick off the chute deployment sequence.
NASA says the parachute bay cover was lost after splashdown. One of Orion's three 116-foot-diameter orange and white main chutes also sunk.
The recovery team and Orion are due to return to port at Naval Base San Diego on Monday, where the capsule will be inspected, data recorders will be archived and analyzed, and the craft will be prepared for shipment back to the Kennedy Space Center in Florida in a couple of weeks.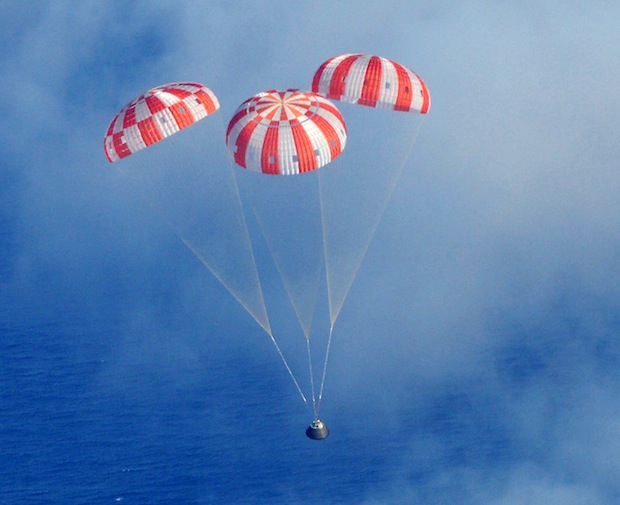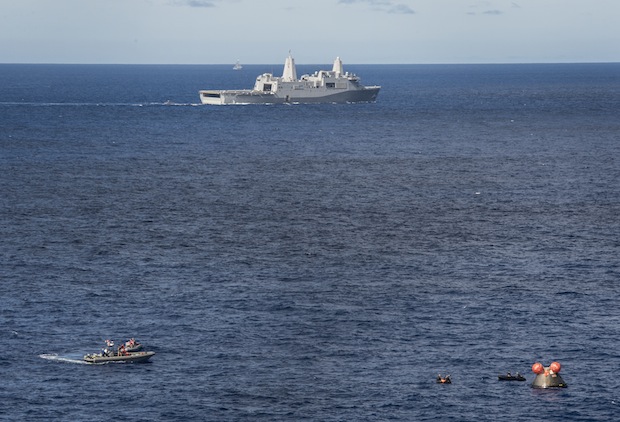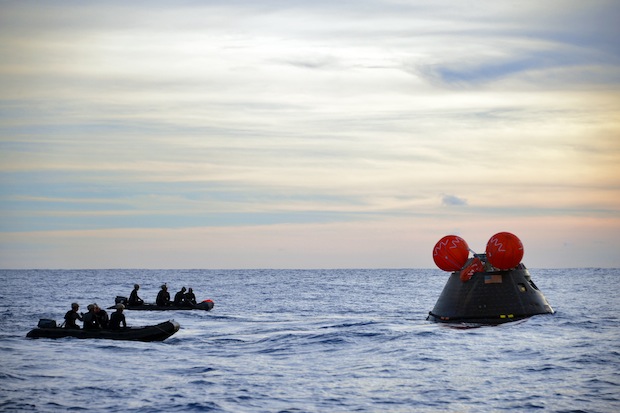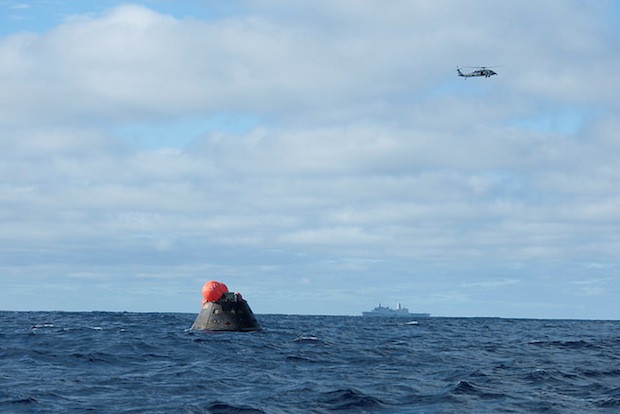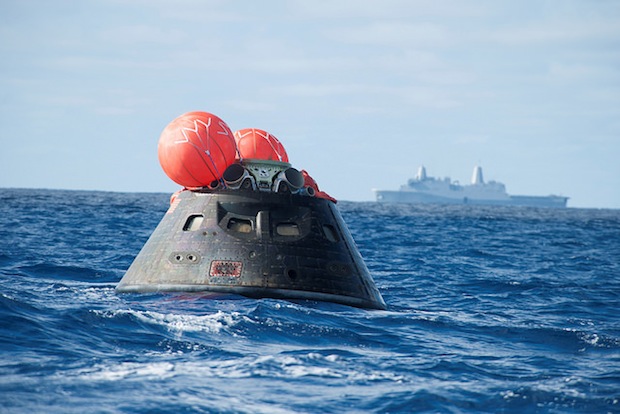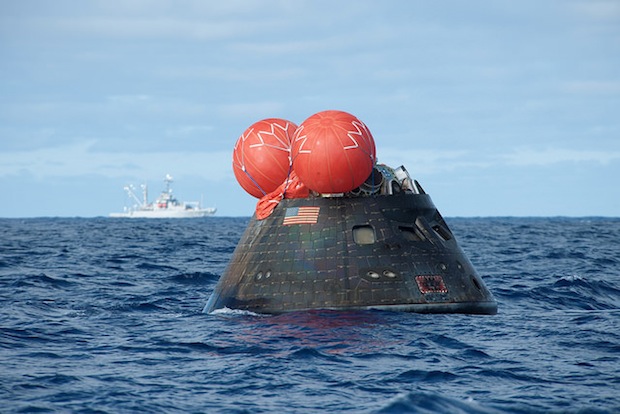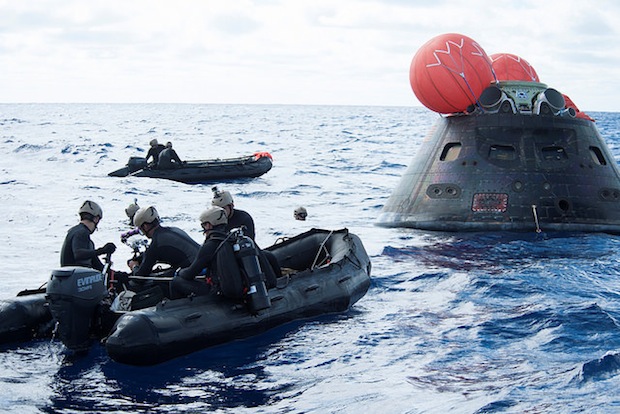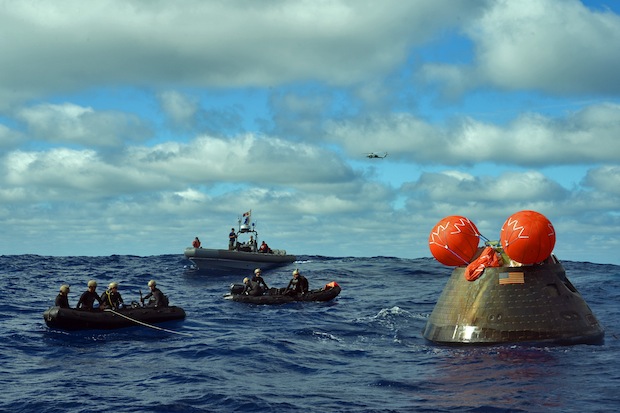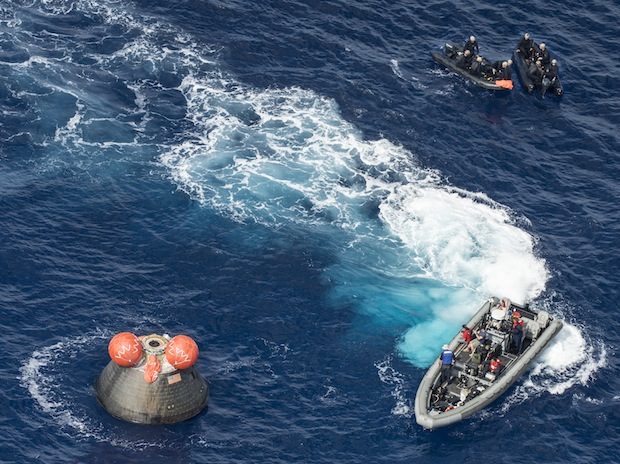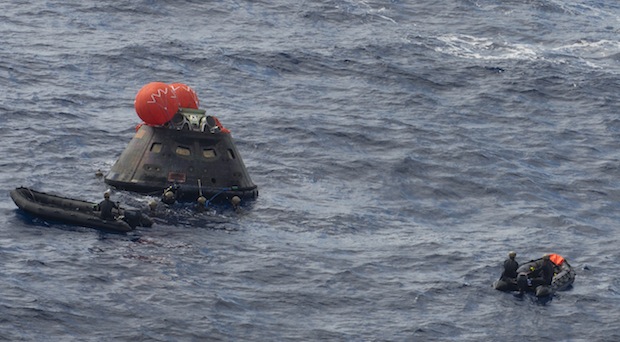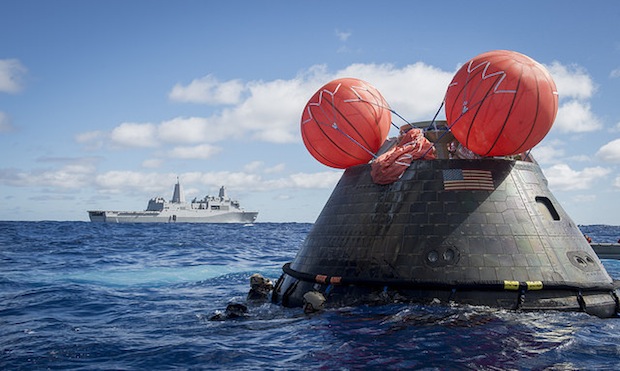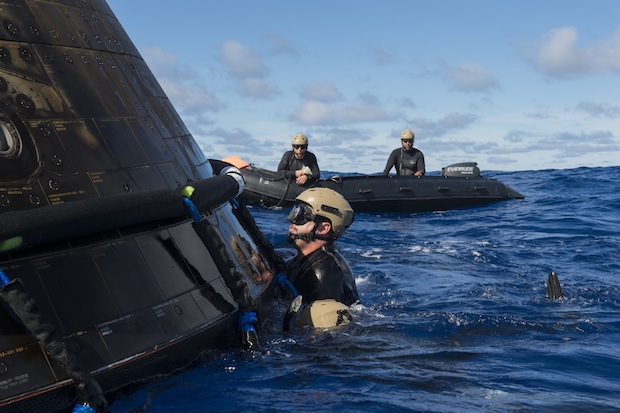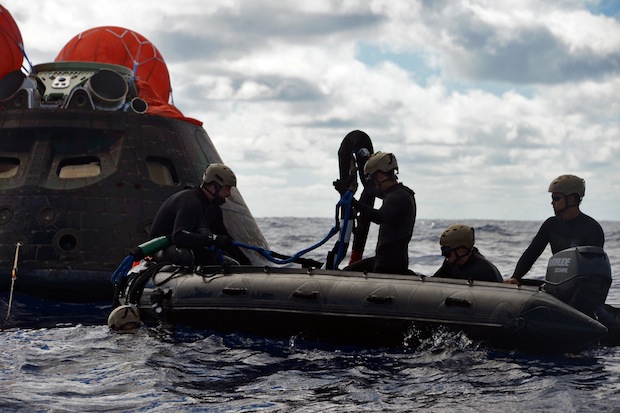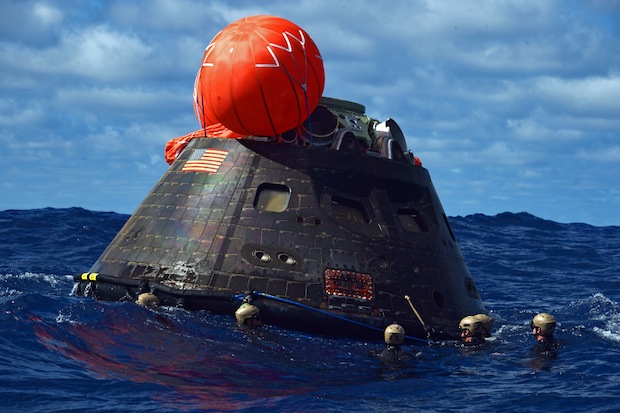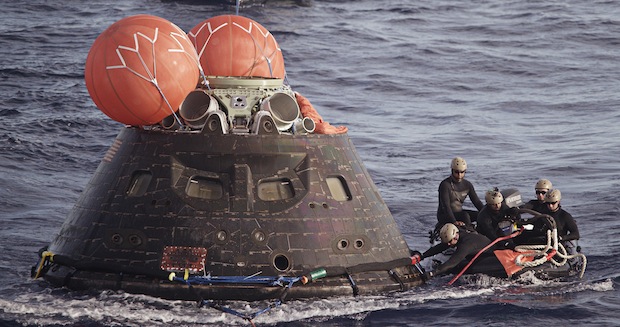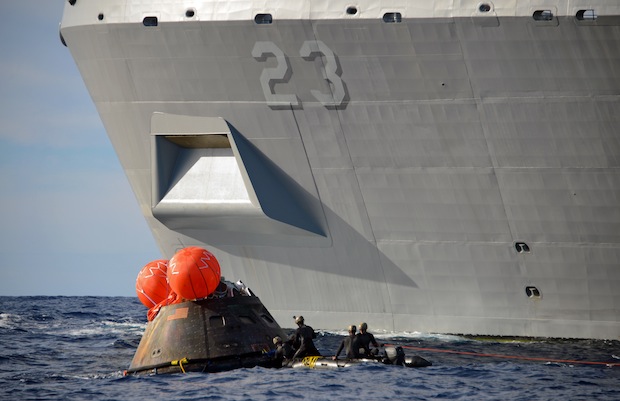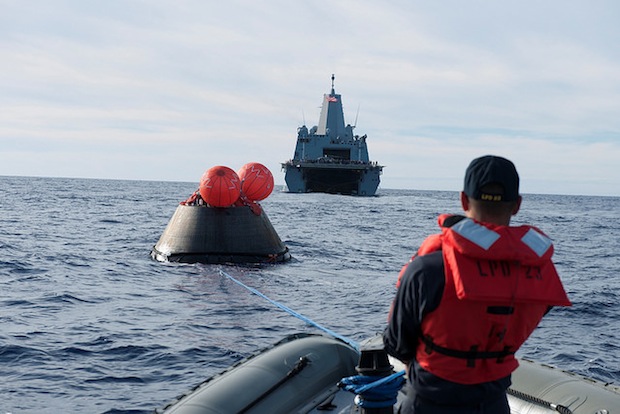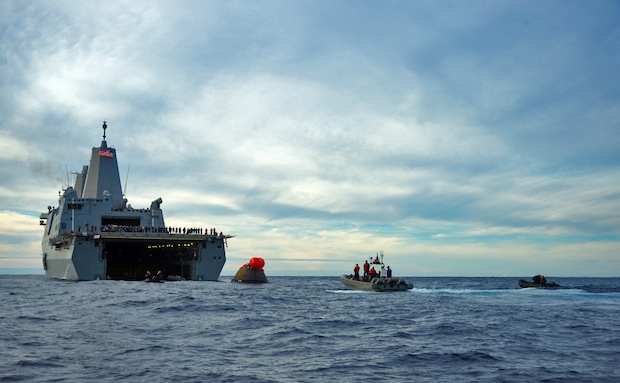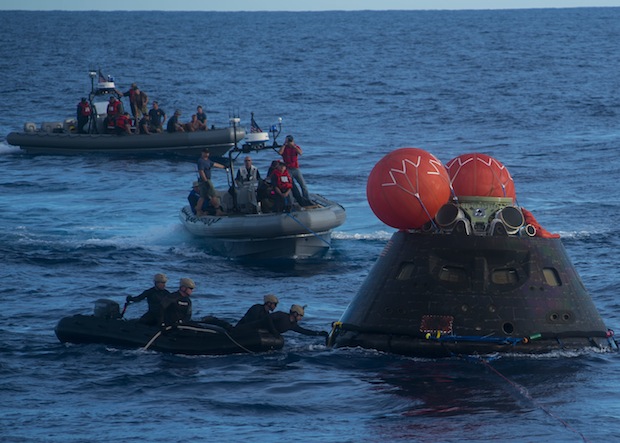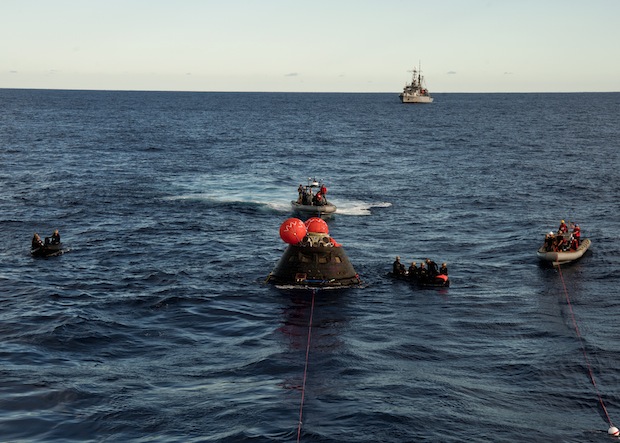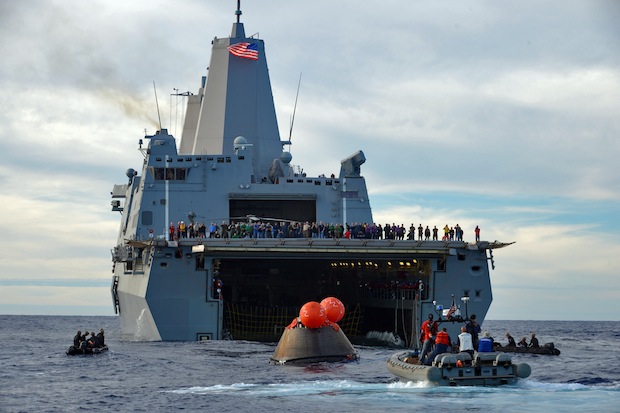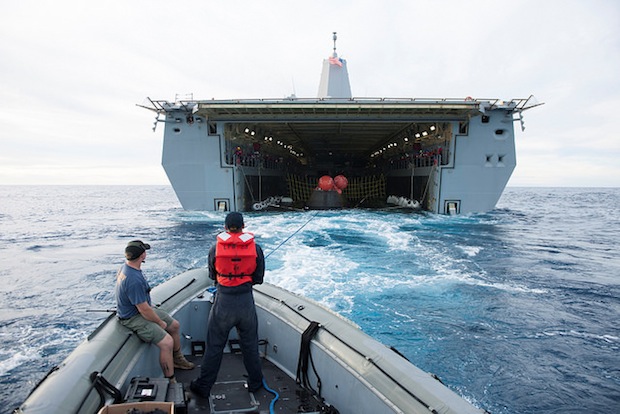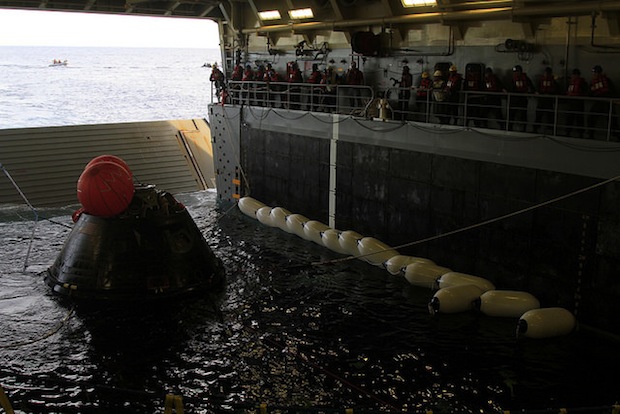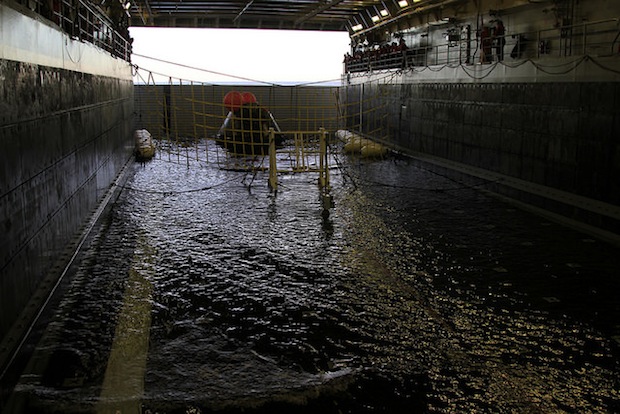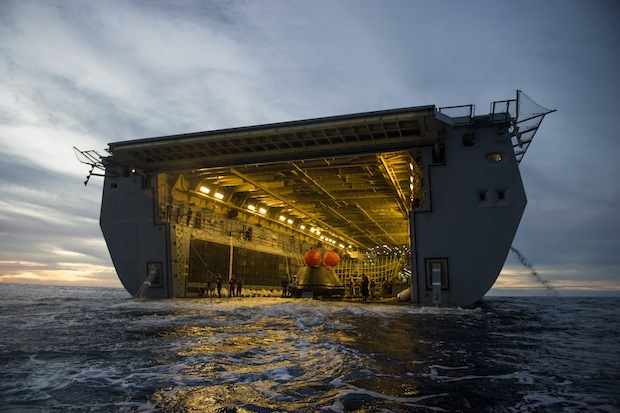 Follow Stephen Clark on Twitter: @StephenClark1.