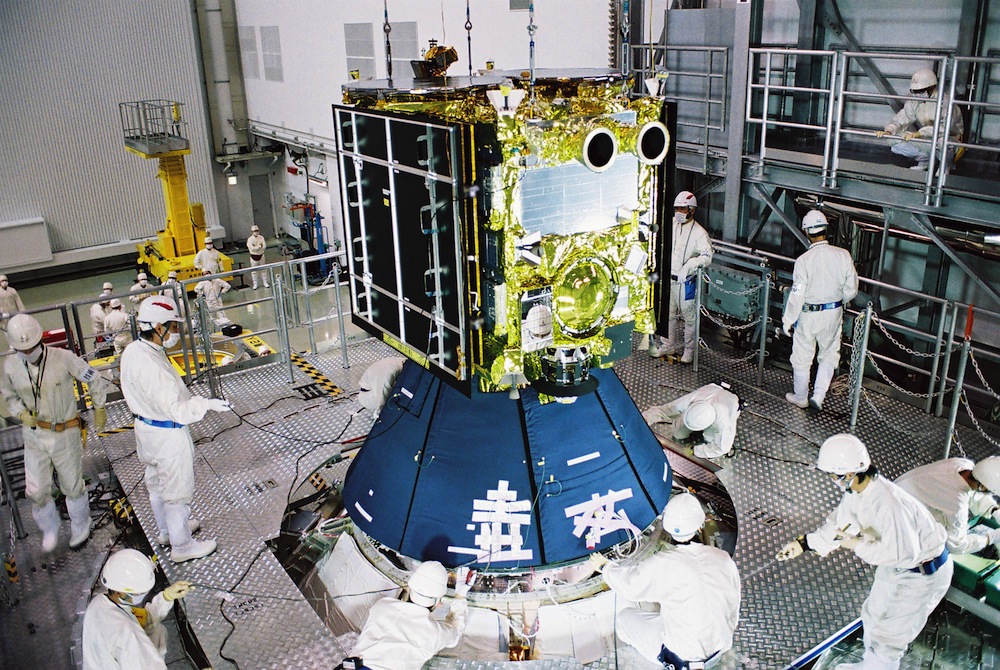 Poor weather at the Tanegashima Space Center in Japan has grounded until at least Wednesday the launch of a $300 million robotic mission to fly to an asteroid, pick up samples and return them to Earth.
The launch was supposed to take off Sunday, but the Japan Aerospace Exploration Agency announced two delays after forecasts called for thick clouds that could generate lightning and strong winds at Tanegashima Island in southwest Japan.
The Hayabusa 2 spacecraft is mounted on top of an H-2A rocket inside a cavernous launcher assembly building at Tanegashima. It will roll to the launch pad when the weather forecast improves.
JAXA said in a statement Sunday the liftoff was rescheduled for no earlier than Wednesday at 0422:04 GMT (11:22:04 p.m. EST Tuesday).
The Hayabusa 2 mission is awaiting launch on a six-year roundtrip journey to an asteroid. It carries an array of scientific instrumentation and devices to collect gravely rock from the asteroid, which scientists believe is rich in carbon and may harbor the building blocks of life.
The probe's destination is asteroid 1999 JU3, an object that likely stretches several blocks across and remains unexplored by any spacecraft.
Hayabusa 2 will reach the object in June 2018, survey the asteroid, drop robotic landers and collect samples for a year-and-a-half, then head back to Earth and parachute to a landing in the Australian outback in December 2020.
It follows Japan's Hayabusa 1 mission, which completed its journey to an asteroid and back in 2010. But Hayabusa 1 ran into several problems, including a fuel leak and a failure in its sampling system, and the spacecraft only brought back a tiny fraction of the material intended.
But Hayabusa 1 achieved several firsts. The microscopic samples the craft did retrieve were the first rock fragments ever returned to Earth from an asteroid.
Hitoshi Kuninaka, JAXA's Hayabusa 2 project manager, said the mission has until Dec. 9 to launch and reach its target on the planned schedule. The next launch window for Hayabusa 2 is in June 2015.
Follow Stephen Clark on Twitter: @StephenClark1.