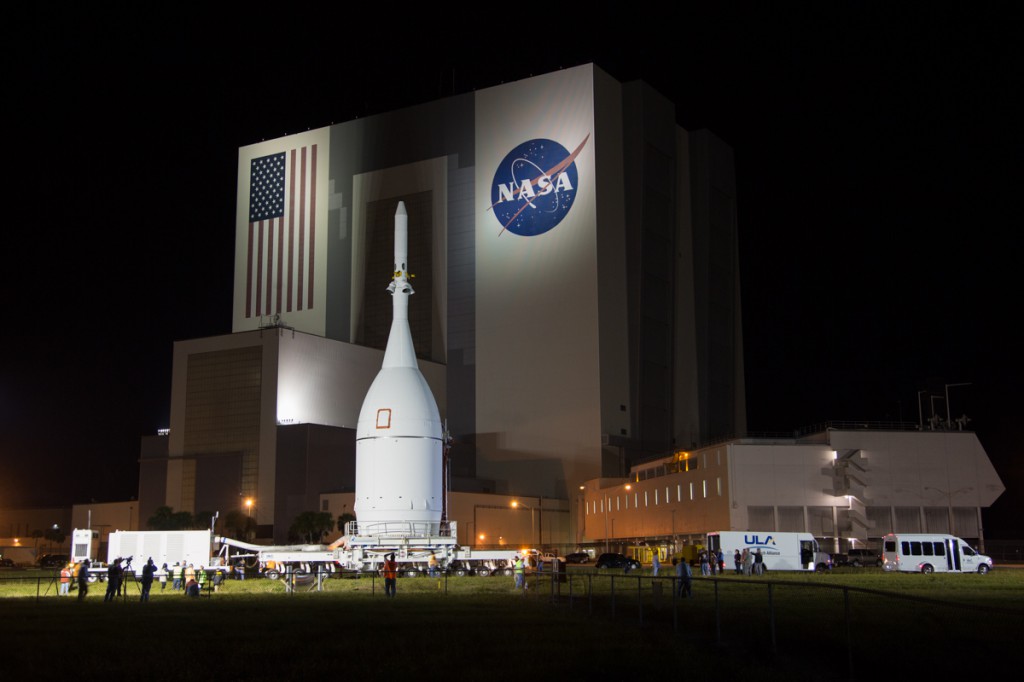 CAPE CANAVERAL — NASA's Orion spacecraft took a road trip to the launch pad Tuesday night, arriving at Cape Canaveral's Complex 37 where a Delta 4-Heavy rocket awaits flight of the new capsule on Dec. 4.
The unmanned Exploration Flight Test No. 1 will send Orion around the Earth twice, reaching an altitude of 3,600 miles on a four-hour, 23-minute mission to check out its crew module.
"This mission is significant in that it enables human spaceflight to deep space and destinations we've yet to imagine," said Mike Sarafin, Orion lead flight director.
"The aerospace industry is a tough business as a whole. Anybody that's been in this business for any amount of time understands it takes a great deal of fortitude and perseverance. We intend to test ourselves on this mission and we intend to test our spacecraft before we put humans onboard."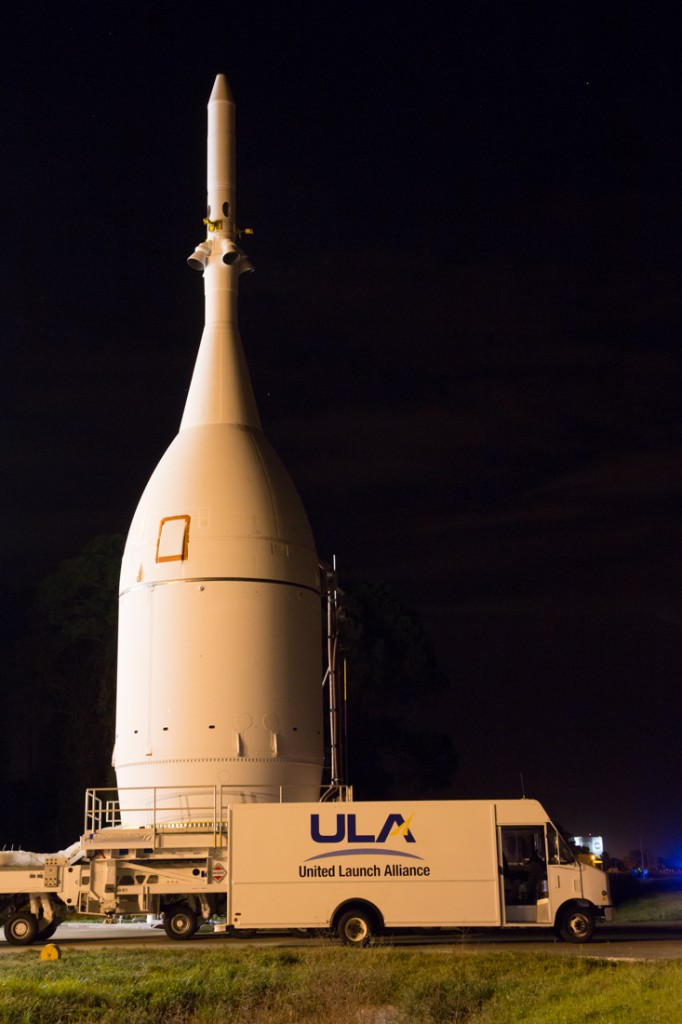 The spacecraft will re-enter at 20,000 mph, generating temperatures up to 4,000 degrees Fahrenheit to simulate the heating a capsule would experience returning from deep space.
Deep space is the ultimate destination for future Orions, taking astronauts farther from Earth than ever before.
"This is just the first of what will be a long line of exploration missions beyond low-Earth orbit, and in a few years we will be sending our astronauts to destinations humans have never experienced," said Bill Hill, deputy associate administrator for Exploration Systems Development "It's thrilling to be a part of the journey now, at the beginning."
The purpose of EFT No. 1 is to give Lockheed Martin engineers real-life data and telemetry from Orion's systems, software, radiation protection, heat-shield, parachutes and recovery gear in preparation for one day carrying crews to an asteroid or Mars.
"EFT 1 is a compilation of the riskiest events that we are going to see when we fly people. So this test flight is a great opportunity to fly those and see them in operation. Some of these events are difficult or even impossible to test on the ground. EFT 1 gives us a chance to put all those together," said Mark Geyer, Orion Program manager.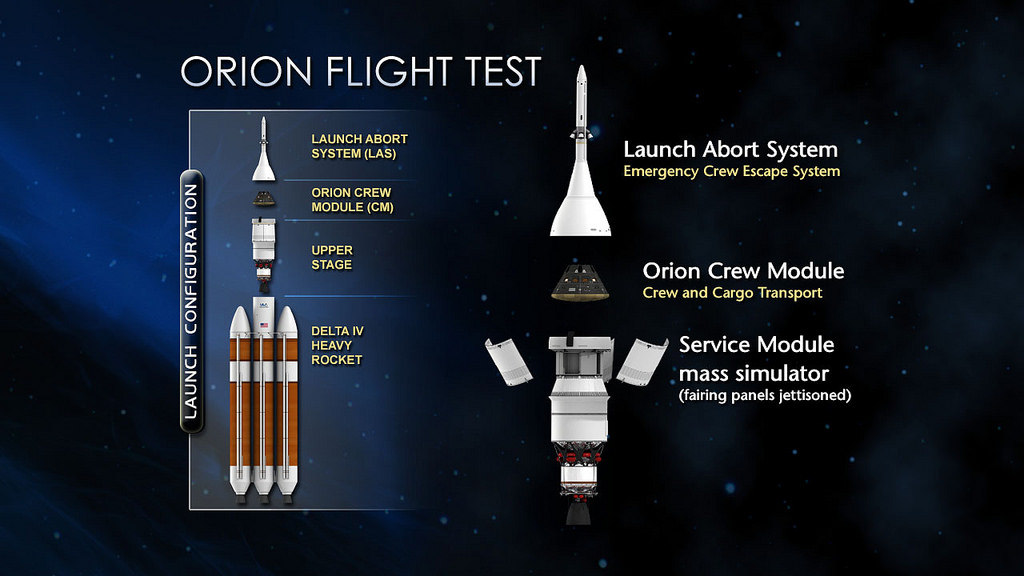 The gross liftoff mass of the integrated EFT 1 Orion spacecraft stack is approximately 48,000 pounds in launch-ready configuration, standing approximately 72.7 feet tall and measuring 18 feet wide. The crew module is 16 feet in diameter and 11 feet tall.
"An empty shell of a spacecraft arrived to Kennedy Space Center two years ago, and now we have a fully assembled Orion standing 72 feet tall," said Michael Hawes Lockheed Martin Orion program manager. "We're ready to launch it into space and test every inch."
Doing the launching of Orion this time will be a Delta 4-Heavy rocket, America's largest unmanned booster currently available.
The United Launch Alliance rocket is capable of lofting the biggest and heftiest cargos. The mammoth vehicle is created by taking three Common Booster Cores — the liquid hydrogen-fueled motor that forms a Delta 4-Medium's first stage — and strapping them together to form a triple-barrel rocket, and then adding an upper stage.
The rocket will place Orion into a 100 by 500 nautical mile preliminary orbit for one revolution of the globe, then a restart by the upper stage during the second passage over the Atlantic will lift the orbit to -20 by 3,600 miles. That sets up Orion to re-enter over the Pacific for splashdown 600 miles southwest of San Diego.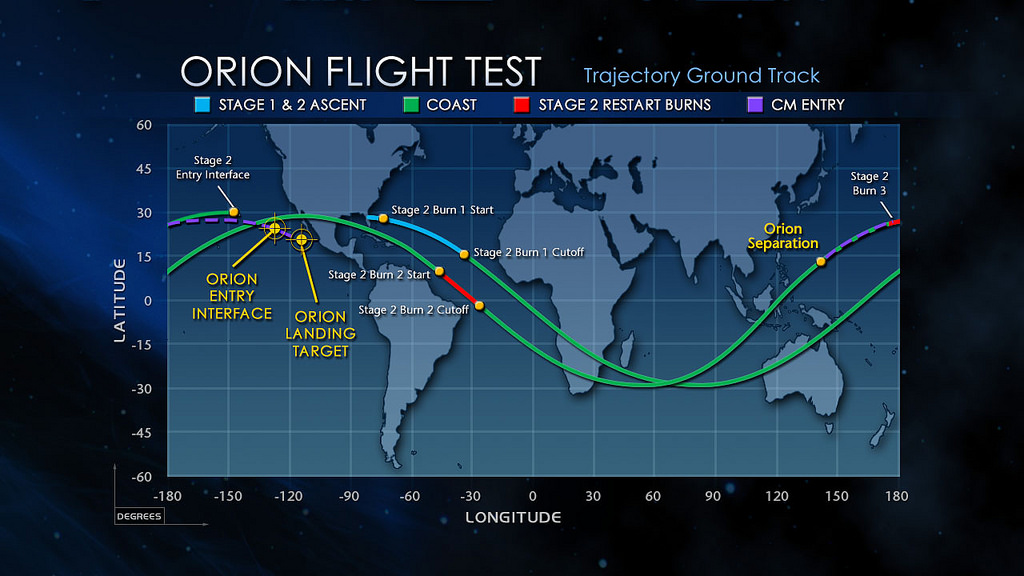 Emerging Tuesday night from the former space shuttle payload canister rotation facility, now serving as Orion's abort tower installation building, the spacecraft left the Kennedy Space Center Industrial Area and headed towards the famed Vehicle Assembly Building where the trek paused for pictures.
"It's beautiful! A real Orion spacecraft coming out of the hangar is an amazing sight," said astronaut Rex Walheim, a member of the Orion development team and member of the final space shuttle crew.
"It's historic. This is a going to vehicle that could fly for us for 30 years, potentially, and this is the first one, the first tailnumber coming out the chute. This is like the forefather of this great fleet of vehicles that's going to be coming online."
The journey to the pad then resumed and passed the old shuttle launch pad 39B and headed down the beach, passing by the Atlas 5 and Falcon 9 pads before reaching the Delta 4's pad 37B.
The Delta 4-Heavy completed a countdown dress rehearsal and fueling exercise last week. Once Orion is hoisted 170 feet atop the rocket later Wednesday, final preps for the launch campaign will be underway including an integrated systems testing between the launch vehicle and spacecraft.
A sunrise liftoff on Dec. 4 is planned for 7:05 a.m. EST. Splashdown in the Pacific Ocean is anticipated at 8:28 a.m. PST.
"I gotta tell ya, this is special. This is our first step on that journey to Mars," said former astronaut Bob Cabana, the Kennedy Space Center director. "To see the vehicle on top of the service module with the launch abort system attached, it's quite a stack, and it is going to look really good on top of that Delta 4 as we go for that test flight on Dec. 4."