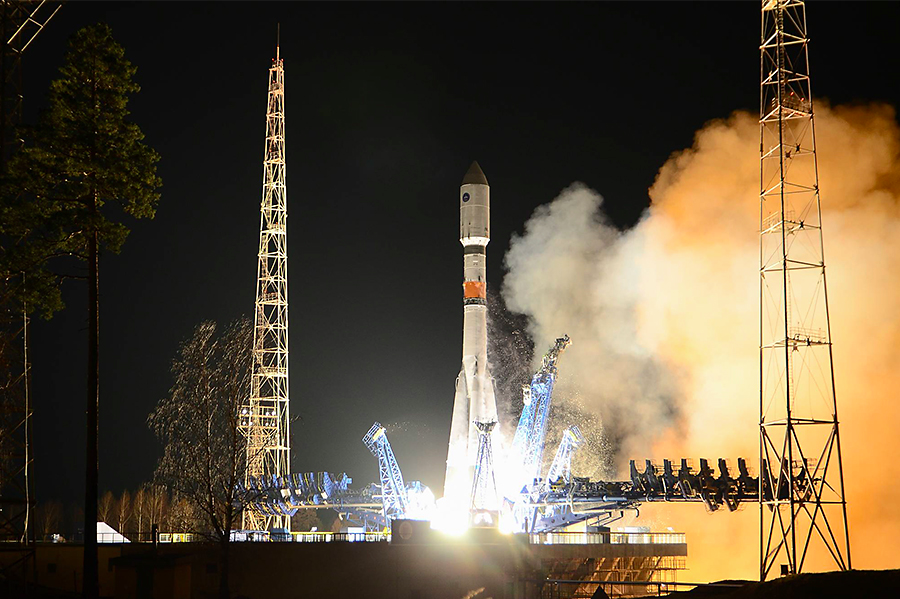 A Russian military communications relay platform blasted off Oct. 30 from the Plesetsk Cosmodrome, riding a Soyuz rocket and Fregat upper stage into an egg-shaped orbit reaching nearly 25,000 miles above Earth.
The satellite launched at 0143 GMT on Oct. 30 (9:43 p.m. EDT on Oct. 29) on top of a Soyuz 2-1a rocket from Plesetsk, Russian's northern spaceport in the country's Archangelsk oblast, the RIA Novosti news agency reported.
A Fregat upper stage released from the Soyuz booster's three-stage core vehicle fired three times to inject the Meridian communications satellite into an elliptical orbit with a low point of 600 miles and a high point of nearly 25,000 miles.
Tilted at an angle of 62.8 degrees to the equator, the orbit provides coverage to Russian polar regions with limited access to conventional communications satellites over the equator.
Separation of the Meridian satellite from the Fregat upper stage was expected around 0400 GMT (12 a.m. EDT).
Russian media reports declared the launch successful.
The launch marked the seventh Meridian satellite to lift off since 2006. One of the spacecraft was sent into an incorrect orbit during a May 2009 launch, and another Meridian satellite crashed in Russia in December 2011 after a Soyuz rocket failure.
The Oct. 30 liftoff was delayed several weeks for engineers to inspect the rocket's Fregat upper stage for damage after a train derailment during launch preparations at the Plesetsk Cosmodrome.
The Meridian spacecraft are manufactured by ISS Reshetnev, a Russian space contractor, as replacements for a previous generation of Molniya communications satellites.
The Meridian satellites link Russian ground forces, aircraft, ships and command centers in the Arctic, Siberia and the North Sea.
"In accordance with the planned timetable, Meridian separated from the launch vehicle's upper stage and arrived at its final orbit," ISS Reshetnev said in a press release.
The company said the satellite was transmitting telemetry and all systems were functioning as designed following launch.
Follow Stephen Clark on Twitter: @StephenClark1.