Updated (4:02 a.m. EDT (0720 UTC) with satellite deploy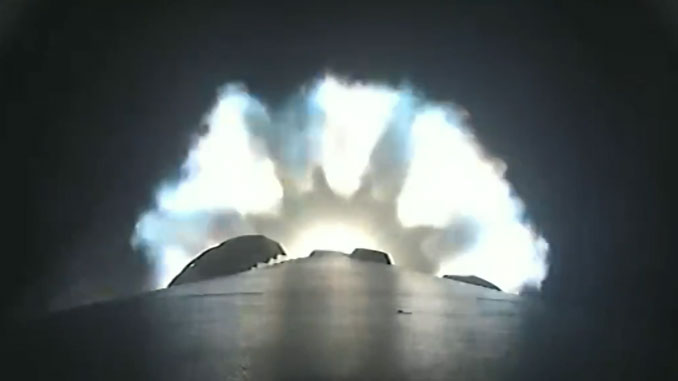 SpaceX launched another batch of satellites for the company's Starlink internet service from Vandenberg Space Force Base in California at 11:57 p.m. PDT Monday (2:57 a.m. EDT / 0657 UTC Tuesday).
The mission, designated Starlink Group 7-2 will place 21 second-generation Starlink satellites into a 185×178 mile (297×286 km) orbit inclined at 53 degrees to the equator. This satellite version is known as the V2 Mini and is a condensed version of the full-sized V2 Starlink satellites which are intended to be launched in the future by SpaceX's fully-reusable Starship vehicle. It will be the 18th launch of the V2 Mini series of satellites.
After lifting off from Vandenberg Space Force Base on a southerly trajectory, the Falcon 9 first stage fired for about two and a half minutes before the second stage took over to complete the climb to orbit. The first stage booster, tail number B1071, is making its 11th flight and headed for a landing on the drone ship 'Of Course I still Love You' stationed about 416 miles (670km) downrange from Vandenberg off the coast of Baja California. The booster touched down about eight and a half minutes after launch.
The second stage completed its first burn to reach an initial parking orbit shortly after the booster landing. It will then coast for about 45 minutes before a two-second firing to reach the intended orbit. Deployment of the 21 satellites was confirmed by SpaceX about an hour after launch.
Based on statistics compiled by Jonathan McDowell, an astronomer at the Harvard-Smithsonian Center for Astrophysics, who maintains a space flight database, the total number of Starlink satellites launched following this launch stands at 5,091.
In May, SpaceX said it had more than 1.5 million Starlink subscribers. The internet service is available in more than 60 countries.