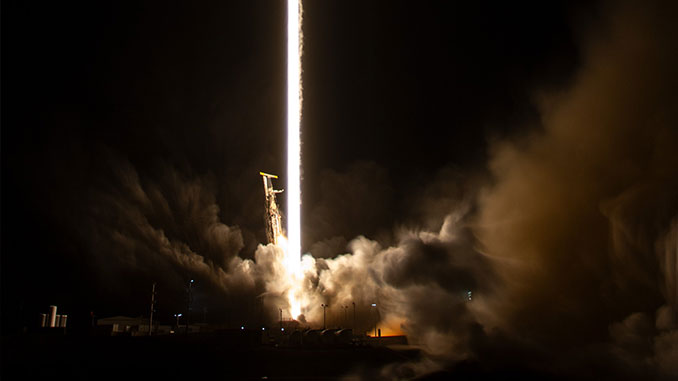 After delays caused by Hurricane Hilary, SpaceX launched its 100th Starlink mission on Tuesday. A Falcon 9 carrying 21 second-generation Starlink satellites lifted off from Vandenberg Space Force Base in California at 2:37 a.m. PDT (5:37 a.m. EDT / 0937 UTC).
It was the 100th Falcon 9 with the primary mission of deploying Starlink satellites since the first in 2019. Based on statistics compiled by Jonathan McDowell, an astronomer at the Harvard-Smithsonian Center for Astrophysics who maintains a space flight database, Tuesday's launch brings the total number of Starlink satellites launched to 4,983.
In early May, SpaceX announced it had 1.5 million subscribers worldwide to its Starlink network which offers low latency, high speed Internet service worldwide. This was the 13th launch of the company's next generation satellites, known as Starlink V2 Minis, which are larger and offer four times the broadband capacity of the previous models.
Eight and a half minutes after lifting off, the first stage of the Falcon 9, making its 15th flight, touched down on the drone ship 'Of Course I Still Love You' stationed in the Pacific about 400 miles (644 km) downrange off the coast of Baja California.
The second stage of the Falcon 9 deployed the 21 V2 mini Starlink satellites into a 184×178 mile (296×286 km) orbit with an inclination of 53 degrees just over an hour into flight, high above the Indian Ocean.
Another batch of Starlink satellites are due to launch from Cape Canaveral no earlier than Wednesday evening.