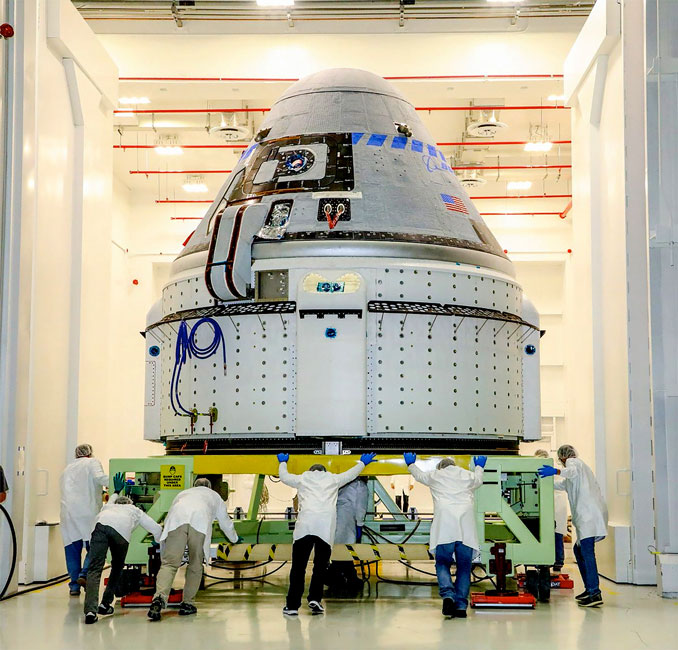 The first piloted launch of Boeing's oft-delayed Starliner crew capsule is slipping to next March at the earliest because of ongoing work to test and replace the capsule's parachute system and to resolve issues with a flammable adhesive used in protective electrical tape, officials said Monday.
"The chutes will drive the readiness for potential launch dates," said Mark Nappi, Boeing's Starliner program manager. "And right now, based on the current plans, we're anticipating that we're going to be ready with the spacecraft in early March. That does not mean that we have a launch date in early March. That means that we are ready with the spacecraft then."
Before determining when the Crew Flight Test, or CFT, mission might actually fly, Boeing, NASA and United Launch Alliance, builder of the Atlas 5 rocket needed to launch the Starliner, will have to assess the space station crew and cargo schedules, booster availability and other factors.
"What I know everybody would like is [a] launch date," said Steve Stich, manager of NASA's Commercial Crew Program. "The vehicle will be ready in the March timeframe… March is typically the month where the Russians will swap out their Soyuz spacecraft and crews. We've got a look at that and then other cargo flights. Mark and his team have to go work with ULA, and that's when we are able to pin down a specific launch date."
Assuming the CFT mission can fly by March or April and no other major issues crop up, Boeing could be certified to begin operational space station crew rotation missions by the end of 2024. Once certified, NASA plans to launch one Crew Dragon and one Starliner to the space station each year through the 2030 end of the ISS program.
"Our plan all along has been to have two different, unique and diverse space transportation systems," Stich said. "We're working hard to get that in place. Once we do that, get Boeing through the Crew Flight Test and then the certification work, the plan would be to fly one Boeing flight and then one SpaceX flight for our crew rotations per year."
Despite the late start and high costs of the delays, Nappi said Boeing remains committed to the Starliner.
"There's really no reason to change our plans," he said. "We've bought hardware for the six flights plus the CFT, it still fits well in the window that we have. There's additional flights that are available outside of those six with other customers. We're still committed."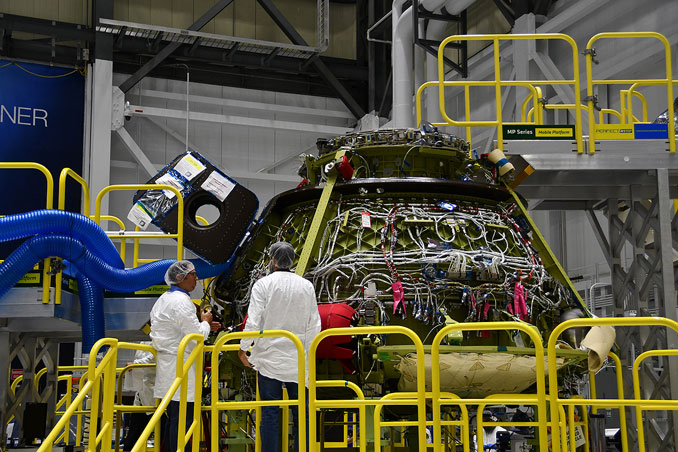 The Starliner has had a rocky history, surprising many because of Boeing's long history as a leader in human spaceflight. The company built the first stage of the legendary Saturn 5 moon rocket and its successor, the more powerful Space Launch System rocket, and serves as the International Space Station's prime contractor.
In 2014, NASA awarded Boeing and SpaceX contracts valued at a combined $6.8 billion to build commercial crew ships that could carry NASA and partner-agency astronauts to and from the space station in the wake of the space shuttle's retirement. The contracts covered up to six flights per company, plus one crewed and one uncrewed test flight.
Under an initial $2.6 billion contract, SpaceX designed a crewed version of its Dragon cargo ship that is carried into orbit by the company's Falcon 9 rocket. Boeing's capsule — Starliner — was built under a $4.2 billion contract, relying on the Atlas 5 for the trip to space.
After a successful unpiloted test flight, SpaceX launched a two-man crew to the space station in May 2020 for the first piloted test flight. The company has now launched 10 piloted Crew Dragon missions, seven for NASA and three privately funded flights, boosting 38 astronauts, cosmonauts and civilians to orbit.
The Starliner has only managed two unpiloted missions. An initial test flight in December 2019 was marred by major software problems that prevented rendezvous and docking with the International Space Station.
Then, before a second uncrewed test flight to make sure the earlier problems had been corrected, engineers ran into trouble with corroded propulsion system valves in the capsule's service module. That delayed the flight to May 2022.
The second test flight went well, and the Starliner robotically docked with the space station as planned and safely returned to a parachute-assisted touchdown in Utah. At that point, NASA was aiming for a piloted launch late last year.
But additional analysis and reviews pushed the flight into 2023 and this past April, launch was delayed to no earlier than July 21 to give engineers more time to review paperwork and analysis and carry out more tests. That work was nearing completion when the parachute and wiring issues cropped up.
An analysis of earlier testing showed the "soft links" that connected the parachute riser lines to a harness on the spacecraft were not as strong as required. The design specification was a safety factor of two, meaning they would operate safely even if subjected to twice the force that would ever be seen in flight. As it turned out, the testing was flawed, and soft links did not have the required safety factor.
Boeing has now opted to replace the soft links with an improved version and to go ahead and install an upgraded parachute system that was meant to be added after the CFT mission. The parachute changes will require a "drop test" in November to make sure the system performs as expected. If all goes well, the flight parachutes will be delivered to Boeing in December.
As for the protective tape, Nappi said its purpose was to prevent abrasion damage to electrical cables snaking throughout the spacecraft. It is secured using an adhesive that poses a potential fire risk in some conditions.
While test data is inconsistent, he said engineers are erring on the side of caution, removing tape where possible, installing barriers in some cases and leaving it intact in areas where the risk is minimal to non-existent.
"We're going to do the right thing with respect to the safety of the vehicle," Nappi said. "That is first and foremost in every discussion that we have. And when it comes out that the answer is to do B because that's the safest thing for the vehicle, that's what we do.
"That has been the approach all along… It's not foreign to our management team inside of Boeing. It's the way we do business in human spaceflight. That's the approach that we took, and I would never second guess that."