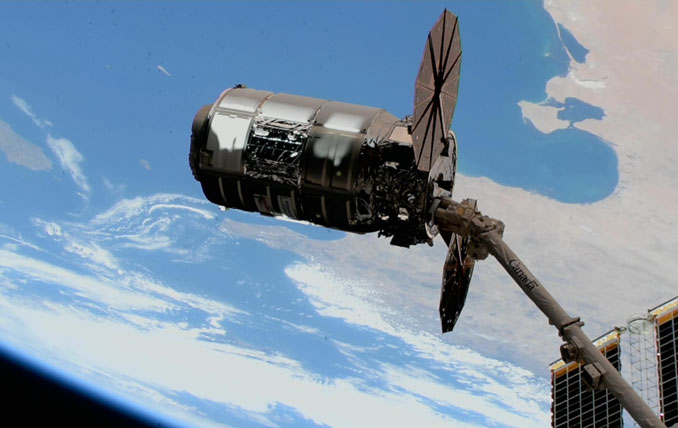 An unpiloted Northrop Grumman Cygnus cargo ship carrying four tons of supplies and equipment caught up with the International Space Station early Friday to wrap up a smooth two-and-a-half-day rendezvous.
As the two spacecraft passed 260 miles above northern Africa, astronaut Woody Hoburg, operating the station's Canadian-built robot arm from inside the lab complex, locked onto a grapple fixture at the base of the Cygnus at 5:52 a.m. EDT (0952 UTC).
From there, flight controllers at the Johnson Space Center took over to pull the ship in for berthing at the central Unity module's Earth-facing port where motorized bolts drove home to firmly lock the spacecraft in place two-and-a-half hours after capture.
Northrop Grumman names its cargo ships after astronauts, and the latest vehicle honored Laurel Clark who was killed when the space shuttle Columbia broke apart during re-entry in 2003.
"As we remember Laurel and the entire crew of the space shuttle Columbia, we remember that many grave sacrifices have been made to get us to this point in human space exploration," astronaut Frank Rubio radioed flight controllers. "It's an honor to push the needle forward in their memory."
Launched Tuesday night from the Mid-Atlantic Regional Spaceport (MARS) on Virginia's Eastern Shore, the Cygnus delivered 3,500 pounds of crew supplies to the station, along with 2,490 pounds of research equipment, more than 2,000 pounds of station parts and equipment and 180 pounds of computer gear and spacewalk supplies.
Also on board: fresh grapefruit, apples, oranges, cherry tomatoes and blueberries, along with a pizza kit, an assortment of cheeses and ice cream.
With the Cygnus spacecraft safely attached, the astronauts are pressing ahead with a busy schedule, gearing up for a Russian spacewalk next Wednesday, the undocking of a Russian Progress supply ship August 20 and the arrival of another Progress four days later.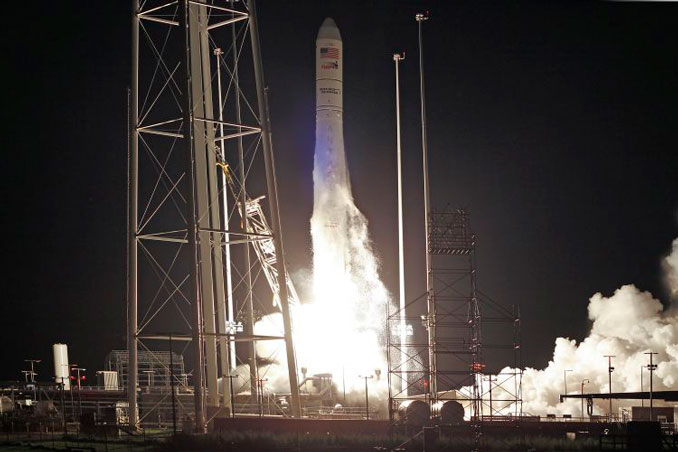 Just four hours after the Progress MS-24/85P spacecraft arrives, NASA and SpaceX plan to launch a Crew Dragon spacecraft from the Kennedy Space Center on August 25 carrying four fresh crew members to the station.
NASA astronaut and Crew 7 commander Jasmin Moghbeli, European Space Agency astronaut Andreas Mogensen, cosmonaut Konstantin Borisov and Japanese veteran Satoshi Furukawa will reach the station the day after launch.
They will replace Hoburg, Stephen Bowen, cosmonaut Andrey Fedyaev and United Arab Emirates astronaut Sultan Alneyadi — Crew 6 — who plan to undock for return to Earth on September 1 to wrap up a 179-day mission.
Two weeks after that, on September 15, Russia plans to launch a Soyuz spacecraft carrying two cosmonauts and a NASA astronaut. That crew will replace Rubio and two other cosmonauts who are expected to return to Earth September 27 to close out an extended 371-day mission.