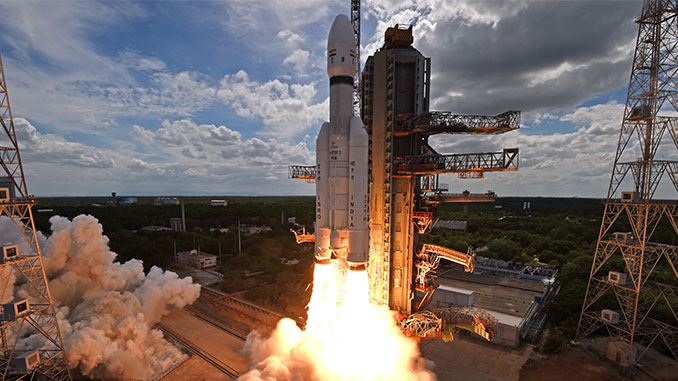 For the third time in its space program, the Indian Space Research Organization (ISRO) has launched a mission to the Moon. India is hoping for a more successful outcome this time around after a failed attempt to land safely on the Moon back in 2019.
This new mission is called "Chandrayaan-3" and lifted off at 2:35 p.m. IST (5:05 a.m. EDT). The name of the mission comes from the Sanskrit words "Chandra- Moon, Yaan-vehicle," according to the ISRO. It launched aboard the Launch Vehicle Mark 3 (LVM3) from the Second Launch Pad at SDSC-SHAR in Sriharikota, India.
The primary payload is an uncrewed lander carrying a suite of payloads, including a small rover. According to the mission profile from the ISRO, both the lander and the rover are expected to have a mission life of just one lunar day, which translates to 14 Earth days.
The lander has a mass of 1,749.86 kg (about 3,858 lbs), which includes the 26 kg (57 lbs) rover. The craft is intended to land at 69.37 S, 32.35 E in the southern hemisphere of the Moon.
This mission also comes just a few weeks after India became the 27th country to sign the Artemis Accords during a state visit to Washington D.C. The Accords stem from the Outer Space Treaty of 1967 and are designed to create a set of principals for peacefully exploring the Moon, Mars and beyond.