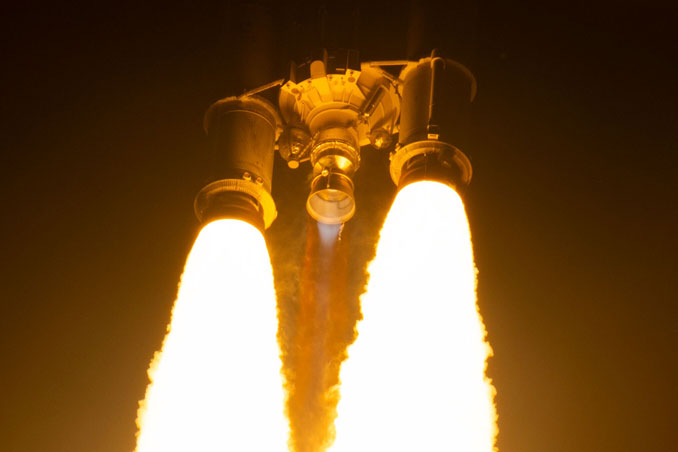 Europe is facing months without its own independent access to space for large satellites following the retirement of its heavy-lift Ariane 5 rocket this week after notching up its 117th and final mission over 27 years of operations.
Ariane 6, the much-heralded successor, is still undergoing final development and testing. It is behind schedule and is unlikely to fly until the very end of this year, with some industry experts suggesting it may not make its maiden flight until later in 2024.
The situation for Europe is compounded by its smaller vehicle, the Vega-C, remaining out of action following an in-flight failure last December and Russian Soyuz rockets no longer being available for European launches. An older version of the Vega is scheduled to fly in September.
European Space Agency (ESA) director general Josef Aschbacher stated recently that the continent finds itself in the midst of "an acute launcher crisis" because of the "unavailability of home-grown rockets".
He said: "The performance and accuracy of Ariane 5 has been quite unique and it will be remembered as a remarkable vehicle but I'm convinced that Ariane 6 will have the same performance and the same accuracy once it's on the launch pad."
Ariane 6 was commissioned because the cost of producing the Ariane 5 became unsustainable, largely in the face of US competition. It is intended to be at least 40 percent cheaper than the Ariane 5 though it will still be an 'expendable' design.
Ariane 6 will be available in two versions depending on the required performance – Ariane 62 with two strap-on boosters and Ariane 64 with four.
Ariane 62 can launch payloads of approximately 4500 kg into geostationary transfer orbit (GEO) or 10,300 kg into low Earth orbit (LEO), whilst Ariane 64 can launch payloads of approximately 11,500 kg into GEO and 20,600 kg into LEO. It will also offer rideshare opportunities for small satellites.
Standing over 60 metres (197 feet) tall, Ariane 6 will weigh almost 900 tonnes when launched with a full payload – roughly equivalent to one-and-a-half Airbus A380 passenger aeroplanes.
For its development, ESA has been working with an industrial network of several hundred companies in 13 European countries, led by prime contractor ArianeGroup. The French space agency, CNES, is preparing the Ariane 6 launch facilities at Europe's Spaceport in Kourou, French Guiana.
Ariane 6's lower stage, with solid rocket boosters, will propel the rocket in the first phase of flight, delivering 135 tonnes of thrust in vacuum. The core stage is powered by the liquid-fuelled Vulcain 2.1 – an upgraded engine derived from Ariane 5's Vulcain 2 – and either two or four P120C boosters to provide additional thrust at liftoff.
The upper stage is powered by a re-ignitable Vinci engine fuelled by cryogenic liquid oxygen and hydrogen. The upper stage, which will allow Ariane 6 to reach a range of orbits on a single mission, will typically burn one, two or more times to reach the required orbits. After separation of the payload, there will be a final burn to deorbit the upper stage, to mitigate space debris.
The ogive-shaped fairing at the top of Ariane 6 will be available in two sizes: 20 metres (A64/A62) and 14 metre (A62). Both are 5.4 metres (17.7 feet) in diameter and made of carbon fibre-polymer composite. The fairing protects satellites from the thermal, acoustic and aerodynamic stresses on the ascent to orbit.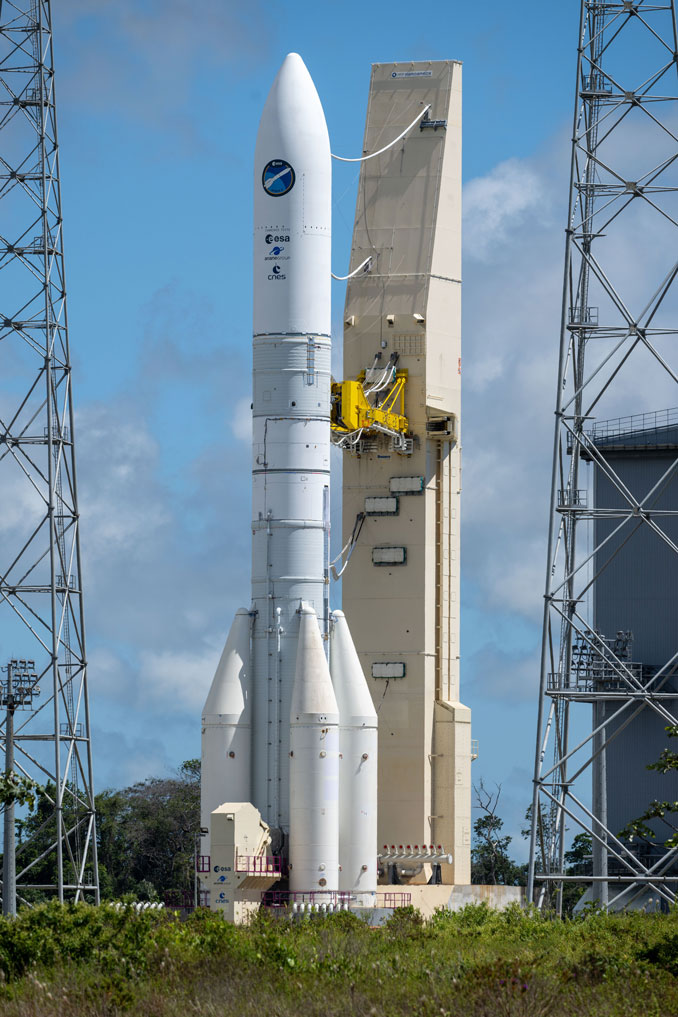 Ariane 6 will be launched from French Guiana from a dedicated launch site 4 km (2.5 miles) west of the Ariane 5 launch pad. The main structures comprise the Launch Vehicle Assembly building – used for horizontal integration and preparation before rollout to the launch zone – the mobile gantry and launch pad.
The mobile gantry – a 90 metre-high (295 feet) mobile metallic structure weighing 8200 tonnes when fully equipped – rolls on rails. It is equipped with platforms to give access to the launch vehicle for integration on the launch pad. It stores and protects Ariane 6 until it is retracted before launch.
Development of Ariane 6 began as a response to the changing landscape of the global launch market and its go-ahead was approved at the ESA Council at Ministerial level meeting in December 2014, a key motivation being to maintain Europe's leadership in the commercial launch service market while also responding to the needs of European independence in accessing and using space.
ESA's role in the development of Ariane 6 has been to oversee the process of procurement, as well as being in charge of the architecture of the overall launch system. Industry has responsible for identifying commercial market requirements, given its future responsibility in the commercial use of the launch system.
The agency's Director of Space Transportation, Toni Tolker-Nielsen, told Spaceflight Now: "Ariane 6 will be more flexible, cost-efficient and will serve more missions than Ariane 5. Several key milestones have to be completed before a launch date can be confirmed but it is already a commercial success with the first three production years already sold out."
Launch system qualification review tests for all three main systems, the launcher, launch system and launch base, began this summer and an upper stage additional hot firing test is scheduled to take place at DLR Lampoldshausen, Germany, later in July.
This test, on the P5.2 test bench, will simulate a nominal flight profile like the one planned for the inaugural flight, to confirm the expected behaviour of the upper stage. A further test is planned at the end of the summer to examine stage behaviour in degraded cases.
In November the lower and upper stages are scheduled to be transported by sea from France and Germany to French Guiana in preparation for a full launch vehicle assembly test and a wet dress rehearsal.