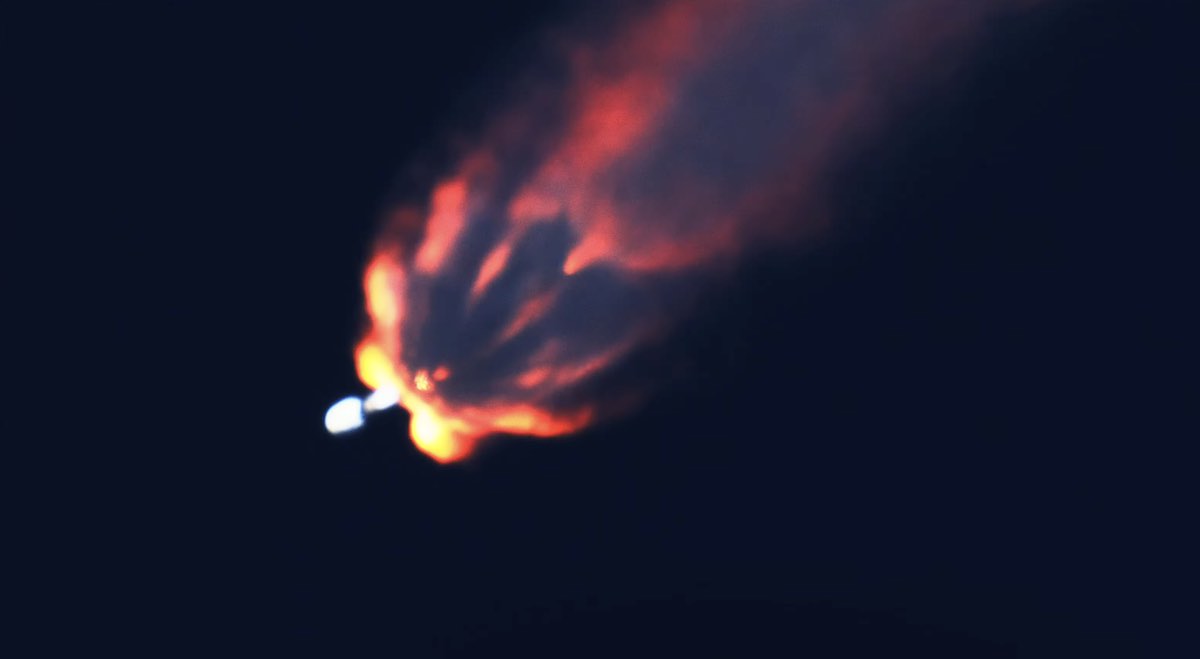 SpaceX launched its 40th mission from Vandenberg Space Force Base in California on April 27, boosting 46 more satellites into orbit for the Starlink internet network.
A Falcon 9 rocket lifted off from Space Launch Complex 4-East at Vandenberg at 6:40:50 a.m. PDT (9:40:50 a.m. EDT; 1340:50 UTC) Thursday to begin the Starlink 3-5 mission. SpaceX aborted launch attempt the day before in the final minute of the countdown to review data associated with the landing of the Falcon 9's first booster.
The countdown and launch proceeded as planned Thursday, with the Falcon 9 quickly firing through a low layer of fog at Vandenberg before heading toward the south over the Pacific Ocean. The rocket's first stage shut down its nine engines about two-and-a-half minutes after liftoff, then began a descent to a landing on a drone ship in the Pacific a few hundred miles downrange.
The upper stage of the Falcon 9 ignited its engine two times to place the 46 Starlink internet satellites into a polar 97.6-degree inclination orbit around 200 miles (300 kilometers) above Earth. SpaceX confirmed an on-target deployment of the 46 Starlink satellites about an hour into the mission.
The mission was SpaceX's 27th launch of the year, and the eighth launch of 2023 from Vandenberg, a military spaceport about 140 miles (225 kilometers) northwest of Los Angeles.
Liftoff of SpaceX's Falcon 9 rocket from a foggy launch pad in California, heading for polar orbit on the Starlink 3-5 mission with 46 more Starlink internet satellites. https://t.co/YK8PkMI772 pic.twitter.com/S7OmBPJvpI

— Spaceflight Now (@SpaceflightNow) April 27, 2023
Nearly 3,900 Starlink satellites are currently in orbit and working, according to an analysis by Jonathan McDowell, an astrophysicist who tracks spaceflight activity. That includes first-generation and second-generation Starlink satellites.
The 4,400 satellites in SpaceX's first-generation constellation will be spread among five different orbital "shells" at different altitudes and inclinations. SpaceX also won approval from the Federal Communications Commission last year to launch and operate up to 7,500 upgraded Gen2 satellites.
The network beams high-speed, low-latency internet signals around the world, reaching consumers, underserved communities, and other potential users like the U.S. military.
Email the author.
Follow Stephen Clark on Twitter: @StephenClark1.