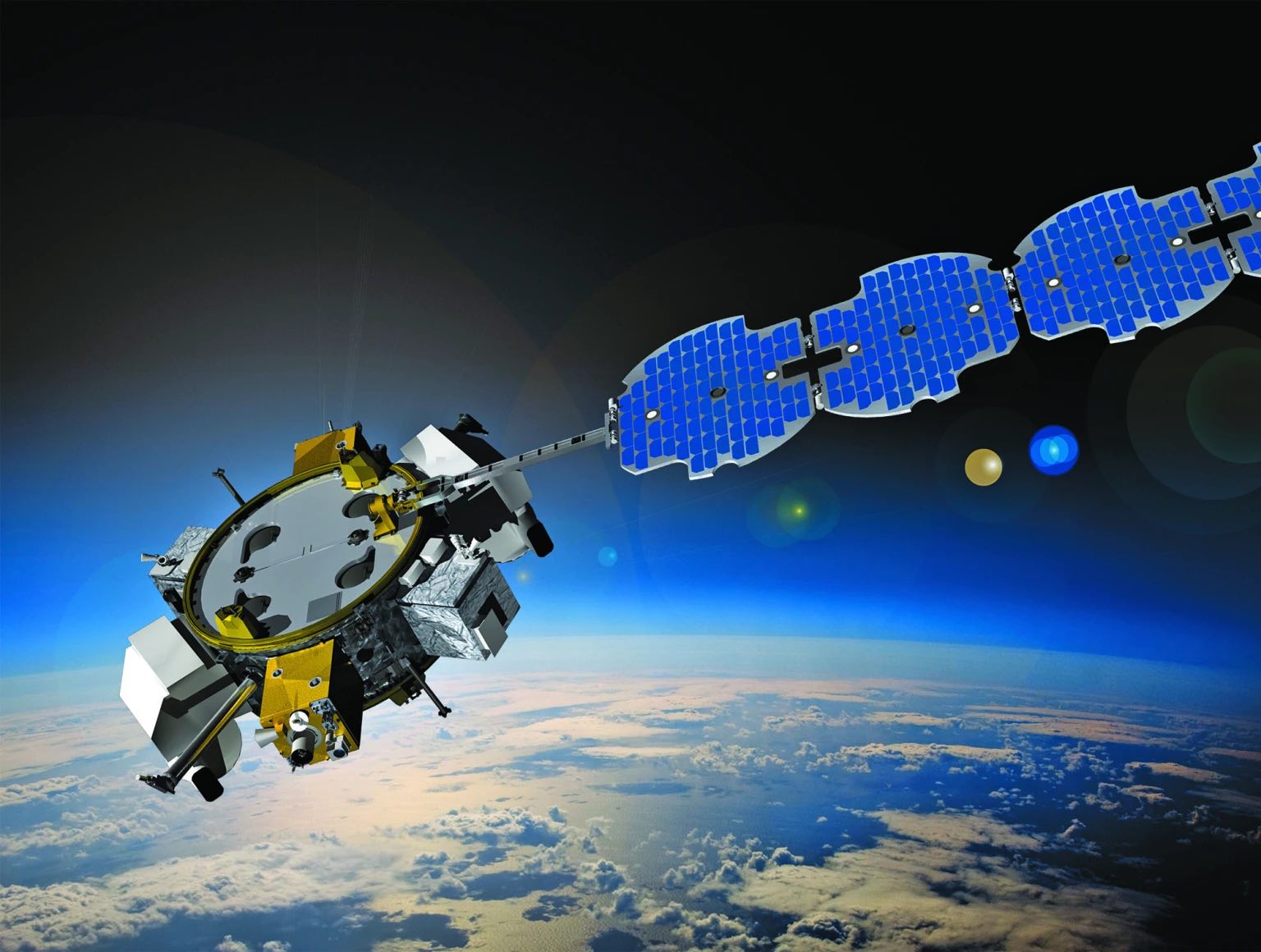 Northrop Grumman and the U.S. Space Force say converted launch vehicle payload adapter rings, upgraded with power and propulsion to create full-fledged satellites, are proving effective in more rapidly delivering military instruments and sensors to orbit. Another such mission is set to launch on SpaceX's next Falcon Heavy rocket.
The converted payload adapter rings, called the ESPAStar bus by Northrop Grumman, can host as many as six payloads on a single spacecraft. The ring comes with standardized ports to connect sensors, experiments, and satellites that can either remain attached to the host spacecraft, or deploy into orbit to start work on independent missions.
The ESPAStar spacecraft platform forms the basis for the Space Force's Long Duration Propulsive ESPA, or LDPE, missions, the third of which is set to launch one the Space Force's USSF-67 mission Saturday from Florida aboard a SpaceX Falcon Heavy rocket. The military has also launched two other similar ESPAStar missions: EAGLE in 2018 and the USSF 12 Ring spacecraft in July 2022.
Another ring-based spacecraft for the Space Force launched last year on a classified mission called the Shepherd Demonstration. Details of its design, such as whether it is based on the Northrop Grumman ESPAStar platform, were not disclosed by the Space Force.
ESPA stand for EELV Secondary Payload Adapter, which was originally developed in the late 1990s and early 2000s by Moog to accommodate small hitchhiker satellites on a ring-shaped structure under primary payloads on the military's Evolved Expendable Launch Vehicle Program. The ESPA ring has evolved into several new designs, and found use as a platform for NASA's LCROSS mission in 2009 that intentionally crashed into the moon in search of water ice.
Spaceflight Inc., a rideshare launch provider, developed a series of commercial propulsive space tugs called Sherpa using a version of the ESPA ring. The Sherpa missions have focused on missions in low Earth orbit.
Northrop Grumman's ESPAStar has found a niche as a platform for national security payloads in geostationary orbit, more than 22,000 miles (nearly 36,000 kilometers) over the equator. The USSF-67 mission launching on SpaceX's Falcon Heavy rocket Saturday will deploy the LDPE 3A spacecraft, based on the ESPAStar design, on a dual-payload mission with a military communications satellite called CBAS 2 (Continuous Broadcast Augmenting SATCOM 2).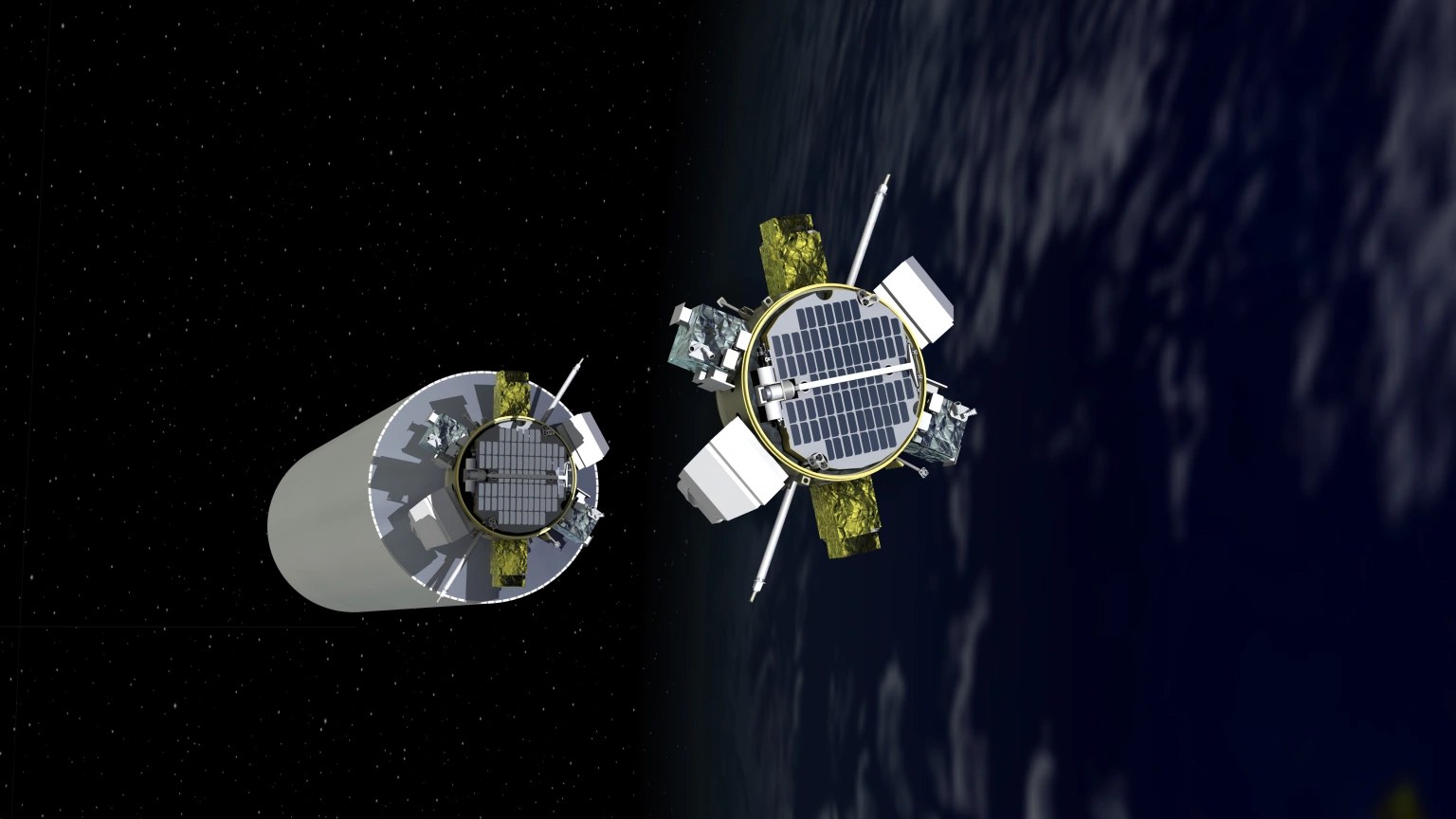 "LDPE provides a 'freight train to space' for experiments and prototypes in geosynchronous Earth orbit that can be manifested on any National Security Space Launch mission with available mass margin," said Col. Joseph Roth, Space Systems Command's director of the Innovation & Prototyping Delta. "The LDPE's modular bus design and six standard interfaces provides theperfect platform to host a wide variety of payloads across many mission areas."
Troy Brashear, Northrop Grumman's vice president of national security systems, said the ESPAStar design provides the military with "flexibility and agility" in assigning and delivering national security payloads to orbit.
"You can put a satellite on it that can then deploy once in orbit," Brashear said in an interview with Spaceflight Now. "You can put a payload on it that stays with the ring forever and does its mission from the ring. And you can get six on a ring, so you can do any sort of combination of experimentation, tests, any sort of mission risk reduction activities, all in one shot.
"This 'freight train to space' is able to take advantage of excess space in the fairing like we are on USSF 67 here soon, and then to be able to continually do that."
The Space Force has launched two previous LDPE missions, one on an Atlas 5 rocket in 2021 and another on the Falcon Heavy's USSF-44 mission Nov. 1. Northrop Grumman developed the maneuverable LDPE spacecraft by upgrading the ESPA ring structure with solar panels, computers, hydrazine-fueled rocket thrusters, and command and control instrumentation.
Each port on the ESPAStar satellite platform can hold a payload of up to 705 pounds (320 kilograms), according to Northrop Grumman. The satellite is designed for missions lasting multiple years.
"The way we all grew up was you had a mission, you build a satellite, and then you'd have to find a ride into space," Brashear said. "This ESPAStar product line kind of helps cut down that timeline of getting the ride to space. SSC (Space Systems Command) buys the ring, and they will coordinate who gets to ride on it. You can simply get your ride to space and fit in the fairing with somebody else."
The ring's six payload ports have non-proprietary power and mechanical connections, allowing the Space Force and Northrop Grumman to swap out a payload until the final phase of a launch campaign at the launch site. That's valuable to the Space Force, which might need to respond to changing conditions on the battlefield.
"In a high-threat environment, you may be planning for 'Mission X' for the last six or seven months to get up into orbit, and then something in Ukraine happens, or something happens in the Pacific region, and you want to change out a payload or a satellite," Brashear said. "We can provide the flexibility to do that within weeks notice and within a short time before launch."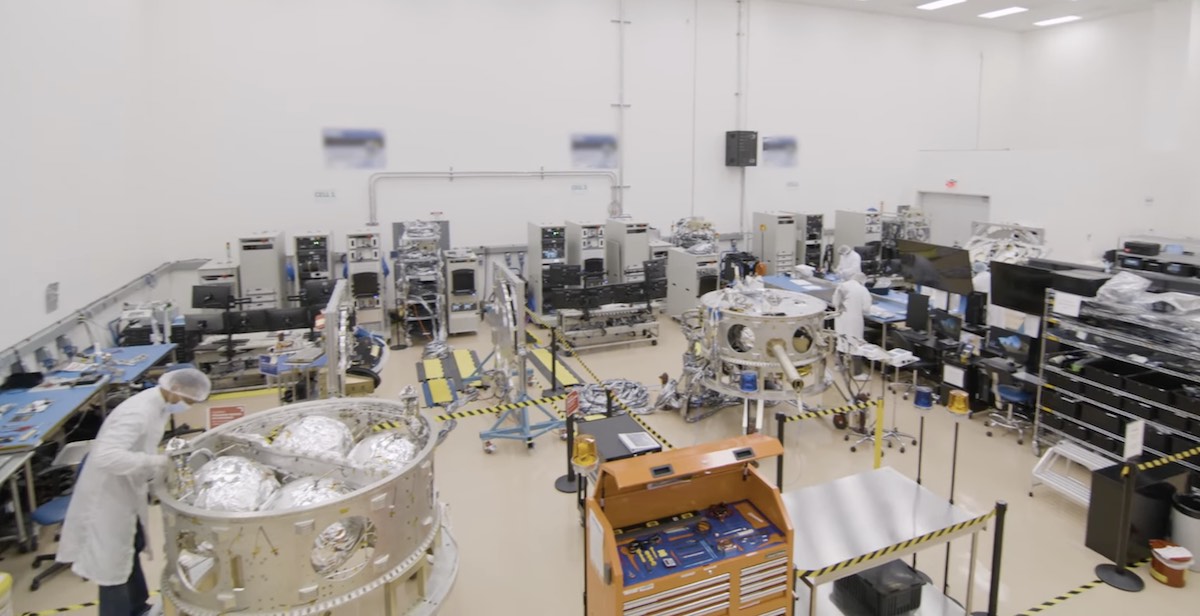 The Defense Department awarded Northrop Grumman the $42.5 million manufacturing and integration contract for the LDPE 3A mission in 2019.
There are five payloads on the LDPE 3A spacecraft. All five of the LDPE 3A payloads will remain attached to the spacecraft throughout their missions, a Space Force spokesperson told Spaceflight Now.
The LDPE 3A spacecraft on the Falcon Heavy rocket launching this weekend includes two "demonstration prototype" payloads from Space Systems Command, the military said. One of them, called Catcher, comes from the Aerospace Corporation. Catcher is a prototype sensor to provide "local space domain awareness insights," Aerospace Corporation said. It is based on a previous Aerospace Corporation-developed instrument called Energetic Charged Particle-Lite, or ECP-Lite, to demonstrate new miniaturized technology that can diagnose adverse effects of radiation, charged particles, and other space weather events on spacecraft in orbit.
The other Space Systems Command payload on the LDPE 3A spacecraft is called WASSAT. According to Sandia National Laboratories, WASSAT is a prototype wide-area sensor consisting of four cameras to search for and track other spacecraft and space debris in geosynchronous orbit, where communications, missile detection, intelligence-gathering, and weather monitoring satellites operate.
The military's Space Rapid Capabilities Office has three payloads on the LDPE 3A spacecraft, including two operational prototypes for space situational awareness missions, and one "operational prototype crypto/interface encryption payload providing secure space-to-ground communications capability," Space Systems Command said in a statement.
The Space Force awarded Northrop Grumman a $22 million contract last year for another ESPAStar mission, called ROOSTER, or the Rapid On-Orbit Space Technology Evaluation Ring, for delivery in 2026. The ROOSTER mission is similar to the LDPE missions, and will be capable of hosting multiple payloads, including an in-orbit satellite refueling experiment, according to the Space Force.
"After that we are looking at expanding this ESPAStar product line to other customers," Brashear said. "I think there are opportunities here on the commercial front just because of the low price point, (and) the ability to multi-manifest capability on there and do this rideshare. I think it opens up a lot of opportunity commercially and internationally as well."
Email the author.
Follow Stephen Clark on Twitter: @StephenClark1.