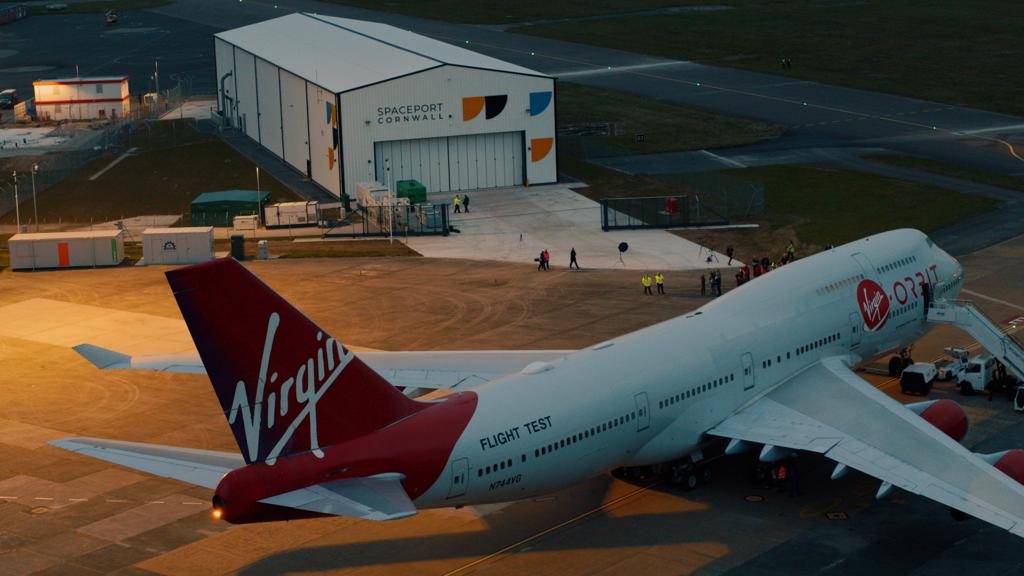 A new chapter in spaceflight history will be made Monday when the first ever satellites to be launched into orbit from Western Europe begin their journey into space inside a rocket slung beneath a converted jumbo jet carrier aircraft that will take off from Cornwall on the southwest peninsula of England.
Virgin Orbit's 'Start Me Up' mission is scheduled for liftoff at 5:16 p.m. EST (2216 GMT) Monday, Jan. 9, from Spaceport Cornwall at Newquay Airport. It will be the first orbital launch from the United Kingdom and the first commercial mission to take flight from Western Europe.
At a pre-launch media briefing in Cornwall on Sunday afternoon Dan Hart, CEO of Virgin Orbit, said; "We are looking very carefully at the readiness of everything. Right now all systems are 'green', the rocket was armed yesterday and we are continuing with loading fuel."
"We are going to proceed cautiously on this flight because we are in different airspace with challenging conditions. We want to make sure we give our pilots every opportunity for a successful mission."
Virgin Orbit, part-owned by billionaire Richard Branson, who founded the Virgin Atlantic airline and more recently the Virgin Galactic sub-orbital spaceplane, will deploy its modified Boeing 747, with a giant booster rocket attached under its wing, for the first time outside the company's base in the United States.
Once the plane has climbed to around 35,000 feet into airspace over the Atlantic Ocean southwest of Ireland, the rocket with nine small satellites from seven customers will be released to boost each spacecraft into orbit via what is known as a horizontal launch.
LauncherOne is a two-stage, expendable launch vehicle designed to place small satellites of up to 500 kg (1,100 lb) into a wide range of low Earth orbits. Rather than launching from the ground, it is carried to launch altitude by the 747-400 carrier aircraft, called Cosmic Girl.
After months of delays while awaiting the necessary official regulatory clearance, the mission was finally granted approval last week and given an approximately hour-long initial takeoff window.
A successful wet dress rehearsal ground test, which involves fueling the rocket inside a special safety zone, was completed on Thursday and now mission planners are awaiting favorable weather and a clear run on last minute scheduling and system checks. There are back-up launch dates in mid and late January.
The idea of releasing a rocket from a converted jetliner was pioneered by Orbital Sciences in the 1990s as a novel way of offering a flexible and low-cost route to orbit as the demand for sending small satellites into low Earth orbit grows exponentially.
The mission also highlights the timely emergence of a competitive small-launch sector, just as Europe faces a growing crisis due to the Ukraine war, cutting access to Russian Soyuz vehicles, as well as Ariane 6 delays and the grounding of Vega rockets after a failed launch last month.
"When you look at the way that the low Earth orbit economy is developing, it's the place that everybody is looking to put their satellites, whether it be for climate change, observation or urban development, or for security purposes," said Ian Annett, deputy CEO of the UK Space Agency, ahead of the launch. "The ability to access LEO with micro-launches is definitely not a static market — it is one that is continuing to grow."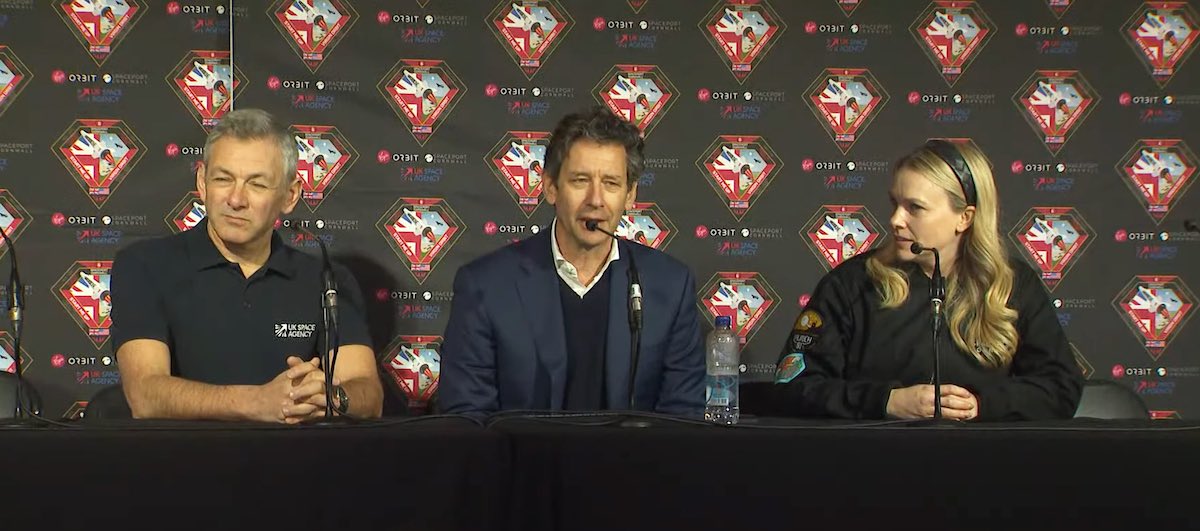 The launch is named "Start Me Up" as a tribute to one of the most iconic British rock and roll bands of all time, the Rolling Stones. The hit song debuted on their 1981 album Tattoo You and was later released on the Forty Licks compilation by Virgin Records in 2002. All of Virgin Orbit's launches have been named to celebrate iconic moments in Virgin's long musical history.
Virgin Orbit has five launches under its belt to date, all of which have lifted off from the Mojave Air and Space Port in California. The first mission, a test flight that launched in May 2020, failed but the most recent four have all been successful, deploying a total of 33 satellites into orbit.
The southward trajectory of the "Start Me Up" mission has required the cooperation of Spanish and Portuguese authorities, as well as the Irish government. Key points in the launch timeline are (all times GMT): Cosmic Girl takes off between: 22:16 – 23:16; Rocket released between: 22:54 – 23:54; Cosmic Girl returns to base between: 00:00 – 01:00 (on Jan. 10); Satellite separation confirmation between: 01:15 – 01:30 (on Jan. 10).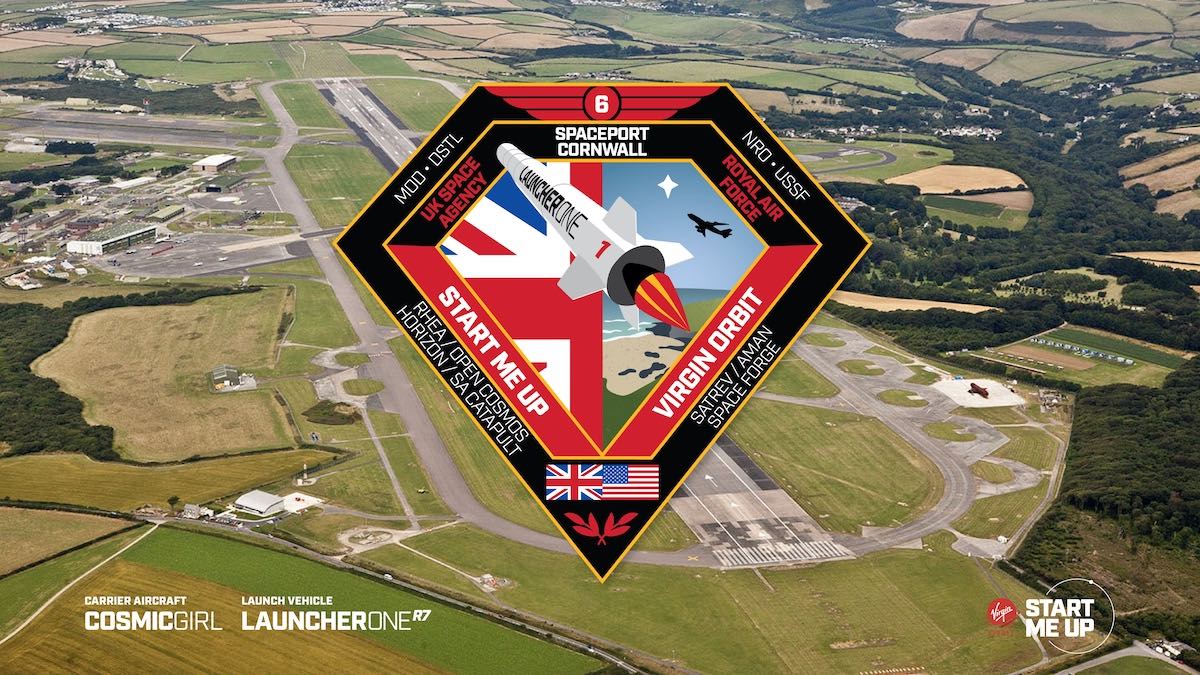 The Start Me Up satellite manifest comprises:
• IOD 3 AMBER (aka IOD 3): Developed by Satellite Applications Catapult and Horizon Technologies, and built by AAC Clyde Space, all based in the UK. It is expected to be the first of more than 20 Amber satellites to provide space-based Maritime Domain Awareness data to users.
• Prometheus 2: Two CubeSats owned by the UK Ministry of Defence's (MOD) which were co-funded by Airbus Defence & Space and In-Space Missions in support of MOD science and technology activities.
• CIRCE (Coordinated Ionospheric Reconstruction CubeSat Experiment): Part of a joint mission between the UK's Defence Science & Technology Laboratory and the US Naval Research Laboratory.
• DOVER: Developed by RHEA Group in the UK, it is the company's first satellite in its 30-year history. The satellite is being co-funded through the European Space Agency's Navigation Program and built by Open Cosmos of the United Kingdom. DOVER is a smallsat that was created as a pathfinder for resilient global navigation satellite systems
• ForgeStar 0: Developed by Space Forge of Wales, the satellite is a fully returnable and reusable platform to enable in-space manufacturing. This launch will be the first for the company's ForgeStar platform and will test future returns from space technology.
• AMAN: Oman's first orbital mission, a single Earth observation satellite to demonstrate the future feasibility of a larger constellation. It was developed between the Sultanate of Oman, Polish Small Satellite manufacturer and operator SatRev, Poland-originated AI data analytics specialists TUATARA, and Omani-based merging technology innovator ETCO.
• STORK 6: The next installment of Polish small satellite manufacturer and operator SatRev's STORK constellation. Virgin Orbit launched two spacecraft in this constellation on a previous launch.