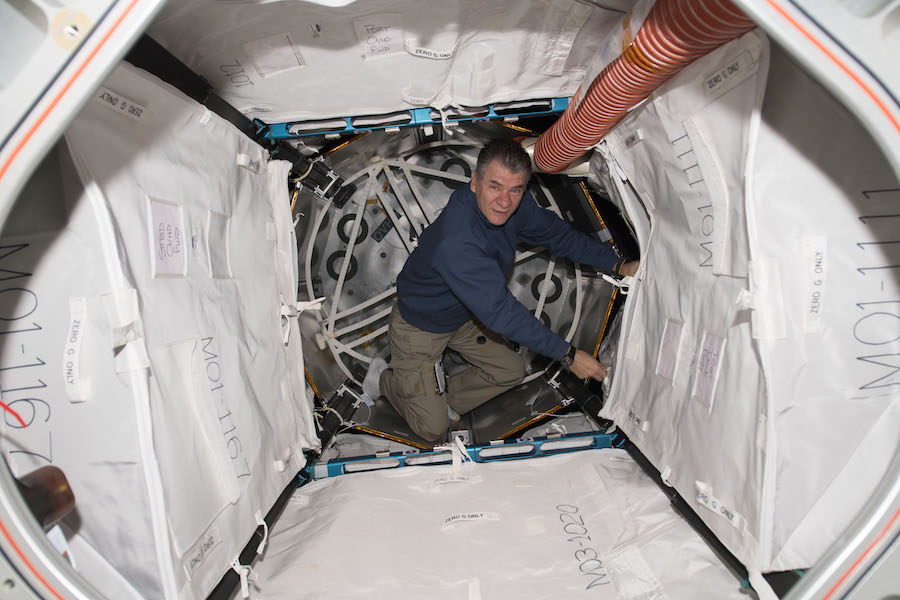 A commercial module mounted outside the International Space Station last year will remain attached to the orbiting research complex for at least three more years, carrying out additional tests for future space habitats and serving as a storage closet for the lab's crew.
The Bigelow Expandable Activity Module, or BEAM, was launched in the trunk of a SpaceX supply ship in April 2016, then attached to the station's Tranquility module with the lab's robotic arm and expanded to its full size using compressed air in May to begin a two-year campaign of experiments and tests.
The inflatable module has performed well, meeting engineers' expectations to show its resilience against radiation and potentially destructive impacts with space junk. NASA originally awarded Bigelow Aerospace, founded by wealthy real estate and hotel developer Robert Bigelow, a $17.8 million contract in 2013 to build and deliver a demonstration module to the space station.
NASA approved an extension in BEAM's stay at the complex this year, and gave Bigelow Aerospace, which retains ownership of the module, a $200,000 contract last month for sustaining engineering work, anomaly resolution, and analyses of BEAM's ability to be repurposed as a storage compartment.
The new contract is for three years through late 2020, with two additional one-year options that could keep BEAM at the station into the early 2020s. NASA could consider another extension at the end of the new contract, or consider jettisoning BEAM overboard to burn up in Earth's atmosphere, the fate originally envisioned for the module once its mission at the station was completed.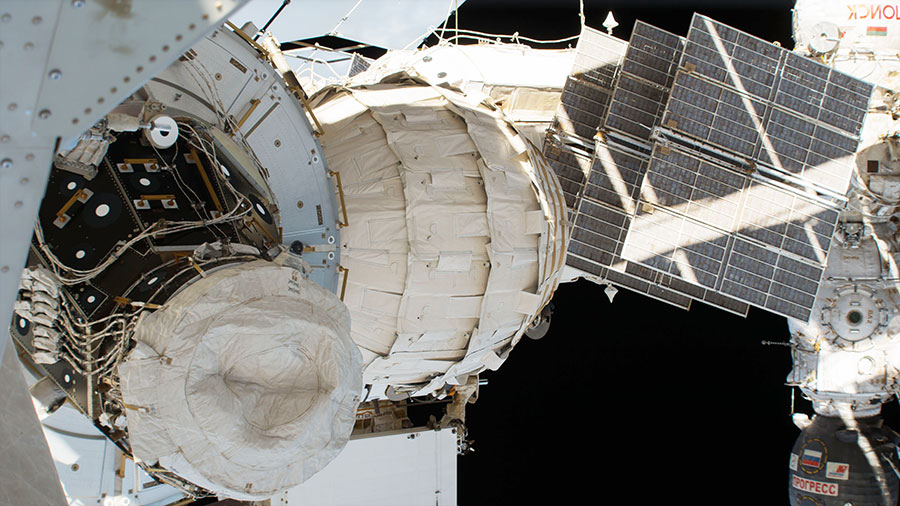 BEAM is a prototype for soft-sided modules that could help construct large orbiting space stations in the future, without needing huge new rockets to do the lifting. The demonstrator launched in an unpressurized configuration, then expanded to twice its stowed length once at the station.
The space station's modules are made of rigid metallic structures, while BEAM's skin is made of a multi-layer Vectran-like material.
BEAM is small compared to the station's other modules, with an internal volume of 565 cubic feet (16 cubic meters). In its fully deployed configuration, the module measures 13 feet (4 meters) long and 10.5 feet (3.2 meters) in diameter.
"The advantage of launching an expandable to space is the packing factor," said Lisa Kauke, BEAM's deputy project manager at Bigelow Aerospace, before the module's expansion last year. "In other words, it packs down really small in the launch vehicle, and it saves on mass, but most importantly volume, and then once it gets on orbit it expands."
Bigelow Aerospace, based near Las Vegas, launched two sub-scale robotic test modules on standalone missions in 2006 and 2007. They are still orbiting Earth.
But BEAM was the first expandable module to be built for human spaceflight, a stepping stone to inflatable modules being designed by Bigelow Aerospace that could offer occupants up to 11,600 cubic feet (330 cubic meters) of internal volume.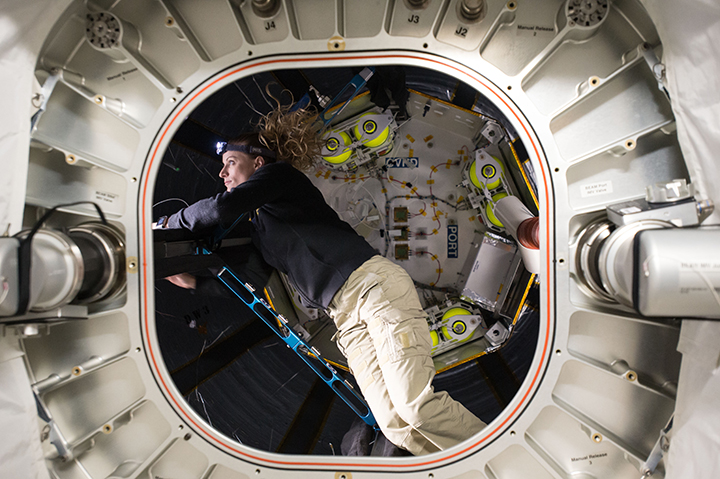 The so-called B330 habitat could launch in the early 2020s, either as a standalone human-rated commercial space station, or as a bigger attachment to the International Space Station.
Astronauts have reconfigured BEAM's interior over the last few months to ready it for a longer stay at the space station.
Crew members removed hardware used for the module's initial expansion, converted internal environmental sensors from wireless to wired to prevent interference with items that might be stored inside, and installed air ducting, netting and large empty bags to define the stowage volume inside BEAM, according to NASA.
"NASA and Bigelow later will likely add a power and data interface to BEAM, which will allow additional technology demonstrations to take place for the duration of the partnership agreement," the space agency said in a statement.
NASA wants to use the International Space Station to help foster a commercial market for research and other services in low Earth orbit. Once the space station is decommissioned — a retirement that could occur as soon as 2024 — NASA hopes commercial research labs are available in Earth orbit to continue supporting scientific and technological experiments, while the agency refocuses on deep space exploration to send astronauts back to the moon, and eventually Mars.
If such a commercial market is able to develop in orbit, the International Space Station is vital to demonstrating its promise, and NASA has used the research outpost as an incubator for commercial space initiatives in a move toward that objective.
Expandable modules could also be employed on future expeditions into deep space.
"This extension will deepen NASA's understanding of expandable space systems by making the BEAM a more operational element of the space station to be actively used in storage and crew operations," NASA said in a statement.
Since BEAM's expansion in May 2016, astronauts have entered the module more than a dozen times and conducted radiation shielding experiments, collected microbial samples, and gathered thermal and structural data to advance engineering analyses on the expandable module technology's suitability for human spaceflight.
NASA said the station crew will use BEAM to store up to 130 cargo transfer bags, freeing up space in other modules for research experiments.
Email the author.
Follow Stephen Clark on Twitter: @StephenClark1.