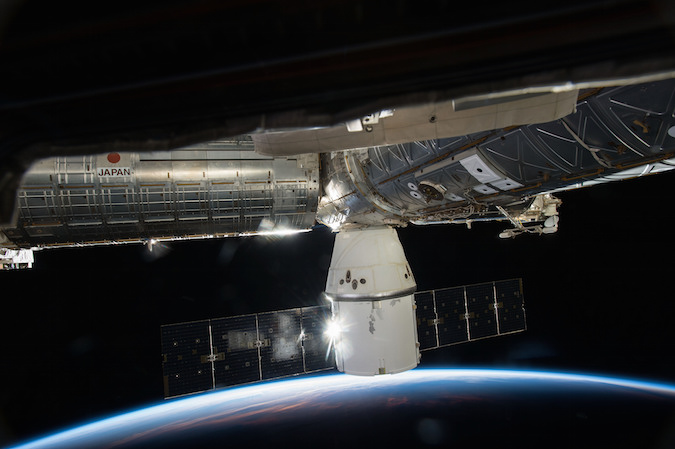 The 11th dedicated cargo delivery mission by SpaceX's Dragon spacecraft NASA's Kennedy Space Center will deliver nearly 6,000 pounds of equipment to the International Space Station.
The spacecraft is set for launch Saturday, June 3, and should reach the space station Monday, June 5. A Falcon 9 rocket will send the Dragon cargo carrier into orbit for the two-day transit to the research outpost.
SpaceX has launched 10 resupply missions to the space station to date, including one cargo capsule lost in a launch failure. One more Dragon spacecraft flew to the space station in May 2012 on a demonstration mission.
In addition to more than 3,700 pounds of cargo inside Dragon's pressurized cabin, the spacecraft's external trunk is packed with three unpressurized packages.
One of the instruments, NASA's Neutron Star Interior Composition Explorer (NICER), will be mounted by the station's robotic arm on ExPRESS Logistics Carrier 2, a platform on the space-facing side of the research lab's starboard-side truss. NICER will study the super-dense remnants of supernova explosions, called neutron stars, and demonstrate how future missions could use pulsars for deep space navigation.
Another unpressurized payload is the Roll-Out Solar Array (ROSA) sponsored by the U.S. Air Force Research Laboratory. The new solar array design could be used on future commercial satellites, making the power generators 20 percent lighter and able to fit into a launch package four times smaller than conventional fold-out solar panels.
A commercial Earth-imaging platform developed by Teledyne Brown is also stowed in Dragon's trunk. The Multiple User System for Earth Sensing, or MUSES, can host high-definition and hyperspectral cameras for Earth-viewing.
NASA has provided a breakdown of the cargo manifest listed below.
Total Cargo: 5,970.1 pounds (2,708 kilograms)

Pressurized Cargo (with packaging): 3,761.1 pounds (1,665 kilograms)

 Science Investigations: 2,356.7 pounds (1,069 kilograms)
Crew Supplies: 533.5 pounds (242 kilograms)
Vehicle Hardware: 438.7 pounds (199 kilograms)
Spacewalk Equipment: 123.4 pounds (56 kilograms)
Computer Resources: 59.4 pounds (27 kilograms)

Unpressurized Cargo: 2,209 pounds (1,002 kilograms)

NICER: 820.1 pounds (372 kilograms)
ROSA: 716.5 pounds (325 kilograms)
MUSES: 672.4 pounds (305 kilograms)
Email the author.
Follow Stephen Clark on Twitter: @StephenClark1.