In the run up to what may be the final flight of a Zenit launcher, a Russian-Ukrainian creation that represented a new age of Soviet-era rocketry, ground crews transferred the powerful booster to a launch pad Wednesday at the Baikonur Cosmodrome.
The Zenit rocket reached its launch pad, part of Baikonur's Complex 45 site, Wednesday after rolling on rails from a nearby assembly building. A hydraulic lift hoisted the rocket upright, where it stands nearly 20 stories tall awaiting liftoff Friday with a Russian weather satellite.
The launch is set for 1345:33 GMT (8:45 a.m. EST) Friday with the Elektro-L 2 meteorological observatory heading for a perch in geostationary orbit nearly 36,000 kilometers (nearly 22,300 miles) above the equator.
Designed by Yuzhnoye and manufactured by Yuzhmash in Ukraine, the Zenit rocket has flown 82 times since its debut mission in 1985, including 36 flights from Sea Launch's ocean-based platform in the equatorial Pacific Ocean.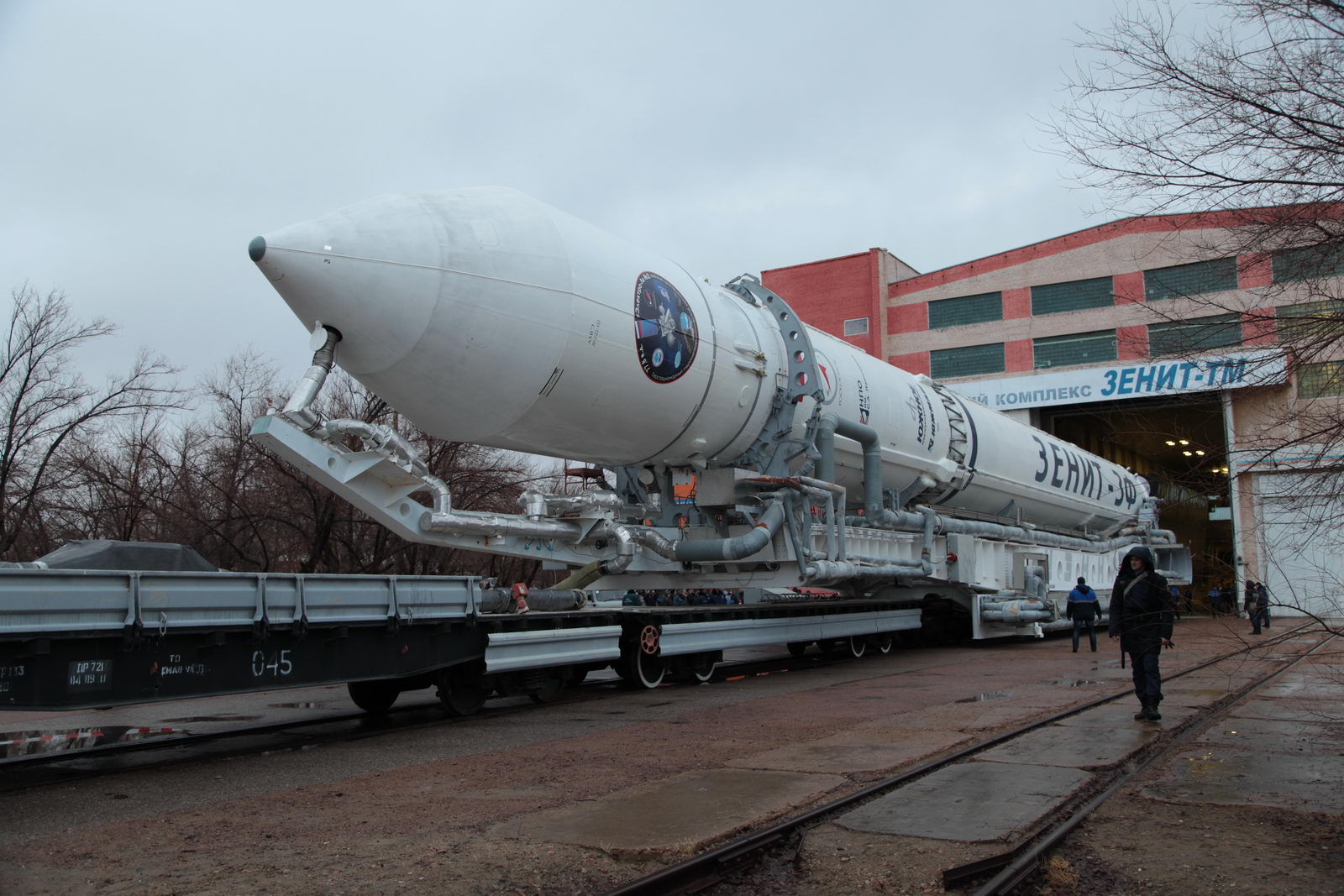 Russian officials have assigned future satellites for launch on Zenit rockets, but the conflict in Ukraine has soured relations between the two nations. Beleaguered by reliability woes and a bankruptcy in recent years, Sea Launch is selling off assets and has no commercial flights on the books.
The situation means Friday's Zenit rocket launch may be the last flight of the vehicle, which began development in the 1970s as the Soviet Union eyed modernized rockets to replace aging designs rooted in the 1950s and 1960s.
But the older rockets will outlive the Zenit.
A flight-ready Zenit rocket is in storage at the Baikonur Cosmodrome and was assigned to launch Russia's Spektr RG astronomical observatory in 2017, but the Tass news agency reported in November its warranty expired earlier this year. Russian officials reportedly may switch the observatory's launch to a Proton rocket.
The Zenit rocket's first stage is powered by a kerosene-fueled RD-171 rocket engine manufactured by NPO Energomash, a propulsion contractor based in Moscow. Producing 1.6 million pounds of thrust at sea level, the four-nozzle engine is the world's most powerful operational liquid-fueled rocket engine, derived from the RD-170 powerplant built for the strap-on boosters for Russia's Buran space shuttle.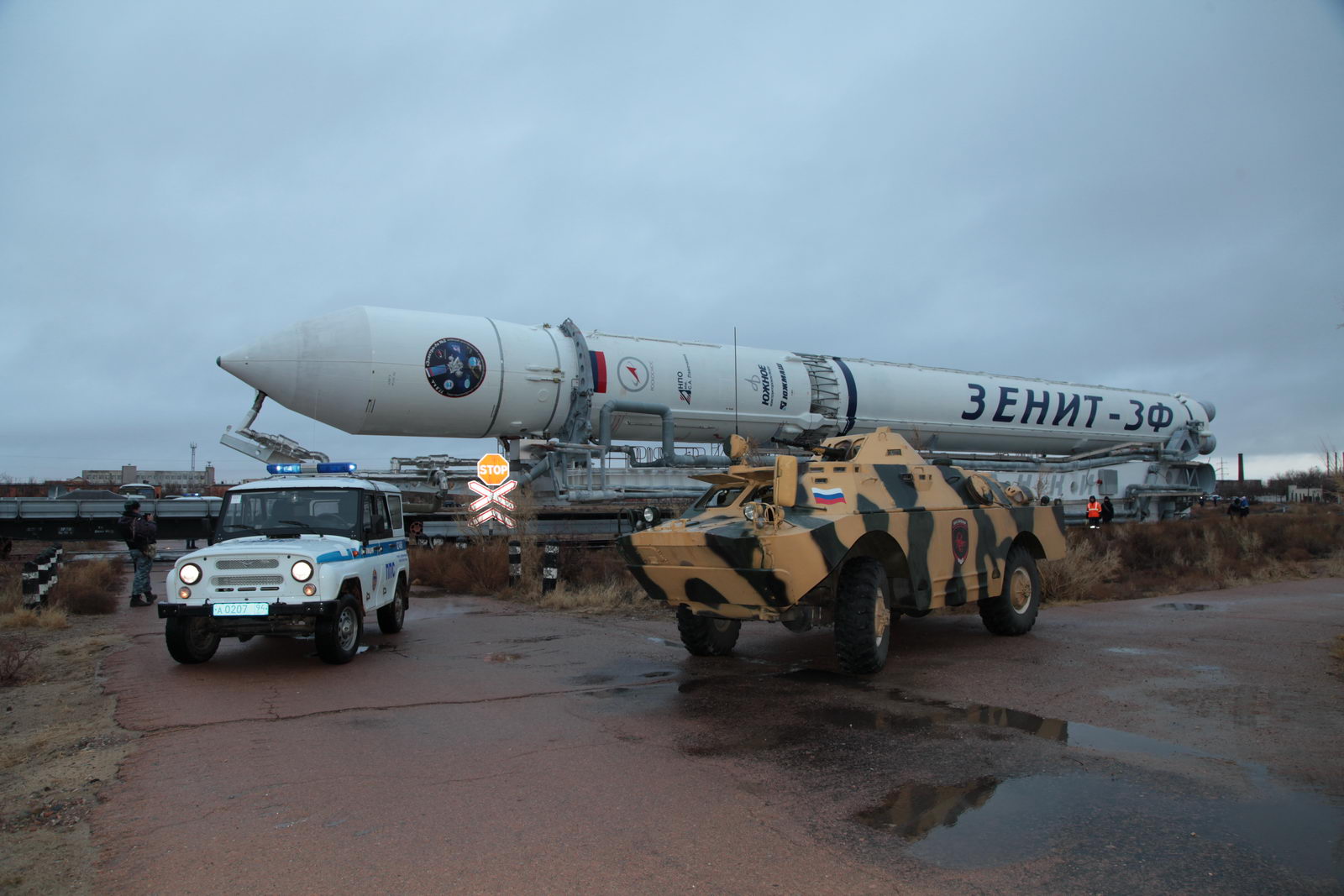 NPO Energomash later developed smaller version of the engine, exporting the dual-nozzle RD-180 engine for United Launch Alliance's Atlas 5 rocket and the single-nozzle RD-181 for Orbital ATK's Antares booster. Another derivative is used on Russia's next-generation Angara rocket.
Friday's launch will use the Zenit 3SLBF, or Zenit 3F, configuration of the rocket, with Ukrainian first and second stages propelled by Russian-made engines, topped by a Fregat SB upper stage built by Russia's NPO Lavochkin aerospace contractor.
After blasting off from the Baikonur Cosmodrome, the rocket will veer northeast and drop its first stage at T+plus 2 minutes, 25 seconds. The payload shroud shielding the Elektro-L 2 weather satellite will jettison at T+plus 5 minutes, 17 seconds, during the second stage burn.
The two-stage Zenit vehicle will reach a parking orbit and deploy the Fregat stage with Elektro-L 2 at T+plus 8 minutes, 35 seconds, according to a timeline released by Roscosmos, the Russian space agency.
Three firings by the Fregat upper stage's main engine — beginning at 1500 GMT (10 a.m. EST), 1711 GMT (12:11 p.m. EST) and 2232 GMT (5:32 p.m. EST) — will guide the weather payload directly into a nearly circular geostationary orbit.
Separation of the Elektro-L 2 weather satellite is scheduled for 2243 GMT (5:43 p.m. EST) Friday.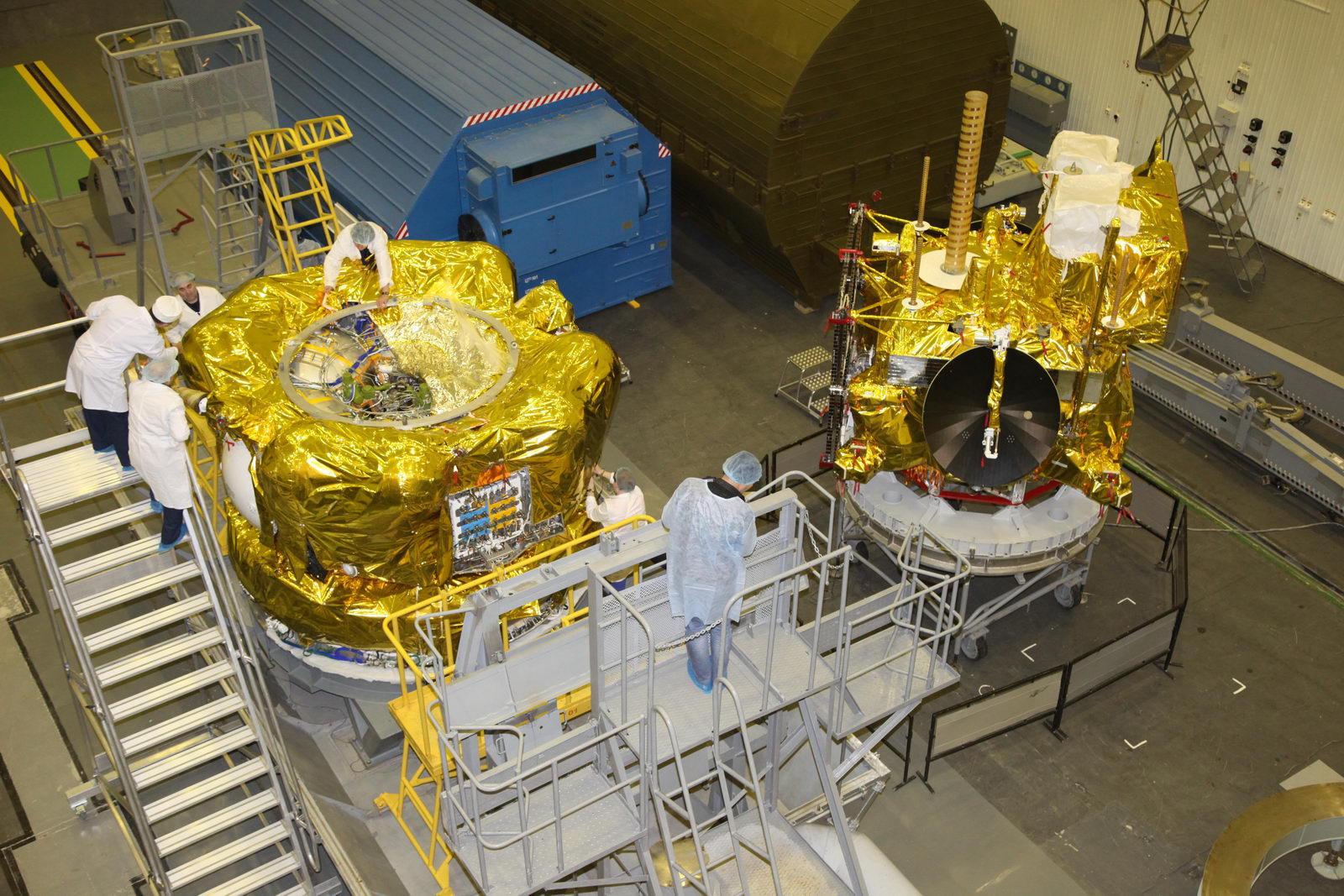 The mission's target orbit has an apogee, or high point, of 35,793 kilometers (22,240 miles) and a perigee, or low point, of 35,425 kilometers (22,012 miles), and an inclination of 0.5 degrees, according to Roscosmos.
Built by NPO Lavochkin with a 10-year design life, the Elektro-L 2 satellite follows the launch of Elektro-L 1 in January 2011. The Elektro-L program gives Russia its first operational geostationary weather satellite fleet, giving forecasters uninterrupted views of storm systems over Russia and neighboring territories.
The satellite weighs more than 1.8 metric tons (more than 4,000 pounds) at liftoff, according to Roscosmos.
Ground teams will guide the spacecraft to its final operating post over the equator at 77.8 degrees east longitude, where its velocity will match the rate of Earth's rotation, so it will hover over a fixed spot on the planet.
The Elektro-L 2 satellite will supply weather data to civilian and military forecasters in Russia, taking observations of storms in visible and infrared imaging channels every half-hour, with more rapid observations on special occasions. The satellite hosts a suite of sensors to monitor space weather, and it carries a search-and-rescue communications payload.
More photos of the Zenit rocket's rollout are posted below.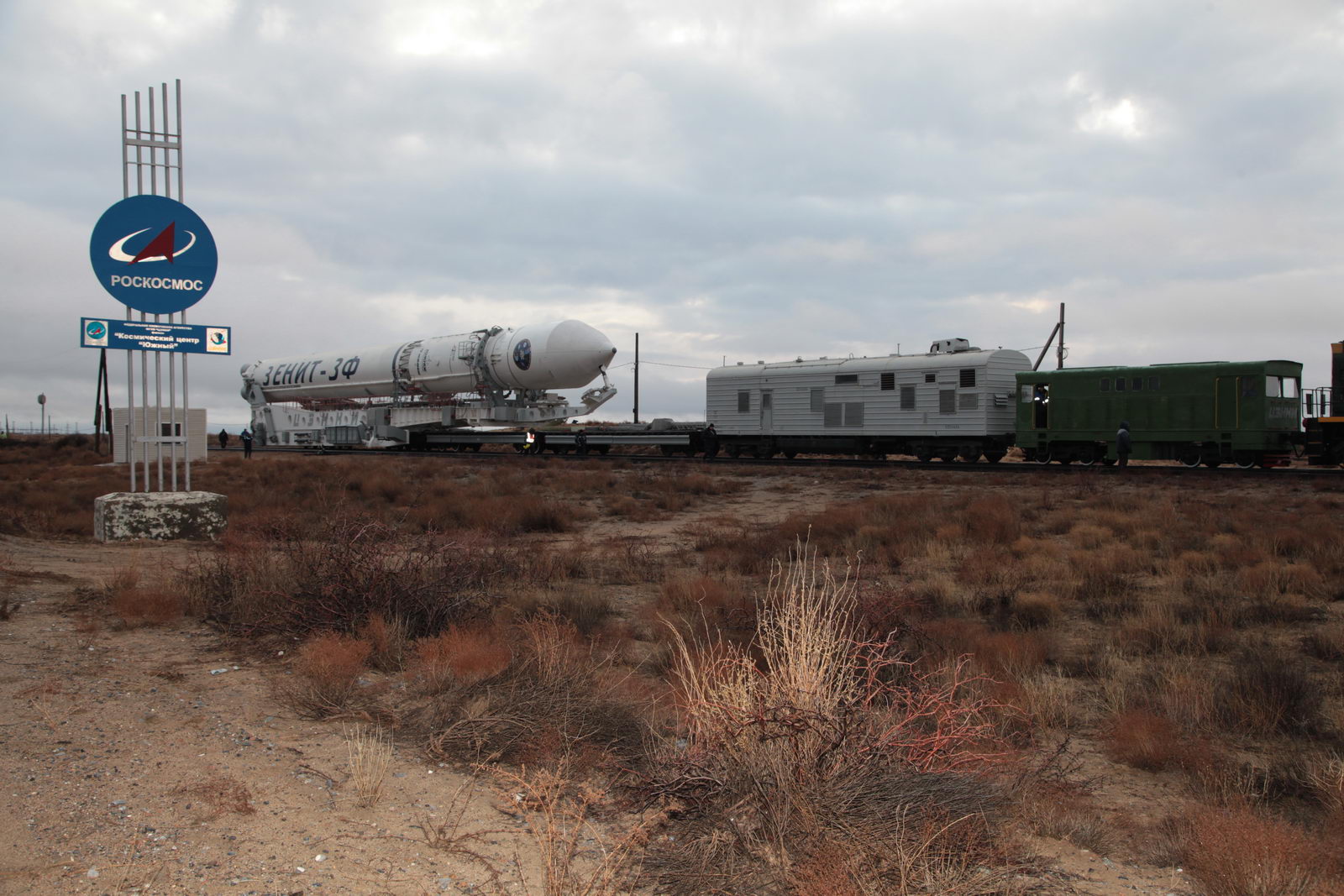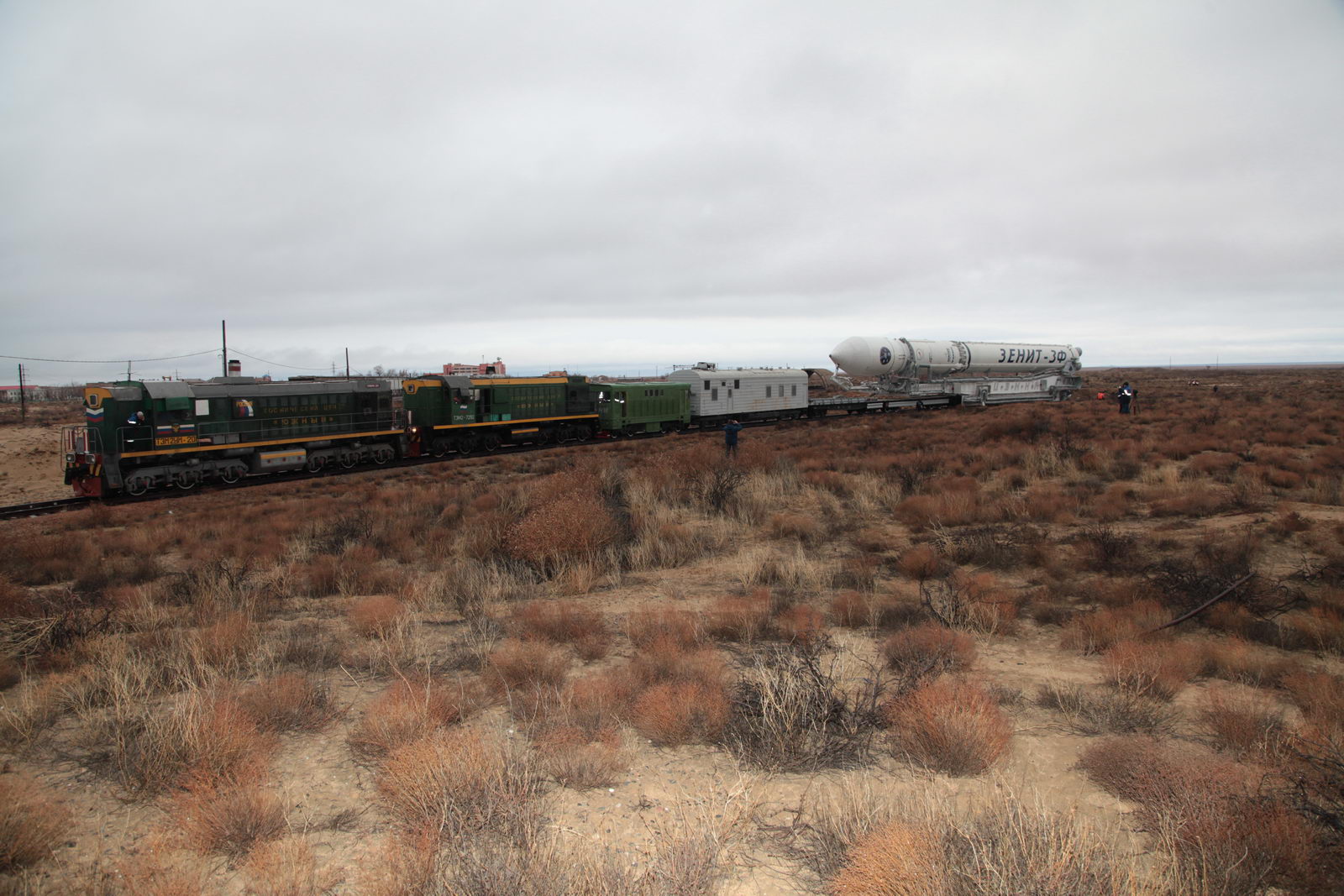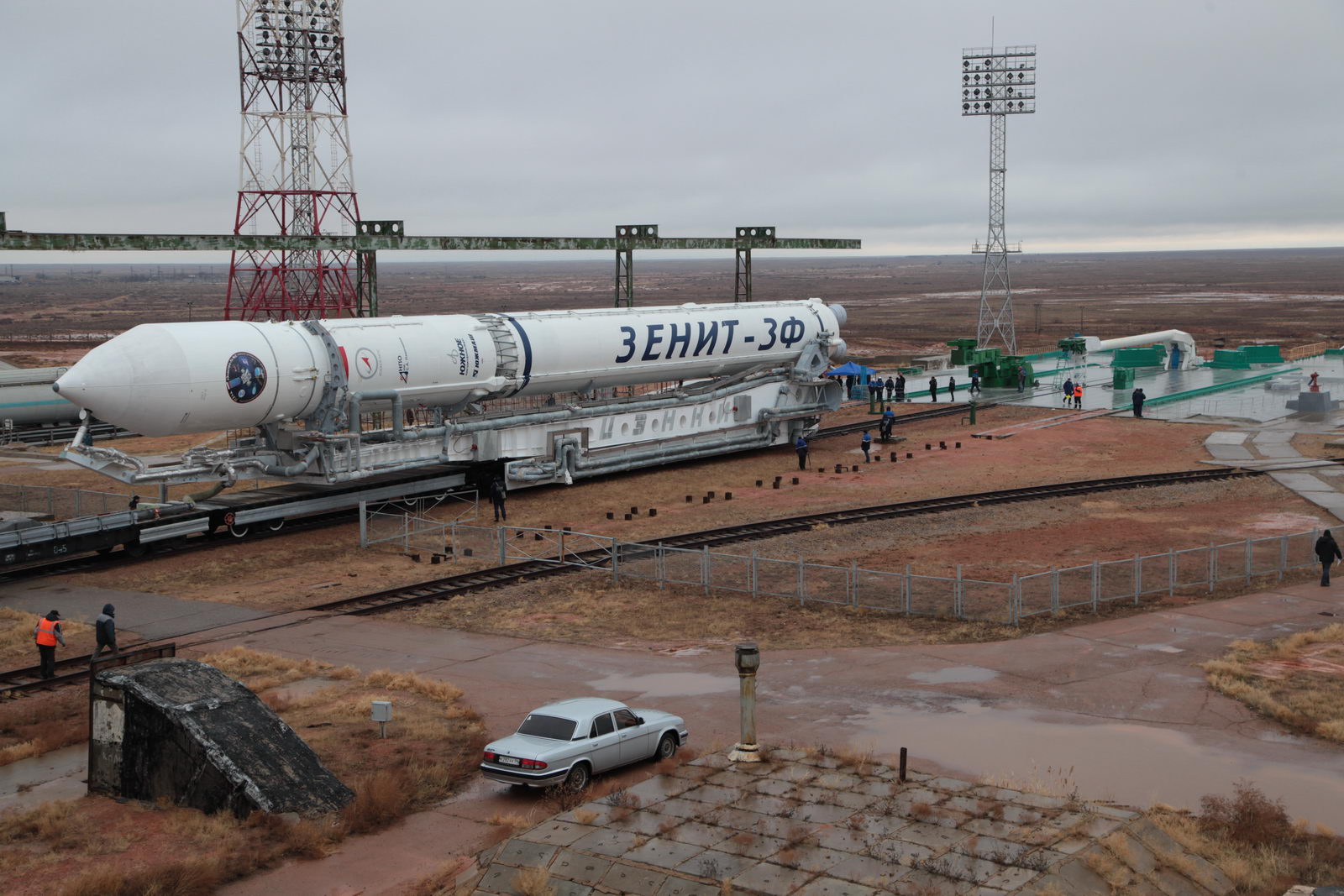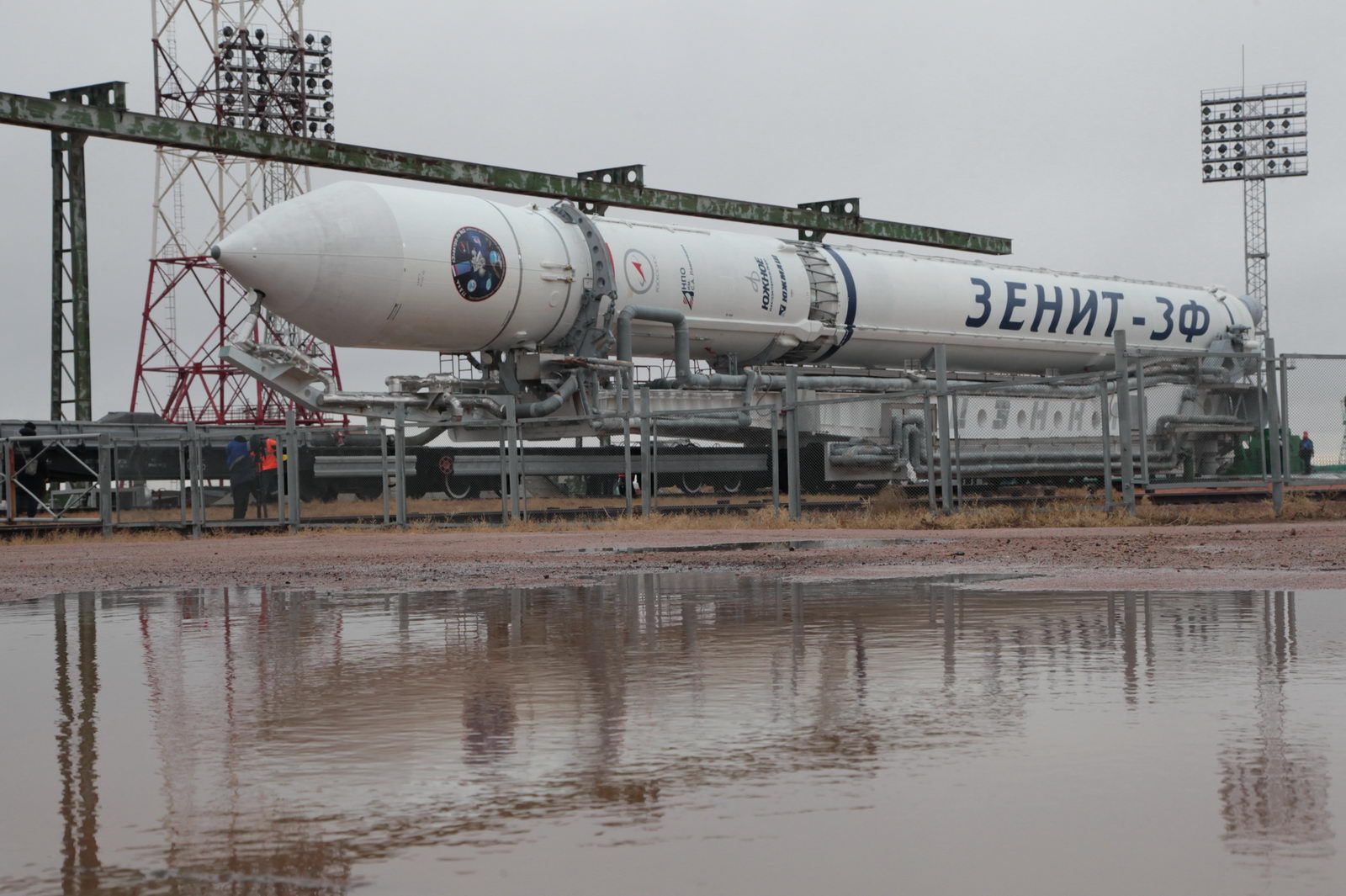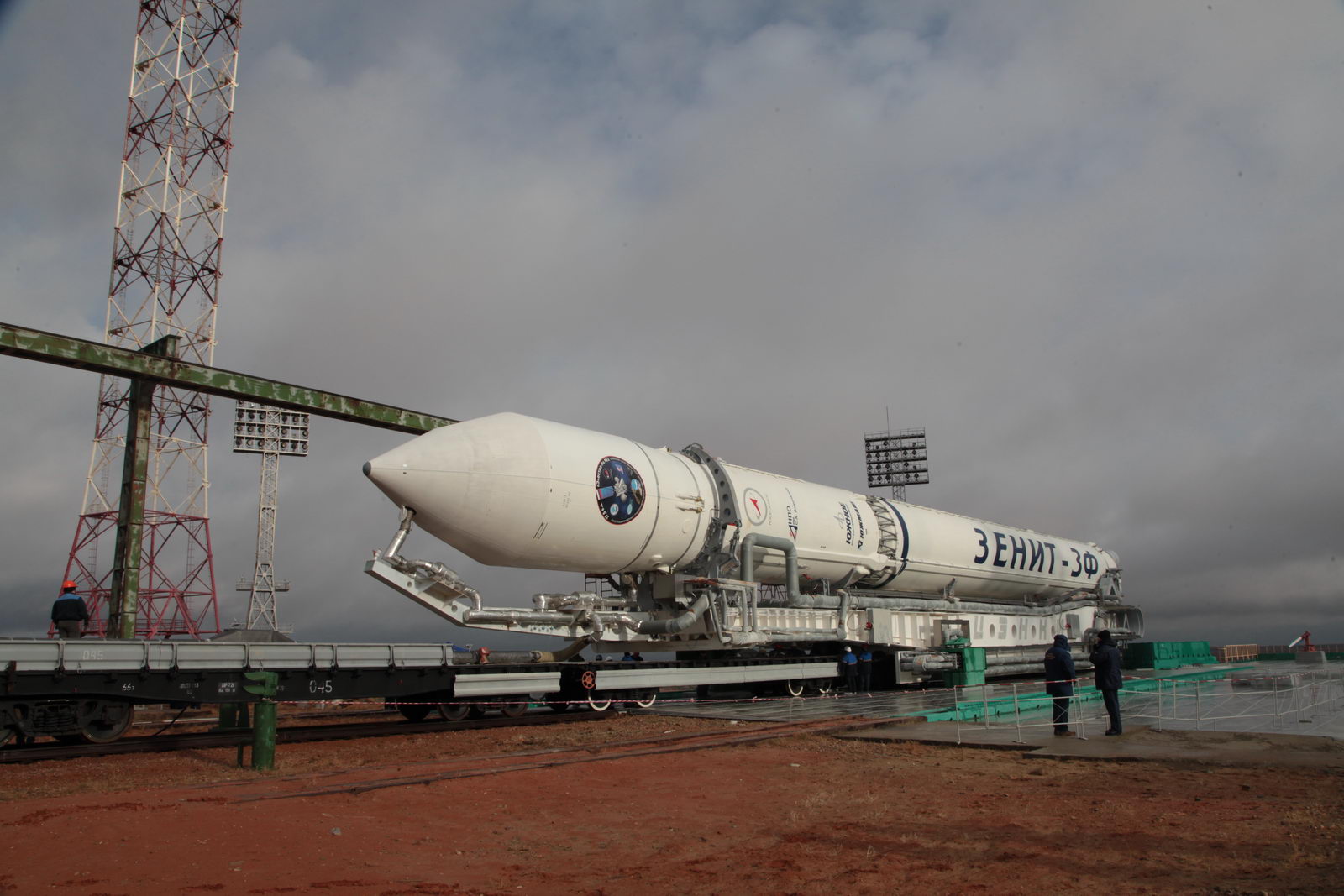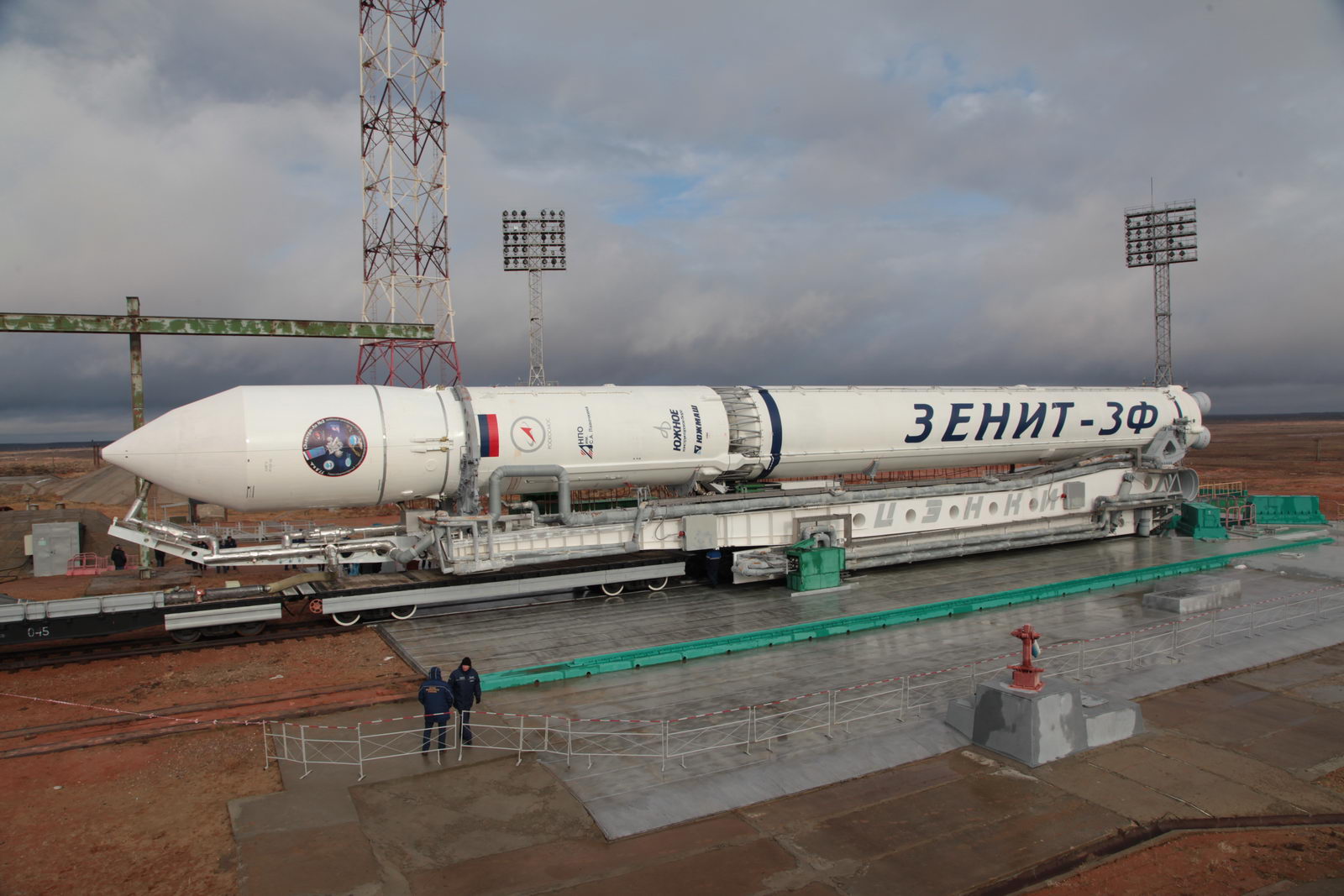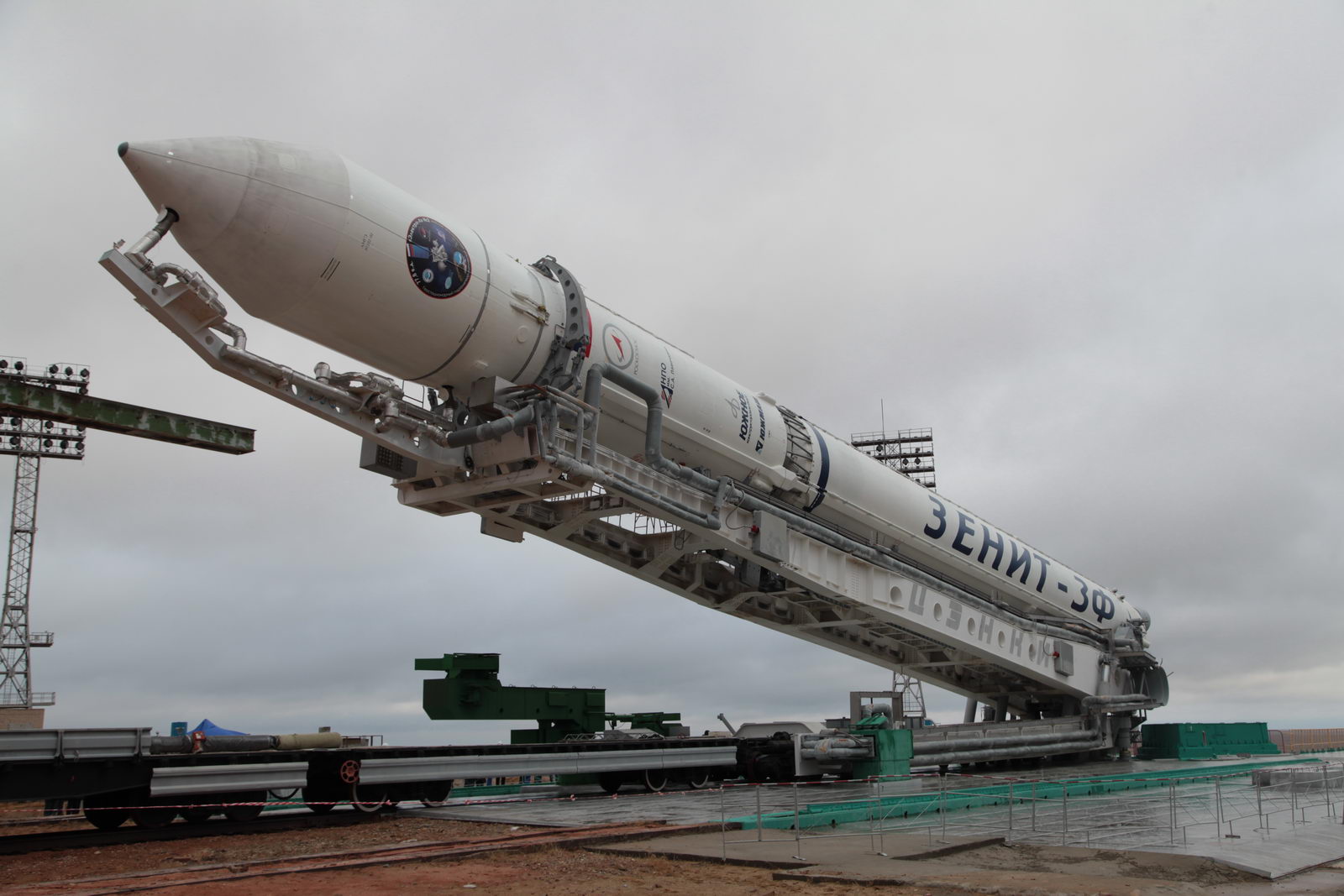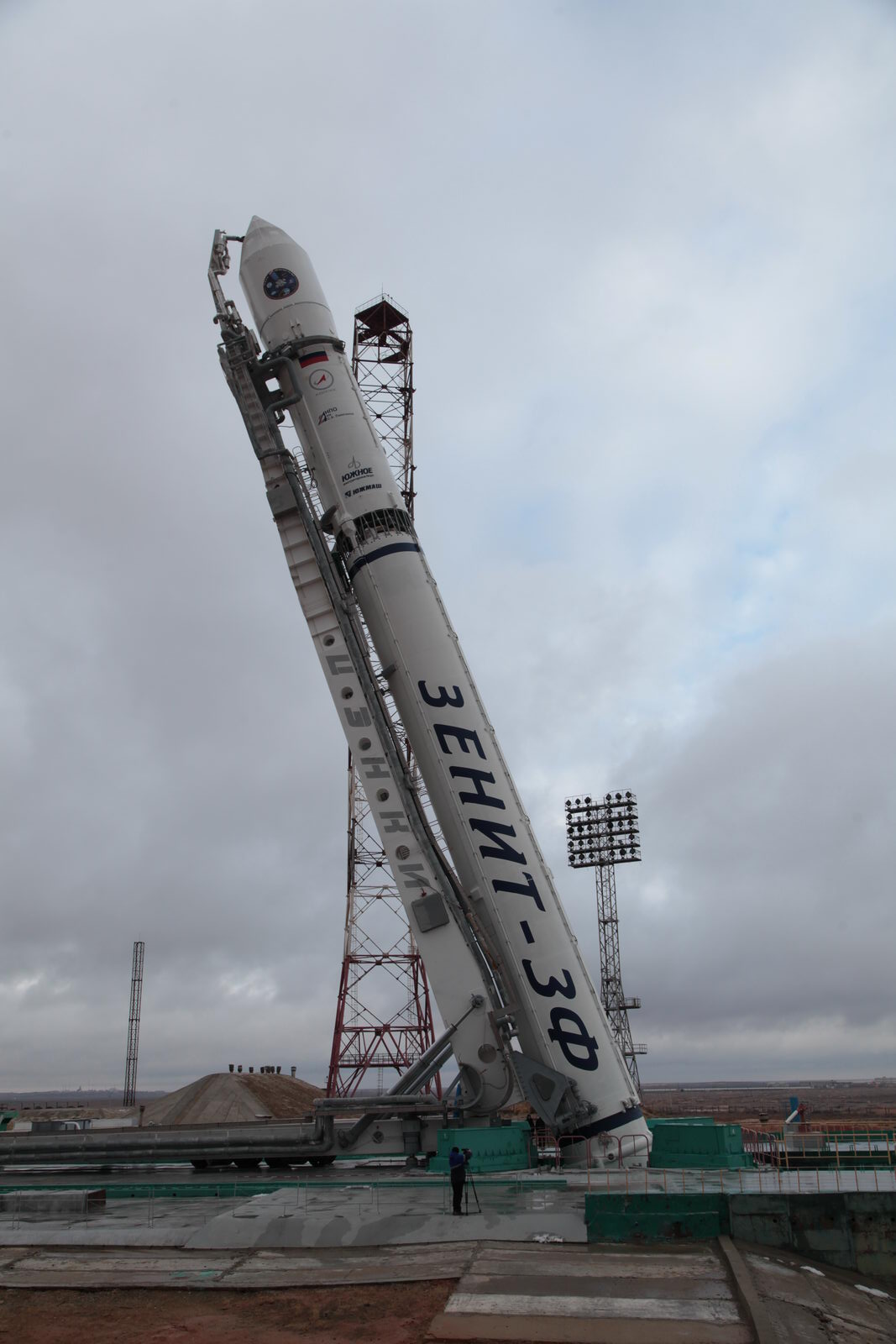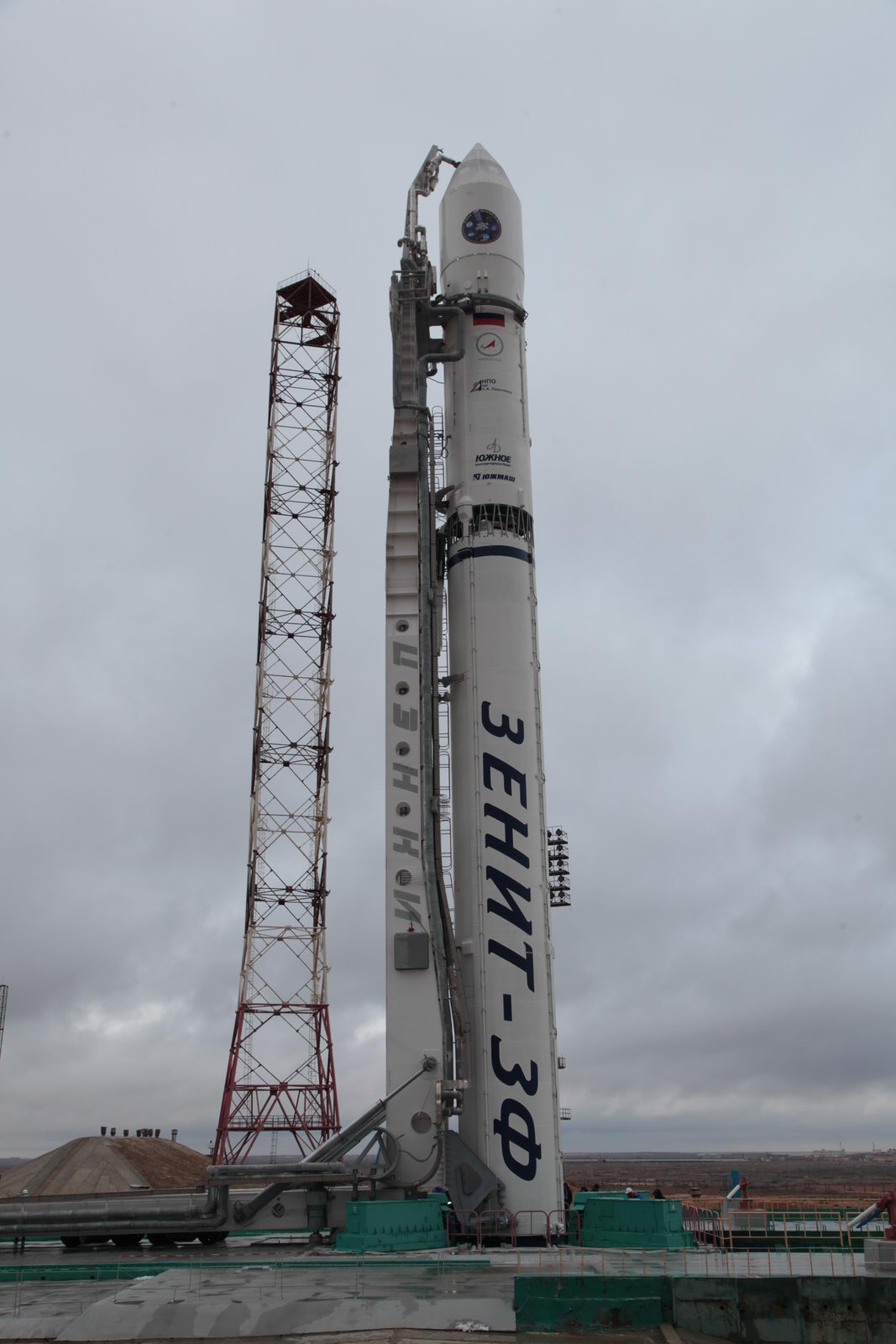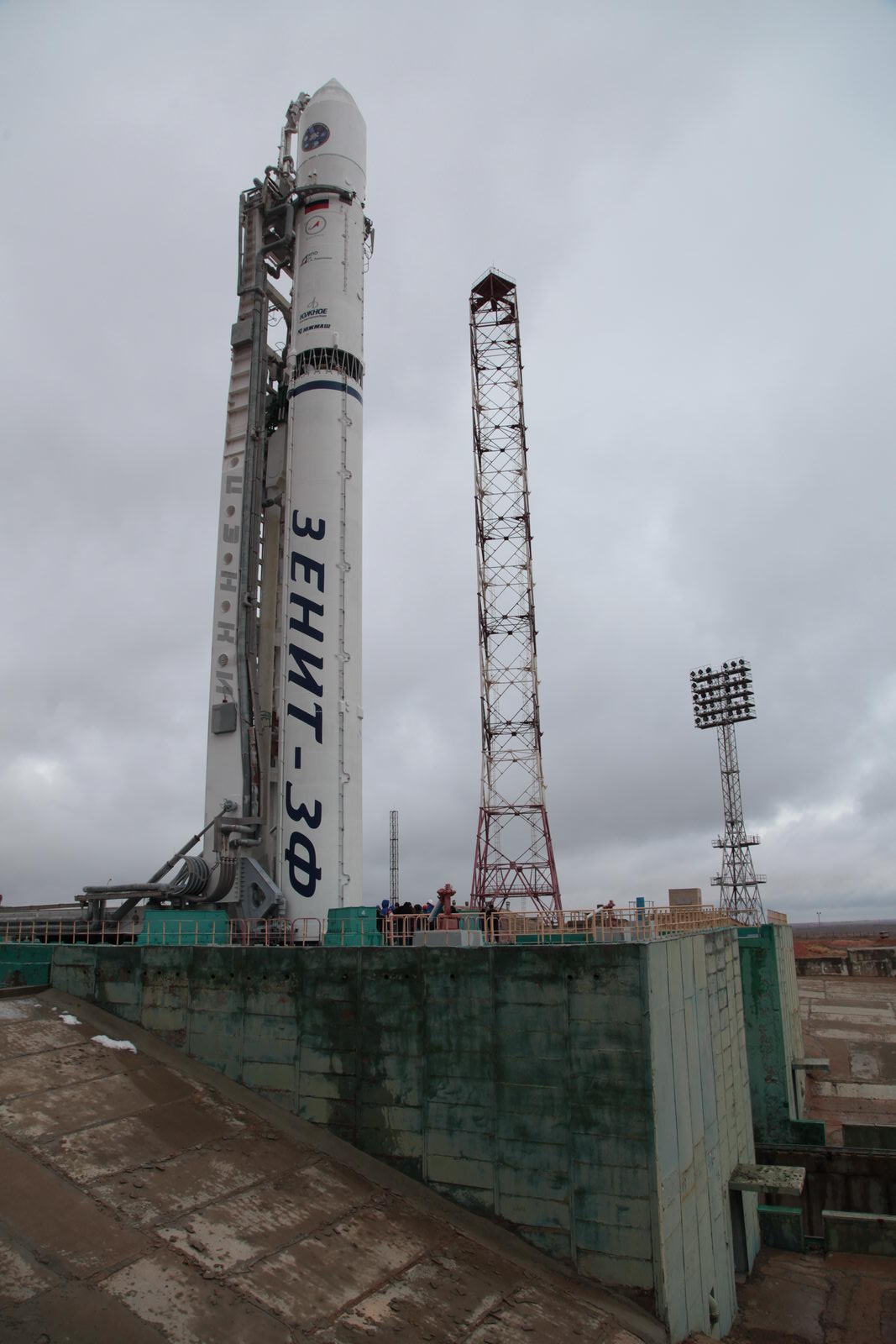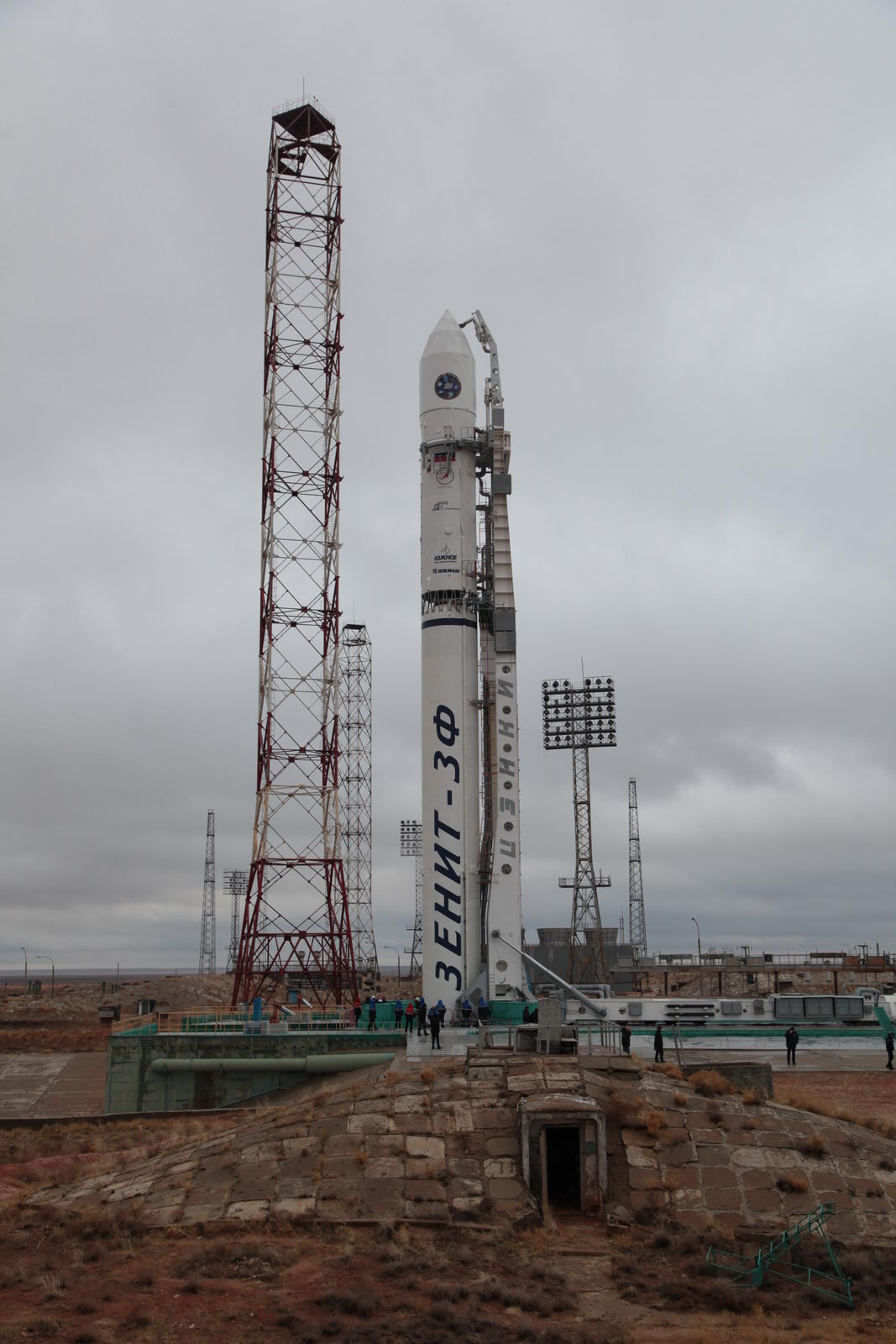 Email the author.
Follow Stephen Clark on Twitter: @StephenClark1.