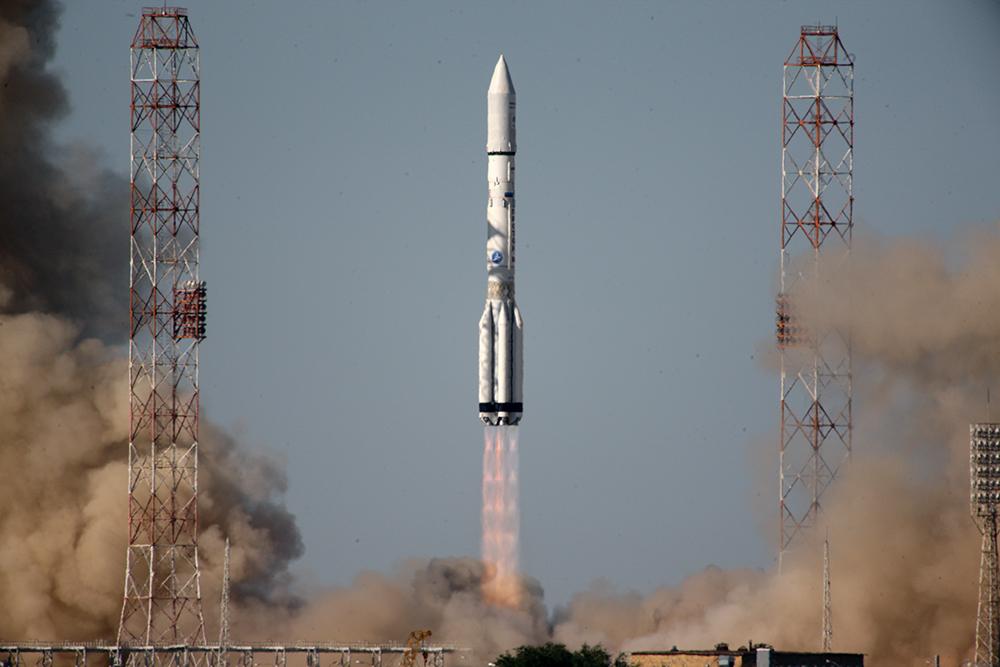 Russia's Proton rocket returned to flight Friday with the successful deployment of a powerful new communications satellite for Inmarsat of London in the workhorse rocket's first flight since a launch failure in May.
The launch returns the Proton rocket to service and puts Inmarsat on pace to inaugurate global operations of a next-generation satellite fleet by the end of the year to link users on ships and airplanes.
The 191-foot-tall rocket lifted off from the Baikonur Cosmodrome in Kazakhstan at 1144 GMT (7:44 a.m. EDT) Friday, turned northeast and powered into space with the Inmarsat 5 F3 satellite.
The Proton launcher's core stages completed their rocket firings in the first 10 minutes of the flight, and changes to a third stage steering engine blamed for a May launch failure apparently functioned well.
A Breeze M upper stage took over for five burns to raise its orbit and move closer to the equator before deploying the 6.7-ton Inmarsat 5 F3 spacecraft in orbit more than 15 hours after liftoff.
International Launch Services, the U.S.-based company which oversees commercial Proton launches, declared success late Friday after separation of the Inmarsat payload.
The flight profile was programmed to release the Boeing-built Inmarsat 5 F3 satellite into a geostationary transfer orbit with a low point of 2,697 miles (4,341 kilometers), a high point of 40,389 miles (65,000 kilometers) and an inclination of 26.75 degrees.
The Inmarsat 5 F3 satellite will circularize its orbit at 22,300 miles over the next few weeks before parking over the Pacific Ocean, joining two other identical craft launched in 2013 and in February to begin worldwide service for the company's $1.6 billion Global Xpress network.
"It is always exciting to launch a satellite for one of our customers and to play a key role in the deployment of its services," said Phil Slack, president of ILS. "As the launch provider for Inmarsat's first three Global Xpress satellites, it has been extremely rewarding to know that we have helped to enable Inmarsat's innovative technology."
The first two Inmarsat Global Xpress satellites launched cover Europe, the Middle East, Africa, the Atlantic Ocean and the Americas. The craft sent up Friday will cover Asia, Australia and the Pacific.
"We have been working towards this day ever since we announced plans to create the Global Xpress constellation in 2010," said Rupert Pearce, Inmarsat's chief executive. "I am delighted that we now have three Global Xpress satellites in orbit, enabling us to provide global GX services by the end of the year."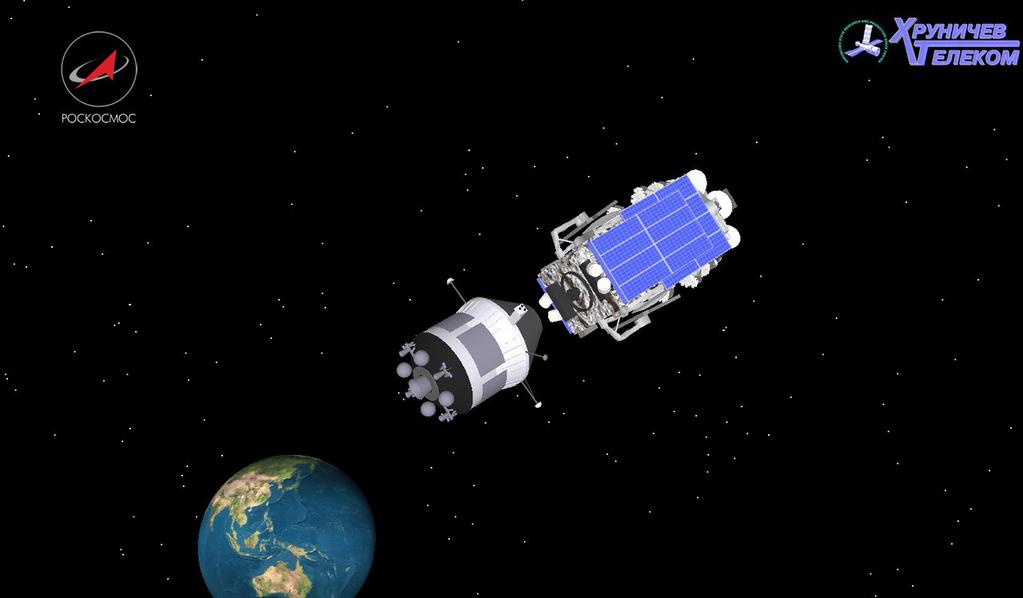 Each Global Xpress satellite, part of Inmarsat's fifth generation fleet, carries 89 fixed and steerable spot beams in Ka-band. The company's earlier satellites broadcast in L-band, but Inmarsat switched to Ka-band for the Global Xpress system, offering improved downlink communications speeds to 50 megabits per second, with up to 5 megabits per second on the uplink side.
"Global Xpress will deliver broadband speeds that are an order of magnitude faster than our fourth generation (I-4) constellation, to customers on the move on land, at sea and in the air, globally," Pearce said in a press release. "As such, the GX fleet will offer a host of new opportunities for both our existing and new customers to significantly enhance their connectivity capabilities and to deploy bandwidth-hungry applications and solutions efficiently and effectively, even in the remotest and most inaccessible parts of the world."
Inmarsat says major customers of the Global Xpress network include airlines, which use satellite links for safety and passenger entertainment, the maritime industry, oil and gas platforms, media companies, and the military.
Pearce said the Inmarsat 5 F2 satellite launched by a Proton rocket in February should be fully operational over the Americas by the end of August.
"We're alpha and beta testing services with customers, and they continue to be very surprised and delighted with the resliience and capabilities of Global Xpress," Pearce said in an Aug. 6 conference call with investors.
The improved broadband connections will give airline passengers more options for entertainment and work while in the air, and could help air traffic controllers and airlines track the status of jumbo jets flying outside the reach of terrestrial radars.
Inmarsat ordered a fourth Global Xpress satellite from Boeing and booked a launch aboard SpaceX's Falcon Heavy rocket as soon as next year. The company considered it a backup before the three prime spacecraft were safely launched, but Pearce said Inmarsat will look at ways to use the spare to bolster the capabilities of Global Xpress fleet now that worldwide service is closer to reality with Friday's launch.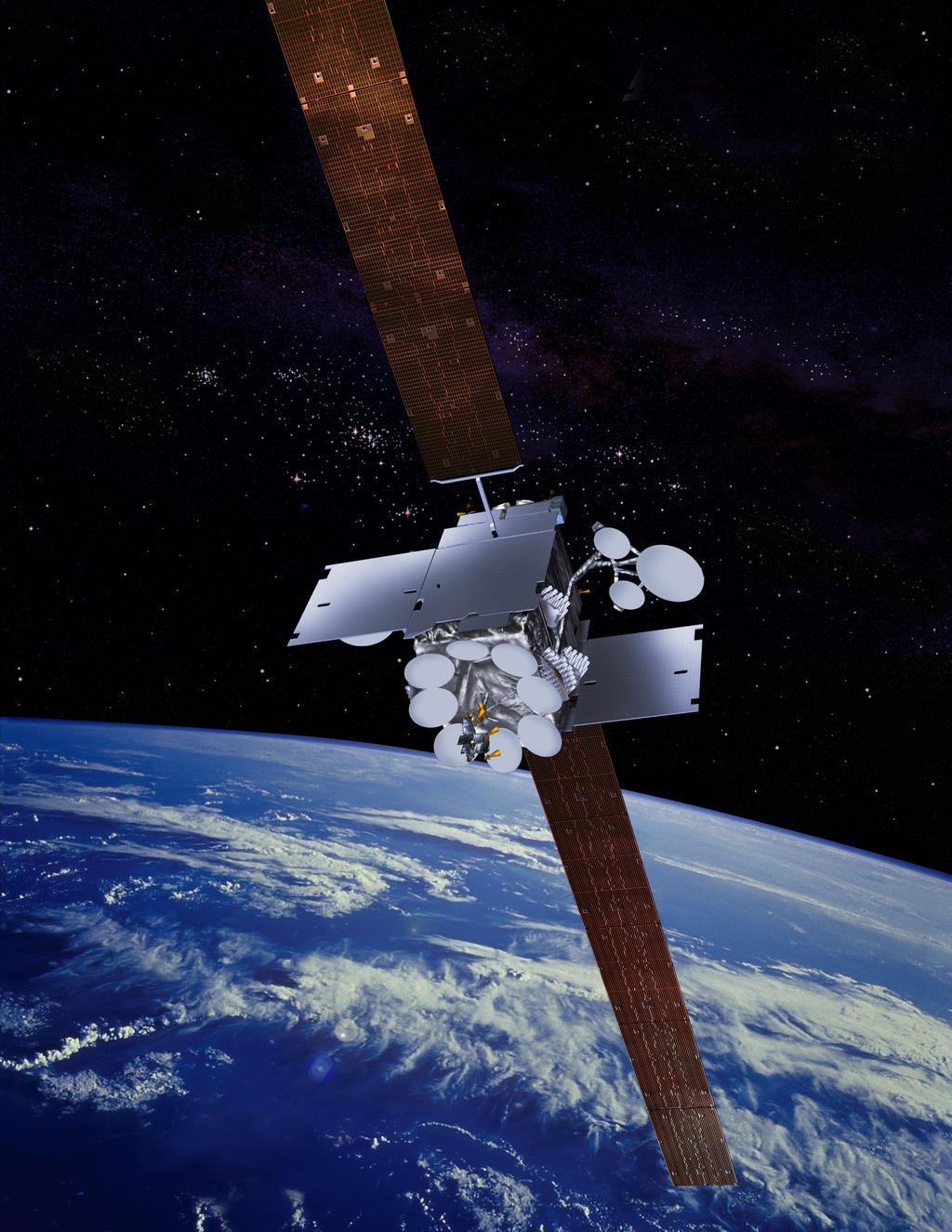 "We have (Inmarsat 5) F4," Pearce said Aug. 6. "It's largely built. We've secured the rights to launch it in the course of next year."
With Friday's success, "it becomes a genuine fourth satellite," Pearce said. "We've always said that we are confident that there will be a good business case to launch F4."
Inmarsat dodged a spate of Proton/Breeze M launch failures. All three Global Xpress birds successfully launched, despite delays of about a year due to mishaps on other Proton flights.
The return of Proton is welcome news to communications satellite firms around the world.
Communications satellite companies say the launch market needs at least three commercially viable rockets to give owners alternatives, schedule assurance and keep prices in check.
Two of the three incumbent commercial launch providers — SpaceX and ILS — are recovering from failures, and Arianespace is booked solid into 2017, forcing some operators to look at other launchers to get their satellites into orbit when they want.
EchoStar recently switched a high-speed Internet satellite slated to launch on an Ariane 5 rocket to the Atlas 5 rocket to ensure a launch opportunity in late 2016.
The next Proton launch is set for Sept. 14 with Russia's Express AM8 communications satellite for government applications. A Turkish telecom satellite is next in line on the Proton manifest in early October.
Email the author.
Follow Stephen Clark on Twitter: @StephenClark1.