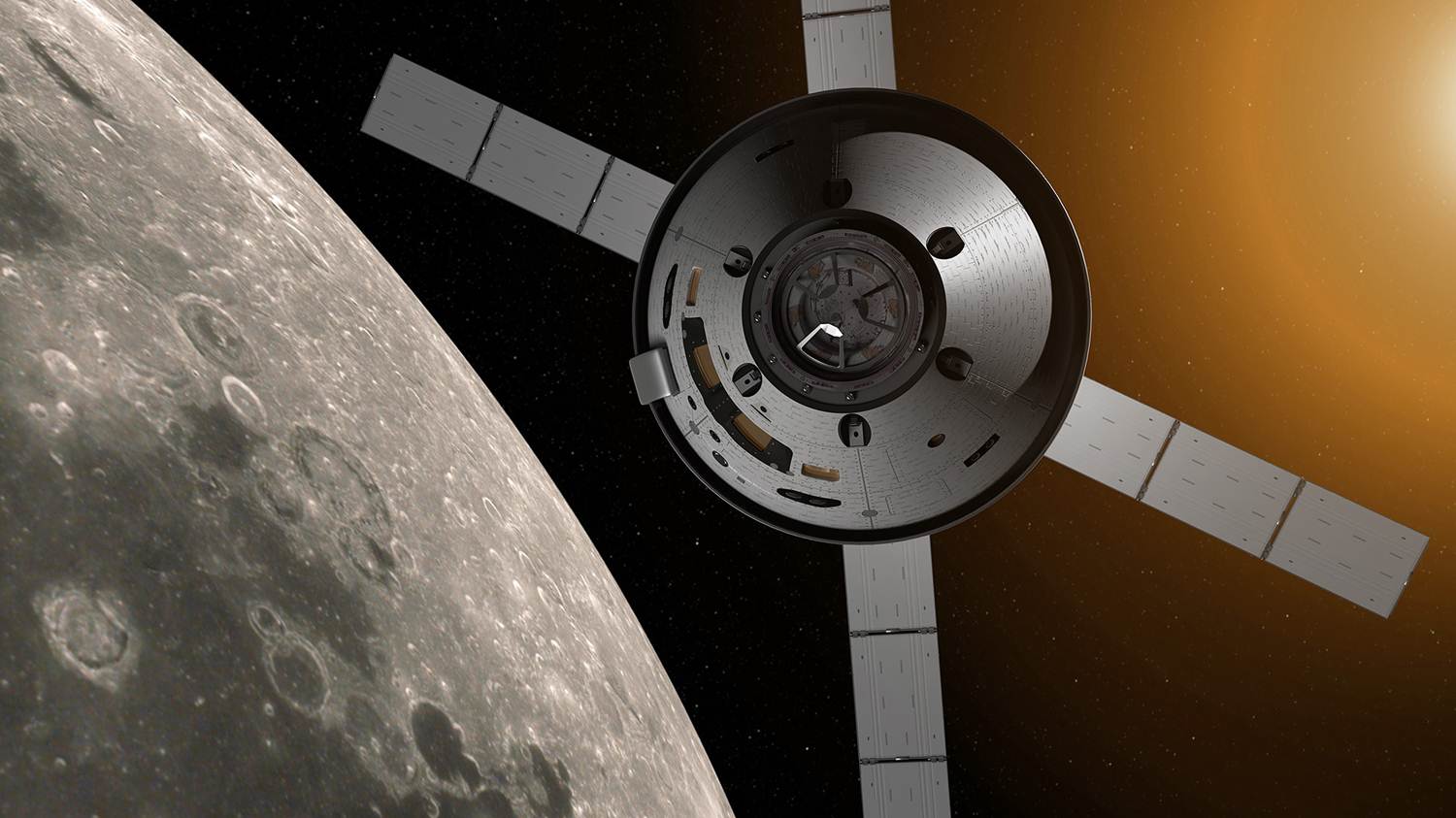 The pace of the European Space Agency's development of a power and propulsion module for NASA's Orion crew capsule will likely determine when an unpiloted test flight of the spaceship and its heavy-lift rocket will take off, NASA officials said last week.
The first flight of NASA's Space Launch System is currently penciled in some time between July and September 2018, according to Bill Hill, NASA's deputy associate administrator for exploration systems development.
"We're a little more than three years away," Hill told members of the NASA Advisory Council's human exploration subcommittee July 28.
The mission will send an uncrewed Orion spacecraft into lunar orbit for a mission lasting more than 20 days. The capsule will return to Earth for a parachute-assisted ocean splashdown in a final shakedown before NASA adds final life support systems and crew accommodations for a manned flight around 2021.
NASA working on the deep space exploration rocket and capsule programs under a budget projected at approximately $3 billion per year.
Bill Gerstenmaier, head of NASA's human spaceflight directorate, told members of the subcommittee the Orion capsule's European-made service module, which is being developed by Airbus Defense and Space, will probably be the last piece of the critical test flight to be ready for launch.
NASA and ESA officials, together with contractors from Orion-builder Lockheed Martin and Airbus, have discussed shipping the Orion service module from Europe to NASA's Kennedy Space Center in Florida before it is finished. European engineers could travel to the Florida spaceport to complete construction of the service module before its integration with the Orion crew capsule, which is to be assembled by Lockheed Martin at KSC's Armstrong Operations and Checkout Building.
Engineers plan to introduce changes to the Orion crew module after a successful orbital test flight in December 2014. The upgrades include a switch from a monolithic heat shield made of ablative Avcoat material to blocks of Avcoat, a change intended to improve the manufacturability of the thermal protection system.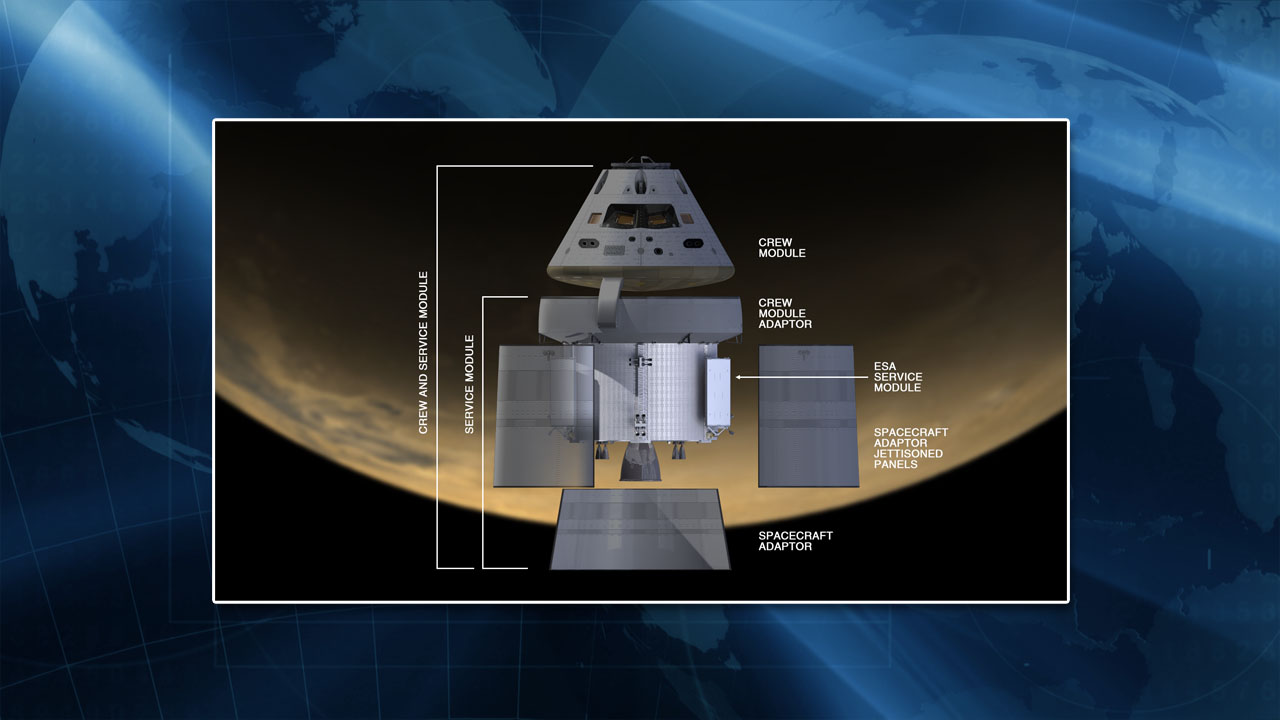 Last year's Orion demonstration, called Exploration Flight Test-1, launched on top of a United Launch Alliance Delta 4-Heavy booster, which sent the capsule to an altitude of approximately 3,600 miles on a four-and-a-half hour mission.
The Orion service module, which did not fly on EFT-1, will include propellant tanks, batteries, pressure vessels, four solar array wings and a hypergolic engine for major burns during the mission. NASA is supplying ESA with a space shuttle Orbital Maneuvering System engine to power the Orion spacecraft, with delivery of the engine to Europe expected in early 2016, according to a schedule chart presented by Hill.
ESA is in charge of the service module's structure, electrical system and fuel tanks. It is the first time NASA has entrusted an international partner with a major component in the critical path of a human spaceflight program.
Without ESA's part, NASA officials said the first SLS/Orion flight — known as Exploration Mission-1 — could be delayed even further due to U.S. budget constraints. Before partnering with ESA, NASA did not have funding to complete development of the service module in time for a flight in 2017, the original target launch date for EM-1.
The ESA-funded development of the Orion service module counts as Europe's contribution to the International Space Station's annual operating costs from 2017 through 2020. ESA discontinued flights of its cargo delivery craft, the Automated Transfer Vehicle, in 2014.
The Orion service module builds on technologies flown on the ATV's space station resupply missions.
ESA is responsible for paying NASA for 8.3 percent of the space station's operating budget each year, but the agencies prefer to process the payment through a barter agreement instead of cash. For the years 2017 through 2020, ESA says the service module agreement represents a payment to NASA of 450 million euros, or about $500 million.
Gerstenmaier said the schedule for the Orion service module was always cramped. NASA did not cinch the agreement with ESA to produce the power and propulsion element until early 2013, after European member states formally agreed to the program.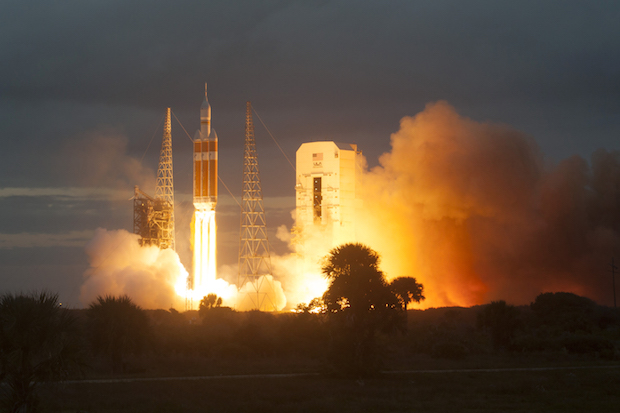 Other components for the EM-1 test flight have been in design for years longer. In the case of the Orion crew module, where astronauts will live on manned missions set to begin in 2021, development kicked off with NASA's signing of a contract with Lockheed Martin in 2006 for the agency's now-canceled Constellation moon program.
Construction of the Space Launch System's core stage, a huge reservoir of liquid hydrogen and liquid oxygen for the rocket's four RS-25 main engines, is also a schedule driver for the 2018 test flight.
The Boeing-built core stage is 27.5 feet in diameter and stands more than 200 feet tall. Special tools were installed at NASA's Michoud Assembly Facility in New Orleans to assemble the rocket's tanks and cylindrical primary structure.
The schedule is too tight to build a full-up test article, so the core stage intended to fly on EM-1 will be shipped to nearby Stennis Space Center in Mississippi in mid-2017 for an all-up test firing with its four RS-25 engines. If the ground verification goes well, the rocket will head to the launch base at the Kennedy Space Center in early 2018.
"I think getting the core stage integrated and tested at Stennis is one of the primary challenges," Hill told the NASA advisory subcommittee. "I think the Orion (crew module) will make it, only because we've been through EFT-1. The European service module will probably be the pacing item to get through launch."
The Orion program's confirmation review, a key milestone in any NASA project, is nearing completion, according to Greg Williams, a deputy associate administrator for policy and plans.
The outcome of the confirmation review will bring clarity to the Orion program's total cost and schedule.
Williams told the NASA Advisory Council that the agency's leadership has declared the Orion program technically ready to continue into the next phase of development. Formal schedule and cost commitments are still being worked out.
Technicians at Michoud plan to begin welding pieces of the pressure shell for the next Orion crew module in September, according to Hill. The final welds should be complete by December, and Lockheed Martin will transport the craft to KSC in January for pressure testing and outfitting with computers, fuel tanks, thrusters, a heat shield and other systems.
Thales Alenia Space, a subcontractor to Airbus on the Orion service module, is testing a structural pathfinder of the element in Italy. The test article will go to NASA's Plum Brook Station in Ohio for shake tests in October, Hill said.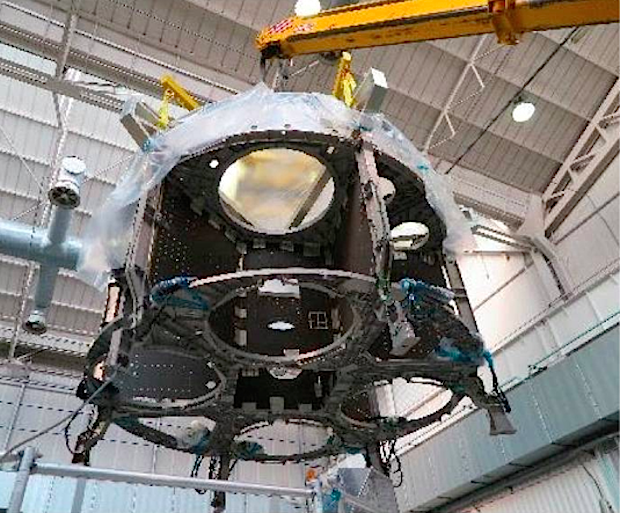 Once the Orion crew and service modules are finished, NASA will send the units to Plum Brook in 2017 for combined testing in a huge thermal vacuum chamber to mimic the conditions of space. They will return to KSC for final flight preps.
ULA is kicking off production of the SLS upper stage's first flight unit, which is propelled by an Aerojet Rocketdyne RL10 engine. The rocket is an interim upper stage for the heavy-lift launcher, and it is based on the Delta 4 booster's five-meter (16.4-foot) second stage.
Preparations on the Space Launch System's twin solid rocket boosters is also due to start soon at Orbital ATK's facilities in Utah. A final qualification firing of a stationary booster is scheduled for April 2016.
Work on SLS ground systems at KSC is also proceeding, Hill said.
Structural modifications to the SLS mobile launch platform, originally built for the ill-fated Ares 1 rocket, were finished in July under a $20 million contract with a local Florida construction firm, Hill said.
A new contract should be signed within weeks to add cladding and support arms to the mobile launch tower, which is sitting outside the Vehicle Assembly Building at KSC. The addition of new work platforms inside the cavernous VAB's High Bay 3 is about 30 percent complete, according to Hill.
Eleven construction projects are underway at launch pad 39B, where SLS missions will take off. The work includes refurbishment of the flame trench and sound suppression water system.
Ground systems at KSC should be ready around the end of 2017, officials said.
Email the author.
Follow Stephen Clark on Twitter: @StephenClark1.