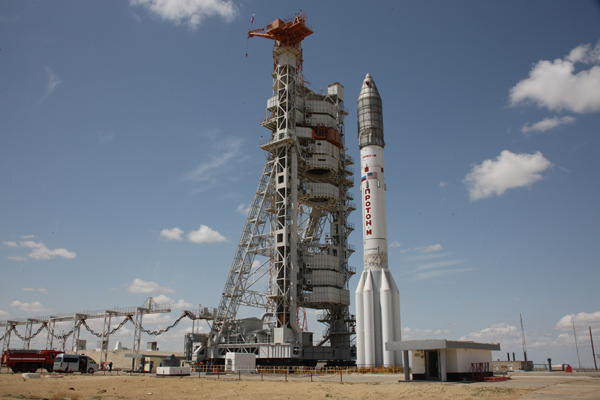 A Boeing-built communications satellite for the Mexican government is set for liftoff Saturday from the Baikonur Cosmodrome in Kazakhstan aboard a Russian Proton rocket.
The Mexsat 1 satellite is cocooned inside the nose fairing of the 191-foot-tall Proton rocket, which is set for liftoff at 0547 GMT (1:47 a.m. EDT; 11:47 a.m. local time) from the historic Baikonur launch base.
The rocket was scheduled to take off April 29, but officials delayed the mission to double-check the Mexsat 1 satellite after engineers discovered a problem with a similar spacecraft inside Boeing's factory in El Segundo, California.
Russian rocket technicians removed the Proton from its launch pad during the grounding, then returned the booster to the pad Thursday for final flight preparations.
The Proton's six first stage RD-276 engines will power the 777-ton rocket off the launch pad and guide the launcher northeast from Baikonur, throttling up to a maximum power level of 2.5 million pounds of thrust during a two-minute burn.
The rocket's second and third stage engines will take turns to accelerate the Mexsat 1 and its Breeze M upper stage to a speed of nearly 5 miles per second within the first 10 minutes of the flight.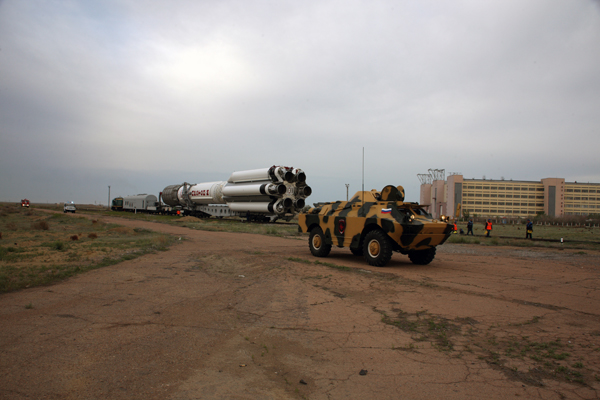 The Breeze M's main engine will take over for a series of five firings to steer Mexsat 1 into geostationary transfer orbit with a high point of 22,236 miles (35,786 kilometers), a low point of 5,583 miles (8,985 kilometers) and an inclination of 20.1 degrees.
Deployment of the 11,739-pound (5,325-kilogram) payload is set for 1500 GMT (11 a.m. EDT) Saturday.
Virginia-based International Launch Services is managing the commercial launch. ILS is owned by Khrunichev State Research and Production Space Center, the prime contractor for the Proton rocket and Breeze M upper stage.
Based on Boeing's 702HP satellite design, Mexsat 1 is designed to operate for 15 years after using its on-board liquid propulsion system to reach a circular geostationary orbit 22,300 miles over the equator.
Mexsat 1's final operating post will be at 113 degrees west longitude.
Owned by Mexico's Ministry of Communications and Transportation, the satellite will extend a 72-foot L-band antenna made by Harris Corp., enabling Mexican security authorities with handheld terminals to make calls from land, sea and air.
Mexican officials also call the satellite Centenario in recognition of the 100th anniversary of Mexican Revolution.
Centenario is one of three satellites Mexico ordered from Boeing in 2010 in a $1 billion deal that included construction of the spacecraft, two tracking and control stations in Mexico, and design of terminals for users to connect with the satellites.
Orbital ATK supplied one satellite — Bicentenario — under a subcontract to Boeing for launch aboard an Ariane 5 rocket in 2012.
Another Boeing-made spacecraft named Morelos 3 is scheduled for launch on an Atlas 5 rocket in the fourth quarter of this year.
Email the author.
Follow Stephen Clark on Twitter: @StephenClark1.