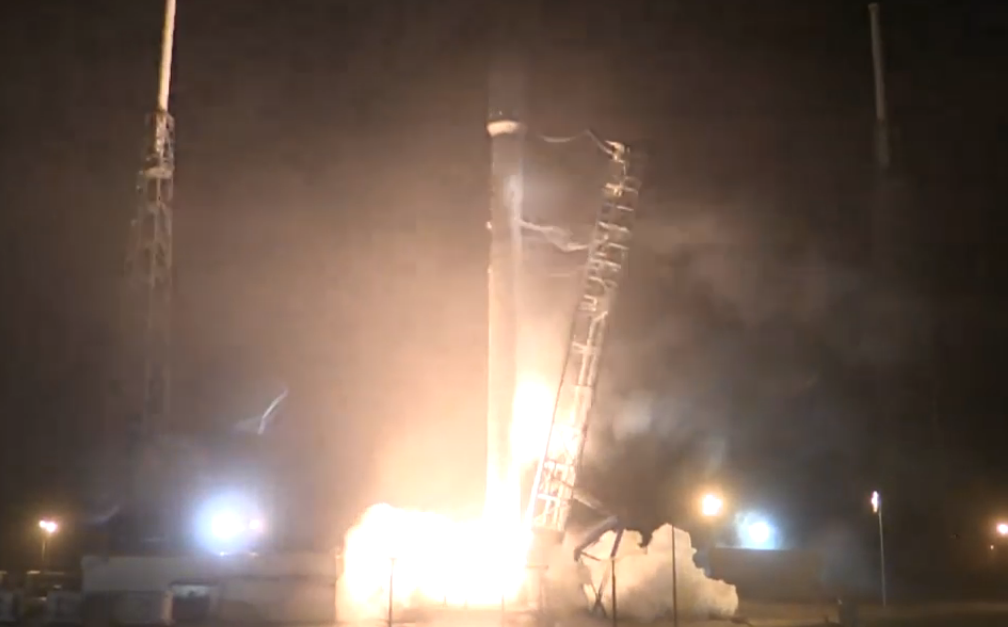 Two communications satellites blasted off Sunday aboard a SpaceX Falcon 9 rocket, kicking off more than a half-year of novel maneuvers in orbit using plasma drive engines to position the spacecraft 22,300 miles above Earth and link the Americas, Europe, Africa and the Middle East.
Loaded with payloads for Eutelsat and Asia Broadcast Satellite, the Falcon 9 rocket started up its nine kerosene-fueled engines, passed an automated computer-run health check, and soared away from Cape Canaveral at 10:50 p.m. EST Sunday (0350 GMT Monday). The 22-story launcher steered due east from Florida's Space Coast, casting an orange glow across a hazy moonlit sky as it climbed through the atmosphere atop 1.3 million pounds of ground-shaking thrust.
The slender white launcher, capped with an aerodynamic shroud covering the mission's two satellite payloads, surpassed the speed of sound 73 seconds after liftoff. The booster's nine Merlin engines cut off just shy of the mission's three-minute mark, following by staging and ignition of a single-engine upper stage for the first of two firings on Sunday's flight.
The rocket's composite payload shroud jettisoned moments later, and the Falcon 9's second stage engine switched off after accelerating to orbital velocity about nine minutes into the flight.
The engine fired again after a 17-minute coast phase as the Falcon 9 transited the Atlantic Ocean, then the rocket began a carefully-choreographed sequence to deploy the pair of two-ton satellites — first the ABS 3A spacecraft, then the Eutelsat 115 West B bird five minutes later.
The satellites reached a "supersynchronous" transfer orbit stretching up to 63,000 kilometers (39,146 miles) above Earth, with a low point of about 410 kilometers (254 miles) and an inclination of 24.8 degrees, according to Ken Betaharon, chief technology officer for ABS, which is based in Hong Kong and Bermuda.
The mission marked the first time SpaceX launched two large satellites in one flight, and the procedure was also the debut of a patented tandem payload stack developed by Boeing, which manufactured the Eutelsat 115 West B and ABS 3A spacecraft.
SpaceX bypassed an experimental booster flyback tried on previous Falcon 9 launches. The satellite duo on Sunday's launch, with a combined weight of more than 9,000 pounds,  required the full measure of the Falcon 9's propellant load.
The Falcon 9 released the satellites in an on-target orbit, and officials declared the launch a success, completing SpaceX third satellite delivery mission of the year and the medium-class rocket's 16th mission overall.
The video below shows separation of the Eutelsat 115 West B satellite from the Falcon 9 rocket Sunday night.
Two more Falcon 9 launches are on track for liftoff in the next six weeks.
SpaceX's next launch is set for March 21 with the TurkmenAlem52E/MonacoSat communications satellite built by Thales Alenia Space of France on behalf of the government of Turkmenistan.
The company's next resupply mission to the International Space Station is due for launch around April 10.
Next up for the Eutelsat and ABS satellites is a series of intricate maneuvers to raise their orbits using only xenon-fueled ion thrusters, a design innovation incorporated for the first time into the tandem payloads launched Sunday.
The two spacecraft mark the debut for a new lightweight platform called the Boeing 702SP, which differs from other communications satellite designs with the removal of the large fuel tank that forms the core of most spacecraft.
Half of the weight of most communications satellites is taken up with fuel, sometimes carrying up to 5,000 pounds of liquid propellant for in-space maneuvers. The innovation of the Boeing 702SP allows satellite operators to order smaller spacecraft that can host extra communications capacity to replace the mass freed up with the removal of the fuel tanks, said Mark Spiwak, president of Boeing Satellite Systems International Inc.
"One of the big drivers was cost," Spiwak said. "We're able to get the launch cost significantly reduced, get more payload mass to orbit, and reduce the overall cycle time of (building each satellite)."
ABS 3A had a launch weight of about 4,400 pounds and rode in the upper position inside the Falcon 9 rocket's nose cone. Eutelsat 115 West B was a little heavier at about 4,850 pounds, comprising a beefier central structure to help support the weight of the ABS spacecraft riding on top.
Large communications satellites built by Boeing and other companies have used electric propulsion before, but the spacecraft have always carried chemical rocket fuel to supplement their ion engines.
Without the need for liquid fuel, each satellite weighs less than 5,000 pounds. Betaharon said a spacecraft with comparable capabilities would weigh more than 8,000 pounds without the all-electric propulsion system.
With the reduced weight at launch, two lighter payloads can ride into orbit together on SpaceX's Falcon 9 rocket, which is only powerful enough to loft one large telecommunications satellite at a time.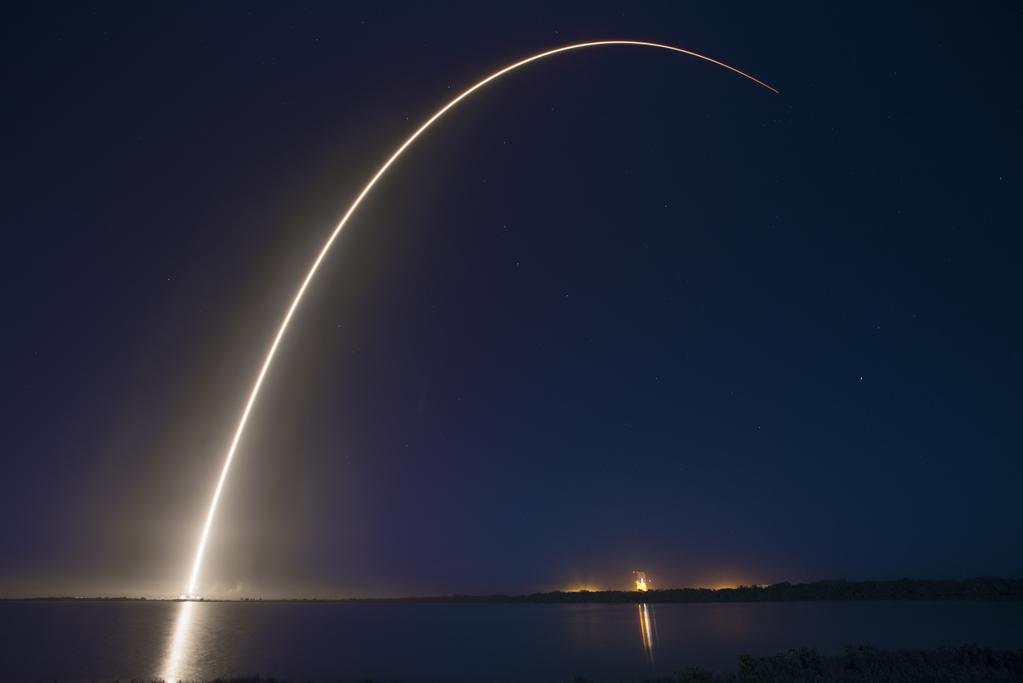 "The real driver for that lighter solution was to be able to stack two commercial communications satellites on top of each other and provide a dual launch," said Mike Connelly, director of Boeing's product line for the new 702SP platform. "When you look at the mass of a satellite, with kind of a classic satellite system, it's dominated by the fuel load of the direct-to-orbit mission.
"Going to an all-electric system, you're able to reduce the fuel load by almost a factor of 10," Connelly said. "That fuel load reduction allowed us to stack the satellites on top of each other, and give the customers a two-for-one deal on the launch costs."
Sunday's launch was the first time Eutelsat or ABS flew a satellite with SpaceX, which has scooped up dozens of commercial launch contracts after undercutting the prices of competitors and logging successful flights to demonstrate the reliability of the global launch industry's newest big player.
The Falcon 9's delivery of the Eutelsat and ABS satellites to orbit Sunday also notched the first of at least a half-dozen launches this year with commercial communications payloads.
"SpaceX has a bunch of really bright young people," Betaharon said in an interview with Spaceflight Now. "They need a little more experience, but to be fair to them, I think they have really worked very hard to accommodate us.
"They need a little bit more experience in planning … With these guys, they often have to make real-time decisions in their next steps and schedule, but I think that's going to slowly disappear once they have enough launches behind them," Betaharon said. "They are, like I said, a bunch of bright young people, and we've been here to support them. They need a little bit of adult supervision, but otherwise they are OK. But I think they are really hard-working people and very accommodating."
The deal Eutelsat and ABS got for Sunday's launch proved too good to pass up, and officials announced in March 2012 the selection of Boeing to build the satellites and SpaceX to launch them.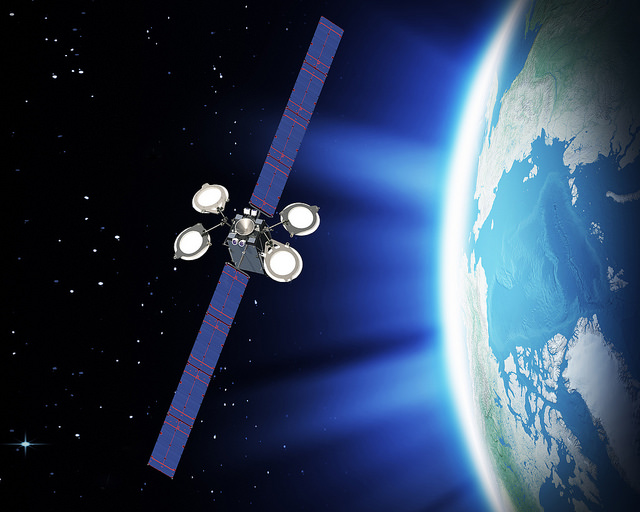 Eutelsat and ABS paid less than $30 million a piece to launch their satellites on the Falcon 9, a benefit of the SpaceX launcher's bargain prices and Boeing's effort to shrink the mass of communications spacecraft, officials said.
Such a low price for the launch of a communications satellite is "almost unheard of," according to Betaharon, a satellite industry veteran with more than 35 years of experience.
Another tandem Falcon 9 launch with Eutelsat and ABS spacecraft is scheduled before the end of 2015.
The downside of relying on ion thrusters to reshape the spacecraft's orbit is it takes much longer — six months for ABS 3A and eight months for Eutelsat 115 West B — for the satellites to reach their final locations in geostationary orbit.
Compare that to less than a month for communications satellites with conventional liquid propellant.
"The advantage you get with xenon-ion is very high ISP (specific impulse, or efficiency), but the consequence is that the thrust is low and it takes longer to get from the transfer orbit to geosynchronous orbit," Connelly said. "The basic science of the transfer orbit doesn't change, it's just the amount of time to get through the orbit-raising period."
The thrusters are the same as the units flown on previous Boeing satellites, and they work by consuming xenon gas, using electricity to ionize the propellant, the spitting out plasma at high speed. The thrust delivered by the four engines on each satellite is comparable to the pressure exerted by holding a piece of paper, but the upside is the thrusters can fire nearly continuously.
ABS 3A's destination is at 3 degrees west longitude, blanketing the Americas, Europe, Africa and the Middle East with television programming, Internet services, cellular backhaul, and maritime communications capacity.
"If everything goes well, and we have no issues with the electric thrusters, it should be in orbit and operational around the end of August or the beginning of September timeframe and last for about 22 years," Betaharon said.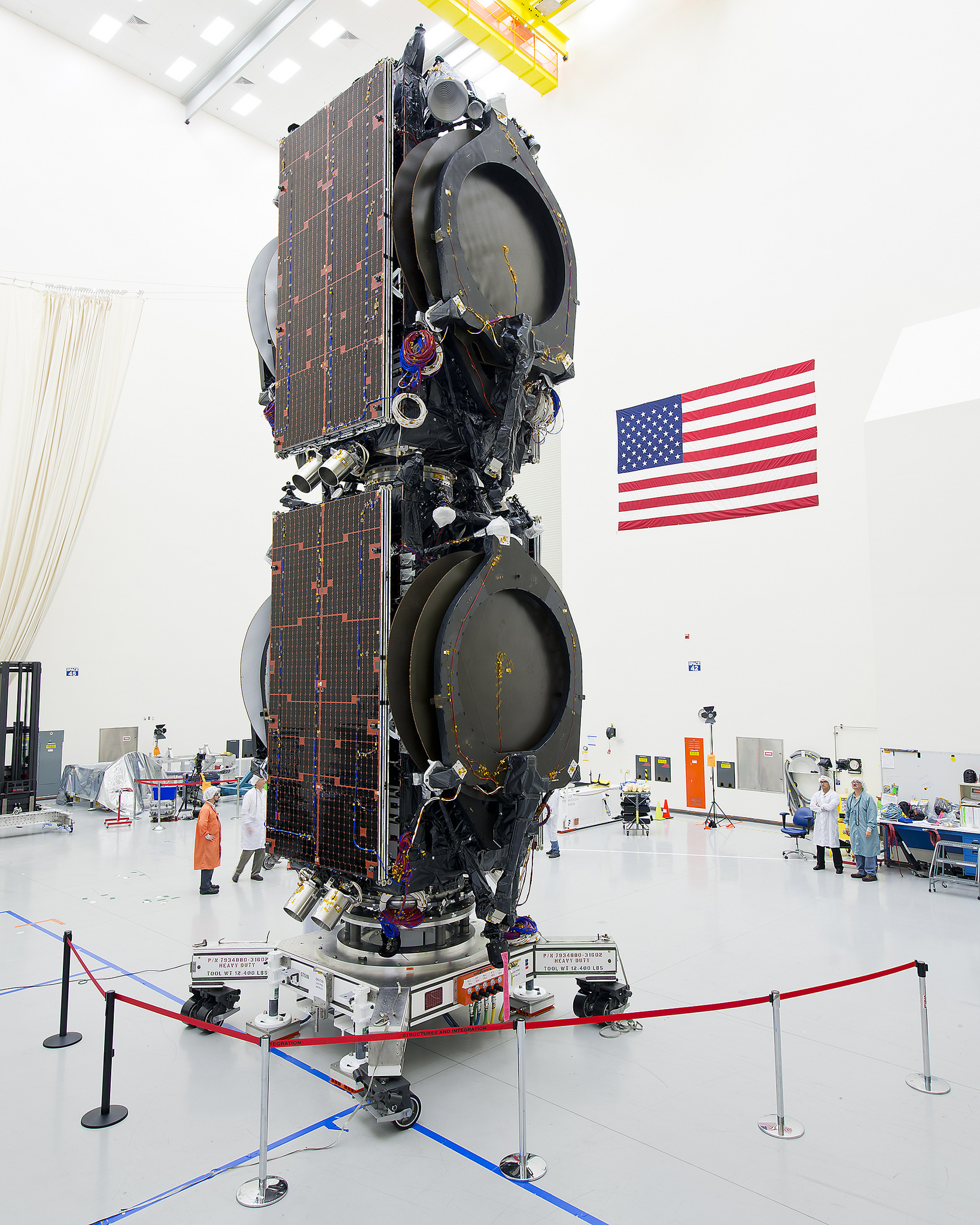 The ABS payload hosts 24 C-band and 24 Ku-band transponders, replacing and extending communications coverage currently provided by the ABS 3 satellite, which launched in 1997 and is nearing the end of its life.
"Virtually every geographic market you can see from that location, we are covering it with C- and Ku-band," Betaharon said. "Also, the Ku-band beam covering Europe allows us to have a trans-Atlantic coverage from Europe to North America. That can be used for navigation or for other in-flight connections.
"Every service you can imagine that can be provided via satellite can be provided with this one," Betaharon said. "We've got a very high-performance satellite, and the beams are very powerful, and some of the capacity is already spoken for ahead of time."
The Eutelsat 115 West B satellite will slide into a parking slot at 114.9 degrees west longitude over Latin America.
"The launch of the next-generation Eutelsat 115 West B satellite is a milestone that will position us as a major satellite operator across the continent," said Patricio Northland, CEO of Eutelsat Americas. "It will transform the 114.9 degrees west orbital position that is already a neighborhood of choice for fast-growing high-speed data and mobility markets in North and South America."
Eutelsat acquired the spacecraft launched Sunday with the French operator's purchase of Mexico's Satmex in 2014. Satmex originally negotiated the satellite's manufacturing and launch deals with Boeing, SpaceX and ABS in 2012.
"This satellite will address data services, including broadband access, cellular backhaul, VSAT solutions and social connectivity," said Michel de Rosen, CEO of Eutelsat.
The new satellite — fitted with 34 Ku-band and 12 C-band transponders — will replace a former Satmex spacecraft launched in December 1998 and reach customers in a wide swath of the Americas from Alaska to Patagonia. It also carries an instrument package for the Federal Aviation Administration to improve air navigation over the United States.
Eutelsat says it is the first of five new spacecraft the company expects to launch this year.
Follow Stephen Clark on Twitter: @StephenClark1.