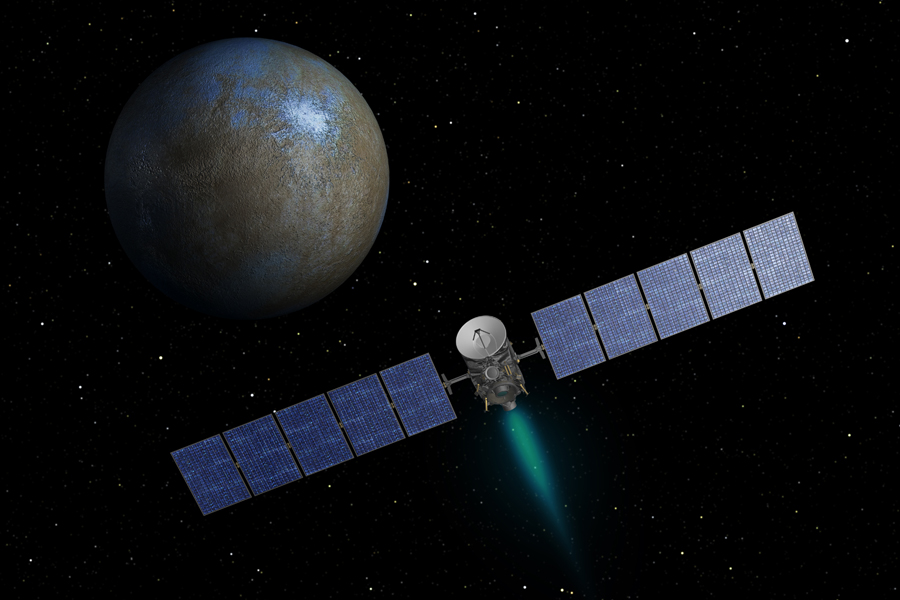 NASA's Dawn spacecraft has begun its final approach to the dwarf planet Ceres, the largest object in the asteroid belt, for an in-depth survey of the uncharted world.
The solar-powered space probe is scheduled to arrive at Ceres in March, when the Texas-sized world's gravity will capture Dawn in orbit. With the help of its electrically-powered ion propulsion system, Dawn will reach a circular orbit 8,400 miles from Ceres by late April.
Seven years into its mission, Dawn is on an interplanetary sojourn to visit two of the solar system's most massive asteroids. After launching from Earth in September 2007, Dawn orbited asteroid Vesta from July 2011 to September 2012, when it started a nearly three-year journey to Ceres.
Dawn will become the first spacecraft to orbit two extraterrestrial objects when it arrives at Ceres in March.
Such a journey would not be possible without Dawn's three ion engines, which combine electrical power and xenon gas to generate modest levels of thrust.
Conventional thrusters fueled by chemical propellants provide a greater push, but ion thrusters are more efficient. By firing the less powerful ion thrusters for months at a time, Dawn is reshaping its trajectory through the solar system in ways chemically-powered spacecraft could not achieve.
Dawn's ion thrusting was interrupted for four days in September when the probe was blasted by a high-energy particle of cosmic radiation, temporarily knocking the propulsion system offline.
Interplanetary navigators based at NASA's Jet Propulsion Laboratory plotted a new course for Dawn to reach Ceres on almost the same schedule as planned before the craft was hit by a blitz of cosmic rays.
Under the new plan, Dawn will be snared by the gravitational tug of Ceres on March 6. But instead of Ceres pulling the probe directly into orbit 8,400 miles from the dwarf planet, Dawn will fly out in front of Ceres before its gravity — working together with continued thrusting from Dawn's ion engines — gently captures the spacecraft.
The maneuver will be done without the need for a large conventional rocket burn performed on missions arriving at Mars or other planets.
By April 23, Dawn will be in its initial 8,400-mile-high orbit around Ceres, according to a blog post by Marc Rayman, the mission's chief engineer.
As of Dec. 29, Dawn was about 400,000 miles from Ceres and closing in at around 450 mph, according to a JPL press release.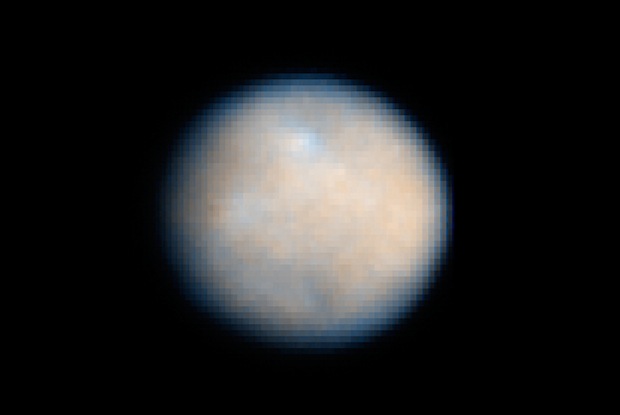 Dawn will survey Ceres from a series of different altitudes, measuring the world's composition, internal structure, and surface characteristics.
Scientists believe Ceres formed like the rest of the solar system's planets, but it failed to collect enough material to build up size. It measures nearly 600 miles across and has a spherical shape, according to imagery of Ceres taken by the Hubble Space Telescope.
Ceres is very different from Vesta — Dawn's first destination — which is rocky, covered in ancient impact craters, and has an irregular shape. Scientists say Ceres is covered in ice and may even harbor and underground ocean of liquid water.
But the full picture of Ceres will not be known until Dawn's arrival. By the end of January, Dawn's camera will begin taking better images of Ceres than possible with Hubble.
"Ceres is almost a complete mystery to us," said Christopher Russell, principal investigator for the Dawn mission from the University of California, Los Angeles. "Ceres, unlike Vesta, has no meteorites linked to it to help reveal its secrets. All we can predict with confidence is that we will be surprised."
Follow Stephen Clark on Twitter: @StephenClark1.