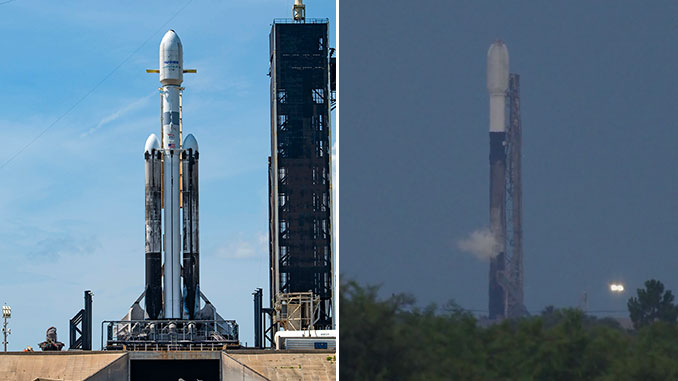 Update (4:30 p.m. EDT/2030 UTC):
SpaceX has delayed the launch of the Falcon Heavy with EchoStar's Jupiter 3 satellite and is no longer targeting Thursday, July 28. According to the Federal Aviation Administration (FAA), the next launch attempt is Friday, July 28, with the same 99-minute window that opens at 11:04 p.m. EDT (0304 UTC on July 29).
The launch of the Starlink 6-7 mission remains in place, weather remains a concern.
Original article:
SpaceX could break the record for the shortest time between Cape Canaveral launches Thursday night if it can launch a Falcon 9 and Falcon Heavy in quick succession. But achieving that assumes the weather cooperates and any technical issues with the Falcon Heavy can be resolved.
On Wednesday night the launch of a Falcon Heavy carrying Jupiter 3/EchoStar24 satellite was scrubbed at T-1 minute and 5 seconds. SpaceX didn't elaborate on the reasoning for the scrub, saying only there was "a violation of abort criteria."
The launch provider now has its 51st and 52nd missions of the year targeted for Thursday with launch windows that open within 44 minutes of one another.
Space Launch Delta 45, which manages the Eastern Range for launch operations, noted that previous record between two orbital launches was set back on Sept. 12, 1966, when the Gemini 11 Agena Target Vehicle (GATV-11) and the Gemini-Titan-11 (GT-11) launched 1 hour 37 minutes and 25 seconds apart.
This Apollo precursor was an important exercise in rendezvous and docking. Astronauts Richard Gordon and Pete Conrad were able to dock with Agena and spent multiple days on orbit before splashing down on Sept. 15.
SpaceX isn't attempting any crewed missions this time around, but does hope that it will be able to launch its Falcon Heavy and Falcon 9 rockets from its pads at NASA's Kennedy Space Center (Launch Complex 39A) and Cape Canaveral Space Force Station (Space Launch Complex 40).
The Falcon 9 mission SpaceX hopes to launch on Thursday is the Starlink 6-7 mission. It will send a batch of its Starlink V2 Mini satellites to low Earth orbit.
As originally scheduled, the Starlink 6-7 mission was set to launch at 10:20 p.m. EDT (0220 UTC on July 28) and the new 99-minute launch window for Jupiter 3 opens at 11:04 p.m. EDT (0304 UTC on July 28).
SpaceX said its Starlink mission has two other backup launch opportunities at 11:10 p.m. EDT (0310 UTC on July 28) and 12:01 a.m. EDT on July 28 (0401 UTC).
However, if the weather allows for both launches to proceed, SLD 45 said in a social media statement that "the expectation is for Falcon Heavy ECHOSTAR XXIV/J-3 to launch first at the beginning of the window or first available opportunity and the Falcon 9 Starlink 6-7 to follow at at later T-0."
This is not the first time SpaceX has scheduled launches that would've broken the record, but various delays meant the 56-year-old launch record remains in tact for now.
SpaceX so far has not indicated which launch times will be targeted.
SLD 45 has the opportunity to make history tonight, as we support two launches between 02:04 UTC and 04:44 UTC. This could represent the shortest time between launches from the ER on record. The previous was 1 hour 37 minutes on Sept. 12, 1966 when Gemini 11 & Titan-11 launched. pic.twitter.com/4GyOULazSJ

— Space Launch Delta 45 (@SLDelta45) July 27, 2023
Weather wildcard
Because of the close proximity of the launches, the forecasts from the 45th Weather Squadron are essentially the same with meteorologists stating that weather at liftoff is only 40 percent favorable due to a weak tropical wave passing through Florida. The main potential issues are from thick clouds that will linger around the Cape at launch time. The risk along the ascent corridor for the recovery of the Falcon 9 booster at sea remains low.
Because the Jupiter 3 mission will see the two Falcon Heavy side boosters return to Landing Zones 1 and 2 and will expend the core booster, that mission isn't impacted by booster recovery weather conditions.
If the weather plays spoiler to both launches Thursday night, the 24-hour delay forecast shows 65 percent favorable weather conditions with clouds being the main risk there too.
Interested parties
NASA and its international partners are also keeping an eye on the Falcon Heavy mission, since it will need the launch pad for the upcoming Crew-7 mission. Because of the previous delay, the crewed mission shifted from Aug. 15 to Aug. 17.
During a press conference earlier in the week on the Crew-7 mission, Steve Stich, the Commercial Crew Program manager, said they have launch opportunities on Aug. 17 and 18, but then have to stand down for operations involving the Russian Progress spacecraft.
Their next launch opportunities would be Aug. 21 and 25 with the middle dates carved out for more Progress operations.
A little further down the calendar road, NASA's Launch Services Program (LSP) is working towards another Falcon Heavy launch with its Psyche spacecraft that was delayed from Fall 2022. The window to launch this asteroid exploration mission opens on October 5.
Another Cape record?
Beyond the historic time between the two launches, Thursday could also mark another bit of history at pad SLC-40. If the Falcon 9 launches on July 27, it would be about 99 hours between launches from the pad.
The most recent mission from that pad was Starlink 6-6 on July 23 at 10:50 p.m. EDT (0050 UTC on July 24). That would break the previous pad turnaround record set in June between the Satria and Starlink 5-12 missions.
Some of the fastest turnarounds from that pad include the following (dates based on UTC times):
113 hours, 14 minutes – Satria to Starlink 5-12 (June 18-23, 2023)
121 hours, 16 minutes – Starlink 5-9 to Starlink 6-3 (May 14-19, 2023)
123 hours, 38 minutes – Amazonas Nexus to Starlink 5-4 (Feb. 7-12, 2023)
129 hours, 28 minutes – Hotbed 13F to Starlink 4-36 (Oct. 15-20, 2022)
135 hours, 10 minutes – Hakuto-R Mission 1 to O3b mPOWER 1&2 (Dec. 11-16, 2022)
If the Falcon 9 launch slips to Friday night it will fall short of the pad turnaround record.