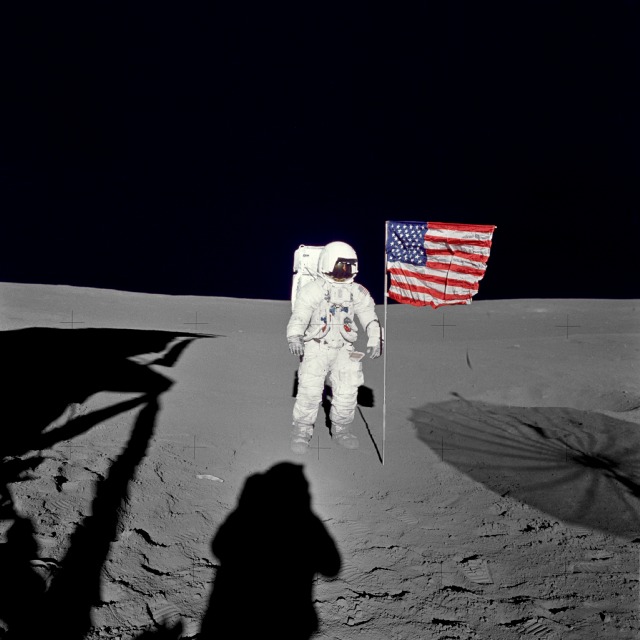 Apollo astronaut Edgar Mitchell, the sixth man to walk on the moon, died Thursday night after a short illness, one day before the 45th anniversary of his landing in the hilly Fra Mauro region of the moon with crewmate Alan Shepard. He was 85.
Famous for attempting an experiment in extra-sensory perception on his way back from the moon, Mitchell founded the Institute of Noetic Sciences in 1973 "to support consciousness research and promote awareness of evolving human consciousness," the family said in a statement released by the Astronaut Scholarship Foundation.
It was a lifelong interest.
Andrew Chaikin, author of "A Man On The Moon — The Voyages Of The Apollo Astronauts," said in a recent interview with CBS News that Mitchell was "super bright" and "an intellectual."
"Just a real lover of ideas," Chaikin said. "It shows in his post-NASA career because he pursued this question of consciousness and the nature of consciousness. On his flight, he had kind of a mountain-top experience where on the flight home, looking at the Earth, he felt that he was experiencing the universe as an intelligent entity, almost an organism. And that really changed him."
Mitchell had long been curious about psychic phenomena, Chaikin said, and after leaving NASA "he devoted much of his energies to trying to understand whether or not consciousness could be described in some scientific way and whether information could be transmitted in some way through the universe."
"These were the questions that occupied him," he said. "Really unique in that way among the Apollo astronauts."
In the family statement released by the Astronaut Scholarship Foundation, Mitchell's daughter Karlyn remembered her father as a man of "extraordinary talents and tremendous fortune."
"He was a hero in the classical sense," she said. "Though he fulfilled his childhood dreams while still a young man, he managed to sustain an aura of excitement by evolving and reinventing himself. He never tired of encouraging others to strive and explore."
Born Sept. 17, 1930, Mitchell grew up in Artesia, N.M., near Roswell and learned to fly as a teenager, washing planes at a nearby airfield in exchange for flying lessons. As a Navy pilot, he completed two tours of duty during the Korean War and went on to earn a doctorate in aeronautical engineering from the Massachusetts Institute of Technology in 1964.
Two years later, he completed test pilot training at Edwards Air Force Base, Calif., graduating first in his class. That same year, he was selected as a NASA astronaut.
After extensive training and a stint as a backup crew member for the Apollo 10 mission, Mitchell was named lunar module pilot for Apollo 14, NASA's fourth moon-landing mission and the first after the Apollo 13 crew suffered a near catastrophic explosion en route to the moon.
On Jan. 31, 1971, Mitchell, Alan Shepard and Stuart Roosa blasted off from the Kennedy Space Center aboard a Saturn V rocket and headed for the moon. On Feb. 5, leaving Roosa, the command module pilot, behind in lunar orbit aboard the Kitty Hawk capsule, Shepard and Mitchell descended to a landing in the Fra Mauro highlands.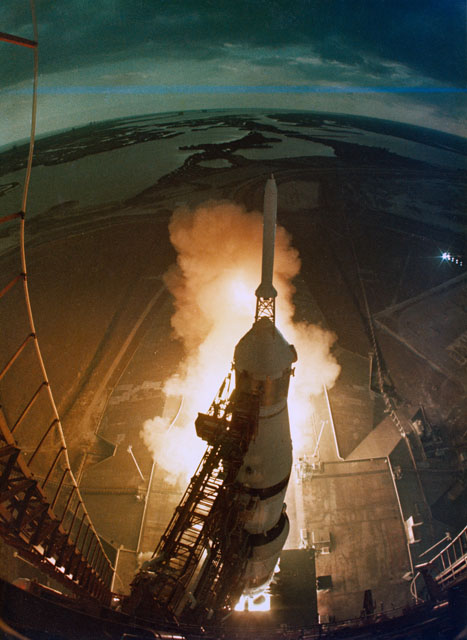 During a 33-hour 31-minute stay on the surface, Shepard and Mitchell carried out two moonwalks totaling a record nine hours and 17 minutes and collected nearly 100 pounds of rock and soil samples for return to Earth. During their stay on the surface, Shepard famously hit a golf ball with an improvised six iron and Mitchell threw a jury rigged javelin to demonstrate the moon's low gravity.
Mitchell and his crewmates returned to Earth on Feb. 9, logging 216 hours and 42 minutes in space. Shepard, one of the original seven Mercury astronauts, died in 1998 after a successful post-NASA business career. Roosa died in 1994.
"It's the 45th Anniv of the #Apollo14 landing on the moon & yesterday we lost another Lunar Pioneer Edgar Mitchell," Apollo 11 astronaut Buzz Aldrin tweeted.
Mitchell was "a good complement to Shepard on Apollo 14 because Shepard had been away from training for a few years and Mitchell really understood the lunar module and could help bring Shepard along in the training," Chaikin said. "Mitchell told me the story of one day in the simulator turning to Shepard and saying 'OK, boss, you're ready.'
Asked how other astronauts viewed Mitchell's interest in psychic phenomena, Chaikin said "oh, they joked about it. That was pretty much the reaction."
"I think it's fascinating," he said. "I think he was on to something. This idea … that there's some way in which information is stored in the fabric of spacetime, I think that's a pretty cool idea"
In the family statement provided to the Astronaut Scholarship Foundation, adopted daughter Kimberly Mitchell said her brother and sisters "consider ourselves so blessed to have had the Dad we did."
"He was incredibly generous with his heart and his brain, making each of us a better person because we knew him and were shaped by him," she said. "The lessons of hard work, integrity, curiosity, as well as a deep understanding that all things are possible, is embedded in each of us," she said.
Mitchell retired from NASA in 1971 and founded the Institute of Noetic Sciences two years later.
"In retirement Mitchell wrote extensively on human consciousness," the family said. "His book 'Psychic Exploration: A Challenge for Science' (1974) became an essential reference for consciousness researchers. Mitchell's 'The Way of the Explorer' (1996) offers an autobiographical account of his interest in human consciousness.
"Additionally, Mitchell authored dozens of articles in professional and popular periodicals. His writings reflect his wonder at the beauty of the universe and his belief in the sanctity of life."
Mitchell is survived by daughters Karlyn and Elizabeth Kendall; his adopted children Kimberly, Paul Mitchell and Mary Beth Johnson, nine grandchildren, one great-grandchild and several nieces and nephews.
Arrangements for a memorial service were pending Friday afternoon. The family requested, in lieu of flowers, donations to the Astronaut Scholarship Fund, the Institute for Noetic Sciences or Eterna Inc.