Arianespace begins 2001 with launch for Turkey
BY JUSTIN RAY
SPACEFLIGHT NOW
Posted: January 10, 2001


A telecommunications satellite that will bridge 150 million Turkish-speaking people in Europe and Asia was launched into orbit Wednesday by an Arianespace Ariane 4 rocket, marking the European booster's 60th straight success.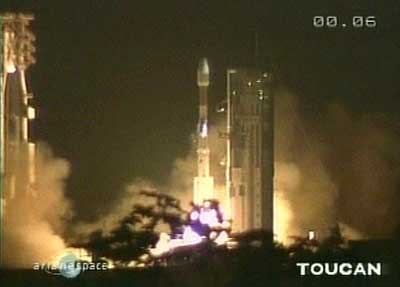 Ignition and liftoff for Arianespace Flight 137. Photo: Arianespace TV



The three-stage rocket, fitted with four solid-propellant strap-on motors, blasted away from the Guiana Space Center on the northeast coast of South America at 2209 GMT (5:09 p.m. EST), more than a month behind schedule due to technical concerns related to the rocket's nose cone and the satellite cargo. More recently, the launch was stalled Monday and Tuesday because of gusty winds.

But with the wait finally over, the 102nd Ariane 4 did its job by lobbing the Eurasiasat 1 satellite into the planned geosynchronous transfer orbit just over 20 minutes after liftoff. The looping orbit ranges from 179.8 km on the low end and 35,932 km on the high end with an inclination of 6.5 degrees to the equator.
| | |
| --- | --- |
| | The Ariane 4 rocket climbs into the cloudy nighttime sky. Photo: Arianespace TV |
In the coming three weeks, ground controllers will guide the satellite into its final orbital parking slot 22,300 miles (36,000 km) above the equator at 42 degrees East, which is directly over Somalia.

From that vantage point, the craft will be operated by the Monaco-based company Eurasiasat, which was established in 1996 as a joint venture between Turk Telekom and Alcatel Space.

Eurasiasat 1, also known as Turksat 2A, features 32 Ku-band transponders that will provide direct broadcast television programming, radio and data transmissions and Internet access services across Europe, Turkey and Central Asia. Its two steerable beams can be pointed where the commercial market dictates, including the Middle East, Russia, India and South Africa.
| | |
| --- | --- |
| | The Eurasiasat 1 satellite in the factory. Photo: Eurasiasat |
Alcatel built Eurasiasat 1 at its manufacturing plant in Cannes, France, and is considered the most powerful European-made communications satellite ever launched. The craft is based upon the Spacebus 3000B3 model satellite.

Arianespace Flight 137 marked the launch services provider's first flight of 2001, with 10 more planned this year. The launch schedule will be shared by five more Ariane 4s and five next-generation Ariane 5 rockets.

This also marked one of 15 Ariane 4s that remain to be flown before the workhorse launcher is retired from service.

The next Arianespace launch is scheduled for February 7 when an Ariane 44L carries to space the Sicral 1 communications satellite for the Italian Ministry of Defence and the British Ministry of Defence's Skynet 4F communications spacecraft.




Flight data file
Vehicle: Ariane 44P
Payload: Eurasiasat 1
Launch date: Jan. 10, 2001
Launch window: 2209-2353 GMT (5:09-6:53 p.m. EST)
Launch site: ELA-2, Kourou, French Guiana
Satellite broadcast: Telstar 6, Transponder 12, C-band



Pre-launch Briefing
Launch timeline - Chart with times and descriptions of the events to occur during launch.



Ariane 44P - Overview of the rocket to launch Eurasiasat 1.



Eurasiasat 1 satellite - Overview of Turkish telecommunications spacecraft.



Ariane directory - See our previous coverage of Ariane rocket launches.