Eurasiasat 1 satellite
FROM ALCATEL FACTS
Posted: January 7, 2001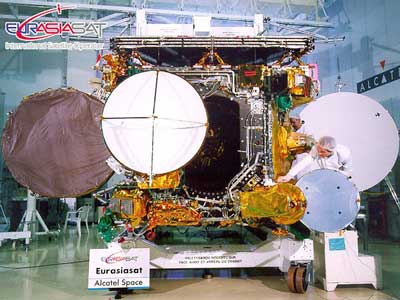 The Eurasiasat 1 satellite undergoes testing. Photo: Alcatel



EURASIASAT S.A.M., the international satellite operator is a subsidiary of Alcatel Space owned by Turk Telecom (51%) and by Alcatel Space (49%).

To fulfil future telecommunication needs, including Direct To Home TV (analog and digital), radio services and data transmission (Internet, IBS, VSAT...), EURASIASAT has entrusted Alcatel Space with building the Eurasiasat 1 telecommunications satellite.

The contract bears on the satellite in-orbit delivery and includes:
acting as Prime Contractor for the space segment, program management, system engineering, etc
acting as Prime Contractor for the communications payload
updating the control centre and earth station
the LEOP
emergency rescue for in-orbit operations
operators training.
The Eurasiasat 1 satellite uses the Spacebus 3000 B3 platform with a 8.7 kW power (beginning-of-life).
Eurasiasat 1 facts
Spacecraft
Spacebus 3000 B3
Orbital Slot
42 degrees East
Life
15 years
Mission
direct television, telephony, Internet
Launch Weight
3,560 kg
Power
8.7 kW
Payload
32 Ku-band repeaters (110 W)
Source: Alcatel
Located at 42 deg E, it will provide simultaneous transmission of 32 channels in the Ku-band with a 50 dBW EIRP. 20 channels have a 33 MHz bandwidth, and 12 have a 36 MHz bandwidth.

The satellite's main coverage bridges Europe to Asia, while 12 channels are available via two steerable beams with interbeam switching capability among fixed and steerable.

This process provides the flexibility to target market demand in Russia, India, Africa, and in all area in satellite visibility.

As Prime Contractor, Alcatel Space develops Eurasiasat 1 and the industrial organization implemented includes many industrialists, including:
for Spacebus platforms: Alcatel ETCA, Alcatel Space Valence, SAFT, DASA, SES
for the launch: Arianespace
for the payload: Alcatel Space Toulouse, Alcatel Espacio, BOSCH, MELCO, CASA, RADIAL, TTEG.




Flight data file
Vehicle: Ariane 44P
Payload: Eurasiasat 1
Launch date: Jan. 8, 2001
Launch window: 2208-2351 GMT (5:08-6:51 p.m. EST)
Launch site: ELA-2, Kourou, French Guiana



Pre-launch Briefing
Launch timeline - Chart with times and descriptions of the events to occur during launch.



Ariane 44P - Overview of the rocket to launch Eurasiasat 1.



Ariane directory - See our previous coverage of Ariane rocket launches.